The Agriculture Commodities Time Bomb
Commodities
/
Agricultural Commodities
Sep 10, 2008 - 11:50 AM GMT

Commodity prices have pulled back sharply, enough for some market watchers to pronounce the commodity bull "dead." I'll take that bet, because I think we're just seeing a correction in a long-term bull market. What's more, when the next commodity price squeeze comes, it might not be from a sector you'd expect, like energy or metals. It might be food.
I probably don't have to tell you about rising food prices. In the U.S., the cost of groceries rose at an annualized 8.4% rate in July (the latest data available).
If you think falling commodity prices means that your grocery bill will be going down soon, think again. Rising food prices tend to be "sticky" — and now we have the added factor that, thanks to globalization, a family in Shanghai is willing to buy your Sunday dinner before you have a chance to cook it.
Food has something in common with energy — they're both commodities that you use up. And they're both worth fighting over.
F-O-O-D is a Fighting Word
Australian researchers say that 60% of all conflicts in the past 18 years have been driven, at their core, by disputes stemming from a scarcity of food, land or water. And by the 2020s, regional food shortages could trigger hundreds of millions of new refugees and leave no country on Earth unaffected.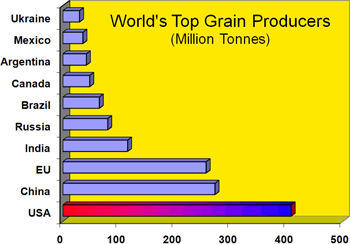 You think America would be safe from that? After all, we are the world's breadbasket, producing over 400 million metric tonnes of grain in the last harvest year. Our biggest competitor, China, produces only two-thirds as much as we do.
And in America, food is so plentiful it's dirt-cheap, even with recent inflation. U.S. consumers spend roughly 15% of every dollar on food. In China, 30% of consumer income is spent on food. In India, it's closer to 35% or even 40%. And these are relatively "rich" countries.
In poorer nations, 80% of consumer income goes to food. According to the World Bank, just over 1 billion people live on one dollar or less per day. And there are millions upon millions of people who are literally being priced out of the food market right now.
If you think that doesn't affect you, consider this: When those folks run out of food, where do you think they're going to emigrate to?
Importantly, cheap food isn't guaranteed in the U.S. Thanks to our huge trade deficits, our wealth is pouring across the seas to other nations ... and they are using it to buy more and more American grain. China has 1.3 billion people with rising incomes and expanding waistlines ... and a billion people in India are also improving their diets.
Result: The fiscal 2008 forecast for U.S. grain and feed exports has been raised to a record $37 billion — up $1.7 billion from an estimate made as recently as May — according to Foreign Agricultural Service (FAS) of the United States Department of Agriculture. So not only are U.S. grain sales to foreign customers rising year over year, they're accelerating .
50 Million More Hungry Mouths
Surging demand is already sending shockwaves around the world. The United Nations World Food Program says the number of hungry mouths increased by 50 million in 2007 because of higher food prices.
And it's a problem that's going to get worse. Approximately 50 million acres of arable land disappear every year thanks to the growth in cities, urban sprawl and economic development. In Iraq, where the Tigris and Euphrates rivers have nourished riverbanks since the start of civilization, farmland is expected to shrink 30 percent because of upriver damming in Turkey. Vietnam lost 1.2 million acres of farmland from 2001 to 2007; 123 golf courses, among other developments, have gone up since.
In China, encroaching deserts are such a problem that the country has banned new golf courses and other developments that would worsen the problem. And they're dead serious about this. Just last week, a Chinese businessman, Luo Zhongfu, was sentenced to jail for more than 10 years. Zhongfu was once listed as the richest man in China. What crime got him 10 years in the slammer? Clearing a forest to make way for a new resort. Ouch! Can you imagine Donald Trump getting 10 years behind bars for an environmental violation?
Approximately 50 million acres of arable land disappear each year due to the growth of cities, urban sprawl and economic development.
If you want to get an idea of how fast population is going up and arable land is going down, there is an Internet clock that keeps track of this at: http://www.tranquileye.com/clock/ . Looking at that clock, you can't help but get the sense that the world's food supply/demand picture is a ticking time bomb.
Naturally, if food is a problem that could blow up in our faces, the smart thing to do would be to think strategically. And some countries are doing just that.
Strategic Food
Russia

is one of the countries looking at food strategically. In Russia, the government is debating the creation of a new state agency that would own Russia's 28 biggest grain elevators and shipping terminals.


Pakistan

— which is teetering on the edge of collapse, a political crisis worsened by a severe shortage of fertilizer — recently sought $6 billion in aid from Saudi Arabia in return for the use of hundreds of thousands of acres of agriculture land. That's a deal worth making for the Saudis, who can farm only 1% of their mostly desert country.


The Saudis

are also looking at a proposal by the Indonesian government to develop a Connecticut-sized farming tract on the remote province of Papua to grow rice, sugar cane and soybeans.
When you look for countries that are thinking strategically in terms of food, Saudi Arabia comes up a lot. And with good reason. Saudi Arabia's food import bill has grown by an average 19% annually over the past four years to $12 billion in 2007, making it the Middle East's largest food importer, according to a recent study by Saudi bank SABB.
It's not the only oil-rich country feeling the pinch in the pantry. Most of the Persian Gulf countries heavily rely on food imports at a time when global food prices surged 57% between Aprils 2007 to 2008, according to the United Nations.
And their problem is only going to get worse. When you add in the other members of the Gulf Cooperation Council — the UAE, Kuwait, Bahrain, Oman and Qatar — the total population has risen from around 30 million in 2000 to more than 35 million recently. The population of these mostly desert nations is expected to hit nearly 39 million by 2010 and 58 million by 2030.
Saudi Arabia used to grow a lot of its own food using irrigation from prehistoric water deposits, but with those wells running dry, it's phasing that out. So it's natural that the Saudis and other desert nations look to other, wetter countries to grow food.
In recent weeks, the Saudis have met with representatives of Thailand and South Africa to discuss buying farmland ... Abu Dhabi has signed a deal with Sudan to develop 70,000 acres as farmland ... and the United Arab Emirates is eyeing land in Sudan Egypt, and Yemen is pursuing a $3 billion deal in Pakistan with several private companies to build large corporate farms for growing rice, wheat, sugar cane, and fruits.
Challenges Facing America
The U.S. is the world's breadbasket, but we better not get too comfortable. For one thing, we have our weaknesses. Farming is highly specialized in the U.S. Only about 2% of the U.S. population is part of a farm family, and the average age of principal owners of farms is about 60 years.
Also, our farm harvest is highly energy dependent. Food in the U.S. travels an average 1,500 miles to end up on your dinner plate. Nitrogen fertilizers are made from natural gas, insecticides are oil-based, tractors run on diesel, and plastic packaging comes from oil. Add in refrigeration and it may take as much as 1,000 calories of oil-energy to produce a calorie of food today, according to some estimates. In 1944, it took just one calorie of oil-fuel to make 2,300 calories of food (horses were still used on many farm fields back then, and they provided fertilizer, too).
So why not go back to horses? Because today's farmer riding a combine can do in hours what it would take days to do with a horse. Before the mechanical revolution in farming, about one-third of the U.S. population worked on farms, and it wasn't because they liked the fresh air. It was the only way to get things done and get enough food to feed everybody. If the energy crisis worsens — and I think it will — we'll face some hard choices.
Another reason that the U.S. shouldn't rest on its laurels as an agricultural superpower is that we have competition.
The Emerging Food Superpower
If food is the scarce resource of the future, Brazil could emerge as a new superpower. It has plenty of sun, fresh water, and more available arable land than any other country on Earth. Brazil is already the top world exporter of beef, poultry, soybeans, sugar, coffee, and orange juice. John Deere already has 114 showrooms in Brazil and plans to expand to 200 stores by 2010.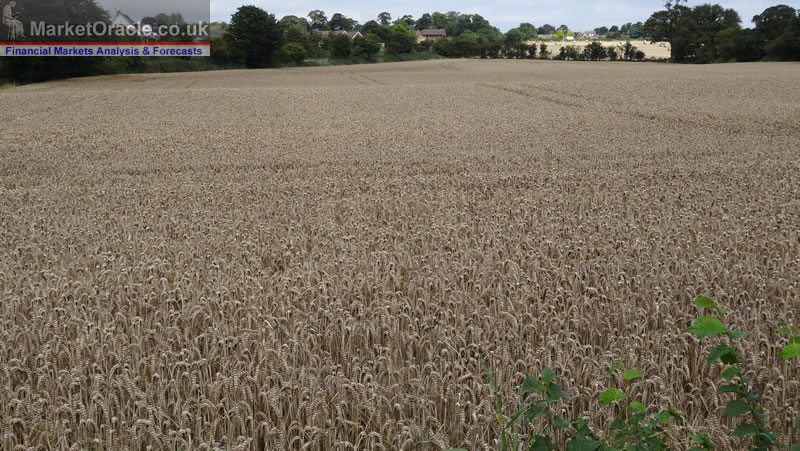 Fertile countries like Brazil could become food superpowers.
Brazil could triple its area under cultivation without cutting one more acre of rain forest. Its secret is taking marginal land and making it productive farmland. But to do that, it needs heavy applications of lime and phosphate-rich fertilizer.
The looming fertilizer crisis is a subject for another whole column. There are fertilizer stocks out there that are woefully undervalued and will probably go much higher from here. Suffice it to say for now that there isn't enough fertilizer to keep up with a growing global population that also wants to eat better.
If current trends hold, we could see 9.1 billion on this planet by 2050 — but demand for protein food, especially in China and India, is growing much faster. According to Australian researchers, total world food demand is forecast to rise 110% by 2050.
I don't think that those current trends will hold ... not unless we can make a major leap forward in crop yields.
So what will bridge the gap between surging demand for food and a limited supply of fertilizer, not to mention energy costs that are trending much higher over time? Probably genetically modified (GM) food. It's called "Franken-food" by its critics, but it's about the only way, using current technology, to continually squeeze higher and higher yields out of the same field. Soybeans and corn are just two of the U.S. crops that are getting bigger and bigger yields thanks to GM seeds.
How You Can Profit
Last September, I wrote a column about the trends in food prices called " The Cartel in Your Cupboard ." Since then, food prices surged way, way up ... and subscribers to last year's Agriculture report potentially made bushels of money ... and then prices of grains fell off a cliff as bountiful harvests came in.
While projected global harvests should be sufficient to meet growing demand this year, agriculture stocks are looking darned cheap again. And considering the long-term trends of supply and demand, they could be on the launch pad.
I'll give you two ways to profit from this — a specific stock and an ETF.
Stock Pick — Monsanto (MON). Monsanto is the mother of agricultural biotechnology stocks. The company's "Roundup Ready" crops are genetically engineered to permit direct, "over the top" application of the Monsanto herbicide glyphosate. The GM modifications allow farmers to drench both their crops and crop land with the herbicide so as to be able to kill nearby weeds without killing the crops.
It's also comparatively cheap. The stock has lost a third of its value since its peak and is trading at a discount to its historical price-to-earnings. More importantly, China recently announced it is approving the importation of Monsanto's "Roundup Ready 2 Yield" soybeans. China imports accounted for approximately 38% of U.S. soybean exports in 2007, making it the largest purchaser of U.S. soybeans. Do you think Monsanto could sell a lot of soybean seeds in China? I sure do!
ETF Pick — the iShares MSCI Brazil Index (EWZ). This ETF has been crushed as the credit crisis and commodity correction rippled through emerging markets. Consider that Brazil's economy is still growing at 5% a year and should manage 4% next year. Now consider that Brazil's broad stock market index is trading at just 11 times earnings, and the US S&P 500 is trading at 25 times earnings. It sure looks like Brazil is a deep value; doubly so because of its agricultural potential.
In today's volatile markets, picking an entry point into either Monsanto or the EWZ will be tricky, and it will be doubly tricky to ride the rollercoaster that is global equity prices nowadays. But I think these are both good picks for the longer-term investor.
Yours for trading profits,
Sean
P.S. There's still time to receive Tony Sagami's #1 China recommendation, which he's sending to Asia Stock Alert subscribers. Not only is Tony naming the company, and giving all the important background details ... he's providing specific trading instructions.
If you're not a subscriber, you can still sign up now for a risk-free trial to Asia Stock Alert . But don't delay! You only have until 3 p.m. on September 12 to subscribe and get Tony's new China recommendation the minute he fires it off. Plus you'll be able to immediately download six special reports on other great Asian stocks. Click here for all the details.
This investment news is brought to you by Money and Markets . Money and Markets is a free daily investment newsletter from Martin D. Weiss and Weiss Research analysts offering the latest investing news and financial insights for the stock market, including tips and advice on investing in gold, energy and oil. Dr. Weiss is a leader in the fields of investing, interest rates, financial safety and economic forecasting. To view archives or subscribe, visit http://www.moneyandmarkets.com .
© 2005-2019 http://www.MarketOracle.co.uk - The Market Oracle is a FREE Daily Financial Markets Analysis & Forecasting online publication.
Comments
sheila
15 Sep 08, 23:08
Overpopulation and food


Our biggest problem isn't food shortages, it's an excess of humans.Until we reduce our numbers to what is sustainable without oil and natural gas, we will continue to have food crises and starvation.

We are vastly overpopulated and no amount of genetic engineering will feed the mass of growing and overpopulated humans.

We must stop growth and reduce our numbers or there will be a mass die down as our numbers exceed our ability to grow enough food.

The decline of oil and natural gas will reduce our ability to grow food, pump water and ship goods and time is running out.




Only logged in users are allowed to post comments.
Register/ Log in