Learning to Trade Financial Markets - Are you unbiased in your analysis of market direction ?
InvestorEducation
/
Trader Psychology
Mar 27, 2007 - 07:46 PM GMT

A simple test to see if you look at the market in a non-biased way ...
One of the things that complicates are ability to read the market right is "non-objectivity".
Non objectivity is when we "have an opinion" of what the market will do and we subconsciously let that opinion tell us a different story of what the chart is telling us.
Are you letting your personal market opinion change how you read a chart?
Here is the test ...
Imagine that the chart below is a chart of your favorite stock. Look at the chart and make a decision of whether you think the stock will now trend up or trend down.
I did this test with a half a dozen people and the majority thought that it might hit the lower support level and then definitely trend up.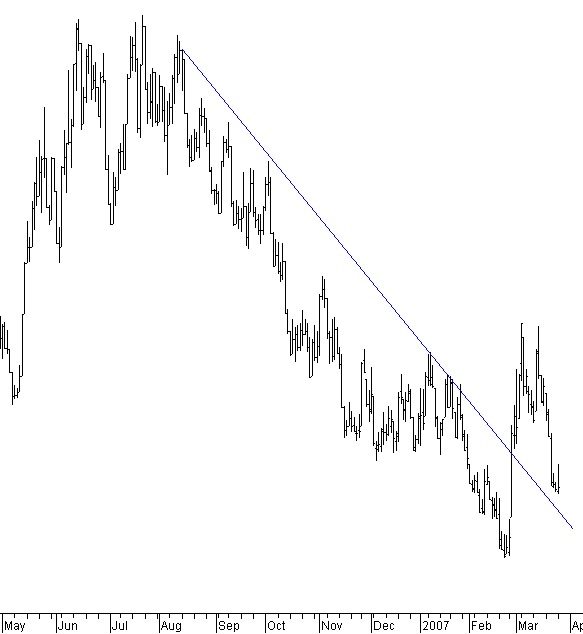 Okay, part two of the test. First, do you think the market and economy is strong, and that the market will now move up to new highs?
Let's look at the Russell 2000 index below and see how it is doing. It seemed to have bottomed out nicely, and now is in a rally toward its new highs. To fill the February 27th. gap, it will have to rise above its resistance line. That could put it in place to move higher ... yes ... no?
Look at the chart and make your decision of whether you think the Russell 2000 will now trend up or trend down.
What was your answer? Our test group said the market and economy was strong and the majority said that the Russell 2000 was going to trend higher. Now see the comments below the bottom of this chart ...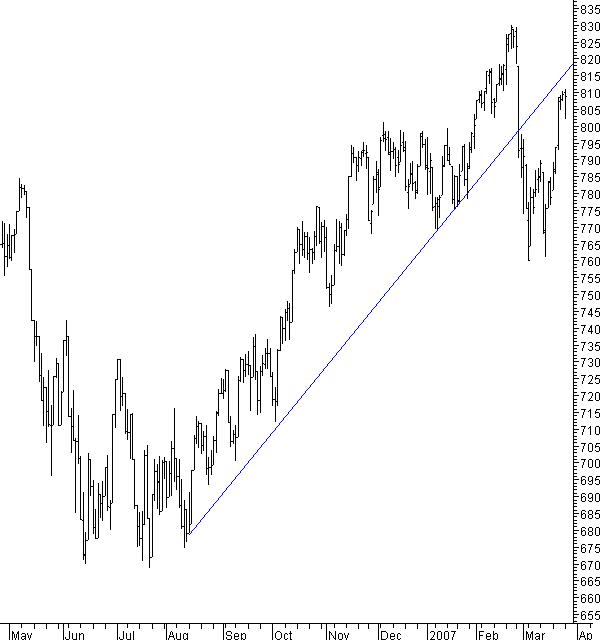 Some of you may have already figured out the trick I played on you. Both charts are the SAME. They are both of the Russell 2000. I inverted the first chart so that the Russell was upside down.
If your answer was that the first stock was going to move up, then you were really saying that you expected the Russell to move down because the chart is inverted.
If both of your answer don't agree, then you are probably letting your subconscious opinion interfere with how you read charts. Years ago, I used to print out charts, and the turn them upside down to look at them. This gave me two perspectives and helped keep me objective. Today, many of you have software that can just flip the chart for you.
If you were objective then you should have said that ...
Chart 1 is going to trend up, and chart 2 is going to trend down.
Or,
Chart 1 is going to trend down, and chart 2 is going to trend up.
Hope this tip helps some of you.
By Marty Chenard
http://www.stocktiming.com/
Please Note: We do not issue Buy or Sell timing recommendations on these Free daily update pages . I hope you understand, that in fairness, our Buy/Sell recommendations and advanced market Models are only available to our paid subscribers on a password required basis. Membership information
Marty Chenard is the Author and Teacher of two Seminar Courses on "Advanced Technical Analysis Investing", Mr. Chenard has been investing for over 30 years. In 2001 when the NASDAQ dropped 24.5%, his personal investment performance for the year was a gain of 57.428%. He is an Advanced Stock Market Technical Analyst that has developed his own proprietary analytical tools. As a result, he was out of the market two weeks before the 1987 Crash in the most recent Bear Market he faxed his Members in March 2000 telling them all to SELL. He is an advanced technical analyst and not an investment advisor, nor a securities broker.
© 2005-2019 http://www.MarketOracle.co.uk - The Market Oracle is a FREE Daily Financial Markets Analysis & Forecasting online publication.

Only logged in users are allowed to post comments.
Register/ Log in