Gold's Singular Role
Commodities
/
Gold and Silver 2021
Apr 16, 2021 - 11:09 AM GMT

When it comes to analyzing gold and gold prices there seems to be no limit to the explanations of cause and effect. The number of things presumed to be fundamental, or which are correlated to gold, has grown exponentially as gold receives more attention in the media and from the public.
The state of confusion that exists regarding gold and gold prices is exacerbated by the contradictions and conflicting arguments of almost all concerned parties. This includes investors, traders, analysts, and brokers (make sure your broker is safe to trade).
Rather than a desire to understand gold and its singular role, most investors and others are interested in gold only when its price is going up. They buy it and then look for reasons to justify their expectations of even higher prices.
They do look for explanations as to why the price goes down, of course; especially when that happens after they have taken a position on the long side. By then, it is usually too late.
GOLD'S SINGULAR ROLE
There is one overriding fundamental with respect to gold: "GOLD IS REAL MONEY".
Money has three specific characteristics: 1) medium of exchange; 2) measure of value; 3) store of value. In order for something to be money, it must have all three of these attributes. Otherwise, it is not money.
The US dollar is not money because it does not embody all three of the necessary characteristics. It is an accepted medium of exchange and a measure of value, but it is not a store of value.
Gold is also original money. It was money before the US dollar and all paper currencies, which are merely substitutes for real money; in other words, substitutes for gold.
Lots of things have been used as money during five thousand years of recorded history. Only gold has stood the test of time.
WHAT GOLD IS NOT
The simplest, and most accurate way to say what gold is not, is to state emphatically: "GOLD IS NOTHING ELSE OTHER THAN MONEY'.
Gold is not an investment; nor is it a hedge. Gold is not insurance. Gold is not a safe haven. Gold is not silver's handsome twin brother. Gold is not a barbarous relic. Gold is not an outdated earlier version of the cryptocurrency craze. Gold as money is not an idea whose time has come and gone.
Gold is nothing other than money. Its use in jewelry is always secondary to its role as money. Gold is money that can be used for adornment, but it is still money, nonetheless. Always.
THE VALUE OF GOLD
The value of gold is in its role and use as money. It is divisible into fractional units for transaction purposes and is a proven store of value.
Gold's value is constant and unchanging. One ounce of gold today will purchase amounts of goods and services roughly equivalent to what it could have bought fifty, one hundred, or one thousand years ago.
The reason the value of gold does not change is because gold, itself, is unchangeable.
WHY DOES THE PRICE OF GOLD CHANGE?
It is logical and reasonable to ask "If gold is unchangeable, and its value is constant, then why does its price change?
The changing price of gold is attributable to one thing only: changes in the value of the US dollar.
Over the past century, the US dollar has lost between ninety-eight and ninety-nine percent of its purchasing power. Correspondingly, the price of gold has increased by a multiple of fifty ($1050 per ounce) to one hundred ($2060 per ounce) times its original fixed and convertible price of $20.67 per ounce.
The chart (source) below shows a one hundred-year history of rising gold prices…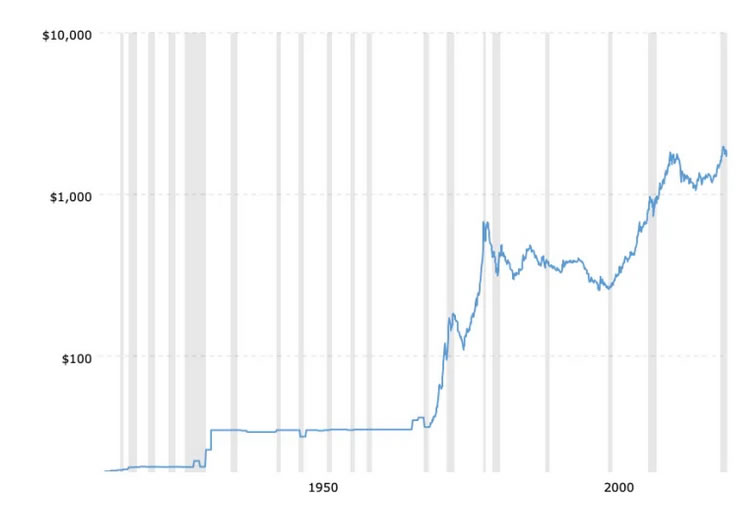 Over that same one hundred years, what you can buy with an ounce of gold remains stable, or better. (see my article A Loaf Of Bread, A Gallon Of Gas, An Ounce Of Gold)
SUMMARY
Gold's singular role is its use as money. Gold is real money because it carries the qualifying characteristics of money, including that of a store of value.
The value of gold is directly attributable to its use as money. Gold's value is constant and unchanging. The higher price of gold over time is a reflection of the ongoing loss in purchasing power of the US dollar.
Gold's value is not determined by world events, political turmoil, or industrial demand. Gold is not correlated to interest rates or anything else. Gold is not a hedge or a safe haven; nor is it an investment.
Gold is real money and nothing else.
Kelsey Williams is the author of two books: INFLATION, WHAT IT IS, WHAT IT ISN'T, AND WHO'S RESPONSIBLE FOR IT and ALL HAIL THE FED!
By Kelsey Williams
http://www.kelseywilliamsgold.com
Kelsey Williams is a retired financial professional living in Southern Utah. His website, Kelsey's Gold Facts, contains self-authored articles written for the purpose of educating others about Gold within an historical context.
© 2021 Copyright Kelsey Williams - All Rights Reserved Disclaimer: The above is a matter of opinion provided for general information purposes only and is not intended as investment advice. Information and analysis above are derived from sources and utilising methods believed to be reliable, but we cannot accept responsibility for any losses you may incur as a result of this analysis. Individuals should consult with their personal financial advisors.
© 2005-2019 http://www.MarketOracle.co.uk - The Market Oracle is a FREE Daily Financial Markets Analysis & Forecasting online publication.

Only logged in users are allowed to post comments.
Register/ Log in