Gold in the age of Inflation
Commodities
/
Gold and Silver 2021
Jul 03, 2021 - 04:09 PM GMT

Gold in the age of inflation
The star investment of the fifty-year era and the most reliable store of value
There has been considerable, and some would say tedious, discussion on the subject of inflation over the past several weeks. The Fed wants it. The markets await it. Investors and consumers worry about it. If it does come, the Fed thinks it will be transitory. Others believe it will persist. That said, the current discussion ignores an established historical reality: We already live and have lived with it for a very long time. The Age of Inflation began in August of 1971 when the United States disengaged the dollar from gold and ushered in the fiat money era. Thereafter, the inflationary process has progressively eaten away at our wealth and the purchasing power of our money. Now, some of the best minds in the investment business tell us that it is about to accelerate and that if we ignore it, we do so at our own peril.
To mark the occasion of the fiat money system's golden anniversary, we offer two instructive charts. One is something of a myth-buster in that gold has decisively outperformed stocks during the fiat money era. Many will be surprised to learn that gold is up 4,500% since 1971, while stocks have played second fiddle at 3,375%. The other reveals at a glance the pernicious, ongoing debasement of the dollar and gold's role as a hedge against it. The dollar lost 85% of its purchasing power since 1971, while gold, as just mentioned, gained nearly 4500%. If that does not serve as vindication of gold's portfolio role in the era of fiat money, I don't know what will. At the same time, consensus has it that cyclically, stocks are closer to a top than a bottom, and gold is closer to a bottom than a top.
Gold and stocks price performance
(In percent, 1971-2021)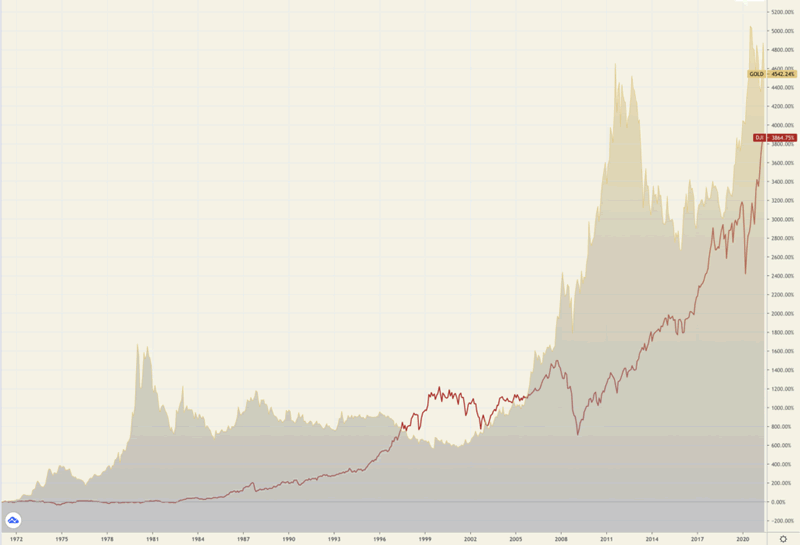 Chart courtesy of TradingView.com • • • Click to enlarge
Gold and the purchasing power of the dollar
(1971 to present)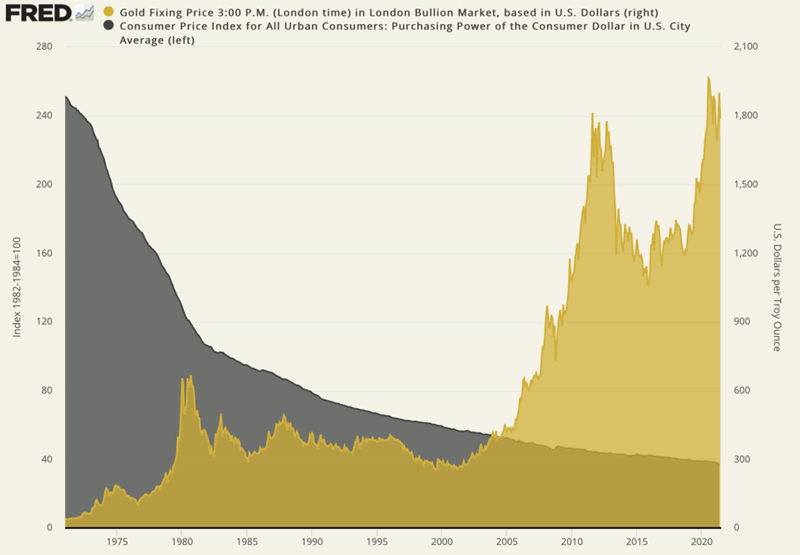 Sources: St. Louis Federal Reserve [FRED], Bureau of Labor Statistics, ICE Benchmark Administration • • • Click to enlarge
Ross Norman sees the current gold price as the 'mother of all buying opportunities' ……
London-based analyst Ross Norman sees gold as situated at the "mother of all buying opportunities" – a circumstance he likens to the early years of the stagflationary 1970s. "The simple truth is our basic democracy is flawed," he writes in a LinkedIn piece posted Friday. "It encourages government to overpromise, then overspend to win our love and votes, and truth is you don't deserve the largesse … and we certainly cannot afford it … and it is then paid for by additional money printing or if you prefer, debasement of the currency…If I am right – and I think I am – then owning hard assets is where you need to be. And out of cash. This is rather a long way around for saying that gold looks a pretty good bet and the massive price correction gives, in my view … a great buying opportunity." Norman goes on to point out that gold achieved a fifteen-fold increase between 1970 and 1980 and, if we had a replay, it would put the price at $26,500. "But of course," he says, "gold prices had been artificially constrained in the lead-up. So nope, that's not a forecast … but hopefully you get the picture."

…… While Michael Burry warns of the 'mother of all stock market crashes'
Michael Burry of "The Big Short" fame recently tweeted extensively about the German hyperinflation warning of comparisons between the 1923 Weimar Republic disaster and today. "People say I didn't warn last time," he said. "I did, but no one listened. So I warn this time. And still, no one listens. But I will have proof I warned." He then went on a roughly two-month sabbatical. Now, he's back, and he is apprehensive about a stock market in the grips of a prolonged mania, saying it's "unnatural, insane and dangerous." "All hype/speculation is doing is drawing in retail before the mother of all crashes," he says in a recent Bloomberg interview. "When crypto falls from trillions, or meme stocks fall from tens of billions, MainStreet losses will approach the size of countries. History ain't changed."
––––––––––––––––––––––––––––––––––––––––––––––––––––––––––––––––––––––––––––––––––––––––––––––––––
The six keys to successful gold ownership
© 2005-2019 http://www.MarketOracle.co.uk - The Market Oracle is a FREE Daily Financial Markets Analysis & Forecasting online publication.

Only logged in users are allowed to post comments.
Register/ Log in