Bitcoin Price TRIGGER for Accumulating Into Alt Coins for 2022 Price Explosion - Part 2
Currencies
/
cryptocurrency
Dec 03, 2021 - 02:40 PM GMT

Dear Reader
This is Part 2 of 2 of my extensive analysis that maps out the potential trend trajectgory for some of the most manipulated markets on the planet, the CRYPTO ALT COIN MARKETs
So do check out the recently posted part 1 first if you have not already done so - Bitcoin Price TRIGGER for Accumulating Into Alt Coins for 2022 Price Explosion
Whilst the whole of my extensive analysis was first made available to Patrons who support my work 0 Bitcoin NEW All time High is TRIGGER for Future Alt Coins Price Explosion
Contents:
Bitcoin & Ethereum 2021 Trend
Crypto Portfolio Current State
The BITCOIN NEW ALL TIME HIGH Changes EVERYTHING!
Ravencoin to the MOON!
What am I doing?
How to Invest in Crypto's
Bitcoin 2022 Price Target
Ethereum 2022 Price Target
Ravencoin 2022 Price Target
Cardano (ADA) 2022 Price Target
Chainlink 2022 Price Target
Pokadot 2022 Price Target
Solano 2022 Price Target
Litecoin 2022 Price Target
Arweave 2022 Price Target
Stellar Lumens - XLM 2022 Price Target
Eth Classic 2022 Price Target
Vechain 2022 Price Target
EOS 2022 Price Target
Earnings Noise Delivers INTEL And IBM Buy Opps
Facebook and Google Could CRASH 10% Post Earnings Day
High Risk Stocks Swings and Roundabouts
So for immediate first access to ALL of my analysis and trend forecasts then do consider becoming a Patron by supporting my work for just $4 per month. https://www.patreon.com/Nadeem_Walayat.
Including access to my latest just posted extensive analysis Best Stocks To Profit From the $1+ Trillion Emerging Metaverse Mega-trend
From which here is short video message from the Metaverse -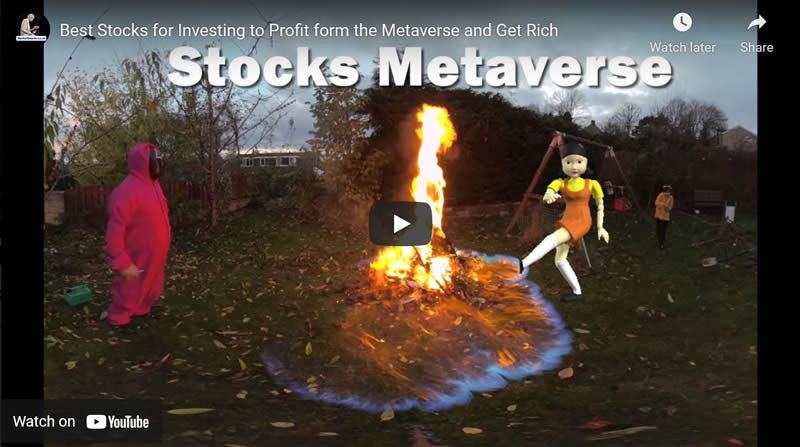 Contents:
VR and Gaming Becomes the Metaverse
A Video Message from Your Metaverse Analyst
PRIMARY META-VERSE STOCKS
QUANTUM AI METAVERSE STOCKS
METAVERSE STOCKS UNIVERSE
Google Glass a Big Fat FAIL
META (Facebook) Dominating VR
APPLE AR Headset Coming 2022
ROBLOX - High Risk
TENCENT- Chinese High Risk GAMING
AUTODESK (ADSK) - CAD - $254 RISK - 3 OUT OF 10
NEW STOCK - RISK 3 OUT OF 10.
NEW STOCK - NEW LIFE FOR AGEING GAMING GIANT? RISK 2 OUT OF 10
NEW STOCK - DIGITIZING THE REAL WORLD - RISK 8 OUT OF 10
INTEL Black Friday Sale!
IBM The REAL Quantum Metaverse STOCK!
NVIDIA THE KING OF THE METAVERSE!
CISCO
AI Stocks Portfolio Current State
AI Stocks - What's Cheap
AI Stocks - What's far value
AI Stocks - What's expensive?
Stock Market Trend Forecast Current State
Current State of Cathy Wood ARKK Garbage
RIVIAN IPO Illustrates We are in the Mother of all Stock Bubbles
DECENTRALAND
SANDBOX
How to Get Rich in the MetaVerse
Bitcoin Trend Analysis
Crypto Current Portfolio
Covid19 Winter Storm Fuel for Financial Crisis 2.0
OMICRON - The 'Oh Dear' Worst Ever Covid Strain?
Consequences for the Stock Markets?
Financial Crisis 2.0 Current State - TAPERING
Financial Crisis 2.0 Stock Market Bubble Investing Strategy
Why You Should Not Fear a 50% Draw down in Your Stocks Portfolio
What's driving asset price inflation?
Inflation Forecasting a Recession In 2022
UK Inflation Hits 30 year High of 6%
UK Energy Customers Falling into Energy Firms Fixed Rate Tariffs Trap
Fin tech Stock - NEW STOCK
Also access to my recent extensive analysis - AI Tech Stocks Portfolio Updated Buying Levels and Zones as Financial Crisis 2.0 Continues Brewing
Contents:
Financial Crisis 2.0 Checklist
The China Syndrome
Stock Market Begins it's Year End Seasonal Santa Rally
Stock Market Trend Forecast Current State
INVESTING LESSON - BUYING VALUE
Peloton 35% CRASH a Lesson of What Happens When One Over Pays for a Loss Making Growth Stock
INVESTING LESSON - Give your Portfolio Some Breathing Space
INVESTING LESSON - Give your Portfolio Some Breathing Space
How Stagflation Effects Stocks
INTEL Bargain - 15.5% Discount Sale
Why Intel stock price dropped 15%?
FACEBOOK - 10% DIscount
IBM - 20% Discount
Amazon - 5% Discount
APPLE 4% Discount
AMD $136 on Route to $200
TSMC - $117
Microsoft $336
Google $2980, PE 28.7, EC 30.
Nvidia Leaves planet Earth - $299, PE of 106
Heads Up on NEW Potential Tech Stocks
AI Stocks Portfolio Updated Buying Levels
AI Stocks Buying Plan B
FREE TRADE the Perfect Stocks and Shares ISA?
FREE SHARE FROM FREETRADE
High Risk Stocks Brief
Crypto's 20% Discount Event
Bitcoin Trend
Palladium Brief
And access to why inflation will be far from transitory, batten down the hatches for what's to come-
Protect Your Wealth From PERMANENT Transitory Inflation
Best Real Terms Asset Price Growth Countries for the Next 10 Years
Worst Real Terms Asset Price Growth Countries for the Next 10 Years
The INFLATION MEGA-TREND
Ripples of Deflation on an Ocean of Inflation!
Stock Market Trend Forecast Current State
US Dollar - Stocks Correlation
US Dollar vs Yields vs Dow
Stock Market Conclusion
34th Anniversary of the Greatest Crash in Stock Market History - 1987
Key Lesson - How to REALLY Trade Markets
AI Stocks Portfolio Current State
October Investing Plan
HIGH RISK STOCKS INVEST AND FORGET PORTFOLIO
Can US Save Taiwan From China?
So for immediate first access to ALL of my analysis and trend forecasts then do consider becoming a Patron by supporting my work for just $4 per. https://www.patreon.com/Nadeem_Walayat.
Note: The information provided in this article is solely to enable you to make your own investment decisions and does not constitute a personal investment recommendation or personalised advice.
Chainlink
Trading at near half it's high still offers a good opportunity to accumulate into, I expect ChainLink to at least X6 from it's current price of $30 to $200.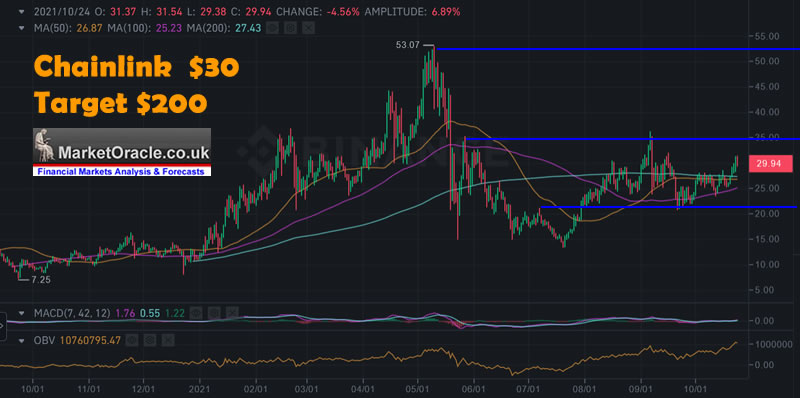 Pokadot
I have always known that Pokadot was a good crypto to accumulate into but fannying about with limit orders failed to get me in at the near the lows of around $12. Could have should have would have means my exposure to Pokadot is a lot lighter than it should be. It is painful to contemplate buying at $42 when I was sat there for months contemplating buying Pokadot when it was trading below $18 instead opting for distant limit orders at the likes of $8 and $6. Still the prospects for Pokadot are to go form $42 to $400 even $ 500 for an at least X10 return from the current price! I need to bite the bullet and buy more Pokadot.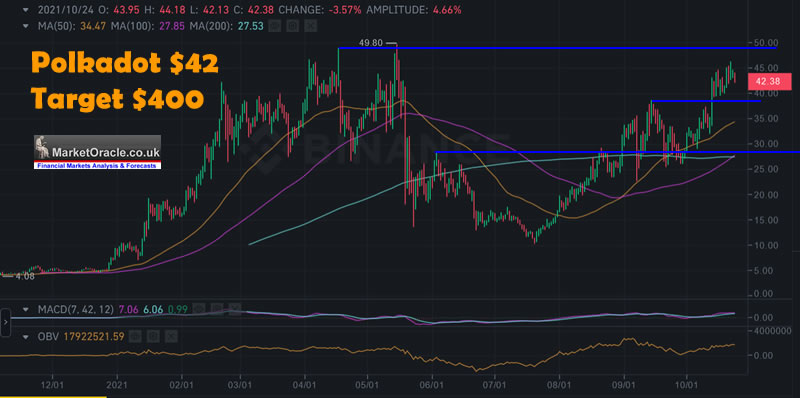 Solano
Another pokadotesk missed boat at the top of my target to buy list but bought nothing! My expectations are for it to more than X5 it's current price of $189 to $1000. Technically it appears to be correcting towards it's 50 day moving average which could take SOL down to about $168 where I aim to make my first buy.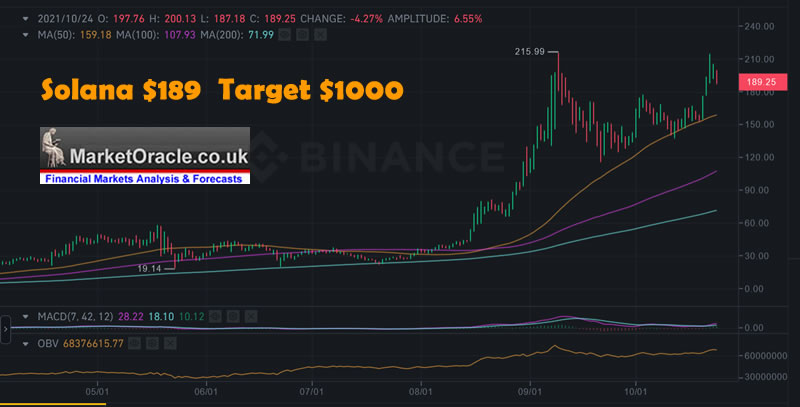 Litecoin
LTC continues to trade well below it's 2021 high of $414, with the current price of $192 putting it at the half way mark. Though my bull market expectations are a little more modest for this crypto to target a high of $500, for just X2.5 on it's current price of $192.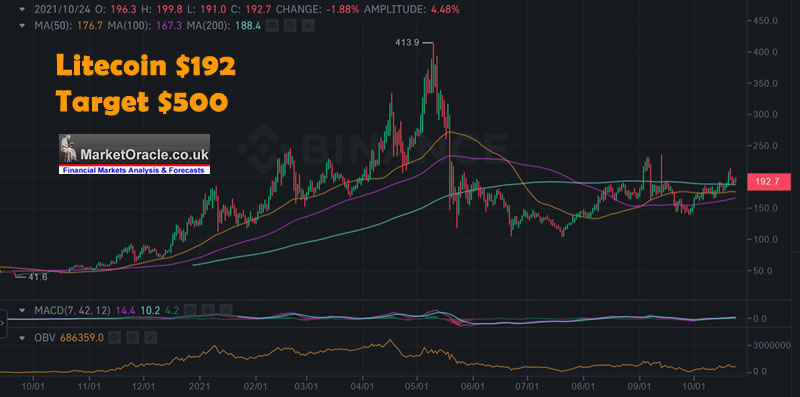 Arweave
Areweves relatively recent new all time high of $75 puts the current price at a 30% discount a small market cap and low inflation rate implies the potential to X10 to $500 during the next mania.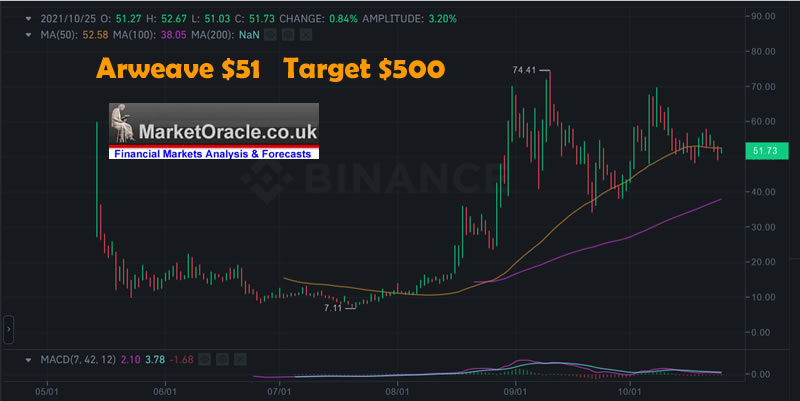 Stellar Lumens - XLM
Trading at less than 50% of it's high at $0.37 which has allowed me to accumulate 40% of my target stake. My mania target high is for a X9 to $3.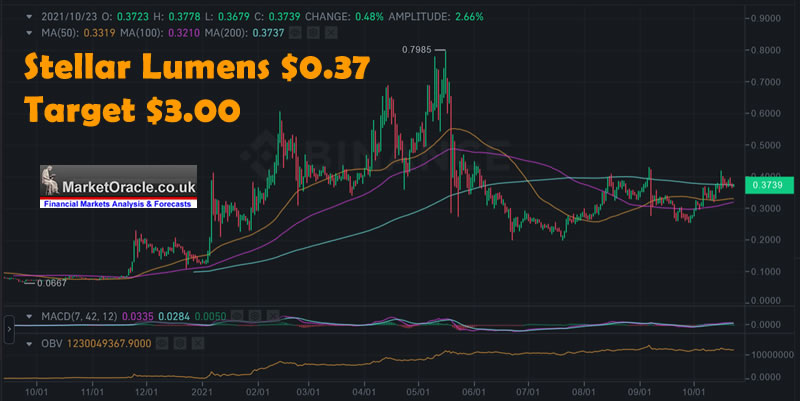 Eth Classic
A fork from Ethereum trades at $55, well below its high of $180 with the potential to near X10 to $500.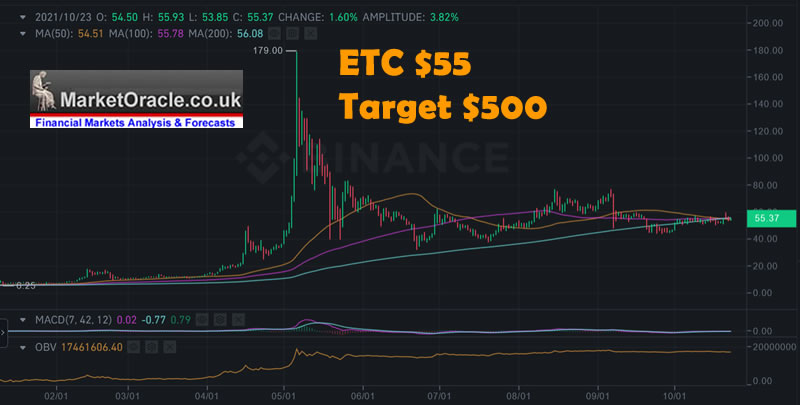 Vechain
Trading at $0.13 with a target of $2.50 for a potential near X20!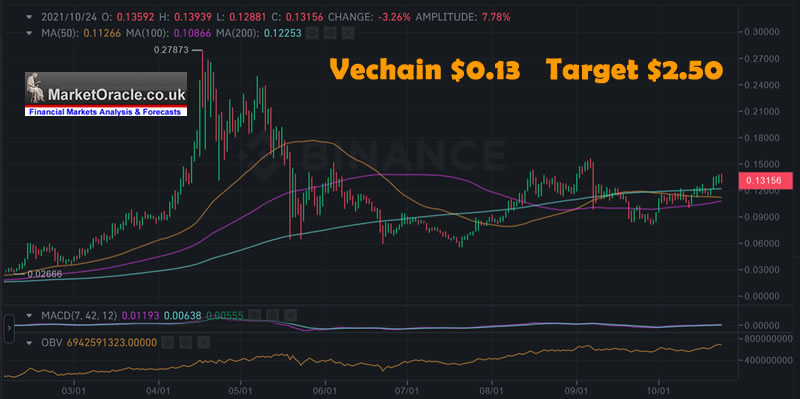 EOS
And last but not least is EOS, trading at a deep 70% discount to it's highs, small market cap of $5bn coupled with a modest inflation rate of 5% that I estimate has the potential to X20 to $100 hence why it's at the top of my list to gain full exposure to (currently at 40% invested).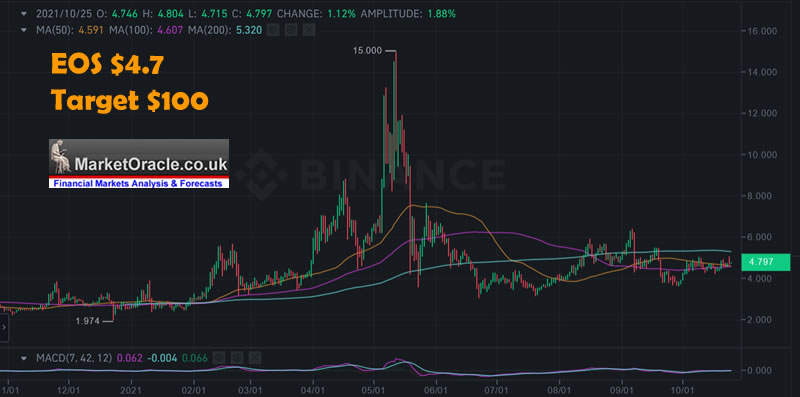 So I expect most crypto's In a little over 6 months time to likely be trading at many multiples of where they trade today.
As ever do your own research, crypto's are very high risk, i.e you don't get the potential for X10 reward with 100% risk! But I am buying crypto's everyday and hopefully the limit orders will also get filled so whilst I may never buy any ETh or BTC, I at least I want to get to the 50% of target holdings for the Alt coins. So I am biting the bullet and buying crypto's every day.
As ever approach crypto's with BOTH EYES WIDE OPEN because for the high potential return of X2 to x10 one also carries he high risk of 100% loss.
The bottom line is one places ones bets and takes ones chances based on risk vs reward, Bitcoin trading to new all time highs has changed the risk / reward landscape in favour of lower risk and higher rewards.
So all aboard as the crypto gravy train will soon be leaving the station for designation X10, CHOO! CHOO!
Earnings Noise Delivers INTEL And IBM Buy Opps
Firstly a reminder of my stock market trend expectations that had me disinvest 80% and so far has kept my powder dry in the AI stocks at least.
1. I expect stocks to trade BELOW their October lows during 2022 due to chronic over valuations and Financial Crisis 2.0.
2. That there is a real risk of a market panic event that would result in substantially lower stock prices i.e. Financial Crisis 2.0 where I consider Evergrande being the canary in the coal mine signaling a collapse of the mother of all property bubbles - CHINA! That will create price volatility in asset classes such as US tech stocks.
3. That rampant money printing means we have no choice but to hold risky ASSETS as the alternative is 100% guaranteed loss of purchasing power by mans of high real inflation. The operative word being ASSETS for that is HOW one GETS RICH! By accumulating ASSETS! Let me repeat myself to get rich one has to ACCUMULATE ASSETS! Not trade in and out like a ping pong ball as some in the Patreon comments section appear to be doing, that is just wasting ones time and energy. You are not going to get rich by spinning your wheels! ACCUMULATE ASSETS and that's what I did this past week, bought income (dividends) generating assets.
So whilst I am in no rush to buy and largely continue to bide my time, however the safest place for ones wealth is in assets that are leveraged to inflation. So I am seeking to buy stocks at fair value for the long-run at or near my buying levels i.e. Intel trading at $49.5 on a PE of 11 is dirt cheap and good inflation proofing no matter if the price trades lower to $44 which is technically possible, because at the end of the day the price means diddly squat, only thing that matters is the valuation i.e. all those who held Facebook at $384, what now? i.e. you cannot go back in time with the benefit of hindsight and sell at $384. The only prices that matter are that which one buys at and that which one sells at, the rest is irrelevant noise. So the key is to buy VALUE! and SELL OVER VALUATION. And whilst Facebook even at its buying level of $301 would still not be what I would consider cheap, still it would be a far better stock in valuation terms than any of the other primary tech giants, hence I why I am next seeking to add to Facebook that could trade significantly lower i.e. it could go all the way down to $260 as that is what I see as being fair value for Facebook.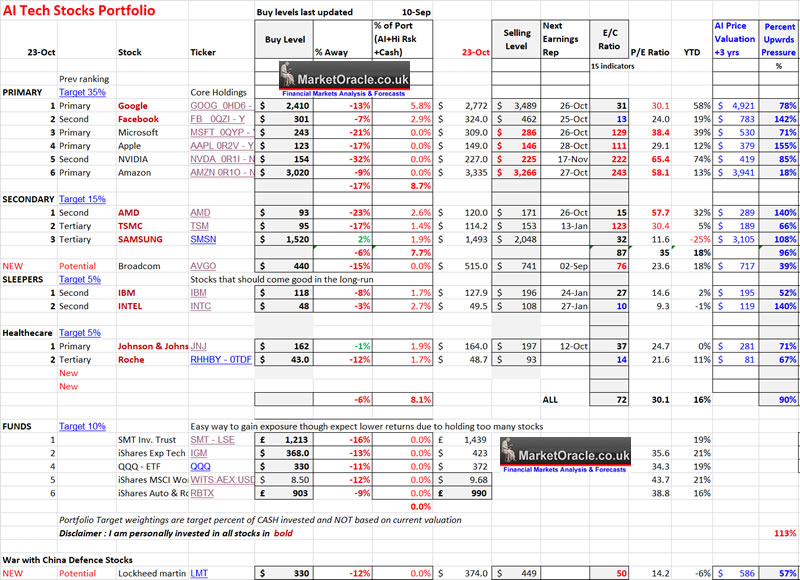 Large Image - http://www.marketoracle.co.uk/images/2021/Oct/AI-stocks-23rd_ocotber-2021-big.jpg
As expected the indices such as the Dow are largely irrelevant to what the tech stocks are do during October so whilst the Dow is making a new all time highs earnings noise delivered two back to back buying opps, which as I stated in my last AI stocks article I was focused on three stocks that I was expecting to buy following a further drop of about 10% for each which transpired this week for two, I bought IBM at $130 and Intel at $50, and will likely buy more of both should they continue trending lower. I did the buys live on my last Patreon articles comments section following the start of trading for each stock following their earnings reports that many patrons found useful.
It's nice to see IBM back in my AI stocks pie chart after effectively giving me 2 years worth of additional dividend income i.e. Selling at $146 then Buying back at $130.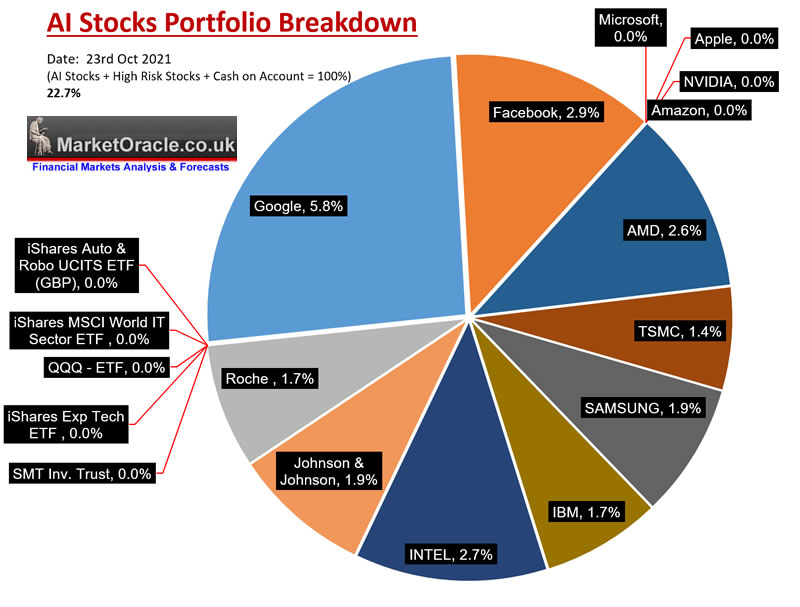 I have penciled in to buy more IBM at $122 and more Intel at $46. But do remember folks I AM INVESTING NOT TRADING, I generally don't sit there watching prices minute by minute but identify where a stock I want to buy could trade down to and set a limit order or price alert at that price. Investing is a case of accumulating ASSETS when cheap and well INTEL IS DIRT CHEAP! When these two sleeping quantum AI tech giants wake up those who mock will be banging their heads on the table for why they never had to the foresight to buy when the stocks were cheap, well Intel is CHEAP, IBM less so but it is having a yard sale to get rid of all of its junk (Kyndryl). In the meantime we can collect those dividends. This is the way of the investing world, when stocks are CHEAP people find reasons why not to buy them, when stocks are expensive people swallow any old crap to justify buying regardless of high valuations.
The bottom line is this - IBM and INTEL are SAFE stocks that pay a good dividend. So are a good place to park some of ones wealth to avoid the inflation stealth theft of wealth, especially when trading at deep discounts to their highs. I am going to buy more of especially Intel during the coming week and by the time I am done it may even end up being my single largest holding.
Facebook and Google Could CRASH 10% Post Earnings Day
Investors are clocking on to the pattern of stocks falling hard post earnings as we witnessed with IBM and Intel and worse for SNAP hence the sharp drop in Facebook and Google stock Friday, the day the Dow set new all time highs. Which means prepare for a highly probable post earnings down days for ALL of the over valued tech giants of as much as a 10%!
So wherever the stock is trading the day before, take off 10% for where it will likely be trading down to post earnings. That would put Facebook as low as $290 on the last close of $323 and Google on $2500! Right about where I would consider buying the stock for the first time since September 2020. Though personally I am not inclined to buy more Google stock right now, instead my focus is on Facebook as the better value of the two stocks. Nor am I going to sell Google ahead of earnings, having already lightened my load by 50% some months ago.. And as ever when the stocks experience a sharp drop reasons will be put forward after the fact with the benefit of hindsight of why they fell.
Amazon's stock price has been dead as a dodo for over a year, so no reason to buy, not unless I see it trade down to something like $2600.
Regardless of new Dow highs, many of the tech giants are wobbling, Google looks se to trade to well below it's October low and we may even get to a price where I might buy more at around $2500. Whilst TSMC is holding up there in it's little trading range. AMD is on a powerful bull run to new highs, but could dip sharply on earnings noise. I really do want it to dip into the mid 90's so I can buy more. As for Microsoft, can it fall from $309 to about $260? For I can't imagine buying it for anything more than that, and even at $260 it won't be cheap, hence my buying level remains at a distant $243.
So Facebook is next in my cross hairs to buy for the long-run as it homes in on my buying level of $301, and may we may see it trade as low as $290!
High Risk Stocks Swings and Roundabouts
Whilst where high risk stocks are concerned AVIR collapsed from $40 to $12, following it's drug trials FAIL, prompting me to buy about 1/3rd more of this very high risk stock and put a limit to sell the lot at $45. It is very volatile so might as well try and profit form the volatility. Whilst at the other end of the spectrum the Chinese Tech giants have sustained their rallies which suggests that final bottom could be in, lets hope Emperor Ming does not get another migraine and launch more regulatory missiles at the tech sector sending them to fresh lows, as I don't really want to add to these three stocks..
Again for immediate first access to ALL of my analysis and trend forecasts then do consider becoming a Patron by supporting my work for just $4 per month. https://www.patreon.com/Nadeem_Walayat.
My analysis schedule includes:
UK House Prices Trend Analysis, including an update for the US and a quick look at Canada and China - 65% done
How to Get Rich! - 90% done - This is a good 6 month work in progress nearing completion.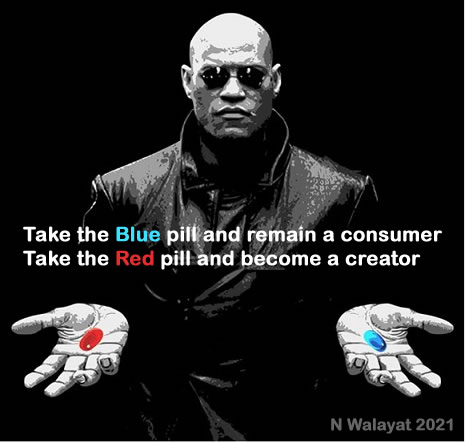 High RIsks Stocks Portfolio Quarterly Review
US Dollar and British Pound analysis
Gold Price Trend Analysis - 10%
Your cryptos accumulating analyst.
Nadeem Walayat
Copyright © 2005-2021 Marketoracle.co.uk (Market Oracle Ltd). All rights reserved.
Nadeem Walayat has over 35 years experience of trading derivatives, portfolio management and analysing the financial markets, including one of few who both anticipated and Beat the 1987 Crash. Nadeem's forward looking analysis focuses on UK inflation, economy, interest rates and housing market. He is the author of five ebook's in the The Inflation Mega-Trend and Stocks Stealth Bull Market series that can be downloaded for Free.

Nadeem is the Editor of The Market Oracle, a FREE Daily Financial Markets Analysis & Forecasting online publication that presents in-depth analysis from over 1000 experienced analysts on a range of views of the probable direction of the financial markets, thus enabling our readers to arrive at an informed opinion on future market direction. http://www.marketoracle.co.uk
Disclaimer: The above is a matter of opinion provided for general information purposes only and is not intended as investment advice. Information and analysis above are derived from sources and utilising methods believed to be reliable, but we cannot accept responsibility for any trading losses you may incur as a result of this analysis. Individuals should consult with their personal financial advisors before engaging in any trading activities.
© 2005-2022 http://www.MarketOracle.co.uk - The Market Oracle is a FREE Daily Financial Markets Analysis & Forecasting online publication.

Only logged in users are allowed to post comments.
Register/ Log in