UK House Price Falls Moderate in November to -0.4%
Housing-Market
/
UK Housing
Nov 27, 2008 - 09:27 AM GMT


• Prices fall by 0.4% in November
• Annual rate of fall moderates to 13.9%
• Deep interest rate cuts will provide support for borrowers
• Fiscal measures may help housing market indirectly, but policies to support funding markets may be more likely to speed recovery



Commenting on the figures Fionnuala Earley, Nationwide's Chief Economist, said: "The rate of house price falls moderated significantly in November. Prices fell by just 0.4% in the month compared with 1.3% in October. This brings the annual rate of house price falls to 13.9%, down from 14.6% last month. The price of a typical house is now £158,442. This is about £25,000 less than this time last year but is still about £25,000 higher than in November 2003.
Poor economic conditions will continue to put pressure on the housing market…
"In spite of the moderation in house price falls recorded in November, with the economy in recession, conditions do not appear very favourable for a swift recovery in the housing market. The labour market is weakening, which will inevitably hinder market demand, particularly when property remains expensive relative to earnings. With prices falling at their current rate there is also little incentive for new borrowers to hurry into the market. However, there are a number of measures which should provide some support to the market in general and help existing and potential homeowners in these difficult times.
…but falling interest rates will soften the impact
"The Monetary Policy Committee's decision to reduce interest rates by 1.5% at the November meeting took most commentators by surprise. It was a bold step and has left no doubt that the focus of their concerns has shifted from inflation to deflation. While not aimed directly at the housing market, such a substantial shift in the Bank Rate will help a significant number of existing and potential homebuyers. Different borrowers will be affected in different ways by rate cuts. The estimated one-third of borrowers on tracker mortgages will have benefitted onefor- one from base rate cuts. About one fifth of borrowers are on their lender's standard variable rate (SVR). Although SVRs do not change automatically when the base rate moves, most lenders have so far passed on a large part of the Bank of England's 2.75% worth of base rate cuts since December 2007. Finally, while the roughly 50% of borrowers on fixed rate deals will not benefit immediately from rate cuts, they will face much less of a payment shock when they come to the end of their deals.
Fiscal measures could have some effect…
"The fiscal measures announced in the Pre-Budget Statement are aimed at preventing the economy from going into a deeper recession. Additional government spending, the reduction in VAT and tax and national insurance contributions for those at the lower end of the income scale may have some indirect effect on the housing market. However, this is likely to be limited unless it has a significant effect on consumers' expectations. This seems unlikely since incomes will still be squeezed as the economy contracts.
…but measures to improve market activity more likely to help
"Some measures to try to encourage more activity were announced in September. The most notable was the stamp duty holiday. So far this seems to have had little impact on overall market sentiment or activity, though official data on mortgage approvals is not yet available for October. The raising of the threshold to £175,000 was aimed at encouraging first-time buyers, but based on average first-time buyer house prices, the change only makes a difference in four regions of the UK where average first time buyer prices are between £125,000 and £175,000. This does not include London and the Outer Metropolitan region.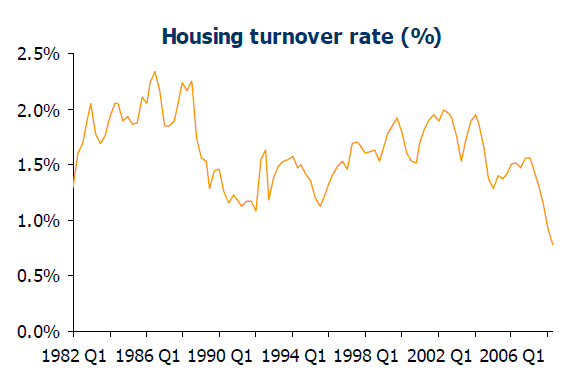 "Given the effect that the turmoil in financial markets has had on the availability of mortgage finance, probably more eagerly awaited is the Chancellor's decision on the recommendations of the Crosby Report into mortgage finance.
"Turnover rates in the housing market have fallen to historic lows, even below the levels in the 1990s when the economic conditions were worse than they are today. At the trough of the market in Q4 1990, interest rates were at 14% and there were almost double the number of unemployment claimants, yet a greater proportion of owner occupiers were taking out mortgages to move house. The significant difference today is the financial market shock which has led to the severe tightening of credit. In Q4 1990, 60% of first time buyers were taking out loans with LTVs above 90%, today the equivalent proportion is 14%. While this may reflect less desire on the part of borrowers to borrow at high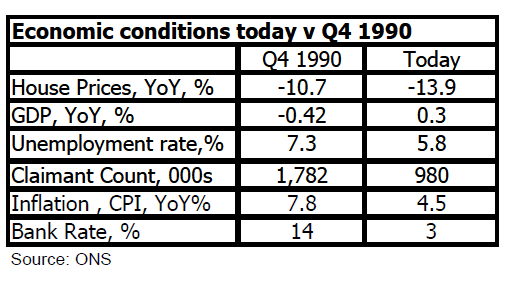 LTV, especially given its higher cost, it also implies that part of the reduction in turnover today is likely to be due to the availability of finance at higher LTV.
"Not all of the limits on lending will be due to the turmoil in the markets. Some will be due to more traditional underwriting criteria taking effect in a slowing economy with falling house prices and some will be due to more accurate pricing of risk. Nevertheless it is clear that the uncertainties in the financial markets are still affecting the availability and costs of funds in the markets as banks deleverage, and this has an effect on borrowers. If funds once again became more freely flowing as a result of Crosby's recommendations, this could stimulate levels of activity in the market and thus help to promote a swifter recovery. While there is still a great deal of uncertainty about the appetite of investors for mortgage backed securities, a government guarantee may be the catalyst required to restart this market and begin to add liquidity, especially as affordability is now improving."
Fionnuala Earley
Chief Economist
Tel: 01793 656370
fionnuala.earley@nationwide.co.uk
Roy Beale
Media Relations Officer
Tel: 01793 655689
roy.beale@nationwide.co.uk
Notes: Indices and average prices are produced using Nationwide's updated mix adjusted House Price Methodology which was introduced with effect from the first quarter of 1995. Price indices are seasonally adjusted using the US Bureau of the Census X12 method. Currently the calculations are based on a monthly data series starting from January 1991. Figures are recalculated each month which may result in revisions to historical data. The Nationwide Monthly House Price Index is prepared from information which we believe is collated with care, but no representation is made as to its accuracy or completeness. We reserve the right to vary our methodology and to edit or discontinue the whole or any part of the Index at any time, for regulatory or other reasons. Persons seeking to place reliance on the Index for their own or third party commercial purposes do so entirely at their own risk. All changes are nominal and do not allow for inflation. More information on the house price index methodology along with time series data and archives of housing research can be found at www.nationwide.co.uk/hpi
© 2005-2019 http://www.MarketOracle.co.uk - The Market Oracle is a FREE Daily Financial Markets Analysis & Forecasting online publication.

Only logged in users are allowed to post comments.
Register/ Log in