Global Banking Crisis Worsens as Bailout Capital Exceeds Net Worth of Banks
Stock-Markets
/
Credit Crisis 2009
Jan 18, 2009 - 04:26 PM GMT

BBC News: US banking giants in tie-up deal
"Struggling US banking giant Citigroup and its rival Morgan Stanley have agreed a deal which sees the tie-up of their brokerage operations. Morgan Stanley is paying Citigroup $2.7 billion for a 51% stake in the joint venture while Citigroup will have a 49% stake.
"Observers say the deal showed how much Citigroup wanted to slim down its operations and build up cash reserves. It received the largest government bail-out of any US bank last year.
"Citigroup's retail brokerage, Smith Barney, was formerly a key part of its wealth management business.
"The new unit - to be called Morgan Stanley Smith Barney - will have more than 20,000 advisors, $1.7 trillion in client assets, and serve 6.8 million households around the world, the firms said.
"The Financial Times reports Citigroup will separate its higher risk US consumer finance and securities businesses from its global commercial banking operations.
"Analysts suggest that the government will end up buying some struggling parts of the business with the next tranche of its financial rescue programme. 'I think within 12 months, Citigroup no longer exists. The new CEO of this company is the government,' said William Smith of Smith Asset Management."
Source: BBC News , January 13, 2009.
Barry Ritholtz (The Big Picture): The 45 billion dollar club
"The United States of Wall Street just added another major holding to its portfolio of financial garbage: Bank of America.
"Like Citi, B of A has now received MORE IN BAILOUT MONEY than its actually worth (BAC = $53B; C = $21B). How this can ever be a profitable investment, as some mathematically challenged Congress-critters have suggested, is all but impossible to imagine.
"Blaming 'previously undisclosed losses from its Merrill Lynch', B of A threatened to kill their purchase of Mother Merrill. Treasury made an emergency capital injection of $20 billion, on top of the $15B and $10B already received by B of A and MER respectively. The taxpayers will also backstop $118 billion of assets, setting up what is likely to be a jumbo money losing trade.
"What should have happened in both instances was an orderly liquidation, selling off the pieces to competent managers who understand risk, and can manage smaller portions of the firm. Instead, the same idiots who helped destroy all of companies involved are still running the show.
"The amazingly bad Bank of America plan mirrors an even worse bad deal made by the Feds with Citigroup in November. There, the taxpayers explicitly insured the bank against losses on 90% of $306 billion of toxic assets - Citigroup's real-estate loans and securities.
"Like Citi, the B of A monies are a terrible deal for the taxpayer - not a lot of bang for the buck, and leaving the same people who created the mess in charge.
"Organ transplant medicine understands certain truths: You do not give a healthy liver to a raging alcoholic, as they will only destroy the organ via their disease/bad judgment/lifestyle.
"Why do we give billions of taxpayer dollars to incompetent managers who failed to protect their assets, who destroyed shareholder value? These people have demonstrated a marked INABILITY to run these firms. Why reward them with 10s of billions of dollars?
"Its nothing short of madness …"
Source: Barry Ritholtz, The Big Picture , January 16, 2009.
CNBC: Bair - banks in crisis
"Discussing big problems for big banks including Citi and Bank of America, with Sheila Bair, FDIC chairman."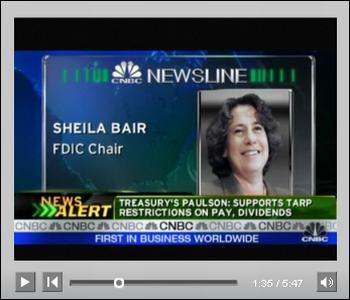 Source: CNBC , January 16, 2009.
Bloomberg: Shilling says banks may need "a lot more" government help
"Gary Shilling, president of A. Gary Shilling & Co., talks with Bloomberg's Betty Liu about the potential for additional government aid for US banks. Shilling also discusses the future of Citigroup Inc. and Bank of America Corp., the state of the US economy, and the outlook for stocks."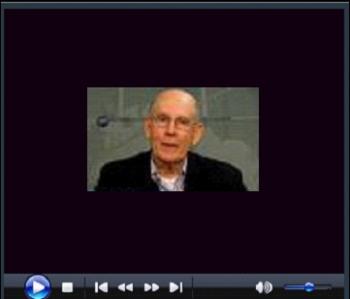 Source: Bloomberg , January 16, 2009.
CEP News: Trichet - central bankers see global economic recovery in 2010
"Central bankers expect the global economy to recover in 2010 according to European Central Bank President Jean-Claude Trichet speaking as head of the Bank for International Settlements on Monday morning.
"While the central banker declined to comment on the European Central Bank's monetary policy ahead of the rate decision this Thursday, Trichet said that the global economic slowdown was due to a lack of confidence and pledged that the group would 'do whatever is appropriate to reinforce [it].'
"He also said that attending members had not discussed exchange rates at the meeting, but agreed that emerging market growth continues to play an important role for the global economy.
"Earlier on Monday, in an interview with Bloomberg, IMF Managing Director Dominique Strauss-Kahn said that Europe is 'behind the curve' regarding stimulus packages, and that governments are underestimating how such measures are needed to help economies recover."
Source: CEP News , January 12, 2009.
Financial Times: Larry Fink on what could derail recovery
"Larry Fink chief executive and chairman of BlackRock, talks to Henny Sender, FT's international financial correspondent, about monetary policy, securities and risk management. He also discusses corporate governance, oversight and stabilizing troubled assets."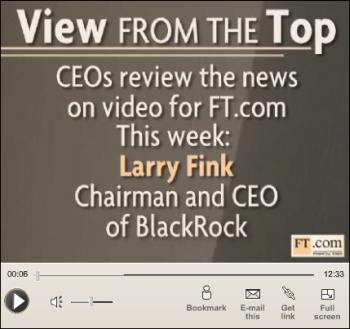 Source: Financial Times , January 8, 2009.
Financial Times: JPMorgan chief says 2009 will be bleak
"The US financial and economic crisis will worsen this year as hard-hit consumers default on credit cards and other loans, Jamie Dimon, chief executive of JPMorgan Chase, has predicted in an interview with the Financial Times.
"Mr Dimon, whose bank will report fourth-quarter results on Thursday, gave his bleak assessment as shares on both sides of the Atlantic tumbled on rising fears that banks would need more capital and a larger-than-expected fall in US retail sales.
"'The worst of the economic situation is not yet behind us. It looks as if it will continue to deteriorate for most of 2009,' said Mr Dimon. 'In terms of our sector, we expect consumer loans and credit cards to continue to get worse.'
"Mr Dimon told the FT that JPMorgan was prepared for an expected deterioration in consumer-oriented businesses but added that if things were to get worse than expected it would have to cut costs again.
"Mr Dimon said the bursting of the credit bubble would force the banking industry to refocus on its traditional businesses of advising on deals and lending to companies and individuals.
"'When we look back at industry excesses in areas such as highly leveraged lending and securitisation, it is clear that some of these markets will never come back,' he said. 'In the next few years, the industry will go back to basics: serving individual and corporate customers as best as we can.'"
Source: Francesco Guerrera, Financial Times , January 14, 2009.
Charlie Rose: A conversation with Lee Scott, CEO of Wal-Mart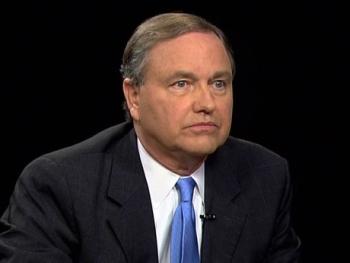 Source: Charlie Rose , January 14, 2009.
CNBC: Nobel debate on the economy
"Weighing in on the economy with Edmund Phelps, 2006 Nobel Prize winner from Columbia University, and Michael Spence, 2001 Nobel Laureate from Stanford University."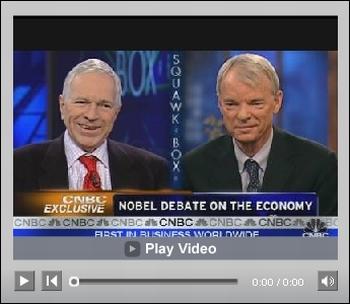 Source: CNBC , January 15, 2009.
Times Online: Leading economist fears decade of weakness in US
"One of the world's leading economists has given warning that the United States is facing a decade of financial misery, with the number of unemployed Americans set to continue to rise for years.
"Robert Shiller, Professor of Economics at Yale University, who predicted the end of the internet bubble seven years ago, said: 'We could have many years of a very weak economy. Big recessions are followed by years of weakness and typically unemployment keeps rising.
"'To say that this will last years is not a dramatic statement. What is happening now is much worse than 1990. We could be facing a decade of real weakness. This is no ordinary recession. There are signs that people see this as a different story. People are talking about a depression, something that we haven't seen previously.'
"Some economists, such as Kenneth Rogoff, the former chief economist at the International Monetary Fund and now a Professor of Economics at Harvard University, believe that America will be lucky if unemployment peaks at 9% of the workforce and that there is a high chance that it will reach at least 10%.
"Professor Shiller, who said that he has talked to the incoming Obama Administration about possible solutions to the housing crisis in the US, took a swipe at the Federal Reserve.
"He said: 'This recession is by no means mechanical. People have lost a sense of confidence, a sense of trust in institutions and in each other. It is very hard for a central bank to address that by just cutting interest rates.'"
Source: Suzy Jagger, Times Online , January 12, 2009.
PRNewswire: Foreclosure activity increases 81% in 2008
"RealtyTrac today [Wednesday] released its 2008 US Foreclosure Market Report, which shows a total of 3,157,806 foreclosure filings - default notices, auction sale notices and bank repossessions - were reported on 2,330,483 US properties during the year, an 81% increase in total properties from 2007 and a 225% increase in total properties from 2006. The report also shows that 1.84% of all US housing units (one in 54) received at least one foreclosure filing during the year, up from 1.03% in 2007.
"Foreclosure filings were reported on 303,410 US properties in December, up 17% from the previous month and up nearly 41% from December 2007. Despite the spike in December, foreclosure activity for the fourth quarter was down nearly 4% from the previous quarter but still up nearly 40% from the fourth quarter of 2007.
"'State legislation that slowed down the onset of new foreclosure activity clearly had an effect on fourth quarter numbers overall, but that effect appears to have worn off by December,' said James J. Saccacio, chief executive officer of RealtyTrac. 'The big jump in December foreclosure activity was somewhat surprising given the moratoria enacted by both Freddie Mac and Fannie Mae, along with programs from some of the major lenders and loan servicers aimed at delaying foreclosure actions against distressed homeowners.
"'Clearly the foreclosure prevention programs implemented to-date have not had any real success in slowing down this foreclosure tsunami. And the recent California law, much like its predecessors in Massachusetts and Maryland, appears to have done little more than delay the inevitable foreclosure proceedings for thousands of homeowners.'"
Source: PRNewswire , January 14, 2009.
Richard Russell (Dow Theory Letters): Campbell - housing to trough in 2012
"I read a great deal about real estate, and I follow real estate trends closely. By far the best real estate guidance that I've come across is Robert Campbell's 'The Campbell Real Estate Letter'. Nothing I've read compares with Campbell's great record.
"Robert uses an unusual and unique combination of fundamental and historical material along with his own specialty of technical analysis in real estate timing. Bob Campbell called the exact top of the real estate cycle in his report of August, 2005.
"What does Bob Campbell say now? He notes that historically, housing prices fall by an average of 35% after a financial crisis. He further states that he believes housing across the land will fall by another 8% from here to the final low of the housing cycle. And when will the low come? Campbell states that using five years as the average length of a housing downturn, 'we can expect the US housing market to trough in the year 2012. Robert expects housing to fall to the prices that existed back in 2001.
"Writes Campbell, 'And as I've stated in previous letters, this is where the problem arose: borrowers took on far more mortgage debt than they could ever pay back, and that's why the real estate prices are crashing, and we are witnessing the destruction of the biggest credit bubble in history. And in the absence of dramatic increases in household incomes that are needed to service this massive amount of mortgage debt - all the bailouts in the world are unlikely to stop housing prices from eventually reverting back to the 2001 pre-bubble years - or close to it.'"
Source: Richard Russell, Dow Theory Letters , January 15, 2009.
Bespoke: Expected change in home prices
"The CME housing futures that track the S&P/Case-Shiller median home price indices of 10 major cities offer a clue into how much more investors think home prices have to fall.
"In the chart below, we highlight the percentage difference between the October '08 actual Case-Shiller numbers (the most recent set of numbers) and the current price of the November '09 futures contracts. The composite 10-city November '09 contract is currently trading 12% below its October '08 level. San Francisco is expected to fall the most in 2009 at -18%, followed by Los Angeles (-16.6%), and Las Vegas (-13%). The rest of the cities are expected to fall less than the composite, with Boston home prices expected to fall the least at -6%. Miami, Denver, DC, and San Diego are all expected to see home prices fall by less than 10% from 10/08 to 11/09."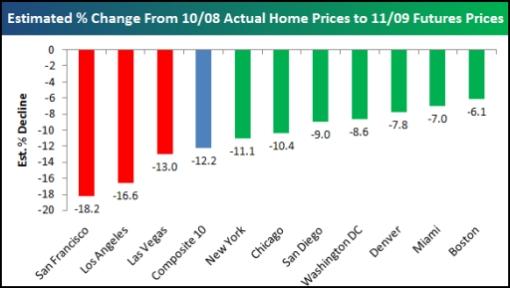 Source: Bespoke , January 12, 2009.
MarketWatch: 30-year mortgage under 5%
"The benchmark 30-year mortgage fell below 5% for the first time ever in Freddie Mac's weekly rate survey as economic weakness continued to push interest rates lower, the mortgage agency said Thursday.
"The national average rate on the 30-year loan fell to 4.96% in the week ending January 15, down from 5.01% a week ago. That is the lowest on record. Freddie Mac began its rate survey in 1971. A year ago the loan averaged 5.69%.
"The 15-year fixed-rate mortgage, a popular refinancing choice, edged up to 4.65% from 4.62% a week ago. Last year at this time the loan averaged 5.21%. Refinancing activity has been strong as mortgage rates have plumbed historic lows.
"The two fixed-rate loans required the payment of an average 0.7 point to achieve the interest rate. A point is one percent of the loan amount, charged as prepaid interest."
Source: Steve Kerch & Amy Hoak, MarketWatch , January 15, 2009.
Asha Bangalore (Northern Trust): Dreadful retail sales in December
"Retail sales in December were abysmal on every front. Total retail sales during December plunged 2.7% from 2.1% in November. Nearly all sub-components posted significant declines in sales.
"Retail sales have dropped at an annual rate of 24.6% in the fourth quarter versus a 5.1% drop in the previous quarter, a large part of it is due to the drop in gasoline prices. The weakness in retail sales supports expectations of a weak headline GDP number for the fourth quarter and also arithmetically consumer spending and GDP of the first quarter of 2009 are at a disadvantage."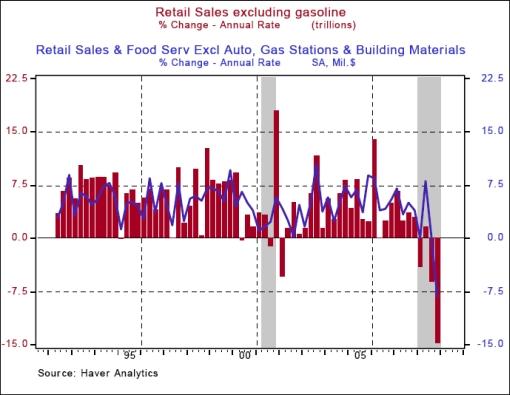 Source: Asha Bangalore, Northern Trust - Daily Global Commentary , January 14, 2009.
Asha Bangalore (Northern Trust): Lower prices and weak non-oil imports translate to smaller trade gap
"The trade balance of the US economy narrowed to $40.4 billion in November from $56.7 billion in October. A 12.0% drop in nominal imports of goods and services partly due to lower imported oil prices was the main reason for the reduction in the trade gap. Weak economic conditions in the US have resulted in lower imports, while a similar status abroad has led to a 5.8% drop in nominal exports of goods and services."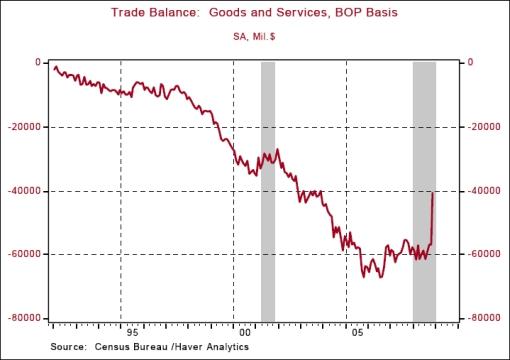 Source: Asha Bangalore, Northern Trust - Daily Global Commentary , January 13, 2009.
Asha Bangalore (Northern Trust): Energy and food prices bring down headline wholesale price index
"The Producer Price Index (PPI) of Finished Goods fell 1.9% in December after a 2.2% drop in the prior month, reflecting lower prices for energy (-9.3%) and food (-1.5%). In 2008, the PPI fell 0.9% versus a 6.2% jump in 2007. The 20.3% drop of the energy price index was the main reason for a sharp reversal of the wholesale price index in 2008. The food price index climbed 3.7% in 2008 versus a 7.6% gain in 2007."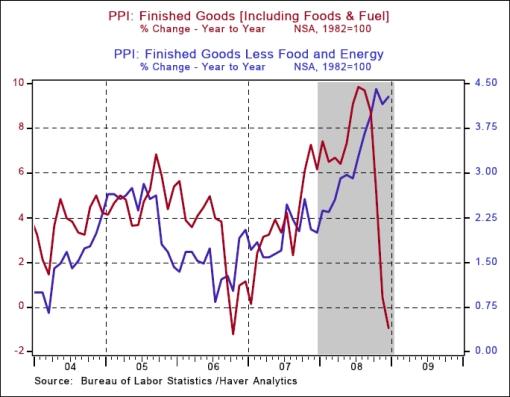 Source: Asha Bangalore, Northern Trust - Daily Global Commentary , January 15, 2009.
Asha Bangalore (Northern Trust): Inflation - issue of little importance, for now
"The Consumer Price Index (CPI) dropped 0.7% in December, the third consecutive monthly decline and the fourth drop in the last five months. During the twelve months ended December the CPI moved up only 0.1% (CPI rose 4.1% in all of 2007), which is the smallest gain on record in the post-war period with the exception of a 0.7% drop in the twelve months ended December 1954. The reversal of the energy price index (-21.3% versus +17.4% in 2007) is largely responsible for the significant deceleration of the CPI. The food price index fell 0.1% in December and advanced only at an annual rate of 1.4% during the three months ended December versus a 4.0% annualized increase in the prior three-month period.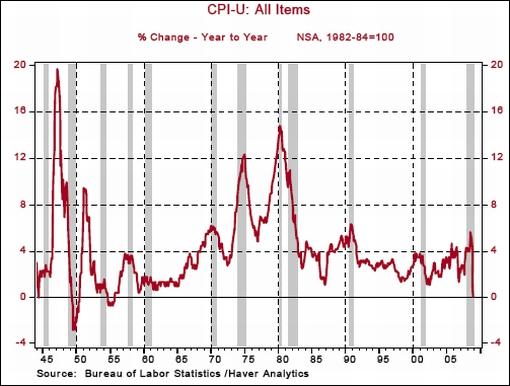 "… going forward, given the projections of weak economic conditions, inflation could move below levels that are consistent with price stability for a short period. At the same time, we should bear in mind that the large fiscal and monetary stimulus in place, and more in the pipeline, inflation could once again be problematic but much farther down the road."
Source: Asha Bangalore, Northern Trust - Daily Global Commentary , January 16, 2009.
Jim Sinclair (MineSet): The unavoidable face of hyperinflation
"It is horrifying what the Fed and Treasury injected in percentage terms. A true measure of comparison can be seen in the three months of 2008 when the Fed accomplished more than in the seven years from 1929 to 1937.
"This is beyond all reason, having its own new and terrible consequences well in excess of the consequences of the 1929 and 1932 breaks.
"Markets have been run now for years by algorithms, manipulators and seeded interests that are like summer thunderstorms. They are loud and scary, but quite short term and in the end quite meaningless and non-productive.
"The dollar cannot and will not remain strong, nor can a planetary Weimar experience now be avoided."
Click here or on the image below for a larger chart.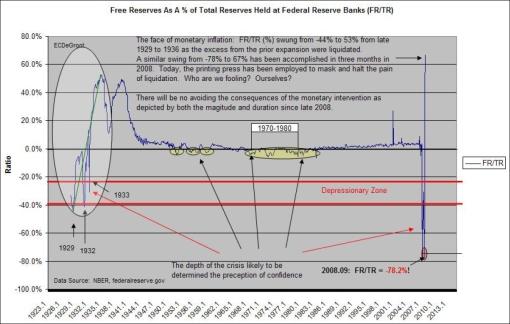 Source: Jim Sinclair, MineSet , January 14, 2009.
Bloomberg: Hedge fund assets fell record 36% in 2008
"Hedge fund assets fell a record 36% to $1.84 trillion in 2008 as tumbling global markets prompted investor withdrawals and fund liquidations, according to industry researcher HedgeFund.net.
"Hedge funds lost $512 billion through withdrawals and fund closures, while performance losses totaled $535 billion, the New York-based unit of Channel Capital Group said in an e-mailed statement. The decline is the biggest since Hedgefund.net began tracking the data in 2003.
"Funds suffered losses and client withdrawals last year, with some selling assets at fire-sale prices as the global credit crisis forced banks to withdraw loans to the industry. While defections and closures reached a record in December, a benchmark of performance rose for the month after declining in previous months, Hedgefund.net said.
"'Investor asset flows lag performance, and the sharp rise of outflows in the fourth quarter are the result of yearlong aggregate losses,' Hedgefund.net said in the statement. 'Positive performance in December may be an indication that the biggest wave of investor outflows has passed.'"
Source: Tomoko Yamazaki, Bloomberg , January 15, 2009.
Bespoke: S&P sector returns year to date
"Below we highlight S&P 500 sector performance year to date through about noon today. As shown, just three sectors are underperforming the market so far this year, and the Financial sector is weighing heavily on the overall index's declines. Energy, Health Care, Technology, Materials, and Utilities have actually held up pretty well."
Source: Bespoke , January 16, 2009.
CNBC: Doll's outlook for 2009
"A look ahead of the possible double-digit equities growth in 2009, with Bob Doll, BlackRock vice chairman/global CIO."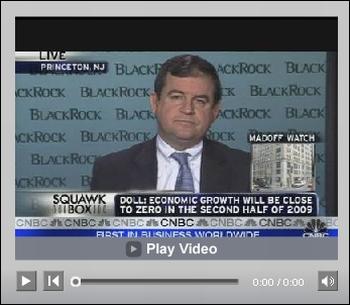 Source: CNBC , January 12, 2009.
CNBC: Hendry - bonds still best bet
"Government bonds are still the safest bet for investors in these uncertain times, and the euro will face an uphill battle as weak economies will need more flexibility, Hugh Hendry from Eclectica told CNBC."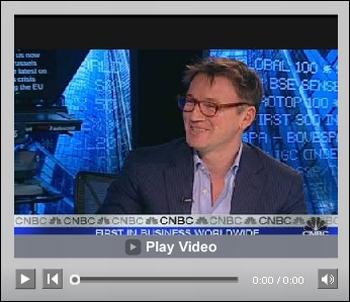 Source: CNBC , January 12, 2009.
BCA Research: US employment will cap Treasury back-up
"The US December employment report was grim and included further downward revisions to prior months. Our forecast for the next six months is equally bearish, which implies that Treasury yields will be capped for a long time.
"The contraction in payrolls were roughly in line with expectations, with a broad-based decline in all industries. Our Model forecasts significant weakness in the first half of the year, with no bottom in sight. Labor and income insecurity will continue to keep consumers from spending, and the already deflationary retailing environment will continue to worsen.
"Historically, Treasury yields sustainably rebound only once the annual growth in payrolls turns up significantly. Thus, any back-up in government bond yields over the next few months will prove short lived. Deflation and a contracting economy will be the primary drivers of trends in the Treasury market, underscoring that fears of higher yields driven by mushrooming budget deficits are premature."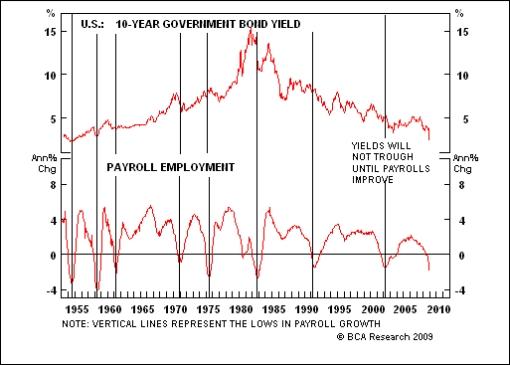 Source: BCA Research , January 12, 2009.
Ambrose Evans-Pritchard (Telegraph): The bond bubble is an accident waiting to happen
"The bond vigilantes slumber. As the greatest sovereign bond bubble of all time rolls into 2009, investors are clinging to an implausible assumption that China and Japan will provide enough capital to keep the happy game going for ever.
"They are betting too that debt deflation will overwhelm the effects of near-zero interest rates across the G10 and nullify a £2,000 billion fiscal blast in the US, China, Japan, Britain, and Europe.
"Above all, they are betting that the Federal Reserve chief Ben Bernanke will fail to print enough banknotes to inflate the US money supply, despite his avowed intent to do so.
"Yields on 10-year US Treasuries have fallen to 2.4% - a level that was unseen even in the Great Depression. This is 'return-free risk', said bond guru Jim Grant.
"It is much the same story across the world. Yields are 1.3% in Japan, 3.02% in Germany, 3.13% in Britain, 3.26% in Chile, 3.47% in France, and 5.56% in Brazil.
"'Get out of Treasuries. They are very, very expensive,' said Mohamed El-Erian, the investment chief at the Pimco, the world's top bond fund, in a Barron's article last week.
"It is lazy to think that China, Japan, the petro-powers and the surplus states of emerging Asia will continue to amass foreign reserves, recycling their treasure into the US and European bond markets.
"These countries are themselves bleeding as exports collapse. Most face capital flight. The whole process that fed the bond boom from 2003 to 2008 is now going into reverse. Woe betide any investor who misjudges the consequences of this strategic shift."
Click here for the full article.
Source: Ambrose Evans-Pritchard, Telegraph , January 12, 2009.
David Fuller (Fullermoney): Government bond bubble will burst
"Objectively, there is no doubt that government debt yields in the UK, USA and a number of other countries have moved well outside their historic, normal price ranges and values. This indicates a bubble, which some have described as a 'return-free risk'.
"We need no reminding today that dire economic circumstances have contributed to these ultra-low yields. Indeed, governments have encouraged the move, with rate cuts and talk of quantitative easing, as part of their reflationary efforts. We also know that governments need to issue considerably more debt to finance their programmes, and they want to do this as cheaply as possible.
"My conclusion is that those who are lending to governments at record or at least near-record low yields, are walking into a trap. The government bond bubble has yet to burst, judging from the charts, but it will burst. With bubbles, it seldom pays to delay one's exit until the downtrend is evident to all."
Source: David Fuller, Fullermoney , January 14, 2009.
CNBC: Credit - still a good bet if yield curve steepens?
"Investment-grade credit looks very attractive to Richard Urwin, MD & head of asset allocation & economics research team at BlackRock. But what happens if the yield curve steepens by year-end? He gives his take CNBC's Amanda Drury & Martin Soong."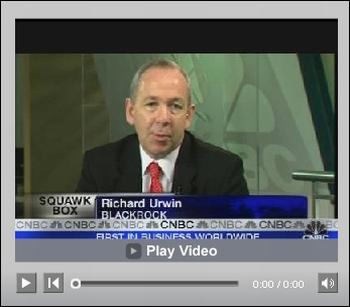 Source: CNBC , January 16, 2009.
Eoin Treacy (Fullermoney): 10-year Treasuries show negative real yield
"It is interesting that this is the first time since 1980 that the US 10yr has shown a negative real yield. The fact is that it has not had anything close to the size of the move, relative to CPI, as seen in 1974 or 1980 is also worthy of notice. Of course back then, high inflation expectations were much more of a factor in the movement of the spread, but that is certainly not the case today."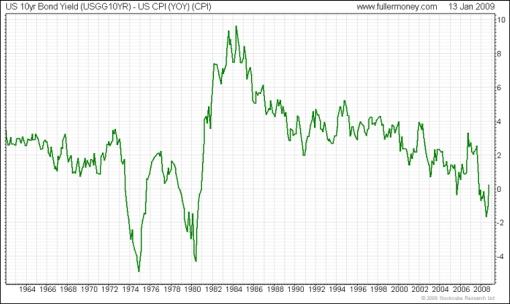 Source: Eoin Treacy, Fullermoney , January 13, 2009.
Financial Times: Bond issuance by emerging nations surges
"Emerging market sovereign bond issuance has surged this week as governments take advantage of the dramatic drop in yields because of the sharply improving sentiment since the start of the year.
"The Philippines, Turkey, Brazil and Colombia have all issued debt in the past few days, raising a total of $4.5 billion. This compares with just one deal worth $2 billion from Mexico issued in the entire fourth quarter of 2008.
"Nigel Rendell, senior emerging markets strategist at RBC Capital Markets, said: 'Sentiment has improved a great deal since January 1 in the emerging market space, so these countries see this as a window of opportunity to issue debt.'
"Since January 1, emerging market bond yields have fallen about 40 basis points compared with US Treasuries, the international benchmark for debt, close to eight-week lows, according to JP Morgan's Embi+ Index. Emerging market bonds are now trading about 650 basis points above US Treasuries. Emerging market governments are also rushing to issue debt as they fear they could be 'crowded out' of the primary bond markets because of the record volumes of sovereign debt due from the industrialised nations.
"These emerging market countries need the cash, like their industrialized counterparts, to stimulate their economies."
Source: David Oakley, Roel Landingin and John Aglionby, Financial Times , January 9, 2009.
Bespoke: US dollar testing resistance
"The US Dollar index has made a nice comeback after its free-fall from late November to mid December. The dollar is up 6.76% from its low on December 17, but as shown in the chart below, it is bumping up against key resistance at its 50-day moving average. If the dollar is able to break above its 50-day, a resumption of its multi-month uptrend will be solidified. If it fails to break through, however, the current level will be one peak of a newly formed downtrend."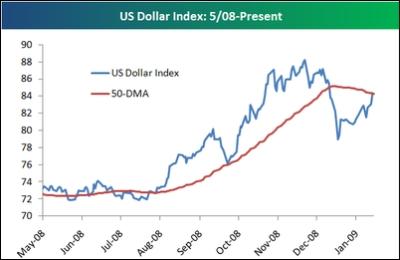 Source: Bespoke , January 14, 2009.
Edmund Conway (Telegraph): Shipping rates hit zero as trade sinks
"Freight rates for containers shipped from Asia to Europe have fallen to zero for the first time since records began, underscoring the dramatic collapse in trade since the world economy buckled in October.
"'They have already hit zero,' said Charles de Trenck, a broker at Transport Trackers in Hong Kong. 'We have seen trade activity fall off a cliff. Asia-Europe is an unmitigated disaster.'
"Shipping journal Lloyd's List said brokers in Singapore are now waiving fees for containers travelling from South China, charging only for the minimal 'bunker' costs. Container fees from North Asia have dropped $200, taking them below operating cost.
"Industry sources said they have never seen rates fall so low. 'This is a whole new ball game,' said one trader.
"The Baltic Dry Index (BDI) which measures freight rates for bulk commodities such as iron ore and grains crashed several months ago, falling 96%. The BDI - though a useful early-warning index - is highly volatile and exaggerates apparent ups and downs in trade. However, the latest phase of the shipping crisis is different. It has spread to core trade of finished industrial goods, the lifeblood of the world economy."
Source: Ambrose Evans-Pritchard, Telegraph , January 12, 2009.
Bloomberg: Frontline says ships storing the most oil in 20 years
"Frontline Ltd, the world's biggest owner of supertankers, said about 80 million barrels of crude oil are being stored in tankers, the most in 20 years, as traders seek to take advantage of higher prices later in the year.
"Traders are seeking to profit from a market situation called contango where futures prices are higher than the cost of immediate supplies. A purchaser could buy oil now, keep it for months at sea and fetch better prices by selling oil futures that are higher than the spot price.
"'In this current financial situation I guess it's one of the more safe bets to do,' Jens Martin Jensen, Singapore-based interim chief executive officer of the company's management unit, said by phone today. Thirty to 35 very large crude carriers, each designed to haul 2 million barrels of crude, are storing oil, with the rest on ships half the size called suezmaxes, he said.
"The contango pricing structure has been caused by excess near-term oil supply as demand slows and speculation that output cuts by the Organization of Petroleum Exporting Countries will reduce the glut later this year."
Source: Alaric Nightingale, Bloomberg , January 14 2009.
Victoria Marklew (Northern Trust): Eurozone - interest rates, inflation, the economy - all fall down
"As widely expected, the European Central Bank (ECB) lopped another 50 bps off its refi rate this morning [Thursday], taking it to 2.0%. Rates have now come down by 225 bps in four successive steps, including a 75 bps cut in December, as the Eurozone economy hits the skids and inflation drops sharply.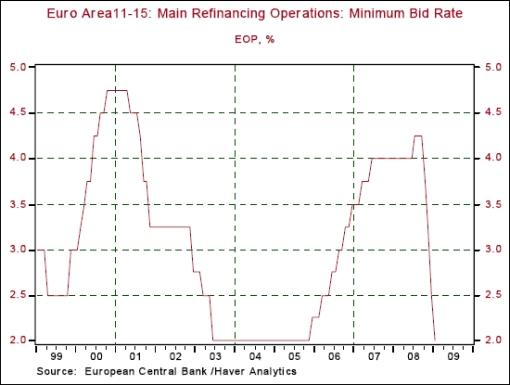 "In his subsequent press conference, President Trichet acknowledged that economic data and surveys over the past month point to 'a further weakening of economic activity around the turn of the year' and warned that Eurozone demand is likely to be 'dampened for a protracted period' with growth risks to the downside. He also acknowledged that the slowing economy has reduced inflation risks, and that the rate of inflation is likely to 'fall significantly' in mid-year, in part because of base effects."
Source: Victoria Marklew, Northern Trust - Daily Global Commentary , January 15, 2009.
Financial Times: German GDP contracts sharply
"Germany's economy could have contracted by as much as 2% in the final quarter of 2008, the country's statistical office warned on Wednesday, deepening a recession that looks likely to be the worst since the second world war.
"The sharp contraction in Europe's largest economy would sound alarm bells across Europe because of Germany's role as Europe's economic powerhouse.
"German exports had benefited from strong global growth in recent years 'but now that process has gone dramatically into reverse', said Andreas Rees at Unicredit in Munich.
"The latest data came just hours after Berlin unveiled a two-year $66 billion package of growth-boosting measures. Michael Glos, economics minister, argued on Wednesday that the plan would have a 'noticeable effect' by later this year.
"Gross domestic product increased by 1 per cent in 2008 as a whole, after a 2.6% rise in the previous year, the federal statistics office reported. But in the final three months of the year, preliminary estimates suggested that GDP fell between about 1.5% and 2%, it said."
Source: Ralph Atkins, Financial Times , January 14, 2009.
CEP News: Germany's coalition parties agree on €50 billion stimulus package
"Germany's coalition parties have agreed on a second economic stimulus package totalling approximately €50 billion, to be put into place over the course of the next two years in an effort to pull the economy out of its worst recession since the end of the Second World War.
"The package of measures will include approximately €36 billion in infrastructure investment and tax cuts. The announcement was made following six hours of talks between the Christian Democratic Union, the Christian Social Union and the Social Democratic Party in Berlin late on Monday.
"The second stimulus package follows a €31 billion plan already in existence."
Source: CEP News , January 13, 2008.
Financial Times: Spain hit by public finance warning
"The growing dangers for Europe's sharply slowing economies were highlighted yesterday as Spain became the third eurozone country to be warned over its deteriorating public finances in the space of three days.
"Standard & Poor's, the rating agency, said Spain's top-notch triple A credit ratings could be downgraded because of pressure on its public finances after it entered what is likely to be a deep recession in the fourth quarter. On Friday, Greece and Ireland were also warned by the agency that their ratings could be downgraded as economic conditions worsen. The warning is likely to help drive up borrowing costs for those countries.
"The euro weakened against the dollar and the yen after the announcement, which underlined the challenges facing European countries seeking to stimulate their battered economies and pay for bank bail-outs. Analysts say other European countries could face warnings in the coming days or weeks as governments take on record debt levels, which could jeopardise the sustainability of their public finances."
Source: David Oakley and Victor Mallet, Financial Times , January 12, 2009.
Financial Times: China sees "success" in offsetting crisis
"Wen Jiabao declared China's efforts to offset the effect of the global economic slowdown an 'initial success' on Sunday as the economy performed 'better than expected' last month.
"The premier's hints that the country's economy might not be locked in a downward spiral will be seen as good news in the rest of the world, where Chinese growth is viewed as a potential palliative for the global recession.
"Speaking during a three-day visit to industrial regions in eastern China, Mr Wen said sales at some companies had begun to rebound, stockpiles were falling and electricity consumption was rising.
"'We have achieved initial success from the policies we adopted to counter the financial crisis,' the premier said, according to China National Radio.
"Beijing announced an economic stimulus package of Rmb4,000 billion ($585 billion) in November, heavily weighted towards construction and heavy industry. It was not expected to improve economic growth until the middle of this year but some industries, such as steel, have already shown more confidence since the stimulus package was announced. Scores of Chinese steelmakers have resumed production in the hope that it will lead to a sustained recovery in steel prices.
"Mr Wen vowed that the central government would take other measures, including large investments, to combat the crisis before the legislature's annual meeting in early March, according to a speech published separately."
Source: Patti Waldmeir, Financial Times , January 11, 2009.
US Global Investors: Rebound in Chinese bank lending
"A significant rebound in money supply growth and bank lending in China during December suggests that the government's stimulating policies may have achieved some success. However, challenges for the economy are likely to be sustained in the foreseeable future."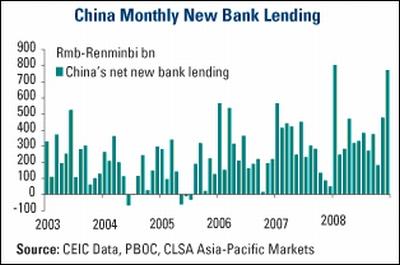 Source: US Global Investors - Weekly Investor Alert , January 16, 2009.
Bloomberg: China passes Germany to become third-biggest economy
"China's economy overtook Germany's in 2007 to become the world's third largest, underscoring the nation's increasing economic and political clout.
"Gross domestic product expanded 13% from a year earlier, more than a previous estimate of 11.9%, to 25.731 trillion yuan ($3.38 trillion), the statistics bureau said on its website today. That topped Germany's 2.424 trillion euros ($3.32 trillion), using average exchange rates for 2007.
"China's economy is 70 times bigger than when leader Deng Xiaoping ditched hard-line Communist policies in favor of free-market reforms in 1978. After overtaking the UK and France in 2005, China became the third nation to complete a spacewalk, hosted the Olympic Games and surpassed Japan as the biggest buyer of US Treasuries.
"The figure was released as China faces the weakest economic expansion since 1990 after exports collapsed because of the global recession."
Source: Nipa Piboontanasawat and Kevin Hamlin, Bloomberg , January 14 2009.
Financial Times: Jim O'Neill on the Bric economies
"Jim O'Neill, Chief Economist at Goldman Sachs, tells David Oakley about the reasons to be positive on China, finding value in Bric economies, and the problems facing Russia."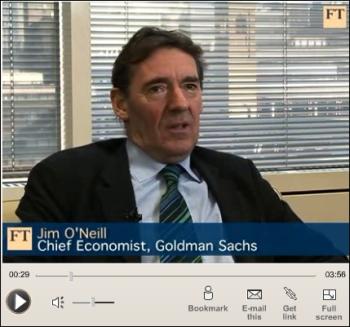 Source: Financial Times , January 9, 2009.
Did you enjoy this post? If so, click here to subscribe to updates to Investment Postcards from Cape Town by e-mail.
By Dr Prieur du Plessis
Dr Prieur du Plessis is an investment professional with 25 years' experience in investment research and portfolio management.
More than 1200 of his articles on investment-related topics have been published in various regular newspaper, journal and Internet columns (including his blog, Investment Postcards from Cape Town : www.investmentpostcards.com ). He has also published a book, Financial Basics: Investment.
Prieur is chairman and principal shareholder of South African-based Plexus Asset Management , which he founded in 1995. The group conducts investment management, investment consulting, private equity and real estate activities in South Africa and other African countries.
Plexus is the South African partner of John Mauldin , Dallas-based author of the popular Thoughts from the Frontline newsletter, and also has an exclusive licensing agreement with California-based Research Affiliates for managing and distributing its enhanced Fundamental Index™ methodology in the Pan-African area.
Prieur is 53 years old and live with his wife, television producer and presenter Isabel Verwey, and two children in Cape Town , South Africa . His leisure activities include long-distance running, traveling, reading and motor-cycling.
Copyright © 2009 by Prieur du Plessis - All rights reserved.
Disclaimer: The above is a matter of opinion and is not intended as investment advice. Information and analysis above are derived from sources and utilizing methods believed reliable, but we cannot accept responsibility for any trading losses you may incur as a result of this analysis. Do your own due diligence.
© 2005-2019 http://www.MarketOracle.co.uk - The Market Oracle is a FREE Daily Financial Markets Analysis & Forecasting online publication.

Only logged in users are allowed to post comments.
Register/ Log in