Rising Oil Price Trend Supports Agri-food Bull Market During 2009
Commodities
/
Agricultural Commodities
Jan 28, 2009 - 03:07 AM GMT


A perhaps amazing characteristic of trends is that they do not continue indefinitely. One can not help also noticing the inability of journalists to correctly describe trends as they are developing. While they, and we suspect their editors, spend considerable time on grammar, they still seem to have problems with the proper tense for verbs. The difference between falling and has fallen may seem trivial to journalists, but to the analysts they are considerably different.


Is the price of oil falling, or has it fallen? Actually, neither is the case. It is rising. In this week's first graph is plotted the spot price for U.S. oil. Yes, the price of oil has fallen from the unsustainable level reached last year, But, it definitely is not falling at the present time. In fact, U.S. spot oil is up about 40% from the low. And as we always remind, oil is part of the energy component of the asset class known as commodities.
Why is the price of oil rising not falling? A number of possible reasons exist for this change of trend. First, U.S. oil prices became artificially depressed due to storage problems at Cushing, Oklahoma. Inadequate capacity there caused inordinate short-term pricing pressure. Second, oil demand is, over time, going to rise. Popular forecasts seem to have a heavy dose of current trend extrapolation. Third, the massive monetization of debt by the Federal Reserve is creating a surplus of dollars in the world. Those excess dollars are pushing up the price of dollar denominated commodities. Oil and Gold prices are both reflecting that monetary policy in a state of out of control.
A fourth, and perhaps most important, reason for the price of oil moving higher is that a sufficient portion of the hedge fund industry has been liquidated, ending their excessive influence on price. The price of oil, and many other commodities, should not have risen as high as they did. Those highs were artificial, driven by the hedge fund mania. Now, with that selling out of the way, oil, and other commodities, can begin to more correctly reflect underlying trends. If that is the case, then oil and other commodities can be expected to sell for significantly higher prices in the future.
The second graph this week, below, is of the prices of fifteen major Agri-Food commodities relative to their lows of the past year. On average, they are up 20% from their lows. Only two, rice and butter, are at their lows. Two are up about 40% while three are up 30%. Again, Agri-Food commodity prices are not falling. They have fallen, and are now rising. Reality is that the world continues to move over time into an era of global Agri-Food shortages. And since Agri-Food cannot be produced in a factory, neither governments nor charismatic leaders can change that situation.
The growth in the underlying demand for Agri-Food varies little with short-term economic cycles. Rather, longer term trends will dominate the future prices for Agri-Foods. China made an important discovery in the past two decades. Hunger is not a food problem. Hunger is an incomes problem. Raise the income of the population, and hunger will disappear. With those incomes, the people will simply buy the food. For once, and likely the only time, government policy has been effective in altering the level of hunger. Several hundred million people have been raised out of poverty in China in the past twenty years. The greatest shift of that kind in all of history, and they will all be eating.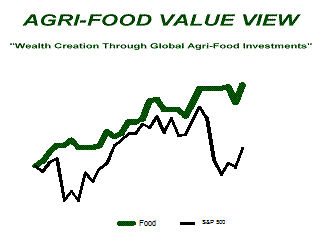 Each year for the foreseeable future about 15 million people will move into the middle class in China. That will happen regardless of what happens to Chinese exports to the U.S. in the coming week. Of course, the actual number might be less in one year and more in other. Over time the compounding effect of their demand for Agri-Food will place a considerable strain on the global Agri-Food balance. At times the question dealt with how China would feed itself.
With the changing income demographics in the next decade, the question will change. How will the rest of the world afford to eat? Is your portfolio ready to ride this Agri-Food Super Cycle?
By Ned W Schmidt CFA, CEBS
AGRI-FOOD THOUGHTS is from Ned W. Schmidt,CFA,CEBS, publisher of The Agri-Food Value View , a monthly exploration of the Agri-Food grand cycle being created by China, India, and Eco-energy. To receive the most recent issue of this publication, use this link: http://home.att.net/~nwschmidt/Order_AgriValueRECENT.html
Copyright © 2009 Ned W. Schmidt - All Rights Reserved
© 2005-2019 http://www.MarketOracle.co.uk - The Market Oracle is a FREE Daily Financial Markets Analysis & Forecasting online publication.
Comments
Laurent Chatenay
28 Jan 09, 18:01
Agri-foods


How can you profit from rising agri-foods if you cannot buy futures?




Only logged in users are allowed to post comments.
Register/ Log in