J.P. Morgan's Abusive Excutives Bonuses
Companies
/
Credit Crisis Bailouts
Feb 07, 2009 - 06:11 PM GMT


As readers will recall, J.P. Morgan received the first large bail-out from the New York FED of $55 Billion, guaranteed by Bear Stearns' worthless assets, to prop up its own liquidity position and buy Bear Stearns stock.
J.P. Morgan also recently received another $25 Billion in TARP payments from the Treasury.
This article is about how J.P. Morgan's executives , instead of receiving easy to detect cash bonuses, received very large bonuses in the form of Stock Appreciation Rights ( SARs ) and Restricted Stock Units. These equity compensation securities are not easy to understand or value by other than experts in the field.
SARs are very similar to employee stock options and Restricted Stock Units are very similar to Restricted Stock .

These SARs were granted on January 20, 2009, the day that the J.P.Morgan stock reached its lowest in five years. The stock quickly rebounded as illustrated in the graph below. The arrow indicates the day and the price of the stock when the grant was made.

On January 22, 2008 we see a repetition of the grants of SARs with the stock hitting a low point followed by a substantial rebound in the next days.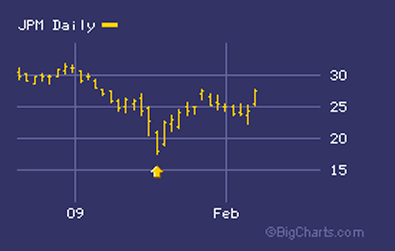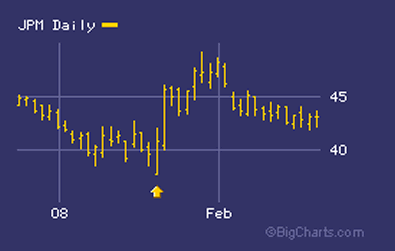 Let's examine the size of the bonuses of the top 15 executives, at J.P. Morgan, that were granted on January, 20, 2009 and reported two days later.

See the link below: http://www.secform4.com/insider-trading/19617.htm

Stock Appreciation Rights Granted

SARs Amounts Name of Exercise Value 2/4/09
Granted Grantee Price

700,000 Winters 19.49 $11,300,000
700,000 Black 19.49 $11,300,000
500,000 Staley 19.49 $8,100,000
300,000 Scharf 19.49 $4,890,000
250,000 Drew 19.49 $4,075,000
200,000 Miller 19.49 $3,260,000
200,000 Rauchenberger 19.49 $3,260,000
200,000 Smith 19.49 $3,260,000
200,000 Zubrow 19.49 $3,260,000
200,000 Bisignano 19.49 $3,260,000
200,000 Mandelbaum 19.49 $3,260,000
200,000 Cavanaugh 19.49 $3,260,000
200,000 Cutler 19.49 $3,260,000
200,000 Maclin 19.49 $3,260,000
100,000 Daley 19.49 $1,630,0 00
----------------------------------------------------------------------------------------
Total value (2/6/09) of SARs Granted = $81,405,000

Restricted Stock Units Granted

RSUs Amounts Name of Market Value SARS Value
Granted Grantee of stock 2/4/09

115,474 Staley 24.10 $2,782,923
102,644 Miller 24.10 $2,473,720
102,644 Scharf 24.10 $2,473,720
102,644 Smith 24.10 $2,473,720
102,644 Bisignano 24.10 $2,473,720
102,644 Cavanaugh 24.10 $2,473,720
102,644 Drew 24.10 $2,473,720
102,644 Maclin 24.10 $2,473,720
89,813 Zubrow 24.10 $2,164,493
89,813 Cutler 24.10 $2,164,493
59,662 Daley 24.10 $1,364,542
35,926 Rauchenberger 24.10 $865,816
--------------------------------------------------------------------------------------------------
Total value (2/6/09) of RSUs Granted = $30,500,000

Total value (2/6/09)of Grants to top 15 executives= $111,905,000
These totals are far more than the top executives of Merrill Lynch were to receive as their year end bonuses in cash and equity. The New York Attorney General is supposedly investigating Merrill's executives for criminal wrong doing.

Merrill CEO, Thain was granting himself just $10 million whereas at least three Morgan executives exceeded that in equity compensation alone.

An interesting question arises from an examination of the fact that for the past two years grants were made on or around January 20. It just happened that the stock dropped prior to the grant and moved upward immediately after the grants. Its hard to accept the idea that those executives just got very lucky for two years in a row. Yes, I am suggesting collusion in the manipulation of the stock to accommodate the grants of options etc.

Some refer to this as spring-loading the options grants.

Is J.P. Morgan immune from investigation?

Now what we find is that bankers' errand boy extraordinaire CEO, James Dimon, is popping off about the ridiculous idea that J.P. Morgan does not need further bail-out money after Morgan grabbed $55 Billion in the Bear Sterns deal and another $25 Billion of TARP money in banker welfare payments. See : http://www.bloomberg.com/...

If they do not need the bail-outs, let Morgan and Goldman return the welfare payments.

Perhaps also an explanation is in order of why James Dimon is not prosecuted for violations of Title 18 Section 208 U.S.C. in his role as Director of the New York Federal Bank in approving the J.P. Morgan/Bear Stearns deal .

Neither J.P. Morgan, Goldman Sachs or any other bank will return the TARP monies because the actual values of the Preferred Stock and Warrant packages were 50% lower than what the taxpayers were forced to pay. And the actual values of those packages have dropped considerably in every case since the welfare payments to Goldman, Morgan , Bank of America etc. were made.

In the case of Bank of America and Merrill, the warrants purchased by the Treasury are down over 88% since the bail-out.

By John Olagues
http://www.optionsforemployees.com
John Olagues is the owner and principal consultant for Truth IN Options and a recognized authority on listed and employee stock options.
After graduating from Tulane University (where he captained the baseball team and set many of Tulane's pitching records), John applied his B.A. in mathematics and his competitive spirit to the real world of stock options.
In 1976, John became a member of the Pacific Stock Exchange in San Francisco trading and managing options positions in scores of different stocks. John joined with Blair Hull to create Options Research, the first service to provide theoretical options values to market-makers and to the general public. In 1980, he became a member of the CBOE, where he personally traded more options in more diverse situations than any other trader.
Copyright © 2009 John Olagues - All Rights Reserved
Disclaimer: The above is a matter of opinion provided for general information purposes only and is not intended as investment advice. Information and analysis above are derived from sources and utilising methods believed to be reliable, but we cannot accept responsibility for any losses you may incur as a result of this analysis. Individuals should consult with their personal financial advisors.
© 2005-2019 http://www.MarketOracle.co.uk - The Market Oracle is a FREE Daily Financial Markets Analysis & Forecasting online publication.

Only logged in users are allowed to post comments.
Register/ Log in