Lehman's Bankruptcy and the Hidden $138 Billion Bailout of JP Morgan
Companies
/
Derivatives
Sep 21, 2008 - 06:38 PM GMT

We are living in heady times. On Monday morning, something VERY strange occurred:
$138 Billion Post-Bankruptcy JP Morgan Advance to Lehman; At Least $87 B Repaid by Fed
Two readers, Steve and Julian e-mailed us about the Bloomberg story below , that the Fed repaid JP Morgan for an advance made to Lehman after its bankruptcy filing:
Lehman Brothers Holdings Inc., the securities firm that filed the biggest bankruptcy in history yesterday, was advanced $138 billion this week by JPMorgan Chase & Co. to settle Lehman trades and keep financial markets stable, according to a court filing.

One advance of $87 billion was made on Sept. 15 after the pre-dawn filing, and another of $51 billion was made the following day, according to a bankruptcy court documents posted today. Both were made to settle securities transactions with customers of Lehman and its clearance parties, the filings said.

The advances were necessary ``to avoid a disruption of the financial markets,'' Lehman said in the filing.

The first advance was repaid by the Federal Reserve Bank of New York, Lehman said. The bank didn't say if the second amount was repaid. Both advances were ``guaranteed by Lehman'' through collateral of the firm's holding company, the filing said. The advances were made at the request of Lehman and the Federal Reserve, according to the filing.

Lehman disclosed the advances in a motion seeking court permission to give JPMorgan's claims special status in its attempts to recover any advances. Lehman said that if that status isn't granted, JPMorgan may not be able to make future advances needed to clear and settle trades.

``The granting of the relief requested is in the best interests of the estate and its stakeholders and the public markets,'' Lehman said, adding the advances would be ``essential to Lehman's customers.''

JPMorgan may make future advances at its sole discretion, all of which would be guaranteed by Lehman under its agreement to pledge collateral, Lehman said.

JPMorgan said in a statement in court documents that it has had a clearing agreement with Lehman since June 2000, and had pledged its collateral under an Aug. 26 guarantee.
Since the Federal Reserve reimbursed J.P. Morgan, presumably and ostensibly, with public monies [that taxpayers will be on the hook for] – doesn't the public have the right to know what that 138 billion was spent on?

Investment banks are dropping like flies, owing to their involvement in credit derivatives – this is a fact.
J. P. Morgan is – HANDS DOWN – the largest derivatives player in the world with a book of 90 Trillion in notional value at March 31, 2008 – with 9% of the book composed of Credit Derivatives. That amounts to a cool 8.1 Trillion worth of Credit Derivatives. We know this from the Office of the Comptroller of the Currency's Quarterly Derivatives Report – pg. 24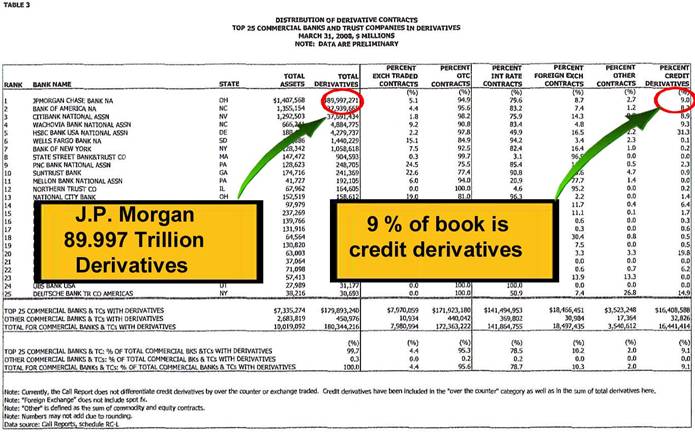 Wouldn't you suppose that would be enough to bury any institution?
Who knows, maybe it did. We only learned about the 138 billion advance from a court document where Lehman was seeking to give claims of J.P. Morgan " special status ".
I must admit, this looks special indeed: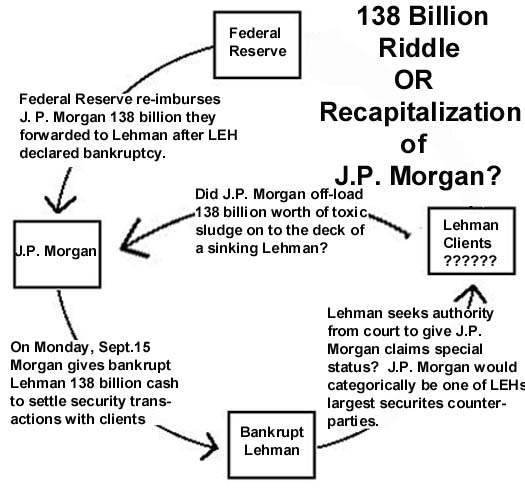 By Rob Kirby
http://www.kirbyanalytics.com/
Rob Kirby is the editor of the Kirby Analytics Bi-weekly Online Newsletter, which provides proprietry Macroeconomic Research.
Many of Rob's published articles are archived at http://www.financialsense.com/fsu/editorials/kirby/archive.html , and edited by Mary Puplava of http://www.financialsense.com
© 2005-2019 http://www.MarketOracle.co.uk - The Market Oracle is a FREE Daily Financial Markets Analysis & Forecasting online publication.

Only logged in users are allowed to post comments.
Register/ Log in