Financial, Stock and Commodity Market's Outlook 2014 by Robert Prechter
News_Letter
/
Financial Markets 2014
Feb 22, 2014 - 09:03 PM GMT

The Market Oracle Newsletter

December 14th , 2013 Issue # 21 Vol. 7


The Market Oracle Newsletter
December 14th , 2013 Issue # 21 Vol. 7

Financial, Stock and Commodity Market's Outlook 2014 by Robert Prechter
Dear Reader,
I may not be Santa Claus, but I have an early present for you this year. It's actually 15 presents in the form of 15 charts of financial markets with analysis by Bob Prechter, the president of Elliott Wave International.
He created these charts – which cover markets like the S&P 500, NASDAQ, gold, and mutual funds – to explain where financial markets have been and where they are headed. These are not your typical price charts. They combine history and patterns to tell the story clearly, all from his distinctly different point of view. With this information, his Elliott Wave Theorist subscribers are now prepared for 2014. And you can be, too, because you can get the full 10-page issue, FREE.
Elliott Wave International hasn't offered a free issue from Bob in quite some time, but they feel that the message of this issue is extremely important and can provide you with an outlook for 2014 that you shouldn't miss.
Prechter says that "charts tell the truth." Here is your chance to see what truths these charts are telling. If a picture is worth a thousand words, then this publication is like reading more than 15,000 words of his market analysis.
Pointer: Be sure to check out one of the coolest charts, which shows how Main Street investors actually see the markets better than Wall Street.
Download your free 10-page issue of The Elliott Wave Theorist now.
Excerpt - Commodities are in a bear market. Figure 1 proves that the Fed's feverish quantitative easing (QE)—i.e. record fiat-money inflating—is not driving overall prices of goods higher. The bear market in commodities began two months before the Fed's massive asset-buying program began. Despite the Fed's inflating at a 33% rate annually for five straight years, commodities are still slipping lower. This is yet another example of the non-existence of external causality on financial market prices. Such events are results, not causes. The Fed is not pro-acting but reacting.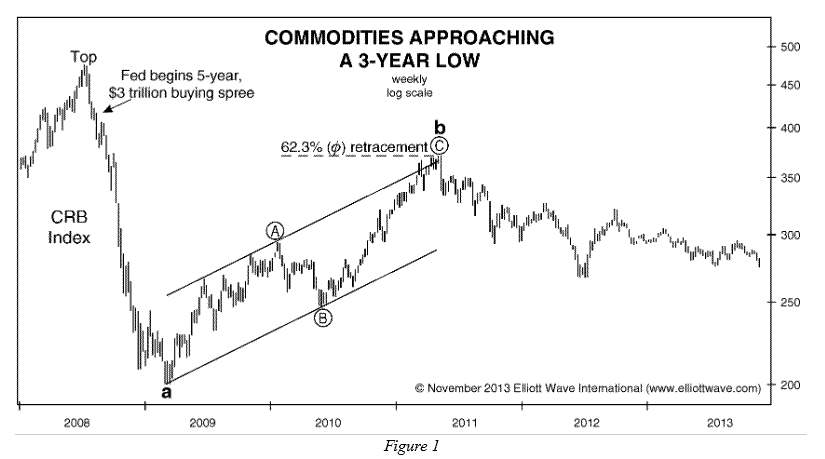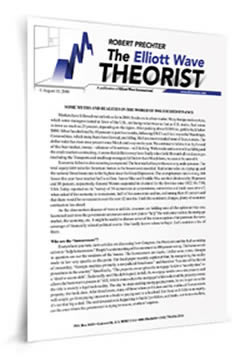 Here's what you get:
10 pages packed with 15 eye-opening charts to prepare you for many months of market action to come
A chart with analysis that explains why commodities are at a significant multiyear price juncture
A 30-year chart of gas prices that shows where sentiment is now and where prices will go next
Four charts on gold that show you how to realize when gold is at its bottom
A picture of nominal vs. real S&P that shows there's "something wrong with this market"
Two more sentiment indicators worth watching right now
And much more, including which stock indexes are testing long-term trend channels
Enjoy your present, It's a once-in-a-blue-moon opportunity. And it's free. See these 15 charts for yourself now.

EWI

About the Publisher, Elliott Wave International Founded in 1979 by Robert R. Prechter Jr., Elliott Wave International (EWI) is the world's largest market forecasting firm. Its staff of full-time analysts provides 24-hour-a-day market analysis to institutional and private investors around the world.




You're receiving this Email because you've registered with our website.

How to Subscribe

Click here to register and get our FREE Newsletter

To access the Newsletter archive this link

Forward a Message to Someone [FORWARD]

To update your preferences [PREFERENCES]

How to Unsubscribe - [UNSUBSCRIBE]

About: The Market Oracle Newsletter

The Market Oracle is a FREE Financial Markets Forecasting & Analysis Newsletter and online publication.
(c) 2005-2013 MarketOracle.co.uk (Market Oracle Ltd) - The Market Oracle asserts copyright on all articles authored by our editorial team. Any and all information provided within this newsletter is for general information purposes only and Market Oracle do not warrant the accuracy, timeliness or suitability of any information provided in this newsletter. nor is or shall be deemed to constitute, financial or any other advice or recommendation by us. and are also not meant to be investment advice or solicitation or recommendation to establish market positions. We recommend that independent professional advice is obtained before you make any investment or trading decisions. ( Market Oracle Ltd , Registered in England and Wales, Company no 6387055. Registered office: International House, 124 Cromwell Road, Kensington, London, SW7 4ET, UK )
Copyright 2013 MarketOracle.co.uk
© 2005-2019 http://www.MarketOracle.co.uk - The Market Oracle is a FREE Daily Financial Markets Analysis & Forecasting online publication.

Only logged in users are allowed to post comments.
Register/ Log in