U.S. Treasury Spread Model Suggests Economic Recovery has Started
Economics
/
Recession 2008 - 2010
Jun 07, 2009 - 09:07 AM GMT


"According to the New York Fed, 'Research beginning in the late 1980s documents the empirical regularity that the slope of the yield curve is a reliable predictor of future real economic activity.'
"The New York Fed just released its latest 'Probability of US Recession Predicted by Treasury Spread', with data through May 2009, and the Fed's recession probability forecast through May 2010. The NY Fed's model uses the spread between 10-year and 3-month Treasury rates (currently at 3.11%) to calculate the probability of a recession in the United States twelve months ahead.
"The Fed's data show that the recession probability peaked during the October 2007 to April 2008 period at around 35-40%, and has been declining since then in almost every month. For May 2009, the recession probability is only 1.54% and by May 2010 the recession probability is only .17%, the lowest level since June 2005.
"Further, the Treasury spread has been above 2% for the last 15 months, a pattern consistent with the economic recoveries following the last six recessions. The pattern of the recession probability index so far this year (going below double-digits and declining monthly) is very similar to the pattern starting in March 2002 that signalled the end of the 2001 recession.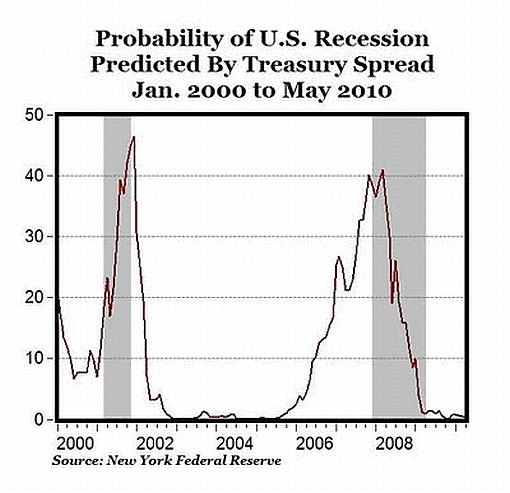 "Bottom line: Looking forward to next year, there is almost no chance that the recession will continue into 2010. Further, my reading of the New York Fed's Treasury spread model suggests that an economic recovery is probably already underway, and the Fed's model predicts the end of the recession in 2009."
Source: Mark Perry, Carpe Diem, June 4, 2009.
Financial Times: US sees light at end of the tunnel
"Is the US recession over? A handful of bullish economists are starting to claim that it is, or that it very soon will be.
"'The trough of the recession is imminent, if it has not already been passed,' said Neal Soss, chief economist at Credit Suisse.
"'I have declared the recession (almost) officially over,' Marc Prado, market strategist at Cantor Fitzgerald, told clients this week. 'The May data clearly has turned the corner.'
"This is still very much a minority view. Most economists think the economy is stabilising but the low point has not yet been reached.
"'It is not impossible. But it seems early to me, with payrolls still contracting at 500,000 plus as of May,' said Jan Hatzius, chief economist at Goldman Sachs.
"Richard Berner, chief US economist at Morgan Stanley, agrees. 'I think a few months later - perhaps September to October.'
"The National Bureau of Economic Research business cycle dating committee, which decides when recessions begin and end, has not even begun discussing the end date and will probably not reach a verdict for 18 months or more.
"But the fact that the end of the recession is being discussed at all is a sign of how far the debate has moved on. The 'recession is over' camp highlights new claims for unemployment benefits and new orders for manufacturing goods."
Source: Krishna Guha and Sarah O'Connor, Financial Times, June 4, 2009.
Financial Times: US car sales boost mirrors global rise
"All major carmakers posted higher sales in the US last month than in April, with heavy discounting boosting even General Motors and Chrysler, which are both in bankruptcy protection.
"The US uptick mirrors an improvement in many other parts of the world. The market is 'starting to make a turn for the positive', said Mike DiGiovanni, GM sales analyst. 'We think we are starting to emerge from this global downturn.'
"Mr DiGiovanni estimated that worldwide car and light truck sales rose to an annualised 63.6 million units in May, from 60 million in April and a trough of 56 million last November.
"Industry sales in China soared 47% in the year to May, with GM posting a 75% jump. 'That market is smoking hot,' Mr DiGiovanni said, ascribing the surge to government stimulus measures.
"In the US, sales rose to an annual rate of 9.9 million units in May - well below the 14.3 million units sold in May 2008, but up from an average of 9.5 million in the first four months of the year, according to Autodata."
Source: Bernard Simon, Financial Times, June 2, 2009.
Financial Times: Bernanke warns on deficit
"Ben Bernanke urged Congress on Wednesday to act now to bring down long-term budget deficits, warning that a failure to do so might lead to a future debt trap.
"The Federal Reserve chairman said the recent sharp increases in bond yields 'appear to reflect concern about large federal deficits' as well as improved optimism about the economy and other factors.
"Mr Bernanke said large deficit-funded actions to fight the crisis were 'necessary and appropriate'. But he said 'near-term challenges must not be allowed to hinder timely consideration of the steps needed to address fiscal imbalances'.
"Warning of the risk of a future debt trap, he said: 'We cannot allow ourselves to be in a situation where the debt continues to rise. That means more and more interest payments, which swell the deficit, which leads to an unsustainable situation.'
"The Fed chief's warning came as he reiterated his view that he expects to see growth 'later this year' with 'some stabilisation in final demand including consumer spending'. However, he remained cautious with numerous caveats.
"Mr Bernanke said that to encourage lenders to finance the US at reasonable rates 'we do have to persuade them that we are going to be serious about returning to a more balanced fiscal situation going forward'.
"Mr Bernanke made no reference to the possibility of increasing Fed purchases of Treasuries to lean against the rise in yields.
"In effect, he put responsibility for dealing with debt concerns squarely in the hands of Congress and the Obama administration.
"'The Federal Reserve will not monetise the debt,' Mr Bernanke said."
Source: Krishna Guha, Financial Times, June 4, 2009.
Paul Ashworth (Capital Economics): The Fed's next move
"Speculation that the Federal Reserve could soon expand its asset-purchasing scheme to halt the recent rise in Treasury yields looks misplaced, believes Paul Ashworth at Capital Economics.
"'We expect the Fed to remain sidelined for now for a number of reasons,' he says.
"First, the rise in actual borrowing costs for households and companies has been a lot more modest than the jump in the 10-year Treasury yield, Mr Ashworth says.
"Second, Fed officials are likely to view the rebound in yields as, at least partly, a consequence of the improvement in economic and financial conditions.
"Third, to the extent that the recent rise in yields reflects concerns about the ballooning Federal budget deficit, the Fed won't want to risk being seen to be monetising that deficit.
"Fourth, he says, the Fed still hasn't bought half the assets that it has already pledged to purchase - so it still has a lot of work to do.
"Finally, the more assets the Fed buys now, the harder it will be for it to shrink its balance sheet back down when the time comes.
"'The Fed evidently is not targeting a certain level for Treasury yields,' Mr Ashworth says. 'But that does not necessarily mean yields will continue climbing inexorably.
"'Our view is that yields will drop back as the economic recovery proves disappointing and falling wages return the focus to the dangers of deflation.'"
Source: Paul Ashworth, Capital Economics (via Financial Times), June 4, 2009.
Asha Bangalore (Northern Trust): Mixed bag of labor market news - a tad more positive than negative
"The unemployment rate rose to 9.4% in May, the highest since July 1983. The jobless rate is a lagging indicator which peaks at the conclusion of a recession or several months after the end of a recession. Our forecast of a recovery in the fourth quarter of 2009 implies a higher unemployment rate by the end of the year or in the early part of 2010. The Supervisory Capital Assistance Program (stress test) assumes an 8.4% and 8.8% annual average unemployment rate in 2009 and 2010 under the baseline scenario. The more adverse alternate scenario assumes jobless rate averages of 8.9% and 10.3%, respectively, in 2009 and 2010. The average unemployment rate in the first five months of 2009 is 8.5%.
"Nonfarm payrolls fell 345,000 in May, following upward revisions of March and April estimates which resulted in 82,000 fewer job losses during these months. The pace of job losses in May is noteworthy because it is noticeably smaller than the average losses seen in recent months (average of job losses three months ended April is 612,000 and six months ended April is 643,000)."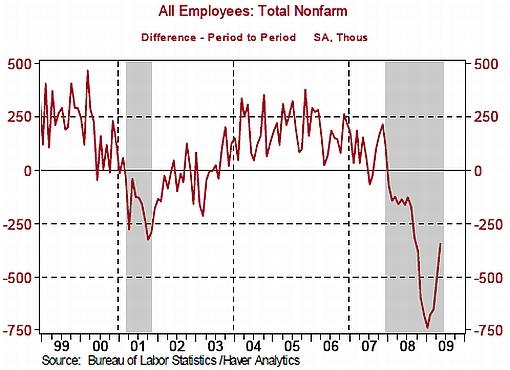 Source: Asha Bangalore, Northern Trust - Daily Global Commentary, June 5, 2009.
CNBC: Bond King parses jobs data
"Pimco's William Gross parsing today's employment report data."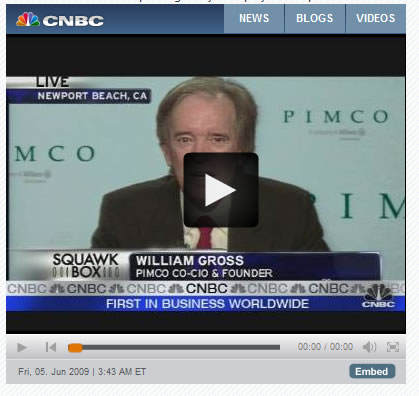 Source: CNBC, June 5, 2009.
Asha Bangalore (Northern Trust): ISM manufacturing advances
"The ISM manufacturing survey for May shows a further improvement in factory conditions in May from the trough of December 2008. The composite index moved up 2.7 points to 42.8, which is still associated with a contracting factory sector but at a significantly slower pace that the cycle low pace registered in December. Readings below 50 are associated with a decline in activity. Indexes tracking new orders, production, supplier deliveries, exports, and imports were higher in May compared with the prior month's readings."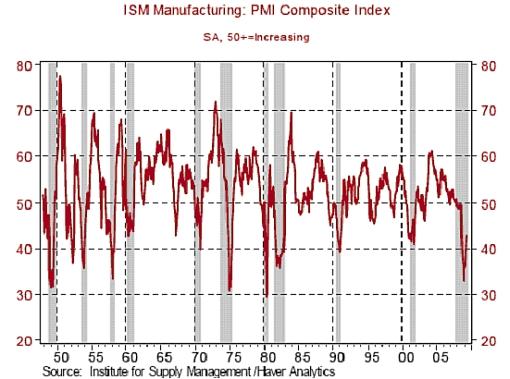 Source: Asha Bangalore, Northern Trust - Daily Global Commentary, June 1, 2009.
Asha Bangalore (Northern Trust): ISM Non-Manufacturing Survey slightly higher
"The non-manufacturing ISM composite index moved up slightly to 44.0 in May from 43.7 during April, denoting a smaller contraction in the pace of activity during May versus April. Indexes tracking new orders (44.4 versus 47.0 in April), exports, and imports fell in May, while indexes measuring employment (39.0 versus 37.0 in May) and supplier deliveries (50.0 versus 45.5 in May) advanced. The overall tone of the report was soft, raising expectations of a likely robust increase in June, given the nature of other incoming reports."
Source: Asha Bangalore, Northern Trust - Daily Global Commentary, June 3, 2009.
Asha Bangalore (Northern Trust): Increase in personal income reflects impact of fiscal stimulus
"Personal income rose 0.5% in April following a 0.2% drop in the prior month. Wages and salaries held steady in April, while an increase in unemployment compensation and credit from the program Making Work Pay accounted for the big jump in personal income. Consumer spending after adjusting for inflation fell 0.1% in April, putting the second quarter projected decline in consumer spending around 2.0%.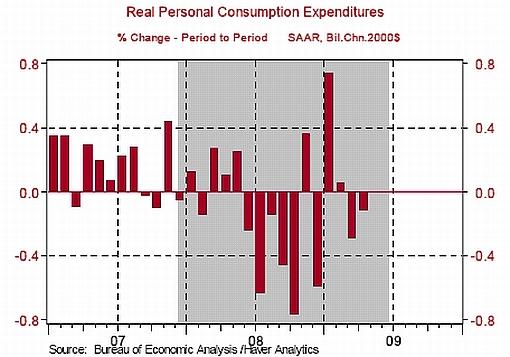 "Saving as percent of disposable income increased to 5.7%, up from 4.5% in March and 0.0% in May 08."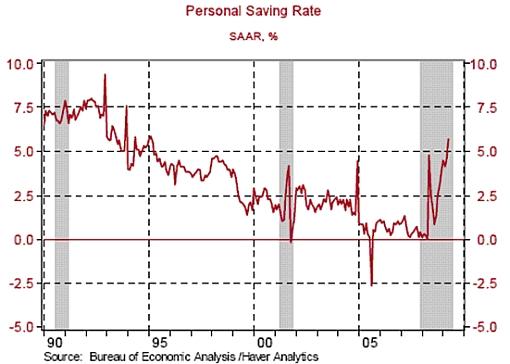 Source: Asha Bangalore, Northern Trust - Daily Global Commentary, June 1, 2009.
John Authers (Financial Times): Inflation expectations are rising
"The last time inflation expectations were this high was the week before the Lehman collapse last September, says John Authers."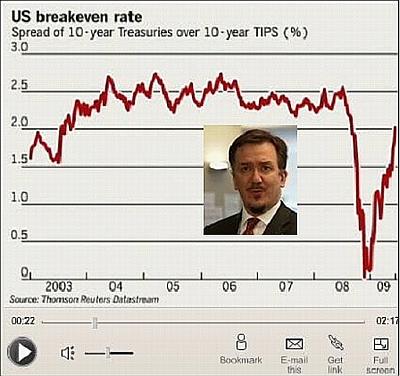 Source: John Authers, Financial Times, June 2, 2009.
Richard Koo (Nomura): Ignore sovereign ratings
"The threat of rating agency downgrades to the debt of countries in balance sheet recessions, such as the US and UK, should be ignored by financial authorities and market participants, says Richard Koo, chief economist at Nomura.
"He argues that this is because fiscal expansion is the only remedy available to fight a recession caused by a private sector minimising debt instead of maximising profits.
"Mr Koo points to the top ratings given to securities built from subprime mortgages as evidence that agencies are far from being omniscient. He also notes that the agencies offered no meaningful justification for their downgrades of Japan's debt a decade ago.
"'Ultimately, market participants - fed up with unrealistic demands of rating agencies - ended up ignoring their ratings. Despite the fact that Japan was assigned a lower credit rating than Botswana for some time, Japanese government bond yields have remained at historic lows throughout the last 10 years.'
"Mr Koo says it was due to market participants ignoring rating agencies and continuing to buy JGBs that Japan's government could cheaply fund its fiscal outlays, which ultimately allowed the economy to pull itself out of recession.
"'Agencies' actions can hinder governments trying to implement the right policies. It is to be hoped that UK and US officials and bond investors have the same courage as their Japanese counterparts.'"
Source: Richard Koo, Nomura (via Financial Times), June 2, 2009.
Financial Times: Konyn on Asia's risk of UK-style ratings downgrade
"Mark Konyn, chief executive of RCM Asia-Pacific, a unit of Allianz Global Investors which manages $11 billion in assets, assesses the risk of Asia suffering a UK-style ratings downgrade and gives his outlook for Japan."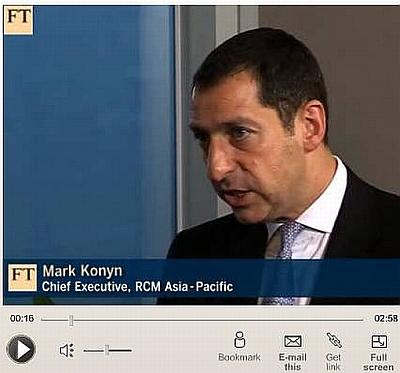 Source: Financial Times, June 1, 2009.
Financial Times: Leverage creeps back on to the radar
"Investors and policymakers have been scouring the financial landscape looking for green shoots.
"One hint of these can be found in an elegant building in London's Knightsbridge district, which houses the CQS funds.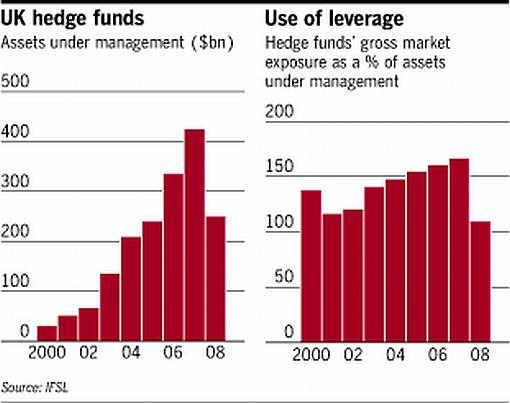 "A few months ago, hedge funds such as CQS, one of Europe's largest credit funds, were finding it almost impossible to get leverage, or loans from banks to trade. The shock of the Lehman Brothers collapse left banks frantically hoarding any cash they had.
"Now CQS says the climate is easing - a touch.
"'At the peak of the euphoria you would get 20 times leverage. It was mad,' says Michael Hintze, a former Goldman Sachs trader who co-founded CQS a decade ago. 'Then it all disappeared. You could hardly get any leverage at all last autumn.
"'[But] now we can get three times leverage on many assets. Not all - you cannot get leverage on most asset backed securities [such as mortgage bonds] or many Asian assets.
"'There is still a lot of unwinding to go. But it is improving. It started to improve in late March and into early April.'"
Source: Gillian Tett, Financial Times, June 1, 2009.
BCA Research: The real reason behind the Treasury selloff
"The Treasury selloff in recent weeks is largely due to an escalation in the real component of yields, and more specifically due to a significant increase in the term premium.
"While inflation expectations have drifted higher in recent weeks, the majority of the selloff in yields has been centered in the real component. Real yields are normally correlated with growth expectations, however this time the blowout appears to be linked to various sources of uncertainty not directly linked to the economic outlook.
"While measures of short-term uncertainty pertaining to credit risk (such as the VIX) have collapsed, other measures of bond market volatility have surged along with uncertainty over the long-run effects of policymakers' actions. Thus much of the increase in the real component of yield is explained by a backup in the term premium, a measure of the compensation bond investors receive for assuming the risk that yields do not follow the path discounted in the forwards curve.
"Our sense is that the term premium has seen its structural low and is embarking on a multi-year uptrend. On a cyclical basis however, the rise in the term premium seems overdone. Bottom line: The term premium is extremely elevated and more likely to fall than rise in the months ahead, which should limit the upside for Treasury yields from current levels."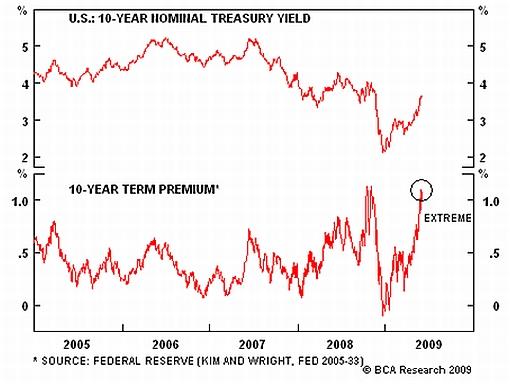 Source: BCA Research, June 3, 2009.
Financial Times: Bond yields attract interest
"The unprecedented steps taken by central banks in response to the credit crisis have bolstered confidence in the global economy's recovery prospects and fuelled strong gains for equities and commodity markets since March.
"The Bank of England and European Central Bank are both expected to keep interest rates on hold on Thursday, but mounting upward pressure on long-term bond yields will focus attention on whether policymakers are considering extending unconventional measures to support liquidity and confidence.
"While rising bond yields reflect the continuing improvement seen in leading indicators - a significant theme of this week's data releases - lingering doubts remain over the effectiveness of quantitative easing as surveys of credit conditions indicate that financing for many companies remains problematic."
Source: Chris Flood, Financial Times, May 31, 2009.
Reuters: Federal Reserve puzzled by yield curve steepening
"The Federal Reserve is studying significant moves in the US government bond market last week that could have big implications for the central bank's strategy to combat the country's recession.
"But the Fed is not really sure what is driving the sharp rise in long-dated bond yields, and especially a widening gap between short and long term yields.
"Do rising US Treasury yields and a steepening yield curve suggest an economic recovery is more certain, meaning less need for safe haven government bonds and a healthy demand for credit? If so, there might be less need for the Fed to expand the money supply by buying more US Treasuries.
"Or does the steepening yield curve mean investors are worried about the deterioration in the US fiscal outlook, or the potential for a collapse in the US dollar as the Fed floods the world with newly minted currency as part of its quantitative easing program. This might be an argument to augment to step up asset purchases.
"Another possibility is that China, the largest foreign holder of US Treasury debt, has decided to refocus its portfolio by leaning more heavily on shorter-term maturities.
"With officials still grappling to divine the factors steepening the yield curve, a speedy decision on whether to ramp up the Treasury debt purchase program or the related plan to snap up mortgage-related debt seems unlikely.
"'I'm in wait-and-see mode,' said one Fed official who spoke on the condition of anonymity. 'We laid out the asset purchase plan and we're following it. That is going to have some affect on various interest rates, but together with a hundred other things. So I don't think we should be chasing a long-term interest rate,' the official said.
"Economists at Barclays Capital in New York have argued that the Fed should announce plans to increase its planned purchases of longer-dated Treasuries to $1 trillion from $300 billion to drive yields back down, lower home mortgage rates again, and support the embryonic economic recovery."
Source: Alister Bull, Reuters, May 31, 2009.
Bespoke: 30-year mortgage rates
"Much has been said about the rise in mortgage rates over the past few weeks. Market participants are worried that the Fed's actions are not working, and that this will impede already fearful potential homebuyers from making purchases. Below is a historical chart of the national average 30-year fixed mortgage rate. After making a ten-year low in late April at 4.85%, rates have jumped 50 basis points to 5.35%. The jump is significant, but 5.35% is still extremely low compared to the 10-year average. Unfortunately, the direction of rates seems to impact consumer psychology more than the actual level."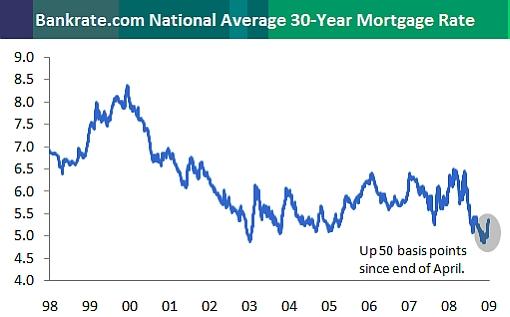 Source: Bespoke, June 4, 2009.
Bespoke: Default risk continues its decline
"As the stock market continues higher, corporate default risk continues to decline. Below is a chart of the IBOX North American CDS (credit default swap) Index that looks at default risk for 125 investment grade entities. After finally topping out a few months ago, default risk is now down 35% from its highs. While credit default swap prices have fallen quite a bit, they're still at historically elevated levels, and the IBOX index remains just above its pre-Lehman levels."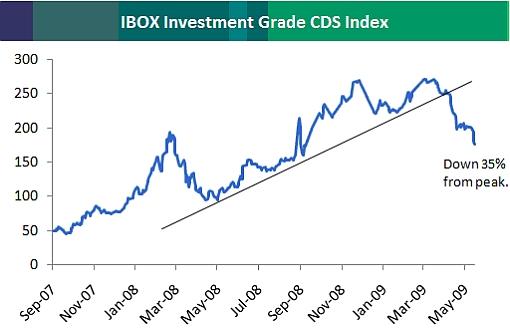 Source: Bespoke, June 4, 2009
Bespoke: Most overbought ETFs
"With stocks rallying around the world, the many ETFs that track various equity markets have moved significantly above their 50-day moving averages. Below we highlight the most overbought ETFs in relation to their 50-day moving averages. v"As shown, the Russian stock market ETF (RSX) is the most overbought, trading 36.17% above its 50-day. India (INP) ranks second at 35.72%, followed by the steel ETF (SLX), emerging market Europe (GUR), metals and mining (XME), and Singapore (EWS). The majority of the ETFs on this list track countries. The rest are generally concentrated in the commodities area."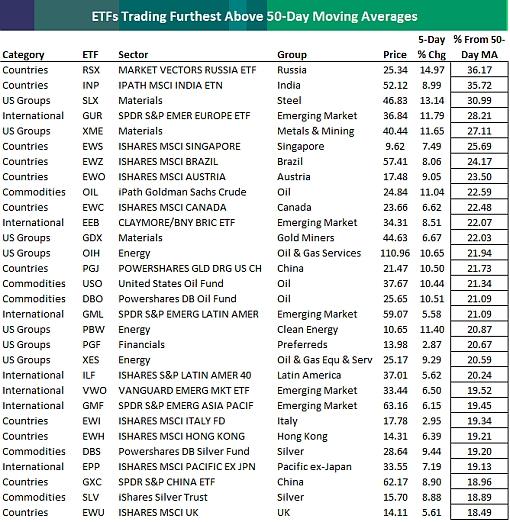 Source: Bespoke, June 2, 2009.
Bespoke: Investors Intelligence Sentiment Survey
"The most recent Investors Intelligence weekly sentiment survey showed that the spread between bullish (42.5%) and bearish (25.3%) newsletter writers reached its highest level since January 2008. While high levels of bullish sentiment are typically a contrarian market signal, we would note that even with the recent increase, the current spread between bulls and bears (17.2%) is still below the ten-year average of 19%."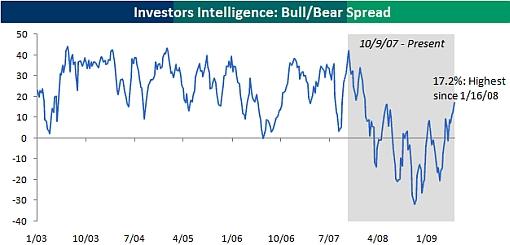 Source: Bespoke, June 3, 2009.
Financial Times: Investors sceptical on stock market rebound
"The majority of the world's leading investors do not believe the recent strong performance of stocks and other risky assets is sustainable, according to a report released on Monday.
"The FTSE All World equities index has surged more than 60% since hitting a low for the year in March.
"But Barclays Capital has revealed that just 17.5% of the 605 investors interviewed for its quarterly FX investor sentiment survey - including central banks, asset managers, hedge funds and international corporate customers - think risky assets have further to rise.
"This is one aspect of a generally gloomy outlook for the global economy, which undermines optimism that 'green shoots' of recovery are starting to emerge.
"Just 4.5% of respondents believe the trajectory of the global economy over the next year will be 'V-shaped' - indicating weakness followed by a sharp recovery.
"Investors are most optimistic on Asia's prospects, with 57.5% believing emerging market currencies in the region will outperform those in Latin America and eastern Europe in the next three months.
"'There is a very strong consensus that Asia will be the beneficiary of the 'China effect',' said Mr Woo.
"'There is strong faith that China's massive stimulus programme will boost the economy and the region.'"
Source: Peter Garnham, Financial Times, June 1, 2009.
Yahoo Finance, Tech Ticker: A bull in March, Doug Kass now sees "potholes on the road to higher prices"
"Doug Kass, founder and president of Seabreeze Partners, is a rare bird, having been both bearish at the top in late 2007 and bullish at the bottom in March 2009. Once a dedicated short-seller, Kass opened a long-short fund in January 2009 and made a 'generational low' call on the market the week of the March 9 lows.
"At The Big Picture Conference in New York Wednesday, Kass told me he still believes those March lows will hold and isn't expecting any major downdraft for the Dow and S&P. But the veteran hedge fund manager believes the S&P is now likely to settle into an 890-to-950 trading range and said his prior upside target of 1050 for the S&P now seems 'ambitious'."
Source: Yahoo Finance, Tech Ticker, June 4, 2009.
Donald Luskin (SmartMoney): Good news has arrived for investors
"I'm happy to report that my very favorite macroeconomic indicator has turned positive. I'm not talking about Friday's surprisingly not-bad jobs report. It's something I like even more.
"It's my favorite because it has nothing to do with macroeconomics, and it is based on analysis that is always wrong. And yet, it works.
"I'm talking about consensus forward earnings for the stock market. That means taking all the Wall Street analysts' guesses for earnings one year in the future for whatever companies they happen to cover, averaging them, and then capitalization-weighting them so you get the aggregate consensus for the whole S&P 500.
"No analyst's estimate for a particular company is a forecast of the overall economy. It may take the economy into account in some way, but it's mostly just a forecast for what a single company will do.
"And as we all know, Wall Street analysts are almost always way off target. They're generally way too bullish. And a lot of people believe they're corrupt, as well, giving flattering appraisals of companies that their investment firms would like to do business with.
"But it turns out that when you average them all together, their errors and their biases cancel out. And in the aggregate, they can be used as a bottom-up view forecast of the whole economy.
"And it works. Turning points in aggregate consensus forward earnings for the S&P 500 — that is, when they've stopped growing and started falling - have perfectly forecasted the last three recessions, including the current one.
"And when they turned up, they perfectly forecasted the recoveries from the last two recessions. The great news is that they're on the very verge of turning up right now. It's just a matter of days.
"Three months ago, within days of the bottom in stocks, aggregate forward earnings started to turn around. It was less than a ringing endorsement at first. It just meant that the decline in earnings was now expected to get less bad - not that earnings would actually grow. But it was a perfect buy signal.
"And now aggregate forward earnings are on the verge of forecasting that earnings growth is back. It's a buy signal. And if the pattern holds, it will be a good one.
"So call me a cautious bull. I now have almost no doubt that the recession is over. I am very confident that stocks won't make new lower lows in this cycle. So at the very least, I can conclude that there's more room on the upside than on the downside."
Source: Donald Luskin, SmartMoney, June 5, 2009.
Bloomberg: Boockvar says Dow in "new era" without GM, Citigroup
"Peter Boockvar, an equity strategist at Miller Tabak & Co., talks with Bloomberg's Deirdre Bolton and Erik Schatzker about the removal of General Motors Corp. and Citigroup Inc. from the Dow Jones Industrial Average. GM and Citigroup were replaced by Cisco Systems Inc. and Travelers Cos. Boockvar also discusses the outlook for stocks and bonds, Federal Reserve policy and investment strategy."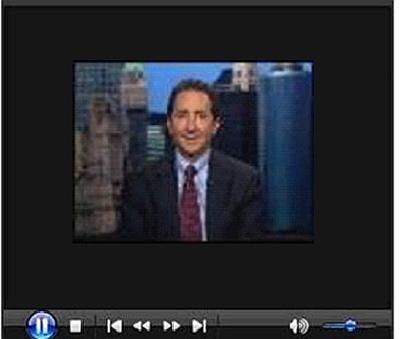 Source: Bloomberg, June 1, 2009.
Bloomberg: Mobius says money supply to "explode", lift markets
"The money supply is set to 'explode' worldwide and boost emerging-market stocks as central banks pump cash into the financial system to counter the global recession, Templeton Asset Management's Mark Mobius said.
"'Everyone is scared of deflation, so they are printing money,' Mobius, who helps oversee about $20 billion of emerging-market assets as executive chairman of Templeton, said at a press briefing in London. 'It's beginning to flow out, with greater confidence, into emerging markets.'
"The MSCI Emerging Markets Index, a 22-country benchmark for developing-nation equities, surged 37% this year as central banks led by the US Federal Reserve reduced interest rates and purchased assets to revive economic growth. The European Central Bank and the Bank of England today kept their benchmark interest rates at the lowest levels on record.
"The Fed said its M2 gauge of money supply, which includes all currency held by consumers and companies for spending, money held in checking accounts and travelers checks, savings and private holdings in money-market funds, rose at a 9% annual rate in the week ended May 18, above the target of 5% the Fed once set for maximum growth. The central bank no longer has a formal target.
"Mobius, voted among the 'Top Ten Money Managers of the 20th Century' by the Carson Group, said emerging-market equities will rise faster than developed-country stocks and that Templeton is buying shares in Russia. The nation's benchmark RTS Index has jumped 75% this year, the second-best performing market worldwide after Peru."
Source: Michael Patterson, Bloomberg, June 5, 2009.
Michael Hartnett (Banc of America Securities-Merrill Lynch): Gulf equity markets
"Gulf equity markets look like a compelling trade for investors seeking laggards in emerging markets, says Michael Hartnett, chief global equity strategist at Banc of America Securities-Merrill Lynch.
"'Emerging markets are up 33% this year and inflows into the asset class remain strong,' he says. 'By contrast, Gulf markets are up just 1.2% year to date and inflows are non-existent.'
"Mr Hartnett points out that Gulf equities have not only lagged behind the surging oil price, but also Russia's equity market.
"'Russia has oil; the Gulf has oil. Russian equities are up 67% in 2009; Gulf equities are up 1% in 2009,' he says. 'Oil prices are above $60 a barrel and likely to rise further, according to our commodities team. Gulf markets tend to lag movements in the oil price by about three months.'
"He notes that emerging market small-cap shares, a group of stocks that, like the Gulf, are often deemed 'risky and illiquid', started to significantly outperform EM large caps in the past month. 'Gulf equities have room to catch up with the rally in small-caps,' says Mr Hartnett.
v"Within the region, he believes Dubai is the best trading buy. 'It is hard to find much that has underperformed US banks in the past three years,' he says. 'But Dubai has, thanks to a real estate and oil bust. In addition, Dubai has been a big underperformer relative to regional Gulf markets.'"
Source: Michael Hartnett, Banc of America Securities-Merrill Lynch (via Financial Times), June 1, 2009.
Bloomberg: Gross says diversify from dollar as deficits surge
"Bill Gross, founder of Pacific Investment Management Co., advised holders of US dollars to diversify before central banks and sovereign wealth funds ultimately do the same amid concern about surging deficits.
"Treasury Secretary Timothy Geithner's plan to bring the budget back into balance won't be successful as consumers shrink spending and the US growth rate slows, Gross said in a Bloomberg Radio interview today [Thursday]. The budget deficit will be narrowed to 'roughly' 3% of GDP from a projected 12.9% this year, Geithner said June 1.
"'I think he'll fail at pulling a balanced rabbit out of a hat,' Gross said from Pimco's headquarters in Newport Beach, California. 'They are talking about - once the economy in the US renormalizes - the move back toward balance or much less of a deficit. I suspect that will be hard to do."
"Higher savings rates and an increase in the cost to service the national debt will drag on the US economy, likely meaning 'trillion-dollar deficits are here to stay', Gross wrote in his June investment outlook posted today on the firm's Web site.
"The US growth rate 'requires a government checkbook for years to come,' Gross wrote. Coupled with Medicare and Social Security entitlements, government borrowing could reach 300% of GDP, meaning 'the Chinese and other surplus nations cannot fund the deficit even if they were fully on board,' he wrote.
"China, the largest US creditor, with $767.9 billion of debt, has shifted purchases of Treasuries into shorter-maturity securities amid concern about unprecedented debt sales."
Source: Dakin Campbell, Bloomberg, June 4, 2009.
Numis Master: Zimbabwe may yet defeat inflation
"What do you do with obsolete coins or bank notes even collectors don't want? If you live in the United States you hawk them to unsophisticated buyers who fancy themselves as investors or collectors, selling them through television home shopping networks, Sunday newspaper ads, or via telemarketing. If you live in the African nation of Zimbabwe, where television, newspapers, and telephones are a luxury, you sell your obsolete coins or bank notes to tourists.
"That, according to the March 23 The Globe and Mail newspaper, is exactly what Zimbabwe's street hawkers are doing. The now defunct Z$100-trillion bank notes are being sold to foreign tourists for Z$2 each - in some foreign currency rather than in Zimbabwe dollars, of course!
"Obsolete coins for sale, you ask? Don't count on it. Since the coins have metal content they will likely sell for their scrap value, even if their face value is so low the coins won't buy anything. According to The Globe and Mail, 'The currency with the never-ending string of zeroes is quickly fading into history, just two months after the latest notes were printed by the inexhaustible central bank. Also disappearing is Zimbabwe's phenomenal level of hyperinflation, which last year reached a stunning 89.7 sextillion percent (a number expressed with 21 zeroes), making it the most extreme hyperinflation crisis of any country in modern times.'
"After a number of currency reforms that ended in failure it appears the government may have finally found a formula that works. According to the newspaper account, 'Zimbabwe's new coalition government has cracked both problems with an absurdly simple solution: It has abruptly switched to foreign currencies, allowing customers to pay for products with US dollars or South African rand or Botswana pula. The entire economy, almost overnight, has switched to a unique system of multiple foreign currencies.'
"'The dollarization (and rand-ization and pula-ization) of the Zimbabwean economy,' The Globe and Mail article continues, 'has finally slain the dragon of hyperinflation, providing the first fragile signs of hope for a devastated country."
Source: Richard Giedroyc, Numis Master, June 1, 2009.
Bloomberg: Commodities rise most in 24 years; Goldman sees gain
"Manufacturers preparing for an economic rebound are rebuilding inventories of everything from benzene to plywood, sparking a commodities rally that Goldman Sachs Group Inc. says will produce 19% returns in a year.
"The Journal of Commerce index that tracks prices of 18 industrial materials gained 9.5% in May, the most in a month since the measure began in 1985. Goldman's forecast on May 8 would beat the firm's estimate for a 4% rise in the Standard & Poor's 500 Index this year.
"Aurubis AG, the top manufacturer of copper-wire rods for cars, said last week that demand improved since April. Huntsman Corp., the biggest maker of epoxy adhesives, said May 8 that second-quarter results will benefit from improved sales to customers who have depleted stockpiles. Dow Chemical Co., the largest US chemical maker, said its plants operated at 70% of capacity in April, up from 45% in December.
"While the US economy contracted 6.3% in the fourth quarter and probably will shrink 2.8% this year, based on the median estimates in a Bloomberg survey of 61 economists, commodity prices show that investors and corporate purchasing agents anticipate a rebound will begin later this year.
"'When you see copper and commodities doing well, then it's a sign that there are meaningful parts of the global economy that are stronger,' said Evan Smith, co-manager of the San Antonio-based US Global Investors Global Resources Fund, which is up 37% this year. 'We like the outlook for commodities right now.'"
Source: Millie Munshi, Bloomberg, June 2, 2009.
Bloomberg: Northwestern Mutual makes first gold buy in 152 years
"Northwestern Mutual Life Insurance Co., the third-largest US life insurer by 2008 sales, has bought gold for the first time the company's 152-year history to hedge against further asset declines.
"'Gold just seems to make sense; it's a store of value,' Chief Executive Officer Edward Zore said in an interview following his comments at a conference hosted by Standard & Poor's in Brooklyn. 'In the Depression, gold did very, very well.'
"Northwestern Mutual has accumulated about $400 million in gold, and Zore said the price could double or even rise fivefold if the economy continues to weaken. Gold gained 10% last month, the most since November. The commodity has more than tripled since 2000, rising for eight straight years.
"'The downside risk is limited, but the upside is large,' Zore said. 'We have stocks in our portfolio that lost 95%.' Gold 'is not going down to $90.'"
Source: Andrew Frye, Bloomberg, June 4, 2009.
CommodityOnline: IMF gold sale - US congress approval next week
"The International Monetary Fund's decision to sell its gold reserves could get the necessary approval from the US Congress next week.
"At the G20 summit in London in April, participating countries agreed the IMF could sell 403.3 metric tons of gold as part of efforts to leverage up to $6 billion in concessional loans for low-income countries over the next few years.
"In order for the sale to proceed, 85% of IMF shareholders need to approve the proposal. Since the US has 17% of the votes, it has a de facto veto over the proposal, which requires Congressional approval, but IMF Managing Director Dominique Strauss-Kahn told Dow Jones Newswires this week he expects Congress will soon approve the sale.
"On Friday, analysts said US Congress may approve International Monetary Fund gold sales as early as next week.
"'This issue appears now fully priced into the gold market and any announcement confirming sales should not move the market - apart from perhaps a knee-jerk reaction,' said John Reade, an analyst at UBS."
Source: CommodityOnline, May 29, 2009.
Bespoke: Oil up 99% in 75 trading days
"Oil has rallied more over the last 75 trading days than it did at any time during its entire bubble run from 2001-2008. In fact, its current rally of 99% since the February 12 low is nearly double the highest 75-day rally during the last oil bull (From December 2001 to April 2002, oil rallied 55% over 75-days.)
"Oil has also gone from $33.75 to $67.75 in just 75 trading days. During the 2001-2008 oil bubble, it took 409 trading days to complete the same task from January 2004 to August 2005. While many investors are arguing that oil's rally is a good sign for the global economy and equity markets, let's hope it doesn't keep up the pace, or else we'll be right back to $150 in no time."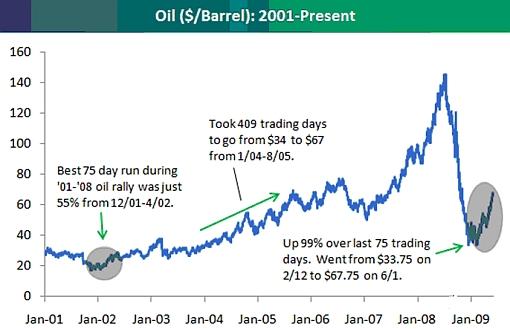 Source: Bespoke, June 2, 2009.
Bloomberg: JPMorgan hires supertanker for storage
"JPMorgan Chase & Co., the second largest US bank by deposits, hired a newly built supertanker to store heating oil off Malta, shipbrokers reported, in the company's first such booking in at least five years.
"The bank hired the Front Queen for nine months, according to daily reports from Oslo-based SeaLeague A/S and Athens-based Optima Shipbrokers. David Wells, a spokesman for JPMorgan in London, declined to comment.
"JPMorgan, which has never hired an oil tanker based on data compiled by Bloomberg going back five years, follows companies including Citigroup Inc.'s Phibro LLC unit and BP Plc in hiring ships to store crude or oil products at sea. The firms are seeking to take advantage of higher prices later in the year."
Source: Alaric Nightingale, Bloomberg, June 4, 2009.
The Economic Times: Jim Rogers - fund managers can become farmers
"Even if you are outright bearish, don't short the market. Stocks could touch crazy levels, but they may be in currencies which are worthless.
"Indeed, a sovereign default and currency turmoil could rattle world markets in a year or two. In a chat with the Economic Times, global investor Jim Rogers says cotton, silver and sugar can be hot picks.
"At one stage we were inundated with gloomy forecasts, which were further reinforced by the IMF and World Bank. And then suddenly stocks surged - something most were not prepared for. How risky is the market today?
"Central banks all over the world have printed huge amounts of money, and the real economy is not strong enough for all this money to be absorbed … so, it's going into stocks and real assets such as commodities. It's a mistake what they are doing. It's giving short-term pleasure, but there's long-term pain as we are going to have much higher inflation, much higher interest rates and a worse economy down the road.
"The American bond market is already beginning to go down dramatically as people realise that the American government has to sell huge amount of bonds, and secondly, there is going to be inflation, serious inflation, as it was always in the past when you had governments printing huge amounts of money.
"Stocks are rising even as fiscal deficit is widening. Somewhere it has to snap … It's going to snap. Later this year, next year, we are going to have currency problems, maybe even a currency crisis. I don't know with which currency - maybe with the pound sterling, maybe with the US dollar, who knows. It maybe with something none of us have at the moment. When you have a currency crisis, stocks will be affected, many things will be affected. It is not sound, what's happening out there in the world."
Click here for full article.
Source: The Economic Times, June 4, 2009.
Steve Barrow (Standard Bank): Latvia - return of risk aversion
"Current tensions in Latvia could be a catalyst for a return of broader risk aversion, warns Steve Barrow, currency strategist at Standard Bank.
"'Latvia might seem distant from other countries and markets, but as we saw with the US subprime crisis, the flap of a so-called 'butterfly wing' in some remote area can cause a hurricane for other markets,' he says.
"Mr Barrow says it is not surprising that Swedish banking stocks and the krona have been unsettled by the possibility of a Latvian devaluation.
"'Swedish bank loans to Latvia account for almost 60% of Latvia's overseas liabilities on an immediate borrower basis."
"But he says it should be remembered that European banks excluding Sweden account for the rest of Latvia's overseas liabilities - so if Latvia's problems intensify, there could be a hit for the eurozone, and the euro, as well.
"A key issue is whether there would be any contagion effect. 'Any Latvian devaluation could impinge on other Baltic countries,' he says. Moreover, if banking problems develop in creditor countries like Sweden, they could spill over to other banks in developed markets.
"'In short we feel this situation is worth watching - and not just for its impact on the krona. It does have the capacity to lift risk-aversion at a time when there are already some very tentative signs that risk-taking might be about to wane a bit.'"
Source: Steve Barrow, Standard Bank (via Financial Times), June 4, 2009.
By Dr Prieur du Plessis
Dr Prieur du Plessis is an investment professional with 25 years' experience in investment research and portfolio management.
More than 1200 of his articles on investment-related topics have been published in various regular newspaper, journal and Internet columns (including his blog, Investment Postcards from Cape Town : www.investmentpostcards.com ). He has also published a book, Financial Basics: Investment.
Prieur is chairman and principal shareholder of South African-based Plexus Asset Management , which he founded in 1995. The group conducts investment management, investment consulting, private equity and real estate activities in South Africa and other African countries.
Plexus is the South African partner of John Mauldin , Dallas-based author of the popular Thoughts from the Frontline newsletter, and also has an exclusive licensing agreement with California-based Research Affiliates for managing and distributing its enhanced Fundamental Index™ methodology in the Pan-African area.
Prieur is 53 years old and live with his wife, television producer and presenter Isabel Verwey, and two children in Cape Town , South Africa . His leisure activities include long-distance running, traveling, reading and motor-cycling.
Copyright © 2009 by Prieur du Plessis - All rights reserved.
Disclaimer: The above is a matter of opinion and is not intended as investment advice. Information and analysis above are derived from sources and utilizing methods believed reliable, but we cannot accept responsibility for any trading losses you may incur as a result of this analysis. Do your own due diligence.
© 2005-2019 http://www.MarketOracle.co.uk - The Market Oracle is a FREE Daily Financial Markets Analysis & Forecasting online publication.

Only logged in users are allowed to post comments.
Register/ Log in