Investors Favor the Inflation Trade on Better than Expected Corporate Earnings
Stock-Markets
/
Financial Markets 2009
Aug 02, 2009 - 10:48 AM GMT

For some reason the lyrics of Electric Light Orchestra's classic, Livin' Thing, keep resounding in my head: "You took me, ooh, woah, higher and higher, baby. It's a livin' thing … " Followed by: "It's a terrible thing to lose … " But let me get on to the review of the financial markets …
Investors (or should I say "Johnny-come-latelies"?) last week again favored the reflation trade on the back of better-than-expected US earnings announcements and economic data, indicating that the trough of the recession might be behind us, or at least be stabilizing at depressed levels.
Newsweek's cover declared: "The recession is over", but a footnote stated "Good luck surviving the recovery", implying a hard and treacherous slog ahead - note the pin below the "liquidity-inflated" balloon.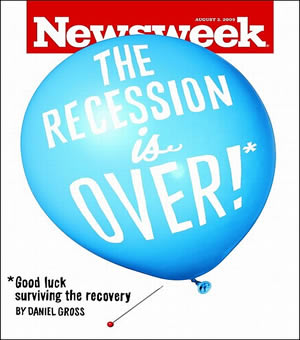 Tempering the bullish sentiment, David Rosenberg (Gluskin Sheff & Associates) commented as follows on Friday's announcement of a 1.0% (quarter on quarter annualized) contraction in Q2's real GDP: "While we are past the most pronounced part of the downturn, it may still be premature to call for the end of the recession merely because of the prospect of a positive third-quarter GDP result. After all, we saw GDP advance at a 1.5% annual rate in last year's second quarter, and if memory serves us correctly, the NBER did not subsequently declare the end of the recession. And even if the recession is ending, as we saw in 2002, that does not guarantee a durable rally in risk assets. Sustainability is the key, and it remains the wild card."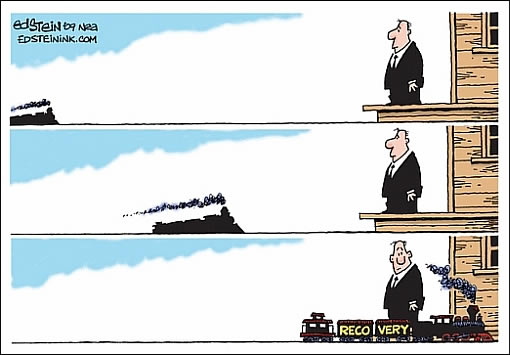 Source: Ed Stein, July 31, 2009.
Many global stock market indices reached new highs for the year during the course of the week, and the S&P 500 Index closed in on the roundophobia 1,000 level. Other beneficiaries of investors' continued interest in risky assets included commodities, oil, gold (rebounding strongly after a midweek sell-off of $24 an ounce), high-yielding currencies and corporate bonds. On the other hand, the US greenback remained out of favor and the Dollar Index closed the week at its lowest level for the year as investors shunned safe-haven assets.
The past week's performance of the major asset classes is summarized by the chart below - a set of numbers that again indicates investors' increased risk appetite. In the case of government bonds, a lukewarm response to the US GDP report took the edge off a poor response to the massive issuance of paper by the Treasury.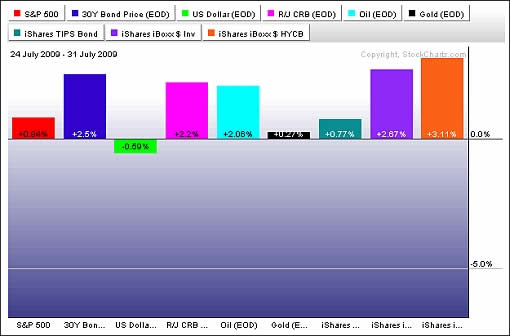 Source: StockCharts.com
A summary of the movements of major global stock markets for the past week, as well as various other measurement periods, is given in the table below. As the second-quarter corporate results in the US came in thick and fast, the American and other markets extended their rallies to three straight weeks in most instances. As a matter of fact, if not for the down week of the Dublin ISEQ Index, the entire table would have been green. But then again, "green shoots" seem to be frowned upon by many pundits.
The MSCI World Index (+1.7%) and MSCI Emerging Markets Index (+2.5%) both made headway last week to take the year-to-date gains to +13.5% and an imposing +48.8% respectively.
As seen from the table, July was a solid month for stock markets with all the major indices recording positive returns. The Dow Jones Industrial Index had its best month since 2002 and the S&P 500 Index, Nasdaq Composite Index and Russell 2000 Index all recorded a fifth successive monthly gain, but were trumped by the Chinese Shanghai Composite Index that notched up seven consecutive positive months.
Click here or on the table below for a larger image.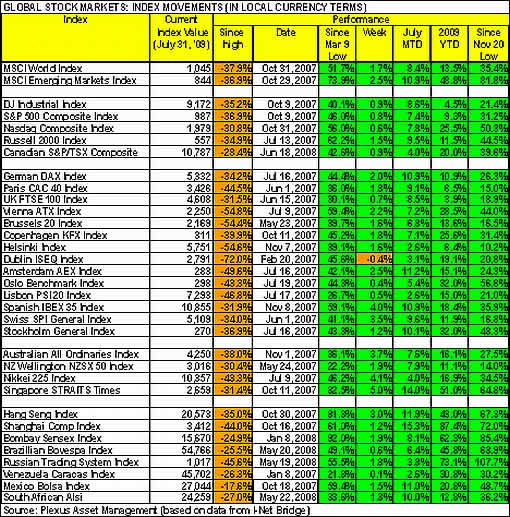 Stock market returns for the week ranged from top performers such as the Czech Republic (+8.7%), Kazakhstan (+8.5%), Turkey (+8.2%), Indonesia (+6.3%) and Kyrgyzstan (+5.8%) to Slovakia (-6.3%), Greece (-3.6%), Nepal (-3.0%), Ecuador (-2.2%) and Macedonia (-1.5%) at the other end of the scale.
The Shanghai Composite Index has surged 87.4% in 2009 as $1.1 trillion of bank loans and government spending stimulated economic recovery. Notwithstanding its gain for the week, the Index plunged by 5.0% on Wednesday - its largest decline in eight months - on speculation that the government might curb inflows into the stock market. "The government is worried that this bubble is becoming too big so they're going to cut credit growth by probably half in the second half," remarked former Morgan Stanley chief Asian economist Andy Xie. "I think the property and stock markets will come under pressure around October," he said in a Bloomberg interview.
Of the 97 stock markets I keep on my radar screen, a majority of 74% (last week: 82%) recorded gains, 22% showed losses and 4% remained unchanged. (Click here to access a complete list of global stock market movements, as supplied by Emerginvest.)
John Nyaradi (Wall Street Sector Selector) reports that as far as exchange-traded funds (ETFs) are concerned, the winners for the week included KBW Regional Banking (KRE) (+11.1%), MarketVectors Indonesia (IDX) (+9.2%), PowerShares Global Gold and Precious Metals (PSAU), and United States Gasoline (UGA) (+6.7%).
At the bottom end of the performance ranking, ETFs included "all things short" such as ProShares Short Financial (SEF) (-3.6%), ProShares Short MSCI EAFE (EFZ) (-3.1%) and ProShares Short Russell 2000 (RWM) (-2.3%).
As far as the thawing of the credit crisis is concerned, junk bond yields continued declining, as shown by the Merrill Lynch US High Yield Index (and also by the good performance of the iShares iBoxx $ High Yield Corporate Bond ETF). The Index dropped by 57.8% to 922 from its record high of 2,182 on December 15, meaning the spread between high-yield debt and comparable US Treasuries was 922 basis points on Friday. Considerable progress has been made and high-yield spreads "only" need to fall another 7.4% to reach the "pre-Lehman" level (854 basis points).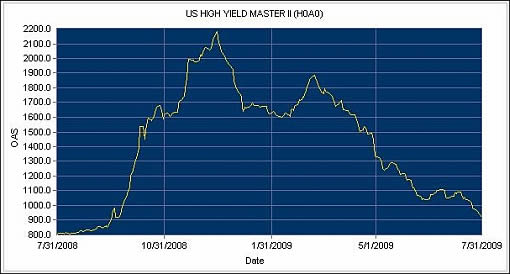 Source: Merrill Lynch Global Index System
The quote du jour this week comes from Richard Russell (Dow Theory Letters) who said: "I'm reading and listening to an awful lot of drivel these days. Every analyst has his own scenario, and all seem anxious to broadcast their personal opinions. In this business, there comes a time when the situation is so complex that the most honest thing to do is simply to admit that you don't know what the hell is going on. The best thing to do is to keep your mouth shut and await developments." (Also read Barry Ritholtz's related post on "Analyzing the analyzers".)
Other news is that Washington hosted a US-China Strategic Dialogue, as the Chinese are increasingly focusing on America's deficit, the value of the US dollar and the implications for their Treasury holdings. Interestingly, the Federal Reserve's balance sheet last week contracted for the second consecutive week. "Do you think Ben assured Chinese officials earlier this week that the Fed was reducing its balance sheet?" asked Bill King (The King Report).
Also, the US House of Representatives on Friday approved a $2 billion extension of the government's car sales incentive program, "Cash for Clunkers", while the Federal Deposit Insurance Corp (FDIC) closed four more banks on Friday, bringing the tally of US bank failures in 2009 to 68 (93 since the beginning of the recession).
Next, a tag cloud of all the articles I read during the past week. This is a way of visualizing word frequencies at a glance. Key words such as "bank", "economic", "market", "prices", "growth", "China" and "Fed" featured prominently.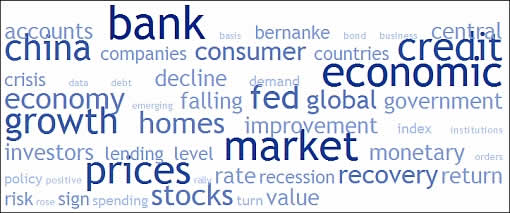 The key moving-average levels for the major US indices, the BRIC countries and South Africa (from where I am writing this post) are given in the table below. All the indices trade above their respective 50- and 200-day moving averages. The 50-day lines are also in all instances above the 200-day lines and therefore not threatening the bullish "golden crosses" established when the 50-day averages broke upwards through the 200-day averages.
Importantly, the 200-day moving average of the S&P 500 Index last week turned up for the first time since January 2008, after being breached upwards by the Index in early June. The 200-day line - generally seen as a key indicator distinguishing between a primary bull and bear market - is now trending higher for all the indices included in the table, with the exception of the Dow Jones Transportation Index and the Russian Trading System Index.
The June highs and July lows are also given in the table as these levels define a support area for a number of the indices.
Click here or on the table below for a larger image.

When considering monthly data, three momentum-type oscillators (RSI, MACD and ROC) are reversing course for the first time since the sell signals of 2007 and now either indicate buy signals (or are getting close to one in the case of MACD).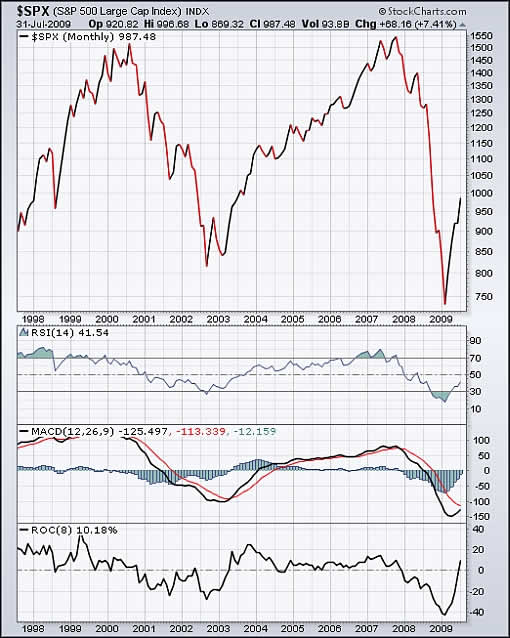 Source: StockCharts.com
The bulk of the Q2 earnings reports in the US are now in and 71% of the companies have so far reported better-than-expected earnings - one of the highest quarterly readings over the last ten years and by far the highest since the bear market began in late 2007 (albeit largely as a result of cost cutting negating a decline in revenues). "We've now had two straight quarters where the 'beat' rate has increased quarter over quarter, meaning analysts overestimated earnings to the downside. This is a very positive sign for the market at the moment … ," said Bespoke.
Source: Bespoke, July 31, 2009.
Expectations for the next earnings season will be high and whether these are met will be determined by the extent of the economic recovery. "… what should matter most for stocks is nominal GDP - price multiplied by volume. Indeed, the chart below illustrates the case - the rate of change in the S&P 500 ultimately tracks the trend-line in nominal GDP growth," said David Rosenberg.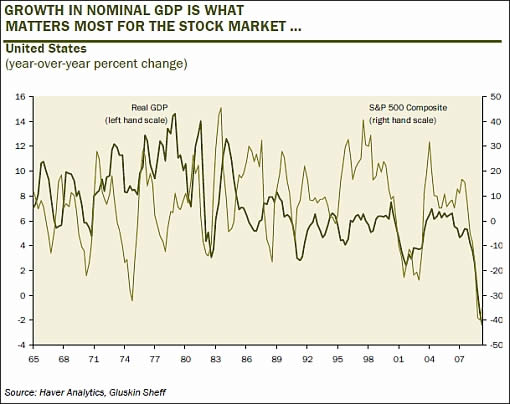 Source: Gluskin Sheff - Lunch with Dave, July 31, 2009.
I now know why I keep thinking of those ELO lyrics - it's the stretched valuations that bother me. Based on operating earnings (i.e. stripping out everything that is bad), the historical price/earnings (PE) multiple of the S&P 500 is 24.6; using reported earnings the figure shoots up to a giddy 777.5! Getting past the loss-making fourth quarter of 2008 and calculating prospective multiples through December 31, 2010, reduces the valuations to 17.8 and 32.9 respectively - still hardly the type of valuations that will inspire one to be a buyer across the board. (The earnings estimates are courtesy of Standard & Poor's.)
Kevin Lane (Fusion IQ) said: "We have been saying for a while now that the market would likely work higher as sentiment was more doubting than embracing, suggesting that many still had not deployed a lot of capital. That said, we now believe that investors who let the market run away from them or were only partially invested are finally coming into the pool. The new entrants could certainly fuel things (i.e. new buying power) a little bit further before we have another corrective wave. That said, we think in the not too distant future and a bit higher from these levels there will be an opportunity to make sales before a late summer/fall correction."
Looking at the next few weeks, I am of the opinion that stock markets have run away from fundamental reality and that a pullback/consolidation looks likely. Taking a slightly longer-term view, I think we are in a (possibly lengthy) bottoming-out phase as far as slow-growth (OECD) countries are concerned, but already in new (potentially volatile) uptrends regarding high-growth emerging and commodities-related markets.
For more discussion on the direction of financial markets, see my recent posts "Stock markets - secondary or primary bull?," "How to interpret the Dow Theory bull signal, according to Richard Russell", "Picture du Jour: US housing - better days ahead?" and "Video-o-rama: The yin and yang of China/US relations". (And do make a point of listening to Donald Coxe's webcast of July 31, which can be accessed from the sidebar of the Investment Postcards site.)
Economy
The results of last week's Survey of Business Confidence of the World achieved their best level since early October, reported Moody's Economy.com. Business sentiment is improving across the globe and businesses' broad assessments of current conditions and the outlook into 2010 have brightened meaningfully. However, despite the steady improvement in confidence, businesses are still cautious and the Survey results remain consistent with a global economy that is still in recession.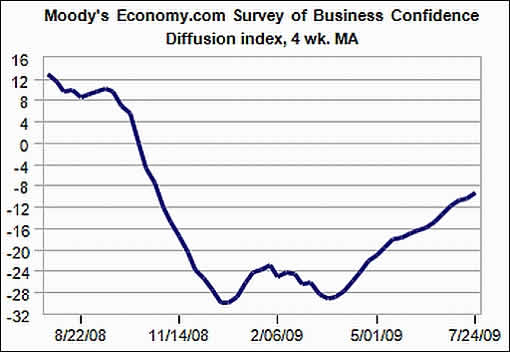 Source: Moody's Economy.com
According to the European Central Bank's Q2 2009 bank lending survey, the number of banks tightening standards is falling across all loan types. "If you asked me, this constitutes good(ish) news. The credit crisis in Europe has likely passed …," said Rebecca Wilder (News N Economics).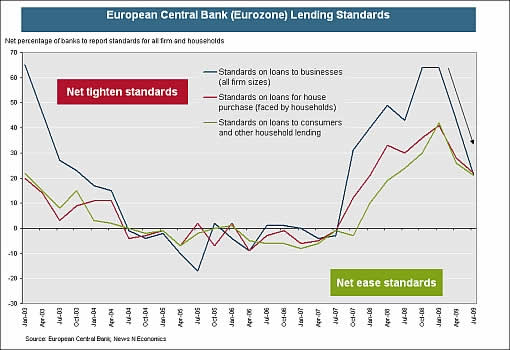 Source: News N Economics
A snapshot of the week's US economic reports is provided below. (Click on the dates to see Northern Trust's assessment of the various data releases.)
Friday, July 31, 2009
• Q2 GDP - the parachute has opened
Thursday,July 30, 2009
• Jobless Claims report makes a case that the labor market is improving
Wednesday, July 29, 2009
• Durable Goods Orders - decline in airline and defense masks improvement
Tuesday, July 28, 2009
• Case-Shiller Home Price Index - home prices are stabilizing
• Consumer Confidence Index slips in July
Monday, July 27, 2009
• Sales of new homes surge in June, inventories of unsold homes are sliding down
Additionally, the Federal Reserve's latest Beige Book, released on Wednesday, indicated that the US economic recession was becoming less severe. While still weak, some regions reported that the pace of the downturn had moderated.
According to the US Commerce Department's advance growth estimate, real GDP contracted at an annualized rate of 1% in the second quarter - smaller than the consensus expectation for a 1.5% decline. The rate of contraction slowed from the first quarter's -6.4% as a result of a much smaller decline in investment, a smaller drop in inventories, less of a decline in exports, and strong government "stimulus" spending (+13.3% on an annualized basis - see chart below). However, consumer spending fell by a disappointing 1.2% in the second quarter.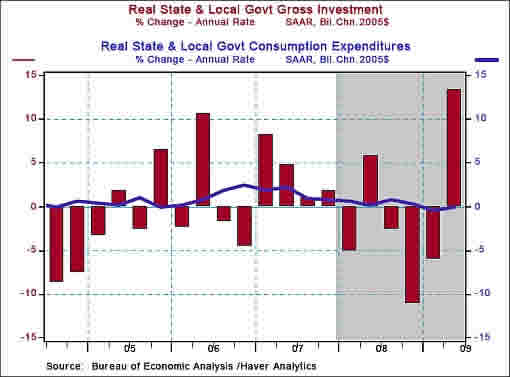 Source: Northern Trust - Daily Global Commentary, July 31, 2009.
Summarizing the growth data, Paul Kasriel (Northern Trust) said: " … the worst is over, but the best is not yet at hand. The imminent recovery will take hold not with some sustainable explosion in one sector or another, but because some hitherto really weak sectors will stabilize and/or grow a little."
"We expect a gradual recovery in the US economy in the months ahead, but the Fed will need to keep the policy setting extremely aggressive to achieve a self-reinforcing upturn in consumer confidence and spending," added BCA Research.
Warning of a W-shaped recession, Nouriel Roubini (RGE Monitor) said (via Forbes): "The global recession may end toward the end of 2009 - instead of sooner - but the global recovery in 2010 will be anemic and well below trend as households, firms and financial institutions are constrained in their ability to borrow, lend and spend.
"Meanwhile, a perfect storm of the following has inched a little closer on the radar of this cloudy global economic outlook: persistently large fiscal deficits and public debt accumulation; monetization of such deficits that will eventually increase expected inflation; rising government bond yields; soaring oil prices; weak profits; still-falling job figures; and stagnant growth. It's a storm that could blow the recovering world economy back into a double-dip recession by late 2010 or 2011."
Week's economic reports

Across the pond, the Bank of England (BoE) and the European Central Bank (ECB) will make interest rate announcements on Thursday (August 6), while in the US economic highlights for the week include the following:
Monday, August 3
Construction spending, ISM Index and auto sales
Tuesday, August 4
Personal income and spending and pending home sales
Wednesday, August 5
ADP Employment, factory orders, and ISM services
Thursday, August 6
Initial jobless claims
Friday, August 7
Jobs data and consumer credit
Markets
The performance chart obtained from the Wall Street Journal Online shows how different global financial markets performed during the past week.
Source: Wall Street Journal Online, July 31, 2009.
"It's not whether you're right or wrong that's important, but how much money you make when you're right, and how much you lose when you're wrong," said George Soros. Let's hope the news items and quotes from market commentators included in the "Words from the Wise" review will assist Investment Postcards readers in adding considerable value to their balance sheets.
For short comments - maximum 140 characters - on topical economic and market issues, web links and graphs, you can also follow me on Twitter by clicking here.
That's the way it looks from Cape Town (where a winter sun is welcoming the month of August).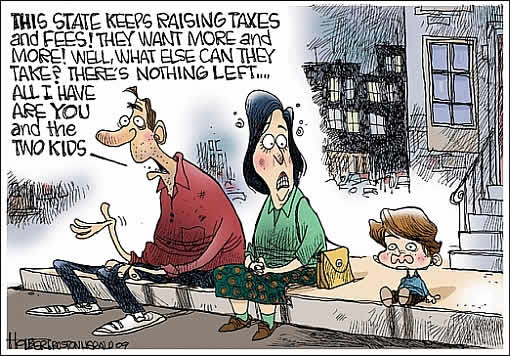 Source: Jerry Holbert, July 30, 2009.
Nouriel Roubini (Forbes): The road ahead for the global economy
"The global recession may end toward the end of 2009 - instead of sooner - but the global recovery in 2010 will be anemic and well below trend as households, firms and financial institutions are constrained in their ability to borrow, lend and spend.
"Meanwhile, a perfect storm of the following has inched a little closer on the radar of this cloudy global economic outlook: persistently large fiscal deficits and public debt accumulation; monetization of such deficits that will eventually increase expected inflation; rising government bond yields; soaring oil prices; weak profits; still-falling job figures; and stagnant growth. It's a storm that could blow the recovering world economy back into a double-dip recession by late 2010 or 2011.
"After rising sharply for three months, asset markets in the mature economies have paused and started a tentative correction in the last few weeks. Risk investors that had driven up prices have partially taken profits, and suddenly they are wary. They are right to be wary.
"Before the recent correction started, there was a very sharp rise in asset prices, beginning around March 9. Equities rose, oil and energy prices rose, commodities rose. Credit spreads sharply contracted, indicating a surge of new confidence in the corporate sector. Long-term government interest rates shot up as ten-year Treasurys rose from 2% to 4% before retracing, suggesting that markets saw growth returning in the near future. The volatility of asset prices also fell, and that is always a sign of increasing confidence and lower risk-aversion.
"Emerging market asset prices - equities, bonds and currencies - have, if anything, been more bullish. The broad indexes of the BRICs showed that, in early 2009, some investors again began to believe that these economies, starting with China, will recover and experience further rises in commodity prices.
"In other words, markets, which only four months ago were pricing-in an L-shaped global near-depression and a near financial meltdown, were three weeks ago pricing-in a rapid V-shaped recovery toward potential growth. And there are some good reasons for part of this rally. At the beginning of the year gross domestic product (GDP) was falling at a rate that suggested that something close to economic depression really was looming, and there was a widespread sense that many of the world's biggest financial institutions were effectively insolvent.
"Today, both of those fears have been, for now, checked; the tail risk of an L-shaped near-depression is significantly lower. We have seen policy action by the US, Europe, Japan, China and many other economies that has been unprecedented, with interest rates reduced to near zero, with much bad debt ring-fenced (although not written off or worked out), with liquidity created by orthodox and unorthodox means and with final demand in many economies primed by central governments. The rate of output decline has shallowed dramatically, the 'tail risk' of a chronic slump has been suppressed, and financial institutions are recording profitable quarters, at least on paper, as forbearance and public subsidies are, for now, hiding their mounting losses.
"All this creates a moment when risk to a rally is to be expected. As tail risk is reduced, investors move back into equities, credit and commodities."
Click Forbes here for the full article.
Source: Nouriel Roubini, Forbes, July 30, 2009.
Barry Norris (Argonaut Capital): Viva la "V"
"Most in the markets believe the global economic recovery will be anything but V-shaped - although such a scenario actually looks increasingly likely, says Barry Norris, partner at Argonaut Capital.
"He says that while the current downturn has been extremely severe, the overlooked story is that compared to previous recessions, real demand for most goods has suffered just a fairly routine fall-off.
"'This means inventories in many industries have been drawn down to an unprecedented degree. With very low inventory levels, any normalisation in demand, caused by, say, pent-up demand, is likely to be an equally powerful positive stimulus. This is how the recovery could be V-shaped after all.'
"He says purchasing managers' indices not only give a good idea of future activity, but of why economies tend to recover from slumps. 'For most managers, conditions won't get any worse than December 2008 and it will not be long before the majority are experiencing better conditions.
"'Global PMIs are moving back towards equilibrium. This means economic expansion and the end of recession - and most major economies will return to growth in the second half of 2009. This recession is ending in a recovery that is suspiciously V-shaped.
"'This bottoming out should mark the low point in corporate profits. When we buy equities now it is increasingly likely we are buying trough earnings.'"
Source: Barry Norris, Argonaut Capital (via Financial Times), July 27,2009.
Bloomberg: US assures "concerned" China it will shrink deficit
"Treasury Secretary Timothy Geithner pledged to rein in the US deficit as China underscored concern about preserving the value of its $801.5 billion of Treasury holdings.
"The US will ensure a 'sustainable' deficit by 2013, Geithner said at the beginning of the first round of Strategic and Economic Dialogue talks under President Barack Obama in Washington. China is 'concerned about the security of our financial assets', Assistant Finance Minister Zhu Guangyao said.
"In a shift from meetings under the Bush administration, officials indicated there were few signs of tension over the value of China's yuan, which US lawmakers have labeled as artificially cheap and an aid to Chinese exports. That may be because the 'best idea is just to keep the yuan-dollar rate stable' given US need for Chinese demand for Treasuries, said Ronald McKinnon, a professor of economics at Stanford University.
"'The Chinese are trapped with supporting the value of the dollar,' McKinnon said in a telephone interview from Stanford, California. 'If they withdrew from the market, there's a big appreciation' of the yuan as a result that would send China's exports down, he said.
"The new focus on the deficit and Treasuries reflects the legacy of China's record trade surpluses and its accumulation of dollars as a result of holding down the yuan. Chinese foreign exchange reserves surpassed $2 trillion for the first time in the second quarter, and its holdings of Treasuries reached $801.5 billion in May, about 100% more than at the start of 2007.
"Obama said in a speech opening the meetings he wants to engage China in cooperation on a range of issues, beyond acting together to stimulate a global economic recovery.
"'We must also be united in preventing Iran from acquiring a nuclear weapon,' Obama said. He cited nuclear proliferation, terrorism, piracy, global pandemics, climate change and civil war as other common threats facing the two countries. In her sessions, Clinton addressed both the Iranian and North Korean nuclear programs."
Source: Rob Delaney and Rebecca Christie, Bloomberg, July 28, 2009.
Laurence Mutkin (Morgan Stanley): The borrowers return
"Recent official lending surveys in the UK and eurozone offer grounds for optimism, says Laurence Mutkin, head of European rates strategy at Morgan Stanley.
"He says it is vital to identify whether the collapse in broad money growth since the onset of the credit crunch - and particularly in lending to the non-financial sector - is cyclical or secular.
"'If it is the former, then a cyclical economic upswing should revive credit markets. Central banks and governments have taken extraordinary measures to achieve this.
"'But if we are seeing the start of a secular deleveraging, with fiscal and monetary authorities unable to trigger a revival in credit growth, the monetary transmission mechanism will remain impaired - making a period of Japan-style stagnation more likely in the West.'
"The latest survey from the ECB provides some reassurance, Mr Mutkin says. 'It shows that appetite for lending and borrowing became less negative during the second quarter. Consumers have moved more quickly than corporations towards being willing to borrow again.'
"This trend was also reflected in the Bank of England's latest credit conditions survey, he says.
"'All in all, while credit growth looks set to remain soft, the restored willingness of consumers and businesses to borrow implies a lessening risk of secular deleveraging - although the next half year will prove crucial.'"
Source: Laurence Mutkin, Morgan Stanley (via Financial Times), July 30, 2009.
Radoslaw Bodys (Bank of America-Merrill Lynch): CCE borrowing fears overblown
"Fears about central and eastern Europe's foreign exchange borrowing problem now look to have been overdone, says Radoslaw Bodys, emerging EMEA economist at Bank of America-Merrill Lynch.
"He points to two major concerns: that borrowing had become a threat to the region's external financial stability, and the negative impact on the real economy of the private sector's impaired balance sheet.
"But Mr Bodys says: 'We believe the former problem has been largely sorted out given the recent massive balance of payments adjustment, while the latter issue has been blown out of proportion from the very beginning.'
"First, he says, the CEE's non-financial private sector FX credit exposure is relatively large, but considerably smaller than commonly believed.
"Second, he argues that the belief that exchange rate depreciation severely hit central Europe's non-financial private sector balance sheet is a complete misunderstanding.
"'The fact is that falling interest rates have more than offset FX depreciation over the past year. Not only did the service cost of FX loans not increase, but actually fell by between 5.5% and 7.5% from the previous year.'
"And Mr Bodys believes that calls for, and actions by, regulators to 'kill' FX lending are pointless. 'Banks have already tightened their credit policies so severely that FX lending is already virtually dead.'"
Source: Radoslaw Bodys, Bank of America-Merrill Lynch (via Financial Times), July 28, 2009.
Financial Times: Europe braced for rising credit card defaults
"Lenders in Europe bracing themselves for a rising wave of consumer debt defaults as the credit card crisis that has caused billions of dollars in losses among US banks spreads across the Atlantic.
"The International Monetary Fund estimates that of US consumer debt totalling $1,914 billion, about 14% will turn sour.
"It expects that 7% of the $2,467 billion of consumer debt in Europe will be lost, with much of that falling in the UK, the continent's biggest nation of credit card borrowers.
"National Debtline of the UK said that the number of calls it had received from UK consumers worried about loans, credit cards and mortgage arrears had reached 41,000 in May - double the 20,000 calls it had received in May 2008. It added that the number of calls showed no sign of abating.
"In the US, credit card defaults have been rising for months as a spike in unemployment and the most severe economic downturn since the Great Depression took their toll on overstretched consumers.
"The rate of US credit card losses has overtaken the rate of unemployment in recent months - a highly unusual occurrence that makes it more difficult for card issuers to forecast future losses.
"The severity of the financial crisis coupled with rising unemployment on both sides of the Atlantic have stoked fears of a substantially higher default rate in the coming months."
Source: Jane Croft, Megan Murphy and Francesco Guerrera, Financial Times, July 26, 2009.
The New York Times: House votes for $2 billion fund to extend "Clunker" plan
"As problems go in the nation's capital these days, the White House could live with this one.
"Officials at the Transportation Department figured Thursday morning that they had applications in hand for about a tenth of the $1 billion that Congress set aside for the "cash for clunkers" program, meant to give rebates to people who turn in old vehicles for new, more fuel-efficient ones.
"By late Thursday afternoon, they ran to the White House with news that they might have committed the whole $1 billion, or even more. This stimulus program had, in fact, stimulated very heavy demand, which required a quick decision about what to do next.
"Over the course of 24 hours, the White House changed its mind three times. At first, it said it would shut off the incentives by day's end. Then it let them continue through Friday, and then through Sunday.
"On Friday, the House voted to add $2 billion, soothing the fears of car dealers, who would have been responsible for paying any money they promised to customers as a rebate. But the Senate might not follow suit. Some senators said Friday that the speed at which the money flew out the door was a sign that the government's deal was too good, and perhaps should be modified."
Source: Matthew Wald, The New York Times, August 1, 2009.
MoneyNews: Doug Casey - America has died
"As the Obama administration has taken over the car industry, the banking industry, and the insurance industry, some experts now believe that American style capitalism is dead. Doug Casey, a free market capitalist and founder and chairman of Casey Research, is one of them.
"'Unfortunately, the idea of America has died and it's been replaced by another political entity called the United States, which in essence is no different from the 200 other countries spread across the globe,' he says.
"In an exclusive interview with Dan Mangru of Newsmax TV and Moneynews.com, Casey tells why he sees American capitalism on the decline and why other countries such as China will eclipse the United States.
"'The average entrepreneur in China has a lot more freedom than the average entrepreneur does in the United States. He pays a lot less taxes … he's got a lot less regulation,' says Casey.
"Casey goes on to tell Mangru that Communism is a 'scam' and is designed to cheat workers.
"Casey also believes that the United States has not seen the worst of the economic crisis. 'We're just starting to see the beginning of what's going to happen,' Casey says.
"The United States has already entered what Casey calls the Greater Depression, one that will be much more serious than the 1930s. 'This depression can be as long and as deep as you can possibly imagine,' he says.
"The reason most people don't realize this is that the majority of those giving economic opinions aren't economists describing how the world actually works but political apologists describing how they think it ought to work, Casey notes.
"'Everyone's looking to the government for a solution, but all the government does is tax and regulate and inflate the currency,' Casey says.
"Trillions of dollars of phony inflationary capital people believed were real assets have disappeared, says Casey. That's going to continue to deplete the value of the dollar and guarantee catastrophic inflation in the future.
"'If you're relying on the US dollar, you're relying on a figment of the US government's imagination,' says Casey. 'To me, holding US dollars for the long term is about the most stupid thing you can do. Gold is the only financial asset that isn't someone else's liability.'"
Source: MoneyNews, July 29, 2009.
Wells Fargo Securities: Recession probability drops again
"Our monthly recession probability model turned in April, and the sharp drop is now confirmed by our quarterly model. Recent improvement of the LEI and ISM manufacturing series confirms economic recovery.
"Economic recovery prospects have improved. The probability of recession two quarters from now has downshifted sharply over the previous quarter. As evidenced in the top graph, the latest probability calculation from our model is consistent with prior economic recoveries. Our model takes a look at a very broad set of variables, and the results suggest economic recovery is likely within the next six months. The original model estimates were published in "Forecasting US Recessions with Probit Stepwise Regression Models," Business Economics, January 2008. Economic improvement began to show up in our model in recent months in the regional Chicago manufacturing survey. While the official recovery call will come from the National Bureau of Economic Research, our outlook is that the recovery will begin in the third quarter of this year.
"As evidenced by the graph, the recession probabilities move quickly and thereby emphasize how rapidly the economic cycle can change. Moreover, the data suggest that while it may be fashionable for some so-called pundits to be always bearish or bullish the reality is that the economy is characterized by cycles and business leaders are best served by economic advice that recognizes that cycle.
"While we expect consumer spending to improve in the period ahead, we expect such growth to be disappointing to policymakers who anticipate a return to a normal pace of growth. Moreover, we expect the recovery will not be strong enough to produce jobs as in prior recoveries or to fuel the pace of housing/discretionary spending that we have come to expect. Slower-than-usual growth produces greater-than-expected pressures on public budgets."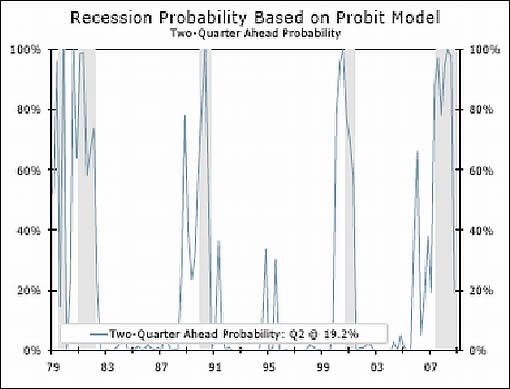 Source: Wells Fargo Securities, July 29, 2009.
Financial Times: Fed sees signs of economic improvement
"The pace of economic decline has moderated or stabilised in most parts of the US, the Federal Reserve said on Wednesday, with manufacturing, residential property and even employment showing some signs of improvement.
"According to the Beige Book, which offers a picture of the economy based on anecdotal evidence provided to the US central bank, overall economic activity has stabilised at a low level since its last report in early June when most regions reported that conditions were weak or worsening. The report adds to mounting evidence that the worst recession in the past 50 years is easing.
"The more optimistic tone was a welcome shift from reports earlier in the year signalling that the economy was in freefall. Many obstacles remain, however, and the Beige Book warned that commercial property, consumer spending and the labour market were still severely weakened.
"Retail sales remained sluggish in most of the Fed's 12 districts, with consumers focused on cheaper necessities while luxury goods 'languish'. Car sales were mixed early this summer, with purchases of new cars stalling while five regions reported growing strength in sales of less expensive used cars.
"Manufacturing activity remained 'subdued' but improved from earlier in the year, as some districts reported that companies were replenishing inventories after months of clearing stocks to cope with the collapse of consumer demand."
"Unemployment, which has reached a 26-year high of 9.5 per cent, is an ongoing worry, but there were some glimmers of hope in the Fed's report. Seven districts said that businesses had begun to take advantage of the job cuts by partaking in "selective hiring" of top talent that other companies have shed. But the labour market is still "slack" and many businesses continue to cut workers, freeze pay or institute furloughs."
Source: Alan Rappeport, Financial Times, July 29, 2009.
MoneyNews: Plosser - Obama risks damaging Fed
"Charles Plosser, president of the Federal Reserve Bank of Philadelphia, said he was concerned about the Obama administration's plans to rewrite the nation's financial regulations, saying it could leave the US Central Bank with an ill-defined role as bank regulator and make it less effective at its main job of fighting inflation.
"Plosser is one of 12 Federal Reserve regional bank presidents who have a voice in Fed decisions about interest rates and bank supervision.
"'You don't want an institution that is so heavy into other things that it fails to do its appropriate role on the monetary policy piece,' Plosser told The Wall Street Journal.
"'I would feel more comfortable with this if I had a clearer statement of what it is we're expected to accomplish,' he said.
"President Barack Obama has proposed giving the Fed additional power to oversee large financial institutions as part of a regulatory overhaul.
"Nevertheless, public opinion of the Fed is falling.
"A Gallup poll, conducted in mid-July, found that only 30% rated the Fed as doing an 'excellent/good" job, down sharply from the 53% who thought the Fed was doing an excellent-to-good job in a survey in 2003, the Associated Press reported."
Source: Forrest Jones, MoneyNews, July 28, 2009.
Financial Times: Bernanke explains Fed's new openness
"Ben Bernanke has explained his decision to turn the normally secretive US Federal Reserve into something of an open house, saying his unusually large number of recent public appearances are the result of the 'extraordinary' times the country faces.
"The Fed chairman has turned up at everything from a 60 Minutes television interview to a Kansas City town hall session over the past few weeks, prompting some to wonder if he is trying to ensure he is re­appointed when his four-year term ends in January.
"However, Mr Bernanke said he was answering a clear public need. 'Normally Fed chairmen don't do this kind of thing because we want to avoid causing near-term market volatility as people try to anticipate our next FOMC (Federal Open Markets Committee) meeting," he told the Financial Times this week.
"'But this is an extraordinary period. We want to answer the questions we know people have about what hit them in this economic crisis, what the Fed is doing about it and how we expect economic developments to play out.'
"The Fed's new openness is well timed. This week, as the debate continues over the bank's role in the financial crisis and proposed prudential powers, Gallup showed it is held in lower esteem than the Internal Revenue Service.
"More seriously, there is a populist headwind in Congress among some lawmakers who want to remove the Fed's monetary independence.
"Cynics believe Mr Bernanke is using this public relations outreach to ensure he is reappointed next January. But Mr Bernanke says the goal is to educate the public about what the Fed does at a time when it keeps getting caught in the crossfire over its role in the crisis and its future prudential powers."
"The chairman's personal standing remains high. 'I would be astonished if Ben isn't re­appointed,' says Alice Rivlin, a former vice-chairman of the Fed. 'He has become very good at interacting with people beyond the usual circles and he is good at avoiding traditional Fed-speak.'"
Source: Edward Luce, Financial Times, July 30, 2009.
Nouriel Roubini (The New York Times): The Great Preventer
"Last week Ben Bernanke appeared before Congress, setting off a discussion over whether the president should reappoint him as chairman of the Federal Reserve when his term ends next January. Mr. Bernanke deserves to be reappointed. Both the conventional and unconventional decisions made by this scholar of the Great Depression prevented the Great Recession of 2008-2009 from turning into the Great Depression 2.0.
"Mr. Bernanke understands that in the Great Depression, the collapse of the money supply and the lack of monetary stimulus during contractions worsened the country's economic free fall. This lesson has paid off. Mr. Bernanke's decision to keep interest rates low and encourage lending has, for now, averted the L-shaped near depression that seemed highly likely after the financial collapse last fall.
"To be sure, an endorsement of Mr. Bernanke's reappointment comes with many caveats. Mr. Bernanke, a Fed governor in the early part of this decade, supported flawed policies when Alan Greenspan pushed the federal funds rate (the policy rate set by the Fed as its main tool of monetary policy) too low for too long and failed to monitor mortgage lending properly, thus creating the housing and credit and mortgage bubbles.
"He and the Fed made three major mistakes when the subprime mortgage crisis began. First, he kept arguing that the housing recession would bottom out soon (it has not bottomed out even three years later). Second, he argued that the subprime problem was a contained problem when in reality it was a symptom of the biggest leverage and credit bubble in American history. Third, he argued that the collapse in the housing market would not lead to a recession, even though about one-third of jobs created in the latest economic recovery were directly or indirectly related to housing.
"Mr. Bernanke's analysis was mistaken in several other important ways. He argued that monetary policy should not be used to control asset bubbles. He attributed the large United States current account deficits to a savings glut in China and emerging markets, understating the role that excessive fiscal deficits and debt accumulation by American households and the financial system played.
"Still, when a liquidity and credit crunch emerged in the summer of 2007, Mr. Bernanke engineered a U-turn in Fed policy that prevented the crisis from turning into a near depression. He did this largely with actions and programs that were not in the traditional toolbox of monetary policy."
Click here for the full article.
Source: Nouriel Roubini, The New York Times, July 25, 2009.
Clusterstock: Thank goodness for government spending
"Today's better-than-expected -1% GDP was tempered, somewhat, by the staggering 11% spike in Federal Government spending (hello stimulus!). Today's chart looks back at the Y/Y GDP change with the same number sans government spending. As you can see from the divergence, the government boost provides a big help."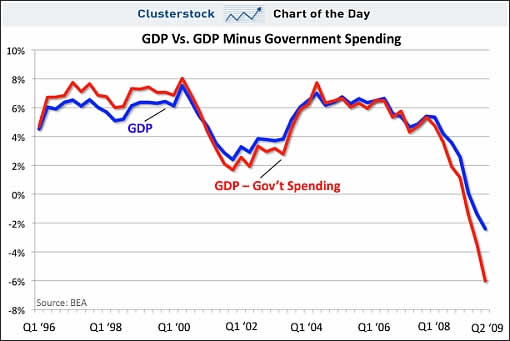 Source: Joe Weisenthal and Kamelia Angelova, Clusterstock - The Business Insider, July 31, 2009.
BCA Research: US GDP - major benchmark revision to growth
"US output net of inventories stabilized in the second quarter, which could foreshadow positive growth in the second half as inventory levels are rebuilt.
"Although the advanced GDP report for the second quarter beat expectations, it also indicated that the 2008 downturn in growth and consumer spending was considerably weaker than previously thought. Gross domestic product contracted by 6.4% (at annual rates) in the first quarter, a much weaker result than the previous estimate of 5.5%. Consumer spending was also revised markedly lower. Interestingly however, real final sales of domestic product - i.e. GDP net of the change in inventory - has stabilized, a fairly positive sign that growth can turn positive in the second half of the year as inventories are rebuilt.
"Bottom line: We expect a gradual recovery in the US economy in the months ahead, but the Fed will need to keep the policy setting extremely aggressive to achieve a self-reinforcing upturn in consumer confidence and spending."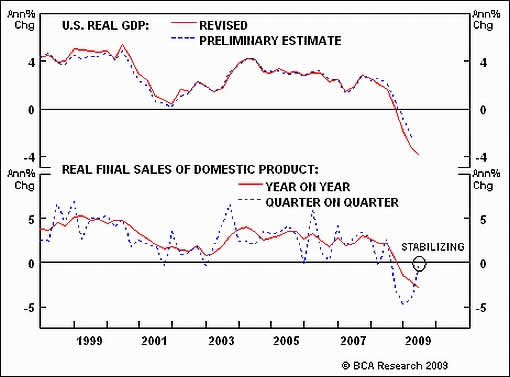 Source: BCA Research, July 31, 2009.
Asha Bangalore (Northern Trust): Jobless claims report makes a case that the labor market is improving
"Initial jobless claims rose 25,000 to 584,000 during the week ended July 25. There were seasonal distortions in the early part of July which have been more or less corrected now. Typically, layoffs at auto companies increase in July for retooling. This year the layoffs occurred in May and June and were related to the GM and Chrysler bankruptcy issues. This shift in layoffs led to lower seasonally adjusted jobless claims in July and the readings we see now are gains after the artificial decline. Despite the increase in initial jobless claims in the past two weeks, the peak in initial jobless claims has occurred in March 2009 (674,000)."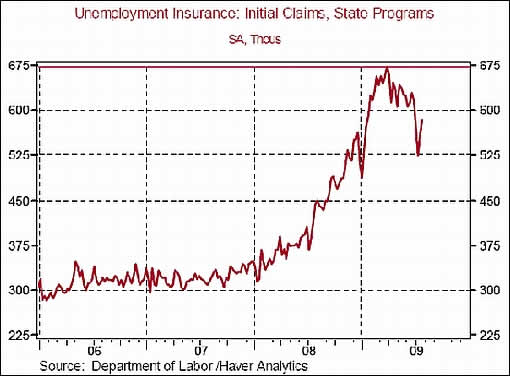 "Continuing claims, which lag initial jobless by one week, fell 54,000 to 6.197 million. Continuing claims have declined in four out of the last five weeks."
Source: Asha Bangalore, Northern Trust - Daily Global Commentary, July 30, 2009.
The Wall Street Journal: Consumer-debt picture shows one sign of improvement
"Fewer American households appear to be falling behind on their debt payments, according to a new study, but some economists question whether the data reflect a meaningful easing of consumer-credit problems.
"'I feel very confident we are at a turning point,' said Mark Zandi, chief economist of Moody's Economy.com. 'Household credit conditions are set to improve significantly by this time next year,' he said. Mr. Zandi attributed the turn to tightening lending standards.
"Mr. Zandi's outlook is based largely on his analysis of 7.5 million credit files supplied by Equifax Inc., the credit-reporting titan based in Atlanta. The files analyzed represent 5% of US consumers. The analysis showed that the number of mortgage, credit-card and other consumer loan payments that were 30 and 60 days past due fell by nearly 1.1 million to 13.9 million at the end of June, on a seasonally adjusted basis, from three months earlier. Nearly two-thirds of the decline came from falling credit-card delinquencies.
"The analysis of 'early-stage' delinquencies can be key to spotting changing trends. When such data show a slowing, it could indicate that total delinquencies will come down in the next six to 12 months. But the data don't mean the broader credit problems plaguing banks and other lenders will be eliminated anytime soon.
"In fact, the total number of seriously delinquent borrowers and those in default will keep rising for some time, as borrowers who are 30, 60 and 90 days delinquent move to the next phase of delinquency. Overall, household liabilities in delinquency and default rose to $1.15 trillion in June, 10% of total liabilities, according to Mr. Zandi's analysis of the Equifax data. The delinquency and default rate in June was up from 8.96% in March and 8.01% in December.
"Still, Mr. Zandi said the reduction in newly delinquent borrowers is a positive sign for the economy, especially coming at a time when 'the job market and housing market are still bad and getting worse. Once those markets stabilize, when combined with the tighter underwriting, we will see a dramatic improvement in credit quality.'
"But not all analysts are convinced. Some believe that improvements in the data represent little more than temporary blips that will reverse as a new wave of credit problems emerge."
Source: Ruthe Simon and Constance Mitchell Ford, The Wall Street Journal, July 25, 2009.
Asha Bangalore (Northern Trust): Durable goods orders - decline in airline and defense masks improvement
"Orders of durable goods fell 2.5% in June after a 1.3% increase in May. The 38.5% drop in orders of aircraft and a 28.3% decline in bookings of defense equipment resulted in the overall plunge in orders of durable goods. Orders of non-defense capital goods excluding aircraft increased 1.4% following a 4.3% gain in the prior month."
Source: Asha Bangalore, Northern Trust - Daily Global Commentary, July 29, 2009.
By Dr Prieur du Plessis
Dr Prieur du Plessis is an investment professional with 25 years' experience in investment research and portfolio management.
More than 1200 of his articles on investment-related topics have been published in various regular newspaper, journal and Internet columns (including his blog, Investment Postcards from Cape Town : www.investmentpostcards.com ). He has also published a book, Financial Basics: Investment.
Prieur is chairman and principal shareholder of South African-based Plexus Asset Management , which he founded in 1995. The group conducts investment management, investment consulting, private equity and real estate activities in South Africa and other African countries.
Plexus is the South African partner of John Mauldin , Dallas-based author of the popular Thoughts from the Frontline newsletter, and also has an exclusive licensing agreement with California-based Research Affiliates for managing and distributing its enhanced Fundamental Index™ methodology in the Pan-African area.
Prieur is 53 years old and live with his wife, television producer and presenter Isabel Verwey, and two children in Cape Town , South Africa . His leisure activities include long-distance running, traveling, reading and motor-cycling.
Copyright © 2009 by Prieur du Plessis - All rights reserved.
Disclaimer: The above is a matter of opinion and is not intended as investment advice. Information and analysis above are derived from sources and utilizing methods believed reliable, but we cannot accept responsibility for any trading losses you may incur as a result of this analysis. Do your own due diligence.
© 2005-2019 http://www.MarketOracle.co.uk - The Market Oracle is a FREE Daily Financial Markets Analysis & Forecasting online publication.

Only logged in users are allowed to post comments.
Register/ Log in