Carbon Traders Attracted to China's Vast Methane Reserves
Commodities
/
Natural Gas
Jun 12, 2007 - 06:47 AM GMT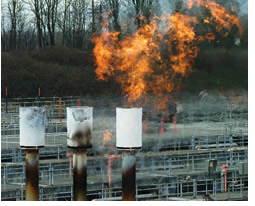 Carbon traders are utilizing the Kyoto Protocol's clause on 'certified emission reduction' credits to capitalize on China's vast coalbed methane reserves. The Asian director of Fortis' carbon trading desk calls China's methane 'easy pickings.' For every tonne of methane captured, about 20 tons of CO2 credits are obtained. CBM projects in China should indirectly benefit from foreign capital racing to exploit these credits before they expire in 2012
Americans, the world's largest polluters, consumed almost four tons of coal per person in 2006. Every ton of coal burned sends more than two tons of carbon dioxide into the atmosphere.

By 2009, experts believe China will overtake the United States as the world's largest emitter of carbon dioxide.

According to the country's National Reform and Development Commission (NDRC), China will produce 1.45 trillion kWh of electricity in the first half of 2007. About 75 percent of the China's energy is generated by coal. By 2050, to serve China's growing population, the country is expected to add the sum total of Canada's generating capacity every four years!

While China hopes to rely more upon nuclear, coal is continues taking its toll until the country solves its energy quandary.

On Tuesday, China's state environmental watchdog reported that more than 62 percent of the country's cities suffer from air pollution. Thirty-nine cities were placed on the State Environmental Protection Administration's 'Black List," because they suffered severe air pollution.

Seven of those cities are located in China's northern Shanxi province, the country's largest coal supplier. Coal-fired power plants are reportedly the major culprit. Many were given preferential pricing terms to install sulfur removal systems. Some took the pricing, but skipped the systems.

China's runaway pollution has become an international problem.

In early April, an American satellite spotted a dense yellow cloud of gases, chemical and desert sands floating across Seoul (Korea) – emissions from China's coal-fired smokestacks. This weekend, the Korean government retaliated by launching Greenbelt Plantation Project. The Korean forestry service plans to plant 1.5 million trees in Mongolia to help reduce sandstorms wafting across the Yellow Sea, which bring its residents respiratory illnesses.

It is not that China is ignoring the problem, but that the country's breakneck GDP growth rate is not only impacting global commodity prices (oil, copper, nickel, uranium, etc), but could also be accelerating the effects of abrupt climate change and global warming.

Just Bad Weather?

One can politely compartmentalize the disrelated weather events which occurred over the past seven days and call those a coincidence, or one can imagine the horrors Dr. James Lovelock (Click to http://stockinterview.com/lovelock.html ) has warned could occur as this century unfolds.

A week ago, Cyclone Gonu was recorded as the strongest tropical storm since 1945 in the Arabic Gulf region. It peaked as a Category 5 along the coastline of the Gulf of Oman. At the time, many worried it might disrupt oil exports from the Middle East. It was the first cyclone in recorded history to enter the Gulf of Oman. Eastern Australia was battered by heavy rains and suffered major flooding and landslides this past weekend. So great was the impact that some compared it to 1989's earthquake, near the same location.

There have been other firsts over the past few years. In 2004, Cyclone Catrina became the first cyclone to form in the South Atlantic and also hit Brazil. In 2005, Hurricane Vince became the first cyclone to hit the Iberian Peninsula. In 2006, super typhoon Chanchu formed in the South China Sea, hitting China, Taiwan, the Philippines and Taiwan.

Many have concluded these could be early warning signs of much greater catastrophes expected as sea waters further warm up.

China Aiming for Solutions

Electricity growth has been the global driver toward more nuclear and more environmentally friendly methods of power generation. For example, the U.S. Department of Energy (DOE) forecasts an additional 90 gigawatts of electricity would be required over the next twenty-five years in the United States. To generate this new capacity, the DOE calculated it would take 151 coal-powered plants, 100 mid-sized nuclear plants or 60,000 wind turbines.

China's problem is magnified to accommodate its higher energy intensity per unit of GDP growth. Not to mention its whirlwind growth.

While we discussed several coal-replacement developments in our recent publication, "Investing in China's Energy Crisis," one has piqued our interest as more easily implemented. And it is also one where China has focused.

Kyoto Protocol Drives CBM Projects

Clean coal technology is being rapidly advanced in China because of the Clean Development Mechanism (CDM), which is an integral component of the Kyoto Protocol and which China signed in 1998 and approved in 2002. The CDM allows developing countries to sell their 'certified emission reductions' (CERs) to the wealthier nations.

By trading CERs, China has developed an additional revenue stream to fund local emission reduction projects. According to the World Bank, China obtained 62.5 percent of the total UN-certified carbon credits in 2006. This amounted to US$3 billion.

One such project benefiting from the CER mechanism is the Jincheng coalbed methane (CBM) power plant, which is scheduled to begin operation this August. At 120,000 kw, it will be the largest of its kind in Asia. Annually, the power plant is expected to transform 180 million cubic meters of CBM gas into 730 million kWh of electricity.

The power plant is attached to the Sihe coal mine from which the intense greenhouse gas will now be used to provide electricity. Jincheng Anthracite Mining Group, which owns the mine and the power plant, received US$150 million in funding in exchange for certified emission reduction credits.

On June 1st, Jiangxi province's first coalbed methane (CBM)-fired power station was successfully connected to a power grid in this southern Chinese province. It had gone through two months of trial operations. This CBM plant could become a model for similar plants in other Chinese provinces.

There are negotiations for 60 CDM projects currently underway. Of the twenty approved by the state government, most are coalbed methane recovery projects.

China hopes to double the sale of the country's carbon credits. The next five years could show intensified activity in carbon trading as Japan and Europe rush to the 2012 deadline for meeting their emission reductions targets. Using the present rate of China's market share as a yardstick, this could mean more than US$7 billion in 'foreign aid' in 2007.

Financial institutions are scrambling to deal with the trading action. Fortis Bank (FORSF.PK), a Belgian Dutch financial group, which has carbon trading desks in Europe and the United States, plans to expand its Hong-Kong trading desk this year to capitalize upon the 'easy pickings' of methane projects. Fortis ranks 18th on Fortune's Global 500 list with 2006 revenues of more than US$112.3 billion.

Fortis' Asian carbon market director Shane Spurway said, "Methane will probably be one of the most popular projects in the next three to four years."

While degasifying China's coal mines helps save lives, the financiers aren't attracted to methane projects for humanitarian reasons. Because methane gas is far more potent a greenhouse gas than carbon dioxide, every ton of methane gas captured and utilized is the financial trading equivalent of twenty tons of CO2.

As a result, we believe China's coalbed methane gas should become a very valuable commodity and attract widespread foreign capital to those companies developing CBM in China. We also suspect that foreign-owned CBM companies developing these projects could become beneficiaries of carbon trading credits – potentially adding cash to their revenue streams.

Until now, coalbed methane projects have lagged in development. The CER mechanism in the Kyoto Protocol shoots them to the top of the list. Carbon traders make money so the CBM projects will become easier to finance. They neither require the capital-intensive component of nuclear energy power plants nor the gamble of an offshore natural gas discovery.

Kyoto's CERs and China's CBM projects appear to be a banker's dream project, for at least the next few years as the world's richest nations rush to capitalize upon those carbon trading credits.

China's Guizhou Province

China hopes to reduce greenhouse gas emissions by phasing out many obsolete thermal power plants and replacing them with small-scale natural gas or coalbed methane electric power plants. Holding one of the world's top coal reserves, and the world's largest producer and consumer of coal, China relies upon coal for its energy. The country's top experts know coal better than any other energy source.

Consequently, China's turning to CBM gas as one means of reducing air pollution and continuing to power its double-digit GDP growth is a natural extension for its scientists, miners and environmentalists.

After researching Shanxi province, which hosts one-third of China's coal reserves, we began studying comparable coal provinces and regions to find which areas had prolific CBM reserves. Guizhou province stood out. It is also about 400 miles northwest of Hong Kong.

In the course of researching the U.S. Environmental Protection Agency's Coalbed Methane Outreach Program, we were fortunate to uncover an analysis released in late 2005 jointly published by the China Coal Information Institute and the US EPA.

"Guizhou province has the largest coal reserve in southern China as well as rich CBM resources. The CBM reserve in Guizhou is 3.1KB m3, accounting for 22 percent of the total in China."

Guizhou ranks second behind Shanxi province.

The report continued, "The CBM resources in Guizhou are not only rich but of high quality as well, with the CBM reserve 29KB m3 in the methane-rich areas of over 8 m3 methane per ton coal, accounting for 94 percent of the total amount of local CBM resources."

This government report also noted the plan was utilize the 'local rich CBM resources on a large scale.'

As a result, we anticipate Guizhou province may be one of the targets of the certified emission reduction credits. The high quality and abundant CBM reserves could help develop the small-scale CBM plants now operational or under construction to the east and north. The regional population is equivalent to more than 80 percent of the U.S. population.

In April, China announced Guizhou province would utilize 100 million square meters of CBM this year. Later that month, the NDRC announced it would encourage coal mine investors to exploit CBM. In May, a new preferential policy to promote CBM exploitation was announced.

To our knowledge, only one foreign-owned company holds properties in Guizhou province. Pacific Asia China Energy (PCEEF.PK) is presently developing its Boatian-Qingshan property in the Longtan coal formation in this province.

In summary, we don't believe the high-pitched excitement for the next few years will be about China's nuclear power plants. Certainly there will be growth in China's nuclear, and over the next decade, nuclear could represent a higher level of electrical capacity. And China has announced it plans to build a strategic uranium reserve. But, the country has also limited the amount of molybdenum it exports (effective earlier this month). Of course, this should drive those metal prices higher.

However through 2012, China's coal mines and the methane contained in those mines is more likely to be a major energy driver in attracting foreign capital. After all, carbon trading credits can't be taken lightly. The CERs are attracting foreign investment, bringing the country new technologies and gifting the Chinese government billions of dollars for trying to reduce their air pollution.
By James Finch
http://www.stockinterview.com
COPYRIGHT © 2007 by StockInterview, Inc. ALL RIGHTS RESERVED

James Finch contributes to StockInterview.com and other publications. His recent work, "Investing in China's Energy Crisis," is now available at http://bookstore.stockinterview.com/CBM-ebook.html

© 2005-2019 http://www.MarketOracle.co.uk - The Market Oracle is a FREE Daily Financial Markets Analysis & Forecasting online publication.

Only logged in users are allowed to post comments.
Register/ Log in