Stock Market Divergences Spread And Grow More Profound
Stock-Markets
/
Stock Index Trading
Jan 05, 2010 - 02:37 AM GMT


Divergences in various markets, indicators, and data continue to grow across the gambit, with patterns indicating some sort of resolution is set for as early as next week – as discussed previously. A diamond is forming in the widely followed S&P 500 (SPX) (and other broads) due to pinnacle next week, which as suspected for some time now, should keep equities buoyant until the New Year.
You will remember from our recent discussion on this subject that at the bottom (think VIX) or top of a significant range, diamonds, which are pressure structures, usually indicate the likelihood of a reversal. And based on the parameters discussed above it appears we will not be disappointed this time around either, however the nature of the reversal could be fleeting if equities remain as frisky as they did the last time we witnessed a decennial turn.
The following is commentary that originally appeared at Treasure Chests for the benefit of subscribers on Tuesday, December 22nd, 2009.
In this regard perma-bulls and price managers alike will continue to await fraudulent data points to be released like Pavlov's dogs so that rigged stock markets can continue to be gamed higher in perpetuity – being sycophants by nature. However as alluded to above, we enter the January options cycle just this week, meaning squeeze potential with respect to puts is at its lowest point, so who knows, Santa could have a lump of coal for stock bulls this year instead of a rally. (This outcome is very unlikely.) This is certainly the message being thrown off from collapsing Chinese stocks and soft bank shares here at home, two historically important leading indicators now divergent set against rising and flat stock indices within the more heavily managed sphere. At this point however, with Christmas trade now upon us, a temporary reprieve is anticipated.
It should be noted however that while price managers will work to buoy equities over the holidays with lower volumes apparent, this will only give the smart money a better selling opportunity come the first week of January. So far this set-up is similar to that witnessed at millennium's end, the last decennial turn, where stocks were jammed higher right into year end, sold off hard in the first week of January, and then rallied into March. This time around however stocks are just along for the ride in terms of the decennial turn mania, which as pointed out last week appears to be the bond bubble traced out since the March lows, with record issuance from both private corporations and government alike, monetizing operations within both spheres. That being said, if corporate bonds and other junk credit continue to rally into March, as tech stocks did in 2000, the broads will too in all likelihood as well.
And then you have a strong breakout higher in the dollar ($), which is another divergence the broad measures of stocks should have reacted more negatively to, but have not due to various factors, not the least of which being a dearth of selling associated with expectations of stable prices through Christmas. Here, people are expecting that by hook or by crook price managers will not allow stocks to fall this week or next, giving them ample justification in their minds to gamble on a possible rally. Add to this the $ is now short-term overbought and the bulls are undoubtedly doubly bullish regarding near-term prospects for stocks, which is normally bearish, however with the economy imploding from within, you can bet price managers will be diligent in their work for as long as possible.
One thing that might give them trouble however is the message an imploding gold price would signal, that being the $ is going a lot higher, and that the deleveraging zero T-bill rates are forecasting is set to take hold. Here, it should be noted that gold has now broken the parabolic up-trend and has violated the large round number at $1100. So as pointed out yesterday, in terms of probabilities in this respect, traders would be foolish to bet on a bullish outcome from the present set-up with the $ so firm, and paper longs so complacent. This is evidenced in the fact despite gold has now corrected a full 10%, Comex open interest is still only down 1% from its peak, suggestive a great number of potential stale longs are in position to be flushed. And we didn't even need to see the larger equity complex play some catch-up on the downside to have $1100 go, bringing in the specter of large round number support at $1,000 being on deck as the next test candidate.
Now I cannot tell you whether the $1,000 mark will be tested for sure, however if we are looking at a cycle high in credit issuance here, then it's looking increasingly like the December 2 high in precious metals was in fact of the intermediate-term variety like in 2004, where gold did not bottom until February. And then it took until July to finish a flag before it started trending higher on a lasting basis again, which would be expected if the recent move in gold up to $1200 was the b-wave in a running correction, which is a possibility we have discussed previously. Unfortunately for the bulls, and again while nothing can be guaranteed in this regard, with paper traders being so stubbornly bullish here, as measured by a still elevated open interest in Comex gold, such an outcome is now looking more likely, with four-figures possibly breached on the downside in the testing process.
And to reiterate, thing that will aid in the process of causing gold to have a more profound correction right now is pending trouble in the larger credit cycle, where in spite of an explosion in the growth rate of monetary aggregates and stimulus programs for the banking sector, this liquidity fails to percolate down to the public, as evidenced by still rising mortgage delinquencies. What's more, it should be noted that all but the largest TARP recipients are still growing increasingly stressed as well, which accounts for the weakness in the bank index over the past few months. Add in the specter of increasing government defaults springing up in 2010, and what we have is a recipe for a deflation scare, not that such a thing would be allowed to get far before central authorities would be back into the lime-light monetizing everything in sight. And who knows, maybe they will start showering fiat currency down on the larger population this time around too, which is what gold is waiting to find out, apparently a necessary condition for the metal of kings to begin discounting sustained higher prices.
Fuelling speculation next year will likely turn out to contain some sort of deflation scare was the news out of Federal Express last week, where it said in its earnings related statement that estimates for the next quarter were far too optimistic, likely to come in between 50 to 70 cents per share as opposed to 90, the consensus analysts were expecting. And this is after a 60% haircut after this past year. The scuttlebutt of this is all the earnings related assumptions in relation to the larger economy are also likely too optimistic as well considering the reach FEDEX has, and this is a piece of fundamental news that cannot be ignored. Therein, it will be difficult for the transports to make much progress beyond present levels in knowing this, especially if oil prices remain relatively buoyant. This is the dynamic that could finally trigger an end to the present bounce in stocks, this and an exhaustion of bearish speculators. (See Figure 1)
Figure 1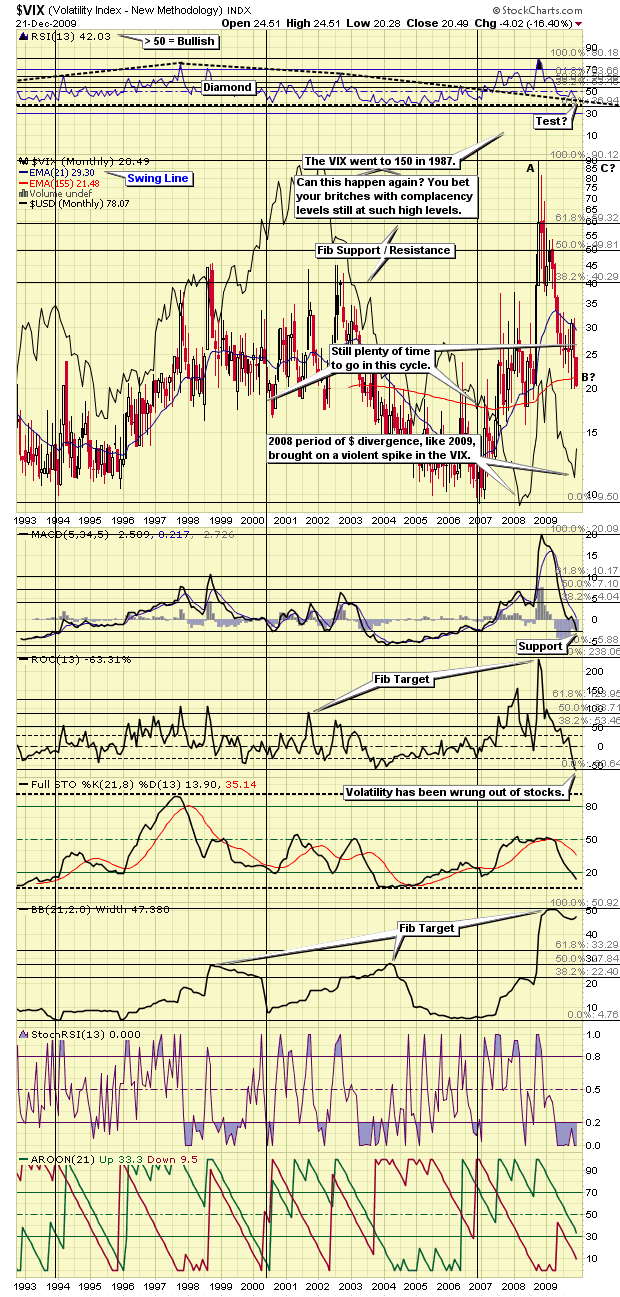 In terms of investor complacency it should be noted the CBOE Total Put / Call Ratio saw values plunge to .58 at the close yesterday, marking extremes normally witnessed at important turns. And although open interest numbers will not be available until later today, which will be posted for a brief analysis tomorrow, based on all we know at this point it would not be surprising to see them continuing to ratchet lower as they have been over the past year. It should be remembered however, that if stocks are to remain buoyant until March, as was the case at the last decennial turn in 2000, then another spike higher is not out of the question. The unfolding triple bottom diamond in the daily VIX plot, combined with the observations found on the monthly plot featured above, are suggestive the highs for stocks should be witnessed here at month's end, however it must be remembered decennial turn extremes can extend into the next year as in the case of the tech wreck.
Of course this wasn't the case with the Nikki, as it topped in December of 1989. It should be noted however monetary stimulation and price management measures in Western markets are theoretically more extreme than what the crazies of the day in Tokyo were doing back then, so it's not inconceivable the fun extends into the next quarter. If this occurs, it's likely the divergence between the VIX and $ denoted above becomes even more profound then, signaling an eventual plunge in equity prices. Again however, the diamond in the VIX will be completed by year-end by the looks of things, and because it's extending here it's unlikely a larger degree diamond will form after a breakout next month, so one is taking his or her chances if intending on betting that way. Such a comment is directed at intermediate-term traders who are looking to calculate the most likely top stocks coming up, assuming Martin Armstrong's theory new highs are in the offing does not prove so radical in appearance.
By his own measure the Dow needs to close above 10,800 by year-end for such an outcome to become a more likely possibility however, which is something we will be watching for, this, and just how far market rates on Treasuries can rise before stocks say uncle. Obviously if they can keep rising without stocks feeling the pressure then all the data coming out about how the average consumer is still struggling is moot somehow, possibly because a new round of binge borrowing is set to commence. (i.e. this is not likely with baby boomers looking to retire, not get jacked up on a bunch of new credit they don't need.) Because short of showering free fiat currency on everybody's heads this would be the only thing that would bring back stocks on a sustained basis, taking the VIX back below 20 again as was the result of the housing bubble. This of course is unlikely with not only a pile of Option Arms Mortgages coming due next year, but also with the yield curve threatening to take off, which would undoubtedly spell trouble for equities.
Unfortunately we cannot carry on past this point, as the remainder of this analysis is reserved for our subscribers. Of course if the above is the kind of analysis you are looking for this is easily remedied by visiting our continually improved web site to discover more about how our service can help you in not only this regard, but also in achieving your financial goals. For your information, our newly reconstructed site includes such improvements as automated subscriptions, improvements to trend identifying / professionally annotated charts, to the more detailed quote pages exclusively designed for independent investors who like to stay on top of things. Here, in addition to improving our advisory service, our aim is to also provide a resource center, one where you have access to well presented 'key' information concerning the markets we cover.
And if you have any questions, comments, or criticisms regarding the above, please feel free to drop us a line. We very much enjoy hearing from you on these matters.
Good investing all.
By Captain Hook
http://www.treasurechestsinfo.com/
Treasure Chests is a market timing service specializing in value-based position trading in the precious metals and equity markets with an orientation geared to identifying intermediate-term swing trading opportunities. Specific opportunities are identified utilizing a combination of fundamental, technical, and inter-market analysis. This style of investing has proven very successful for wealthy and sophisticated investors, as it reduces risk and enhances returns when the methodology is applied effectively. Those interested in discovering more about how the strategies described above can enhance your wealth should visit our web site at Treasure Chests
Disclaimer: The above is a matter of opinion and is not intended as investment advice. Information and analysis above are derived from sources and utilizing methods believed reliable, but we cannot accept responsibility for any trading losses you may incur as a result of this analysis. Comments within the text should not be construed as specific recommendations to buy or sell securities. Individuals should consult with their broker and personal financial advisors before engaging in any trading activities, as we are not registered brokers or advisors. Certain statements included herein may constitute "forward-looking statements" with the meaning of certain securities legislative measures. Such forward-looking statements involve known and unknown risks, uncertainties and other factors that may cause the actual results, performance or achievements of the above mentioned companies, and / or industry results, to be materially different from any future results, performance or achievements expressed or implied by such forward-looking statements. Do your own due diligence.
Copyright © 2009 treasurechests.info Inc. All rights reserved.
Unless otherwise indicated, all materials on these pages are copyrighted by treasurechests.info Inc. No part of these pages, either text or image may be used for any purpose other than personal use. Therefore, reproduction, modification, storage in a retrieval system or retransmission, in any form or by any means, electronic, mechanical or otherwise, for reasons other than personal use, is strictly prohibited without prior written permission.
© 2005-2019 http://www.MarketOracle.co.uk - The Market Oracle is a FREE Daily Financial Markets Analysis & Forecasting online publication.

Only logged in users are allowed to post comments.
Register/ Log in