ObamaCare: Soon to be the Worst Bill Passed in U.S. History (Part 1)
Politics
/
Healthcare Sector
Mar 23, 2010 - 02:42 PM GMT


With Obama's healthcare bill ready to sign, democrats are celebrating. Meanwhile, (supposedly) enraged republicans insist payback will come in November. This is part of the typical back-and-forth theatrics staged to galvanize voter support for each party. Please do not allow yourself to be fooled by these games. As the facts show, both parties are essentially the same when it comes to issues that matter most to working-class Americans; free trade and healthcare, as first detailed in America's Financial Apocalypse.
As you shall soon see, President Obama's healthcare reform bill falls way short of what is needed as a part of America's economic revitalization. In fact, it is likely to create more long-term problems for consumers, all while boosting industry profits. Regardless what you may hear and read from America's tightly-controlled media monopoly, the healthcare industry will continue its string of excessive profits at the expense of consumers and taxpayers. This is how things have always been ever since the medical-industrial complex took hold of healthcare after the Second World War.
The end-result expected from ObamaCare should be obvious. It certainly was obvious to investors. After the bill passed the House Sunday night, healthcare stocks led the market rally the next day. The outcome was clear to the most sophisticated investors long before negotiations began. Less sophisticated investors only realized what would come of Obama's healthcare reform by late 2009. As a result, HMO stocks have been rising since November 2009, significantly outperforming the S&P 500 Index.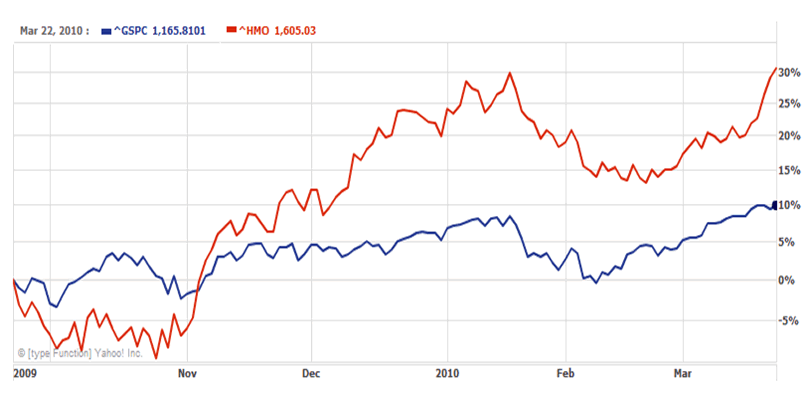 None of this is any surprise to me. You might recall that I have been advising investors to stay out of traditional U.S. asset classes since May 2008, with the exception of healthcare and oil. In fact, I stated the same thing in America's Financial Apocalypse, which was released in late 2006.
Although many of the details of this 2400-page bill have not been made final, by now even unsophisticated investors should realize that ObamaCare will end up favoring the industry. Rather than structuring real price controls and real competition into the most sweeping healthcare legislature since Medicare, Washington seems more determined to furnish health insurers with even more taxpayer subsidies along side of millions of uninsured Americans who will be required to purchase insurance. Meanwhile, drug and device makers will simply raise prices to pay for any new taxes. There will never be real change from an industry backed by one of the strongest, largest, and wealthiest lobbyist groups in Washington handing out billions of dollars.
As the facts show, Obama has flip-flopped on every promise he made to Americans, from restructuring free trade, pulling out of Iraq, promising to avoid the use of signing statements, financial reform, bringing accountability to those responsible for the economic collapse, and many other campaign promises. As a result, healthcare reform remains as his last source of "change."
So as you can imagine, the only thing important for Obama is that some kind of healthcare bill is passed. If he is unable to get healthcare reform passed, his advisers know that his chances for reelection will sink to even lower levels. Thus, Obama has been desperate to get the bill passed at any cost. Rather than a source of change, healthcare reform came to represent nothing more than a political maneuver for Obama's advisers. Making sure healthcare reform is passed at any cost might even provide Obama's ace "in the hole" because it will help voters forget about his numerous flip-flops. His PR team will take care of the rest of the details. Once healthcare reform is passed, Obama will proclaim he has brought change, and his brainwashed, celebrity-stricken supporters will believe it. Thus, it will breathe new life into Obama's reelection hopes, with the help of White House propaganda.
As a desperate attempt to get any bill passed, Obama allowed the industry to slice and dice the original bill. For instance, in exchange for the payoffs and promises from healthcare lobbyists, Medicare will (continue to) be prohibited from negotiating drug prices, there will be no substantial cuts to hospitals serving Medicare patients (these cuts are delayed until 2014), taxes to drug and device makers have been slashed (and they do not go into effect until 2014). Finally, there is no government insurance option; something absolutely required to ensure real industry competition.
Health insurers insist that the 32 million new customers expected to be drawn in by mandated health insurance will be insufficient to offset the added costs resulting from changes to the system, such as a ban on denying insurance due to pre-existing medical conditions. Don't be fooled so easily. Insurers know Obama's watered down healthcare bill represents another gravy train for the industry. They know this because their lobbyists have been busy cutting deals with Washington for over a year. Nothing in the bill will prevent insurers from pricing high-risk consumers and those with pre-existing conditions out of the market because they are still free to raise prices with no real limits. While there are some clauses that address these issues, you shouldn't expect them to last. And if they do, I'll guarantee you insurers will get around them somehow. They always do.
Spokespersons and other industry advocates claim that state officials have the ability to oversee premium hikes. Yes, they have the ability, but will they be committed to act responsibly? I'm willing to bet anyone any amount of money they will abandon their responsibilities, as they have for many years. Healthcare lobbyists have even more control over state politicians than those in Washington. That's precisely why the industry favors state regulation. It's much easier to get away with fraud when your industry falls under state regulation because transparency is even lower than with federal regulation.
The government insurance option was supposed to help boost industry competition. But when push came to shove, Obama backed off of this vital component because the most important thing for him was to get a healthcare bill passed - any bill, just so long as it passed. And there is no way the powerful health insurance industry would let anything stand in its way. It appears as if the industry will continue with its collusive and anti-competitive activities.
It's sad that the American people have become so blinded by the media to not realize this. Instead, they believe scare tactics pumped out by desperate politicians and brainless talking heads in the media. The main problem is that these scare tactics don't even address the real problems with healthcare; massive inflation, medical inefficiency, fraud and no accountability. Thus, those who are against ObamaCare don't even realize they are against it for the wrong reasons. This ensures America's healthcare mess will never be cleaned up. Going forward, Americans will have no one else to blame for their misery than themselves, because they continue to be fooled over and over again by the media. History repeats because people never learn from the past. It happened with Wall Street and now it's happening with healthcare.
It's shocking how easy it is to control a population. You constantly distract them with trash TV, all connected to the pop culture, then flood them constantly with media disguised as responsible journalism. Instead of researching things for themselves or asking journalists and talk show hosts why they only interview people with agendas or refuse to interview experts who oppose their views, most Americans accept what they are fed and move on to more important things, like watching trash TV and sporting events.
While ObamaCare is expected to close much of the doughnut hole, Americans must understand this is yet another tax subsidy to drug companies. Medicare still won't have the ability to negotiate drug prices. The problem with drug costs cannot be fixed by forcing taxpayers to subsidize costs for seniors. It can only be fixed by allowing Medicare to negotiate drug prices, just as every nation in the world does.
Americans pay much higher prices for prescription drugs than everyone else in the world despite using more prescription drugs per capita. Therefore, they should benefit from volume discounts. They should actually be paying less for prescription drugs than everyone else in the world. However, due to the legalized drug monopoly established by Washington, Americans actually subsidize the costs of prescription drugs for every person outside of the United States. I'm sure foreigners would like to thank each American for paying part of the cost of their Viagra and Prozac.
Rather than providing a means by which to make mandated insurance affordable to low-income Americans, Obama has taken the same path as President Bush by providing tax deductions. Tax deductions don't help people afford healthcare if they have very little income to begin with, especially when insurers are free to raise prices as they wish. By my estimates, there are approximately 40 million Americans on food stamps and around 30 million Americans without jobs or marginally employed in some manner. And the economy is showing no real signs of improvement. In fact, it is likely to get worse. Regardless, for many Americans there will be no recovery whatsoever.
Do you really think tax deductions will help Americans who cannot find a decent job afford health insurance? Furthermore, tax deductions simply mean more tax dollars will be shuttled into the industry.
What's truly needed are caps on drug prices and insurance premiums. Costs must come down dramatically without reducing benefits. The healthcare system must be made more efficient.
Part 2 can be found here. http://www.avaresearch.com/article_details-488.html




By Mike Stathis
www.avaresearch.com
Copyright © 2009. All Rights Reserved. Mike Stathis.
Mike Stathis is the Managing Principal of Apex Venture Advisors , a business and investment intelligence firm serving the needs of venture firms, corporations and hedge funds on a variety of projects. Mike's work in the private markets includes valuation analysis, deal structuring, and business strategy. In the public markets he has assisted hedge funds with investment strategy, valuation analysis, market forecasting, risk management, and distressed securities analysis. Prior to Apex Advisors, Mike worked at UBS and Bear Stearns, focusing on asset management and merchant banking.
The accuracy of his predictions and insights detailed in the 2006 release of America's Financial Apocalypse and Cashing in on the Real Estate Bubble have positioned him as one of America's most insightful and creative financial minds. These books serve as proof that he remains well ahead of the curve, as he continues to position his clients with a unique competitive advantage. His first book, The Startup Company Bible for Entrepreneurs has become required reading for high-tech entrepreneurs, and is used in several business schools as a required text for completion of the MBA program.
Restrictions Against Reproduction: No part of this publication may be reproduced, stored in a retrieval system, or transmitted in any form or by any means, electronic, mechanical, photocopying, recording, scanning, or otherwise, except as permitted under Section 107 or 108 of the 1976 United States Copyright Act, without the prior written permission of the copyright owner and the Publisher. These articles and commentaries cannot be reposted or used in any publications for which there is any revenue generated directly or indirectly. These articles cannot be used to enhance the viewer appeal of any website, including any ad revenue on the website, other than those sites for which specific written permission has been granted. Any such violations are unlawful and violators will be prosecuted in accordance with these laws.
Requests to the Publisher for permission or further information should be sent to info@apexva.com
Books Published
"America's Financial Apocalypse" (Condensed Version) http://www.amazon.com/...
"Cashing in on the Real Estate Bubble" http://www.amazon.com/...
"The Startup Company Bible for Entrepreneurs" http://www.amazon.com...
Disclaimer: All investment commentaries and recommendations herein have been presented for educational purposes, are generic and not meant to serve as individual investment advice, and should not be taken as such. Readers should consult their registered financial representative to determine the suitability of all investment strategies discussed. Without a consideration of each investor's financial profile. The investment strategies herein do not apply to 401(k), IRA or any other tax-deferred retirement accounts due to the limitations of these investment vehicles.
© 2005-2019 http://www.MarketOracle.co.uk - The Market Oracle is a FREE Daily Financial Markets Analysis & Forecasting online publication.

Only logged in users are allowed to post comments.
Register/ Log in