Obamacare and the Death of Detroit, the First U.S. City To Face Extinction
Politics
/
US Politics
Mar 24, 2010 - 05:47 AM GMT

To understand what is going to happen to America's health care delivery system, we must first understand what has happened to Detroit.
Detroit is dying. Yes, I know that there are lots of books on "The Death of. . . ." That word sells books. But Detroit really is dying. It is the first metropolis in the United States to be facing extinction. We have never seen anything like this in American history. It is happening under our noses, but the media refuse to discuss it. To do so would be politically incorrect. Two factors tell us that Detroit is dying. The first is the departure of 900,000 people – over half the city's population – since 1950. It peaked at 1.8 million in 1950. It is down to about 900,000 today.
In 1994, the median sales price of a house in Detroit was about $41,000. The housing bubble pushed it up to about $98,000 in 2003. In March 2009, the price was $13,600. Today, the price is $7,000.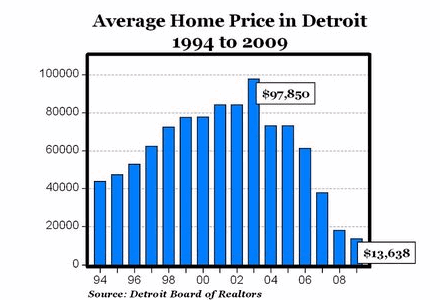 There has never been a collapse of residential real estate values of this magnitude in peacetime history, anywhere. Detroit is dying.
We are unfamiliar with anything like this. The media are silent. The Powers That Be are not interested in reporting on this, because readers might ask the obvious question: "How did this happen?" Obvious questions tend to lead to obvious answers.
Detroit has been killed by flight out of the city. The 2008 Clint Eastwood movie, Gran Torino dealt with this problem. Eastwood plays an 80-something Korean War veteran who will not leave the neighborhood. His children keep bugging him to sell and move into a retirement home. He will not hear of it. He is alienated from them and from his immigrant neighbors: Hmong refugees from South Vietnam. The Hmong have trouble with the Blacks. Every group is essentially trapped in a neighborhood, with the gangs running the show.
There is no surge of buyers to take advantage of fabulously low prices in Detroit. Can you imagine buying a home for cash for $13,600 in 2009 – a house that had sold for $98,000 six years earlier – and losing half your money? It's incredible.
The Wall Street Journal recently ran one of the most creative stories I have seen in years. The journalist told the story of the history of a 5-bedroom home in Detroit, from the land purchase to its recent sale. It was built by one of the most influential man you have never heard of, Clarence Avery. Avery was on the Ford Motor Company team that conceived of implementing an assembly line for Ford's factory. He copied the idea from a hog-slaughtering operation.
His home was a very nice home for the time. The journalist located his daughter, now age 91. She said that she always thought the home was the best home she ever lived in.
As recently as 2005, the home sold for $250,000. It was purchased by a woman who was lent $200,000 to buy it. It was financed by a subprime loan. The asking price was $189,000. Where the other $61,000 went, the woman has no idea. She defaulted.
The deteriorating house was bought by a Christian organization that is renovating it. The house sold for $10,000.
This is simply inconceivable to anyone who is unfamiliar with Detroit since 2005. Nothing like this has ever happened. How can we conceive of a lender lending $200,000 to a woman to buy a $250,000 home offered at $189,000? How can we conceive of a fall in price from $250,000 to $10,000?
This is the sign of a dying city. This does not happen in a normal environment. Even with the mania created by Fannie Mae and Freddie Mac, in conjunction with Alan Greenspan's Federal Reserve, nothing like this has happened anywhere else.
If you had predicted anything like this in 2005, you would have been dismissed as a crackpot on crack. You would not have been taken seriously by anyone. Yet it has happened.
The city planners, the Federal government's subsidy defenders, and the welfare state aficionados are all discreetly silent about Detroit.
The city funds its schools with property taxes. Property taxes have collapsed as sources of revenue. An honest property tax system will generate less than ten cents on the 2003 dollar.
Last week, the school board announced the closing of one-quarter of Detroit's schools. The city is out of money. The central agency of propaganda by the government is in the process of closing up shop. This is not "anti-business as usual." This is collapse. The American public does not perceive what is happening in Detroit.
When a city simply shuts down from the effects of government mismanagement, the media say nothing. Detroit has become the poster child of government regulation, welfare systems, and a population that has given up hope.
The media say nothing because they are caught in a dilemma. If they say that the local government's welfare programs are not really to blame, what does that leave? The unmentionable issue: 82% of the city is Black. So, that means blaming white employers, who discriminate, despite 40 years of Federal anti-discrimination laws. But the main non-employers today are the region's auto companies, and two of the three are partially owned by the U.S. government. One – GM – is mainly owned by the retirement fund of the United Auto Workers. So, the media are not about to blame the auto companies – not now.
That leaves that other politically incorrect issue: the rate of illegitimacy, which is in the 80% range. That social phenomenon represents a moral collapse, but the participants were all educated by the tax-funded schools.
Who ya gonna blame?
The media pundits cannot decide, so they simply ignore the collapse. "Detroit? Never heard of it."
The lesson of Detroit is this: the experts do not see a collapse coming. They assume that next year will be like today, give or take 3%. They do not believe that anything as complex as a city can collapse. So, they believe that things will continue, as they always have. Taxes need not be cut. Spending need not be cut. Schools should be allowed to educate. Tax-funded welfare programs should be increased. When it comes to tax revenues, "there's always more where that came from."
And then, overnight, the system collapses. The assumptions were wrong. Real estate prices collapse, indicating an irreversible flight of capital from the city. The ability of the government to collect taxes collapses.
OBAMACARE
This brings me to the other subject: the health care law. It is not law yet, but it soon will be.
I know what is going to happen.
1. Cost overruns
2. Fraud
3. Additional coverage extended to groups
4. Rising deficits in the program
5. Lower payments to physicians
6. Lower payments to hospitals
7. Delays in payments
8. Rising taxes on the rich
9. Rationing by doctors, hospitals, government
10. Delays in treatment
11. More HMO care: assembly line medicine
12. A search for scapegoats
In 1977, I was involved in an early warning operation. Three teams of physicians and economists toured the country. We hit 30 cities in two weeks. We warned physicians in poorly attended meetings that something like Obamacare was coming. It has now arrived. The physicians we spoke to are mostly retired. They saw some of this happen on a minor scale, but they escaped.
I spoke about the percentage of the GDP (then GNP) devoted to heath care: about 7%. Today, it is 15%. Medicare and Medicaid have increased costs. The care is no better. Except for technology, it is arguably worse.
Obamacare will lead to an expansion of these forms of medicine:
1. Concierge
2. Wal-Mart
3. ER
4. HMO
5. Mexican
CONCIERGE. The rich and very rich hire their own physicians. They pay top dollar. The physicians do not take third-party payments, either from the government or insurance companies. They are independent practitioners. They make house calls. The houses they call on are very large.
For the upper middle class, there are fee-for-service physicians. They take no third-party payments. They do not make house calls.
WAL-MART. These are the walk-in clinics. They are price competitive. They treat minor ailments. They sell services on a one-time basis. They take credit cards. They may or may not cater to the Medicare crowd. They are assembly-line clinics. There are no major surgeries or other high-cost, high-risk services.
ER. Large hospital emergency rooms are mandated by law. The poor get treated there. In a life-and-death emergency, they work. People who would otherwise die in a couple of hours are saved. For walk-in patients, the ERs ration by time. Patients demonstrate their patience.
HMO. This style of medicine is efficient. It cuts costs by cutting services and cutting time. You see the physician on duty. You may not have seen him before. His job is to get you in and out as fast as possible. Time is monitored by the company. Computers make this easy.
MEXICAN. This is off-shore medicine. In Canada, when you can't get treated for months or years, you come to the United States and pay. This will not be possible for Canadians much longer, except for rich ones. Mexico will serve upper middle-class Americans as the USA has served Canadians.
It is possible to get very good surgical care in Asia and Latin America. You have to know who the good practitioners are. Asian hospitals sell for 25% the same level of services. There is less regulation there. Plane fares are cheap. A stay in a hotel is cheap.
There will be entrepreneurs who set up Websites off-shore that direct Americans to practitioners abroad. The Web allows this sort of advertising.
Physicians who practice alone or in small limited liability corporations will find that they cannot compete under the new payment system. Assembly-line medicine will replace the traditional doctor-patient relationship.
TRAPPED
Most physicians are trapped. They cannot sell their practices. The price of practices has been dropping.
Foreign-trained physicians who can pass the U.S. tests are coming to America. They are competitive.
Technical Services that can be digitized are being outsourced to India and other Asian nations.
Young American physicians begin with a lot of debt. They need income fast. They will be hired by the HMOs and clinics. They will not reach the salary level of this generation of physicians. They will be upper-middle-class income-earners.
There will be specialists, of course. Plastic surgeons who specialize in making rich women better looking will not be part of the new system. They will be able to do well. But for the typical practitioner, his career options have been dramatically restricted by the new law.
I think most physicians will stick it out until they retire at age 67. They owe money. They need the income. The law's most restrictive provisions will not kick in until 2014. They will adjust.
Residents of Detroit also adjusted. Then, without warning, the economy changed. Those who were still living in the city saw their capital disappear.
People put up with the devils they know. They do not look for a lifeboat when they hear the ship scrape the iceberg. They assume that it will be business as usual.
Then, one fine day, it isn't.
CONCLUSION
You had better decide which kind of medical care you can live with. Then you had better locate a practitioner soon. This is especially true if you want a fee-for-service physician. People with money will go to them. They are already hard to find. They charge more. It's not easy to become a patient. They are booked up.
If you have an existing physician, do what you can to become an above-average patient.
You had better start getting into shape. You can no longer afford to be vulnerable to the diseases and afflictions of a flabby lifestyle. ObamaCare has changed the risk-reward ratio. Risk has just gone up. It will continue to go up.
There will be no roll-back of this law. It is going to be enforced for as long as the U.S. government has money.
That may not be as long as Obama thinks.
Gary North [send him mail ] is the author of Mises on Money . Visit http://www.garynorth.com . He is also the author of a free 20-volume series, An Economic Commentary on the Bible .

© 2010 Copyright Gary North / LewRockwell.com - All Rights Reserved
Disclaimer: The above is a matter of opinion provided for general information purposes only and is not intended as investment advice. Information and analysis above are derived from sources and utilising methods believed to be reliable, but we cannot accept responsibility for any losses you may incur as a result of this analysis. Individuals should consult with their personal financial advisors.
© 2005-2019 http://www.MarketOracle.co.uk - The Market Oracle is a FREE Daily Financial Markets Analysis & Forecasting online publication.
Comments
Curt
24 Mar 10, 15:10
Obama's Detroit


What will they do with all the new hospitals they are building out here in California? They have gone on a hospital building frenzy to meet the new seismic codes. I guess they can be used for mental wards for the current administration



sam
24 Mar 10, 20:07
informed?


For all your slightly uninformed charges, have the decency to educate yourself about where the Hmong come from, at least!

You wrote, "Hmong refugees from South Vietnam."

Have you heard of Google? Try it. Maybe you'll find out that the Vietnamese political refugees in the U.S. are mostly, from Vietnam, and the Hmong refugees in Michigan are, from Laos.



JPvB
25 Mar 10, 06:55
Free market? No such thing in healthcare. Never was.


Even with all the buzzwords thrown around, fact remains a US citizen will pay much more than a EU citizen for the same drugs.

This article shows the problem nicely:

http://www.pharmatimes.com/WorldNews/article.aspx?id=17583

The issue:

"Democratic Senator Bill Nelson pointed out that the 30 most commonly prescribed drugs cost 27% less in Canada and 66% less in New Zealand in the USA, and approximately 50% less in the UK, the Netherlands and France."

The pharmaceutical rebuttal is hilarious:

"These nations typically have some form of socialised medicine and require artificially low prices on drugs and devices to balance their budgets, which means Americans are subsidising their "free" or "inexpensive" health care, he said, adding: "many of these countries like Canada, Australia, the European countries and Japan have the resources to pay market price, but refuse."

So in a market where the suppliers are monopolists, other parties refuse to give them free reign and dictate: You sell at this price or not.

"This is not free market" etc.. No it is not, but neither was it before with their monopoly. But still they chose to sell in these markets and still they make a handsome profit.

So it can't really be that US citizens are subsidizing EU healthcare. More likely, they are subsidizing executive bonuses.

Do realize, nobody forces pfizer and others to sell in those countries, they can stay away. They choose the accept the price levels and still make a profit of those prices.

How much more is the US citizen being shafted.

There is no free market in medicine. Even without gouvernment intervention through FDA certification, there would not be a free market, as the producers are the single source, and alternatives are not readily available. And as soon as a patent expires most drugs will be supplanted by a patented successor....

Anyone who talks about a "free market" in drugs is at best only talking about a limited portion of the market like for example aspirins etc. Not the viral repressors needed for HIV treatment, or the immunity depressors for organ transplants. Nor many other uses.

Where is the level playing field required for a free market when we are talking about a multinational company with a quarterly bottomline and a single person in need of drugs to cure/prolong life/alleviate pain?

It is the level playing field that exists between a group of wolves and a single sheep.



Annette Madrid
28 Mar 10, 11:16
The "Death of Detroit" and Health Care, Bill Mayer style


Have you seen this? It's Bill Maher's New Rules from last night on HBO.

And by the way, I'm FROM Detroit (20309 Rosemont, to be exact) And I believe it will rise from the ashes like the phoenix it is, just like in '67.

"New Rule: You can't use the statement "there will be no cooperation for the rest of the year" as a threat if there was no cooperation in the first half of the year. Here's a word the president should take out of his teleprompter: bipartisanship. People only care about that in theory, not in practice. The best thing that's happened this year is when President Obama finally realized this and said, "Kiss my black ass, we're going it alone, George W. Bush style."

Two months ago, conservative Fred Barnes wrote, "The health care bill is dead with not the slightest prospect of resurrection." Well, if it's dead, you just got your ass kicked by a zombie named Nancy Pelosi. Seriously, the last time a Democrat showed balls like that John Edwards' girlfriend was filming it. Make all the botox jokes and she-shops-too-much jokes you want, but this is the biggest political victory a woman has ever achieved in America. Yes, Nancy Pelosi likes nice clothes. So does Sarah Palin. The difference is Nancy Pelosi pays for hers.

But even before the Democrats got to take a single victory lap they were already being warned not to get used to the feeling, and not to get drunk with power. I disagree. All you Democrats: do a shot, and then do another. Get drunk on this feeling of not backing down and doing what you came to Washington to do.

Democrats should not listen to the people who are now saying they shouldn't attempt anything else big for a while because health care was such a bruising battle. Wrong -- because I learned something watching the lying bullies of the Right lose this one: when they're losing, they squeal like a pig. They kept saying things like, the bill was being "shoved down our throats" or the Democrats were "ramming it through." The bill was so big they couldn't take it all at once!

And I realized listening to this rhetoric that it reminded me of something: Tiger Woods' text messages to his mistress that were made public last week, where he said, and I quote, "I want to treat you rough, throw you around, spank and slap you and make you sore. I want to hold you down and choke you while I fuck that ass that I own. Then I'm going to tell you to shut the fuck up while I slap your face and pull your hair for making noise." Unquote.

And this, I believe, perfectly represents the attitude Democrats should now have in their dealings with the Republican Party: "Shut the fuck up while I slap your face for making noise -- now pass a cap-and-trade law, you stupid bitch, and repeat after me: 'global warming is real!'"

The Democrats need to push the rest of their agenda while their boot is on the neck of the greedy, poisonous old reptile. Who cares if a cap-and-trade bill isn't popular, neither was health care. Your poll numbers may have descended a bit, but so did your testicles.

So don't stop: we need to regulate the banks, we need to overhaul immigration, we need to end corporate welfare including at the Pentagon, we need to bring troops home from... everywhere, we need to end the drug war, and we need to put terrorists and other human rights violators on trial in civilian courts, starting with Dick Cheney.

Democrats in America were put on earth to do one thing: drag the ignorant hillbilly half of this country into the next century, which in their case is the 19th -- and by passing health care, the Democrats saved their brand. A few months ago, Sarah Palin mockingly asked them, "How's that hopey-changey thing working out for ya?" Great, actually. Thanks for asking. And how's that whole Hooked on Phonics thing working out for you?"

You go, Bill!



PJ
28 Mar 10, 15:29
The "Death of Detroit" and Health Care, Bill Mayer style


By 2014 the Dollar, Yen, Euro etc should all be about "toast". When the debt madness collapses and the deficit socialism of the early industrialized nations comes to an end (the bond markets are already starting to bring that about) our "free lunch" fellow citizens will be in for a shock, just as they are in Detroit. Detroit deserves its fate and so will they. People compare Mr. Obama to Benito Mussolini in reality Mr. Obama is Michiel Gorbachev



jabalong
28 Mar 10, 18:49
What does Detroit have to do with healthcare?


Found the insight into the decline of Detroit very interesting, but don't see what it has to do with healthcare - it's all about the demise of the auto industry and Great Lakes heavy manufacturing.

As for Detroit being the "first US city to face extinction", this is hardly the case. Cities rise and fall over time, and this has already happened countless times in US history.

Have a look at the top US cities by population in the 19th Century, and you will be surprised to see how many of them are now faded, second-tier cities.

New Orleans is on that list and didn't we just see it "face extinction" a few short years ago? Detroit is interesting, but hardly the first.



kingdom
29 Mar 10, 04:47
How silly


Wow, what a bunch of silliness. For one thing your thesis that people going away is killing Detroit is simplistic as it doesn't focus on WHY people moved away (which tends to beget more whys). Once you understand the series of WHY, you might be able to come up with possible solutions to reverse the trend.

For a person that probably believes in Republican ideals (which may explain the simplistic B&W view of the situation), isn't Detroit the perfect example of the free market at work? The free market there failed, the jobs dried up, people moved to new jobs that were not in Detroit. When enough people move, suddenly you have more houses than people to buy them, supply is greater than demand so prices go down. They go down enough, an unsavory element takes over dropping them even more. That leads to more business failings, more jobs going away, more people moving, which leads to more business...well you get the idea of the now decades long cycle of destruction. The only reason it is taking this long is because its a city, but the cycle isn't much different then what creates ghost towns.

That doesn't even get how the first half of the article doesn't really relate to the second. Your argument against HCR is it might make things worse for Detroit? That's it? Considering Detroit was within inches of losing its remaining car companies, I think most would have bigger concerns there than the possible (and unproven) negative impact of HCR. The fearmongering is cute, but we have proof the current system isn't working. There is nothing but theory that the possible solution will make things worse. There is equal theory it will make things better. Which wills out has yet to be determined.

As for the press ignoring the issue, well shocker but the press likes to focus on the current shiny thing. Detroit has had problems for a very long time now. Its not new. Its been going on since the 80s. Hell even the Robocop films used that city's problems as story fodder.

Any attempt to end the cycle would require trillions for a city that probably isn't worth the trouble. That assumes there is a feasible solution to saving it. It would take a multi-pronged, complicated plan that would require working together at every level of government and the community which isn't going to happen. (Never mind that any solution is against GOP principles.)

Detroit's death is GOP principles at work. Since the GOP work at the right hand of god, that means the death of Detroit is god's will (all BS but it seems to be what GOPers believe).

"Obamacare" isn't going to stop it, accelerate it or reverse it. The impact on that city at most is but a drop in the huge storm of crap Detroit already has to deal with.




Only logged in users are allowed to post comments.
Register/ Log in