Stock Market Panic In Progress
Stock-Markets
/
Financial Crash
Aug 16, 2007 - 11:36 AM GMT

The market is telling officialdom, and specifically Bernanke, that like in the lead up to the 1929 stock market crash (which was 90%), the true health of the economy is not being interpreted correctly, and that official policy is not sufficiently accommodative. As alluded to during the course of the week, this misread and mishandling of the situation has a great deal to do with the stubborn resilience of Chinese stocks , commodities , and freight rates , which are all barometers of the 'global economy'.This is why the Fed is now suggesting that only a ' calamity ' will cause them to soften official policy, because they must get prices under control soon if traditional Presidential Cycle policy considerations are to be managed successfully. What's more, like Greenspan, Bernanke is a gradualist, but he is a rearview mirror gradualist, meaning he actually manages official policy based on history. Again, like the '29 experience, this is causing a misread of measures currently needed to stave off a real deflation risk, which is why prices are falling in spite of supportive price constraints . In a nutshell, people are panicking, and for this reason Monday could be very interesting.


For all of those who think this kind of thing cannot be foretold, I offer the following, my most recent report to our subscribers at Treasure Chests .
Price managers have been able to engineer Monday morning stick saves well since the onset of the dubbed 'credit crunch', but they may not be so lucky this coming week. What they fail to realize is although their own primary dealers are being kept well liquefied , everybody else has to 'steel from Peter to pay Paul' just to get by these days. Let's call this 'selective inflation', where most people are having to dig into savings, or borrow more credit, just to maintain there current standard of living with prices running out of control. What's more, not just real wages are falling for most people these days, but nominal pay is declining for far too many as well, as the new service related jobs they are getting these days don't equal the manufacturing jobs being sent overseas. So, people have no cash, as seen here in M1 statistics , which means if price managers are not supporting prices, don't expect the public to do so. This is of course the big deflation risk moving forward, the risk that if prices are allowed to fall too far, when officials do decide to step in, the effects of our hollowed out economy render such measures ineffectual.
Now I am not forecasting such an outcome in the full measure of time, but as you know from the stern warnings we have been issuing over the past few weeks, it's my view we get a good deflation scare before it's all over however, meaning precious metals and their related equities may be trashed temporarily in the process. Trashed – that's quite an extreme word, but what I mean here is 'the baby will be thrown out with the bath water', as equities are liquidated in panic fashion. Further to this, with the need for low interest rates in the States next year due to all the mortgages coming due, don't expect prices to jump back immediately. If that were to occur, then interest rates would be forced higher, where overextended American consumers just could not afford such an outcome. So, for precious metals shares, which are apparently leading the way if yesterday's performance is any indication, this means materially lower prices are apparently in the cards, as seen below. (See Figure 1)
Figure 1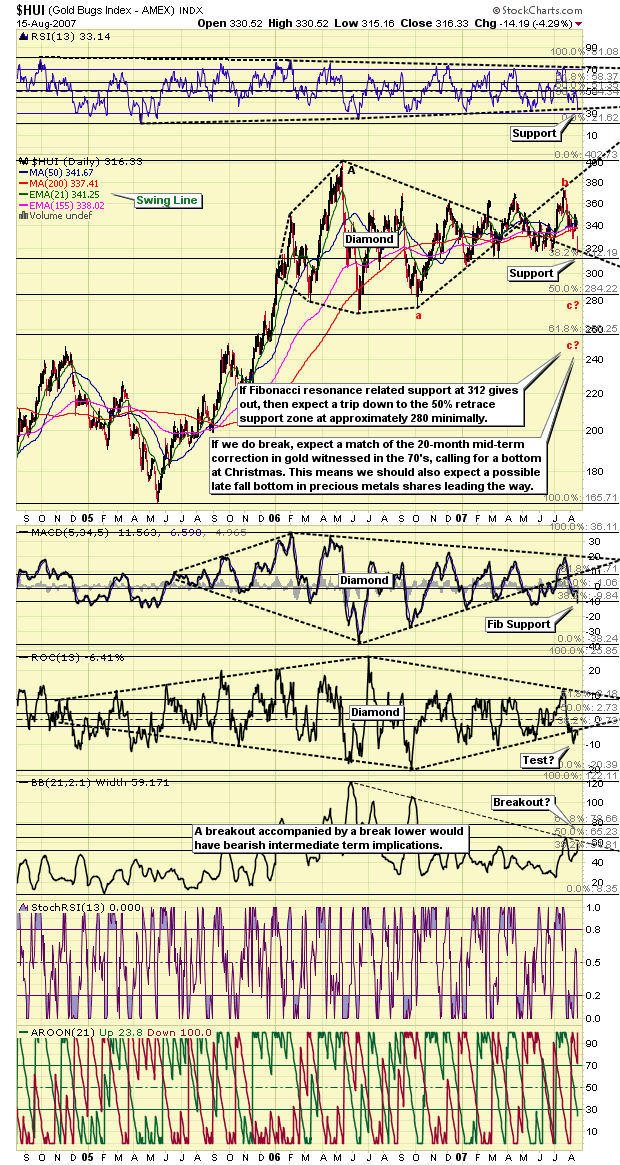 As alluded to above however, this is just all part the larger corrective process, where at this point we are compelled to think once monetary officials see general price levels have turned lower, at some point they will alter official policy from a 'hawkish' stance to 'dovish', meaning official rate policy will reverse from up to down. Unfortunately based on the current set-up, where you will notice all the barometers of global price strength attached above are still at their respective highs, such an outcome may not be quick to come, not until both these measures, and official US inflation measures turn south for a period of time in all likelihood. Again, the Fed knows the consumer needs lower rates next year due to all the mortgage resets, so it must balance policy with this in mind set against Presidential Cycle needs, meaning the turn from hawkish to dovish could possibly take until Christmas in their eyes. Would this be too late for the economy and markets, as with the '29 experience? Obviously nobody knows for sure, but now you may better understand why it's not 'crazy talk' to contemplate a two-thirds correction in gold down into the $450 area. That is not a typo. (See Figure 2)
Figure 2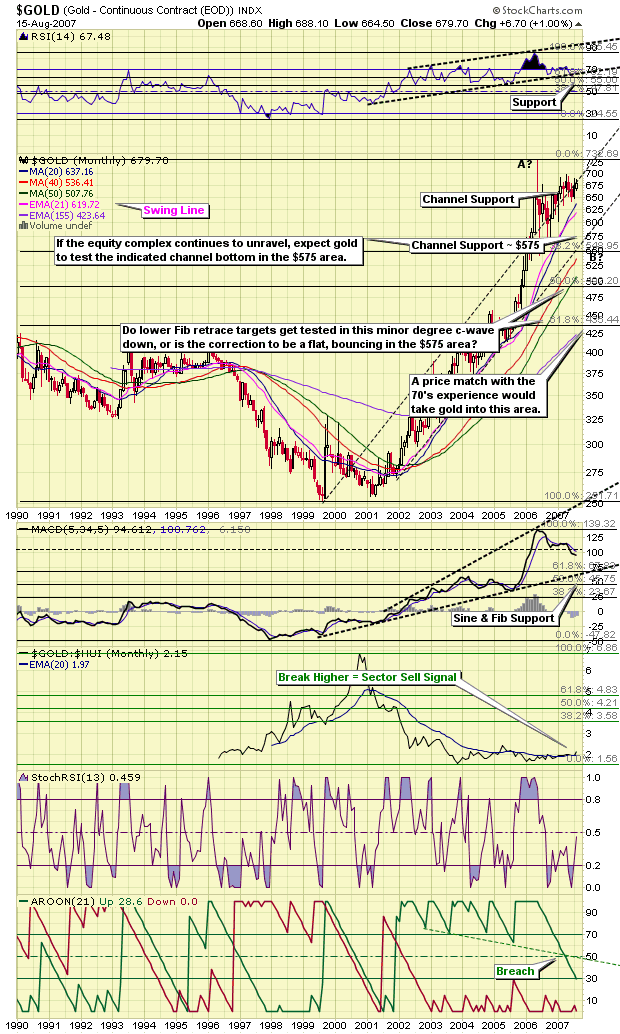 Unfortunately we cannot carry on past this point, as our opinions on further developments are reserved for subscribers. However, if the above is an indication of the type of analysis you are looking for, we invite you to visit our newly improved web site and discover more about how our service can help you in not only this regard, but on higher level aid you in achieving your financial goals. For your information, our newly reconstructed site includes such improvements as automated subscriptions, improvements to trend identifying / professionally annotated charts , to the more detailed quote pages exclusively designed for independent investors who like to stay on top of things. Here, in addition to improving our advisory service, our aim is to also provide a resource center, one where you have access to well presented 'key' information concerning the markets we cover.
nd if you have any questions, comments, or criticisms regarding the above, please feel free to drop us a line . We very much enjoy hearing from you on these matters, although we may not be able to respond back directly, so please do not be disappointed if this is the c
By Captain Hook
http://www.treasurechestsinfo.com/
Treasure Chests is a market timing service specializing in value-based position trading in the precious metals and equity markets with an orientation geared to identifying intermediate-term swing trading opportunities. Specific opportunities are identified utilizing a combination of fundamental, technical, and inter-market analysis. This style of investing has proven very successful for wealthy and sophisticated investors, as it reduces risk and enhances returns when the methodology is applied effectively. Those interested in discovering more about how the strategies described above can enhance your wealth should visit our web site at Treasure Chests
Disclaimer: The above is a matter of opinion and is not intended as investment advice. Information and analysis above are derived from sources and utilizing methods believed reliable, but we cannot accept responsibility for any trading losses you may incur as a result of this analysis. Comments within the text should not be construed as specific recommendations to buy or sell securities. Individuals should consult with their broker and personal financial advisors before engaging in any trading activities, as we are not registered brokers or advisors. Certain statements included herein may constitute "forward-looking statements" with the meaning of certain securities legislative measures. Such forward-looking statements involve known and unknown risks, uncertainties and other factors that may cause the actual results, performance or achievements of the above mentioned companies, and / or industry results, to be materially different from any future results, performance or achievements expressed or implied by such forward-looking statements. Do your own due diligence.
Copyright © 2007 treasurechests.info Inc. All rights reserved.
Unless otherwise indicated, all materials on these pages are copyrighted by treasurechests.info Inc. No part of these pages, either text or image may be used for any purpose other than personal use. Therefore, reproduction, modification, storage in a retrieval system or retransmission, in any form or by any means, electronic, mechanical or otherwise, for reasons other than personal use, is strictly prohibited without prior written permission.
© 2005-2019 http://www.MarketOracle.co.uk - The Market Oracle is a FREE Daily Financial Markets Analysis & Forecasting online publication.

Only logged in users are allowed to post comments.
Register/ Log in