U.S. In the Midst of the Greater Depression, Fourth Turning Generational Crisis
Politics
/
US Politics
Apr 20, 2010 - 09:09 AM GMT

"Now I want you to remember that no bastard ever won a war by dying for his country. He won it by making the other poor dumb bastard die for his country. Now there's another thing I want you to remember. I don't want to get any messages saying that "we are holding our position." We're not holding anything. Let the Hun do that. We are advancing constantly and we're not interested in holding onto anything except the enemy. We're going to hold onto him by the nose and we're going to kick him in the ass. We're going to kick the hell out of him all the time and we're going to go through him like crap through a goose!"
"Men, all this stuff you've heard about America not wanting to fight, wanting to stay out of the war, is a lot of horse dung. Americans traditionally love to fight. All real Americans love the sting of battle. When you were kids, you all admired the champion marble shooter, the fastest runner, big league ball players, the toughest boxers. Americans love a winner and will not tolerate a loser. Americans play to win all the time. I wouldn't give a hoot in hell for a man who lost and laughed. That's why Americans have never lost, and will never lose a war... because the very thought of losing is hateful to Americans."
George C. Scott as General Patton in opening scene of Patton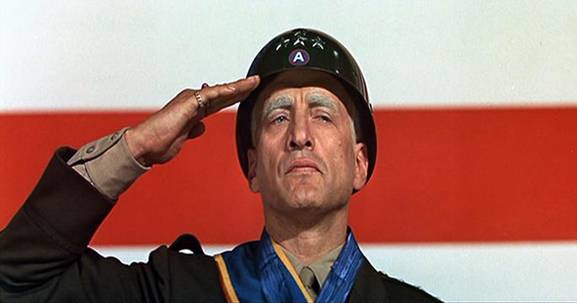 To the U.S.A. Commander of the encircled town of Bastogne.
The fortune of war is changing. This time the U.S.A. forces in and near Bastogne have been encircled by strong German armored units. More German armored units have crossed the river Our near Ortheuville, have taken Marche and reached St. Hubert by passing through Hompre-Sibret-Tillet. Libramont is in German hands.
There is only one possibility to save the encircled U.S.A. troops from total annihilation: that is the honorable surrender of the encircled town. In order to think it over a term of two hours will be granted beginning with the presentation of this note.
If this proposal should be rejected one German Artillery Corps and six heavy A. A. Battalions are ready to annihilate the U.S.A. troops in and near Bastogne. The order for firing will be given immediately after this two hours term.
All the serious civilian losses caused by this artillery fire would not correspond with the well-known American humanity.
The German Commander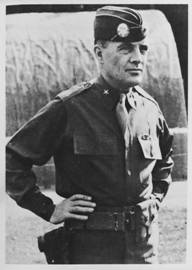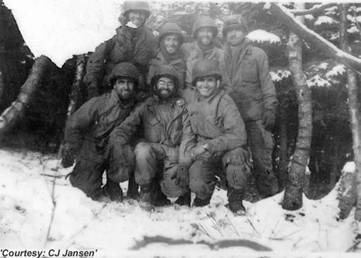 "To the German Commander, NUTS!"
Brigadier General Anthony McAuliffe
General McAuliffe was the acting commanding officer of the 101st Airborne in December 1944, besieged by a much larger German force surrounding the town of Bastogne, Belgium. Adolf Hitler launched a stunning surprise counterattack in the Ardennes Forest on December 16, 1944 committing 55 Divisions consisting of 500,000 soldiers, 1,800 tanks and 1,900 artillery pieces. The goal of the German offensive was the harbor at Antwerp. In order to reach it before the Allies could regroup and bring their superior air power to bear, German mechanized forces had to seize the roadways through eastern Belgium. Because all seven main roads in the Ardennes mountain range converged on the small town of Bastogne, control of its crossroads was vital to the German attack. The Allied command knew that Bastogne was the key to foiling the German offensive.
The 101st Airborne had performed fabulously during the Normandy Invasion and fighting in Holland. They were in reserve when the attack struck. General Eisenhower dispatched them to Bastogne on a 107 mile forced march at night in freezing rain on December 18. General McAuliffe was the acting commander, as General Maxwell Taylor was elsewhere. All seven highways leading to Bastogne were cut by German forces by noon of December 21, and by nightfall the assortment of airborne and armored infantry forces realized they were surrounded. The American soldiers were outnumbered and lacking in cold weather gear, ammunition, food, medical supplies, and leadership. Due to some of the worst winter weather in years, the surrounded U.S. forces could not be resupplied by air nor was tactical air support available. There were 11,800 American soldiers and they held off four Divisions (including 2 Armored) for one week.
Lesser men would have surrendered. The situation was hopeless but not desperate. Instead, General McAuliffe basically told the German General Luttwitz to go to hell. The Academy Award winning movie Patton captured the gung-ho never say die attitude of the World War II leaders.
General Smith: Our concern is that von Rundstedt has the 101st Airborne trapped here at Bastogne. Bastogne, by the way, is the key to this entire area. If we can hold it, we can break up the entire German offensive. If they take it, we're in serious trouble.
Ike wants to know if anybody can go and relieve the 101st before they're torn to pieces.
General Tedder: There's nothing Montgomery can do. At any rate, not for some weeks.
General Smith: What about you, George?
General Patton: I can attack with three divisions in 24 hours.
General Tedder: I'd give myself some leeway.
General Smith: Ike wants a realistic estimate, George. You're in the middle of a fight now. It's over a hundred miles to Bastogne.
General Patton: My staff's already working out the details.
General Tedder: Frankly, I don't see how it's possible. Not in this kind of weather. I should have thought you'd want to fall back and regroup.
General Patton: Not me. I don't like to pay for the same real estate twice.
General Tedder: But what about your men? You can't cart them off 100 miles,
expecting them to attack without rest.
General Patton: I trained these men. They'll do what I tell them to do.
General Smith: We hadn't realized you were so popular with your troops, general.
General Patton: I'm not. They'll do it because they're good soldiers. And because they realize, as I do, that we can still lose this war.
General Tedder: Then I think I can speak for Field Marshal Montgomery. He'd say you're asking the impossible of your men.
General Patton: Of course he would, because he's never realized that's what we're in business for.

In a later scene, as his men make phenomenal progress in their efforts to relieve Bastogne Patton tells one of his subordinates:
"This is where it pays off, the training and the discipline. No other outfit in the world could pull out of a winter battle, move a hundred miles, go into a major attack with no rest, no sleep, no hot food. God... God, I'm proud of these men!"
I consider the movie Patton one of the greatest movies ever made. George C. Scott gives a performance worthy of the Academy Award he refused to accept. It is not surprising that the screenplay was so brilliant. It was written by a thirty year old Francis Ford Coppola, three years before his masterpiece – The Godfather. The movie was made in 1970. The greatest song of all-time, American Pie, and one of the greatest movies of all-time were both produced at the same juncture in U.S. history. I don't think this was a coincidence. The movie and the song came out amidst the Great Awakening period known as the Consciousness Revolution from 1964 until 1984. Both works of art reflected a longing for a different time in U.S. history. Don McLean, born in 1945, longed for the 1950s High of his youth, when music meant something and Americans cared about each other. Francis Ford Coppola was born in 1939 and longed for the splendor, glory and tenacity of the Generals and the bravery of the GI's he admired as a child. But, there was no turning back. Every generation must fulfill their role in the four turnings of history.
THE LOST GENERATION
I think I'm drawn to the main characters in the movie Patton because they were all Nomads. I'm from the current Nomad generation referred to as the 13th Generation or Generation X. For those unfamiliar with Strauss & Howe's book The Fourth Turning, here is a chart clarifying the concept of generation theory: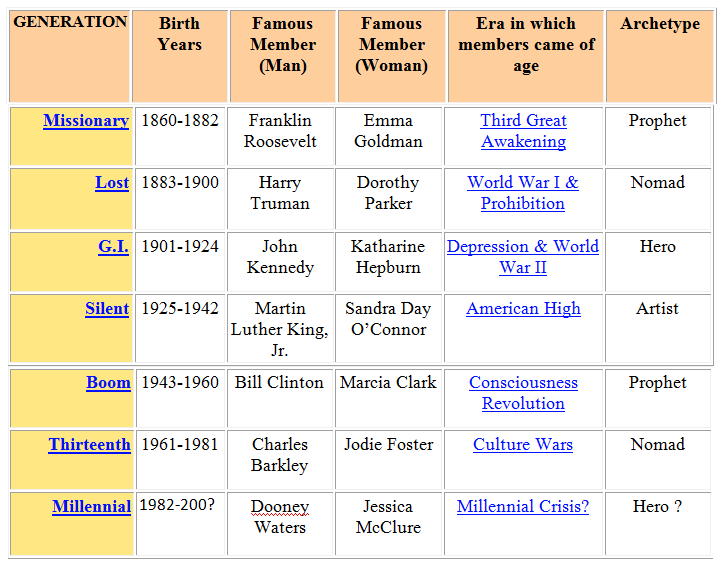 A human life lasts 80 to 100 years. Our lives pass through four stages: childhood, young adulthood, mid-life, and old age. Each 20 to 25 years represents a season of life. Strauss & Howe describe the four turnings of a generational saeculum:
The four turnings comprise a quaternal social cycle of growth, maturation, entropy, and death (and rebirth). In a spring like High, a society fortifies and builds and converges in an era of promise. In a summerlike Awakening, it dreams and plays and exults in an era of euphoria. In an autumnal Unraveling, it harvests and consumes and diverges in an era of anxiety. In a hibernal Crisis, it focuses and struggles and sacrifices in an era of survival. When the saeculum is in motion, therefore, no long human lifetime can go by without a society confronting its deepest spiritual and worldly needs.
Essentially, as humans pass through life they react in a predictable way to worldly circumstances. Each generation has a role to play during each Turning. The particular specifics of each Turning will be different, but the reaction of each generation will be the same. The social mood of the country changes at the outset of each Turning. We have entered the Fourth Turning. This Crisis period is a decisive era of secular upheaval, when the values regime propels the replacement of the old civic order with a new one. Old Artists disappear, Prophets enter elderhood, Nomads enter midlife, Heroes enter young adulthood—and a new generation of child Artists is born.
I have been looking for clues to how my generation will react during this Crisis.
WORLD WAR II CRISIS
"Wars may be fought with weapons, but they are won by men. It is the spirit of men who follow and of the man who leads that gains the victory."
George S. Patton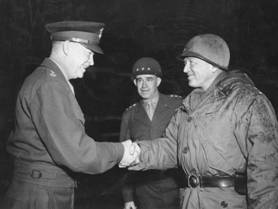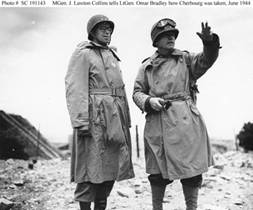 George Patton, Omar Bradley, Anthony McAuliffe, and Dwight D. Eisenhower were all members of the Lost Generation, born between 1883 and 1900. During a Fourth Turning Crisis every generation must play their assigned role. During this critical era of worldly mayhem, the old civic order is replaced with a new one. During the last Crisis, Prophets like Franklin Roosevelt, Douglas MacArthur, and George Marshall performed their roles as principled moralists, summoners of human sacrifice, and wagers of righteous wars. Everyone knows what the GI Generation Heroes did. They stormed the beaches of Normandy. They fought life or death battles with Japanese on volcanic islands in the Pacific. They sacrificed their lives during World War II. The Silent Generation was the overprotected children of the last Crisis. The generation that interests me the most is the Lost Generation. Strauss & Howe described these Nomads in this way:
"The Lost Generation (Nomad, born 1883-1900) grew up amidst urban blight, unregulated drug use, child "sweat shops," and massive immigration. Their independent, streetwise attitude lent them a "bad kid" reputation. After coming of age as "flaming youth," doughboys, and flappers, they were alienated by a war whose homecoming turned sour. Their young-adult novelists, barnstormers, gangsters, sports stars, and film celebrities gave the roar to the '20s. The Great Depression hit them in midlife, at the peak of their careers. The "buck stopped" with their pugnacious battlefield and home front managers of a hot war—and their frugal and straight-talking leaders of a new "cold" one. As elders, they paid high tax rates to support their world-conquering juniors, while asking little for themselves."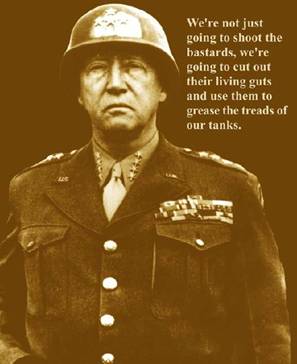 The Nomad generation is hell raisers in their youth. By midlife they become cunning hard to fool realists. No task is seen as impossible. Planning a secret amphibious invasion across the English Channel consisting of 1.3 million men, 7,000 Navy vessels, 12,000 aircraft was left to the Nomads of the Lost Generation like Dwight Eisenhower and Omar Bradley. Nomad leaders like George Patton didn't flinch when required to disengage his entire Third Army from battle in the face of the enemy, march 100 miles in blizzard conditions in 48 hours, and immediately go into battle to relieve the siege of Bastogne. Nomads are hands on get it done leaders. Patton & Bradley weren't sitting at desks directing their troops. They were with their troops, under fire. Patton was so intent on defeating his enemy that he commanded his chaplain to write a prayer to improve the weather. It worked. Even God had to admire his tenacity.
"Almighty and most merciful Father, we humbly beseech Thee of Thy great goodness to restrain this immoderate weather with which we have had to contend. Grant us fair weather for battle. Graciously harken to us as solders who call upon Thee that, armed with Thy power, we may advance from victory to victory, and crush the oppression and wickedness of our enemies, and establish Thy justice among men and nations. AMEN."
George C. Scott as Patton
Nomads are introverted warriors who prefer to meet crisis and opponents one on one. In the movie, Patton reflected upon his desire to meet his chief adversary on the field of battle:
"You know, Dick, if I had my way, I'd meet Rommel face to face; him in his tank and me in mine. We'd meet out there somewhere... salute each other, maybe drink a toast, then we'd button up and do battle. The winner would decide the outcome of the entire war."
George C. Scott as Patton
Nomads have always made great soldiers. George Washington and Ulysses S. Grant were Nomad warriors during the previous two Crisis periods who lead Heroes into battle and onto victory. The Lost Generation had to make the tough decisions. They had to send thousands of people to certain death in order to achieve the ultimate victory over their foes. Eisenhower made the decision to launch the Normandy Invasion that resulted in 120,000 Allied casualties. Harry Truman ordered the dropping of two atomic bombs resulting in the deaths of 200,000 Japanese in order to avoid the estimated 1 million casualties from an Allied invasion of mainland Japan. Patton regularly expected the impossible from his troops and they delivered. Why did these men have the intestinal fortitude to make such decisions? They were blessed with a thirst for liberty, a survival instinct and a sense of honor.
"Better to fight for something than live for nothing."
George S. Patton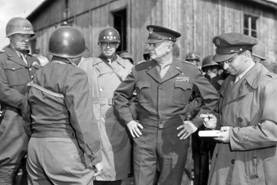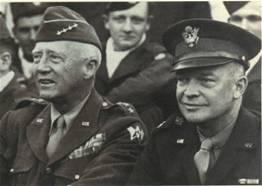 Nomads suffer a lifetime of criticism. During their youth their elders berate them as stupid, lazy and morally bankrupt. In midlife they are blamed for the decadence of the unraveling period. In old age they are seen as too cautious, old-fashioned and pessimistic. This lifetime of criticism makes Nomads tough as nails. They don't care what people think about them. They are secure in their own judgment and don't blink in the face of adversity. Their entire lives consist of hardship, danger, and harsh choices. Strauss & Howe described the adversity endured by the Lost Generation:
"During the First World War, the alleged stupidity of American youth became a raging issue when IQ tests indicated that half of all draftees had a mental age of under twelve. Afterwards, their morals came under attack from aging Missionaries. In the dark days of the Depression, when FDR blasted "a generation of self-seekers" for wrecking "the temple of our civilization," clearly he meant the middle aged Lost, who throughout the 1930s were attacked as "Copperheads", nay-sayers, "Irresponsibles," and (as war approached) "isolationists."
The Lost Generation grew up amidst intense social unrest, spiritual revivalism, enormous immigration, and unbridled drug abuse. World War I disillusioned them as they did not understand the purpose. During the 1920s they worked hard and partied hard. The Great Depression introduced doubt and loss of faith in them. But, their gritty upbringing came in handy during the hardscrabble 1930s. Their rough and tough upbringing prepared them for the ultimate test of World War II. They were prepared to do the "dirty work" that lie ahead. Strauss & Howe described their impact on that war:
"When World War II hit, the Lost shed their isolationism and provided the war-winning generals whose daring (Patton), warmth (Bradley), and persistence (Eisenhower) energized younger troops. At home, they managed the world's most efficient war machine. With little philosophizing, their first president dropped two atom bombs and then arranged a peace that was less vengeful and more secure than the one he recalled from his own soldier days."
The Lost Generation willingly sacrificed in their old age by paying exorbitant tax rates in order to allow younger generations to live a better life. Eisenhower's eight years in the White House were marked by conservative fiscal policies, choosing to not use deficit financing and building a stable economic foundation for the benefit of future generations. They died as one of the poorest generations, fulfilling their moral obligation to past and future generations of giving more than they received. Eisenhower warned the younger generations about the dangers of a military industrial complex. His wisdom was ignored.
13TH GENERATION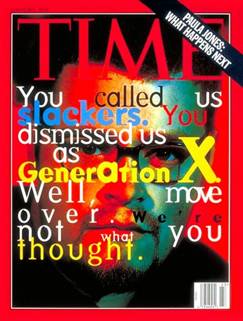 As a member of the latest Nomad generation I'm anxious to know what will be expected of me during the Crisis period we have entered. By thoroughly analyzing the Lost Generation, I hope to gain an understanding of my possible role over the next 15 to 20 years. Strauss & Howe named my generation the 13th, while it is commonly referred to as Generation X. This generation consists of everyone born between 1961 and 1981. Strauss & Howe summarize the generation as follows:
The 13th Generation (Nomad, born 1961-1981) survived a "hurried" childhood of divorce, latchkeys, open classrooms, devil-child movies, and a shift from G to R ratings. They came of age curtailing the earlier rise in youth crime and fall in test scores—yet heard themselves denounced as so wild and stupid as to put The Nation At Risk. As young adults, maneuvering through a sexual battlescape of AIDS and blighted courtship rituals—they date and marry cautiously. In jobs, they embrace risk and prefer free agency over loyal corporatism. From grunge to hip-hop, their splintery culture reveals a hardened edge. Politically, they lean toward pragmatism and nonaffiliation, and would rather volunteer than vote. Widely criticized as "Xers" or "slackers," they inhabit a Reality Bites economy of declining young-adult living standards.
In every Fourth Turning the catalyst is predictable but the culmination is not. We entered the current Fourth Turning Crisis period between 2005 and 2008. It will likely not conclude until the early 2020s. Each generation will need to play their part. The Baby Boomer Prophets will push to resolve ever-deepening moral choices, addressing issues that have been ignored for decades. The Millennial Heroes will challenge the political failure of elder-led crusades, fueling a society-wide secular crisis. The Artist children will be over-protected and shielded from the coming turmoil. My Nomad Generation X cohorts will provide the pragmatic ideas, realistic solutions, and no nonsense leadership required during a Crisis. We will apply toughness and resolution to defend society while safeguarding the interests of the young. As our Lost Generation forefathers displayed, we will sacrifice our financial well being on behalf of our children and their children. Our sense of duty will not allow us to kick the difficult decisions down the road like the Boomer generation has done.
I was born in 1963. My noteworthy memories as a child were of the Vietnam War, hippies, Watergate, gas lines, refinery fires, and a strike that broke my Dad's union. I was brought up by Silent Generation conformist parents. I grew up during a period of social upheaval, a divisive war, gas shortages, failed Presidencies, inflation and high crime rates. As children we were unsupervised and free to roam the town on our bikes. The drinking age was 18, but most kids were drinking beer by the age of 14. Drugs were easily accessible, even in Catholic school. I wasn't given anything that I didn't earn. I went to Drexel University because it had a Co-op program that allowed me to work and pay for my education. I graduated from college in 1986 at the outset of the Unraveling. I've always had confidence in my own abilities, got my CPA license and went to school at night for 3 years to earn my MBA. I've worked for eight different companies over the last 24 years. Hard work, honesty, common sense, a skeptical nature and living below my means has left my family, at the age of 46, in good financial condition.
Personal success and public cynicism marked the period from 1984 until 2005. Reagan provided the jolt of confidence after the disastrous Carter years. The rhetoric was more convincing than the results. This was a common theme over the last twenty years. Politicians proclaimed that our economy was the strongest in the world and American ingenuity and exceptionalism would lead the new global economy. But, a funny thing happened on the way to Mount Olympus. The Boomer politicians ran the National Debt from $1.6 trillion to $8 trillion by 2005. National problems like unfunded liabilities for Social Security and Medicare, energy dependence on the Middle East, and the gutting of American industry by corporate oligarchs and Wall Street were ignored and downplayed by those in power. Individualism, materialism and greed were the chief traits exhibited by Nomads and Boomers alike. Real weekly average earnings were $279 in 1984. Real weekly average earnings were $278 in 2005. The average American got nowhere in two decades. Instead, the average American was lured into a false sense of wealth by bankers who offered "easy" credit. While wages stagnated, consumer debt soared from $450 billion in 1984 to $2.3 trillion by 2005. While the middle class sunk further into debt, the richest of the rich reaped ungodly profits. Corporate CEOs made 500 times more than the lowest paid workers as they generated profits by shipping US jobs to China. While financial hurricanes swirled over the horizon, the country was distracted by meaningless side issues like Presidential blowjobs, gay marriage, the internet, day trading, house flipping and gays in the military. The mood darkened as terror attacks, Middle Eastern wars, government expansion and financial booms and busts have led to widespread distrust of politicians in Washington and bankers on Wall Street.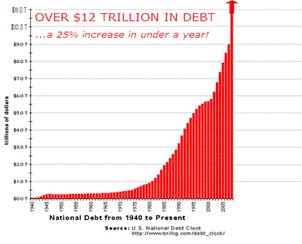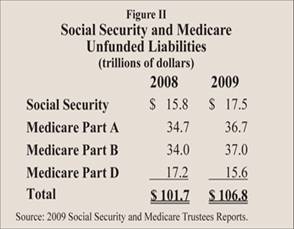 MILLENNIAL CRISIS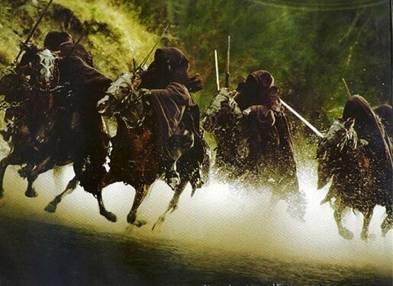 So now what? The spark that triggered the current Crisis was the fraudulent housing boom that led to the collapse of the worldwide financial system in 2008. The Stamp Acts catalyzed the American Revolution, the election of Lincoln catalyzed the Civil War, the Crash of '29 catalyzed the Depression/WW II era. We are currently in the midst of the Greater Depression. Once every 80 to 100 years, the archetypes reach an explosive mixture, vividly lowering the threshold for a spark of history to ignite a Crisis. Anyone who does not acknowledge a dramatic change in the mood of the country in the last 5 years isn't paying attention. Many dogmatic linear thinkers are being blindsided by the passion and anger being exhibited across the land. They attempt to dismiss this mood transformation as a passing storm. The Boomer Prophets have led the country into this Crisis, as they have controlled the levers of government and Wall Street for the last ten years. Their unchecked and unregulated actions caused the financial Crisis we are still confronting. Doug Casey assesses the danger of having this generation in charge during this Crisis:
"The Boomers in Elderhood will be dogmatic, harsh, puritanical, and quite willing to burn down the barn in order to destroy whatever rats they see."
In past Crisis periods strong leader Prophets like Lincoln and Roosevelt guided the nation through the Crisis. Nomads like Washington, Grant, Eisenhower, Patton, Bradley, and Truman did the heavy lifting. They gave the orders that killed thousands but saved millions. I have difficulty recognizing people in positions of power today that measure up to these standard bearers of American history. Hope is not one of my strongest traits. I prefer factual analysis, logical solutions, and honest debate. Who will rise to the occasion now? Strauss & Howe's assessment of how my Nomad generation will react during this Crisis matches what I would expect from myself:
"Playing to win but half expecting to lose, Nomad generations enter midlife with a sense of exhaustion. By now they take for granted widening gaps between classes, ethnicities, regions and gender roles. The ablest among them emerge as cunning, pragmatic, and colorful public figures. When the Crisis hits, they find their lives painfully split between the old order and new. But they rise fiercely (and sacrificially) to the occasion, able to make hard and fast choices without fretting much about what others think. Exalting the workable over the ideal, midlife Nomads forge an effective alliance with the elder Prophets. Yet people of other ages are quick to criticize them and slow to give them praise."
My fellow Nomads are now 29 to 49 years old. I'm accused of being negative, Mr. Doom & Gloom, and a cynical son of a *****. Those are my best traits. I personally think I'm a pugnacious realist who uses facts to analyze every issue. Ideologues on both sides of the aisle irritate me to the point of distraction. People who blather on with slogans and talking points with no substance infuriate me and regularly feel my wrath. I couldn't care less what people think about me or my ideas. I do feel caught between the old order and the new order. I am willing to sacrifice my future for the future of my children. I am ready to fiercely tackle whatever events arise in the next decade. I feel little stake in the old order. I'm convinced that the existing civic structure has failed miserably and will need to be torn down. When reading Strauss & Howe's prediction of how Generation X will react to the Crisis, it seems like they know me:
"They will have reached full adult maturity without ever having believed in either the American Dream or American exceptionalism. They will never have known a time when America felt good about itself, when its civic and cultural life didn't seem to be decaying. From childhood into midlife, they will have always sensed that the nation's core institutions mainly served the interests of people other than themselves."
As opposed to Boomer narcissism and inability to make an even minor sacrifice for the public good, my generation will vote against its own self interest if it truly will benefit future generations. We will be results oriented. We will support ideas that work and thrash those that put forth ideological claptrap fallacies. As long as the Boomers are made to pay a high price, we'll be ready to pay more than our fair share to save the country from fiscal catastrophe. Undeliverable promises made by prior generations will be swept aside by Nomad politicians who aren't worried about hurting feelings. Examples of current Nomad leaders are New Jersey Governor Chris Christie and Wisconsin Congressman Paul Ryan, who will not let past promises deter them from solving problems. It will be our job to stop the Boomer Prophets from potentially destroying the world.
It is clear how my generation will react during this Crisis. Now if I only knew what I'm going to be reacting to. Previous Crisis periods give hints of what can be expected, but the specific events are unknowable. All three previous Crisis periods in U.S. history began over financial related issues and degenerated into all encompassing total war. These wars were fought with maximum fury and ended with complete victory and domination by the winner. The current Crisis began with a financial collapse caused by Federal Reserve economic policies and rampant fraud throughout the financial services and banking industry. The Keynesian worshippers in charge of the government have taken actions that have given a false sense of recovery. By increasing the National Debt by $3 trillion in two years and putting the country on a path to a $25 trillion National Debt, the current administration has set in motion a series of events that will ruin our economy. As part 2 of this Depression sets in, the more dangerous part of the Crisis will commence.
The confluence of events and alignment of generational moods are a perilously explosive mixture. A deepening financial crisis, combined with an impending worldwide shortfall in oil (10 million barrels per day by 2015 according to the U.S. military), and a volatile worldwide military situation will likely lead to a major war. The deteriorating worldwide financial crisis will spur trade wars, currency depreciation and debt defaults. These tensions will combine with the panic of peak oil and Middle East terrorism to cause a World War centered in the Middle East. The spark could be an attack on Iran, a terror attack in the U.S., an overthrow of the Saudi Royal family, a conflict between Pakistan and India, or another conflict not foreseen by anyone. How the leaders of the United States react to such an event will determine the future path of this Crisis.
There are no guarantees that our country will exit this Crisis a stronger nation or even a nation at all. The resolution of this Crisis will be dependent upon the actions of politicians who control the strings of power in Washington DC. If they make foolish, short-term, rash choices, they will endanger the very existence of our country. The vast majority of Americans does not trust their leaders or support their policies. They do not support the wars of choice in the Middle East. Without the support of the public, our leaders will not be able achieve the consensus needed to lead the nation through a terrible Crisis. This fact leaves open the possibility that this Crisis devolves into a civil war scenario of social chaos, American soldiers confronting American citizens, and the breakdown of our suburban sprawl society. Tough times will require tough people, tough decisions, and a little luck. Will we meet this challenge as our forefathers met their challenges? Will this Crisis end in glory or the end of our Democratic experiment? General Patton reflected upon both possibilities.
"If a man has done his best, what else is there?"
George S. Patton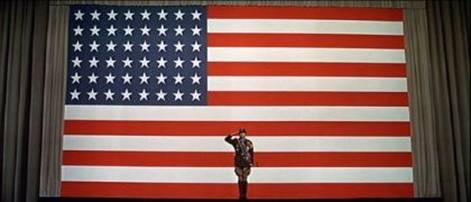 "For over a thousand years, Roman conquerors returning from the wars enjoyed the honor of a triumph - a tumultuous parade. In the procession came trumpeters and musicians and strange animals from the conquered territories, together with carts laden with treasure and captured armaments. The conqueror rode in a triumphal chariot, the dazed prisoners walking in chains before him. Sometimes his children, robed in white, stood with him in the chariot, or rode the trace horses. A slave stood behind the conqueror, holding a golden crown, and whispering in his ear a warning: that all glory is fleeting."
George C. Scott as Patton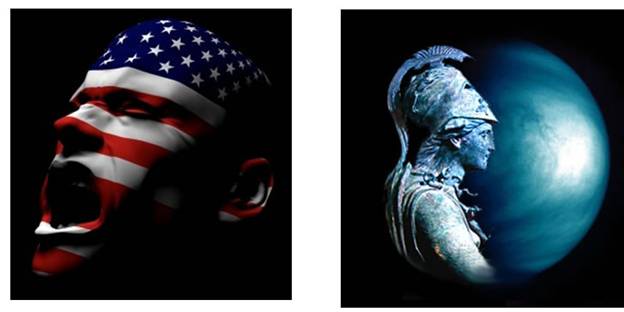 The time to fight is here. This country needs to be fixed. The old ways must be discarded. Promises need to be broken. It is a time to speak out and tell the truth. It is a time to act. It is a time for sacrifice. I'm ready. Are you?
To everything there is a season, and a time to every purpose under the heaven;
A time to be born, and a time to die; a time to plant, and a time to pluck up that which is planted;
A time to kill, and a time to heal; a time to break down, and a time to build up;
A time to weep, and a time to laugh; a time to mourn, and a time to dance;
A time to cast away stones, and a time to gather stones together; a time to embrace, and a time to refrain from embracing;
A time to get, and a time to lose; a time to keep, and a time to cast away;
A time to rend, and a time to sew; a time to keep silence, and a time to speak;
A time to love, and a time to hate; a time of war, and a time of peace.
Ecclesiastes 3: 1-8
Join me at www.TheBurningPlatform.com to discuss truth and the future of our country.
By James Quinn
James Quinn is a senior director of strategic planning for a major university. James has held financial positions with a retailer, homebuilder and university in his 22-year career. Those positions included treasurer, controller, and head of strategic planning. He is married with three boys and is writing these articles because he cares about their future. He earned a BS in accounting from Drexel University and an MBA from Villanova University. He is a certified public accountant and a certified cash manager.
These articles reflect the personal views of James Quinn. They do not necessarily represent the views of his employer, and are not sponsored or endorsed by his employer.
© 2010 Copyright James Quinn - All Rights Reserved
Disclaimer: The above is a matter of opinion provided for general information purposes only and is not intended as investment advice. Information and analysis above are derived from sources and utilising methods believed to be reliable, but we cannot accept responsibility for any losses you may incur as a result of this analysis. Individuals should consult with their personal financial advisors.
© 2005-2022 http://www.MarketOracle.co.uk - The Market Oracle is a FREE Daily Financial Markets Analysis & Forecasting online publication.

Only logged in users are allowed to post comments.
Register/ Log in