Stock Market Volatile Corrective Range, Debt Deflation Escape Velocity Towards Inflation
Stock-Markets
/
Financial Markets 2010
May 23, 2010 - 01:43 PM GMT


The week started the way it ended - VOLATILE, the Dow came up for a breath of air on Monday by rallying some 100 points above the previous weeks close to 10718, only to be pulled back under water all the way to the bottom of its range, culminating in Fridays sinking towards the low end of its 10,900 to 9,800 range by putting in a low of 9,919.
Thursdays stock market violence triggered the perma-bears to start growling again as a crescendo of short this that and the other bear market calls have returned, as illustrated by Nouriel Roubini's call that the stock market could fall by 20% over the next few months which implied a target of 8,150 on CNBC at Dow 10,185, but Houston we have a problem, read more here.
Last weekends in depth analysis concluded with a volatile SIDEWAYS trading range into mid July 2010, between a range of 10,900 and 9,800 with the immediate trend expected to target the lower end of the range by early June as illustrated by the below conclusion and graph (16 May 2010 - Stocks Bull Market Hits Eurozone Debt Crisis Brick Wall, Forecast Into July 2010)
Stock Market Conclusion
Despite the flash in the pan crash and prevailing Eurozone sovereign debt default gloom and doom, the bottom line is that this is still a stocks bull market with the Dow ONLY down less than 6% from its bull market peak. Therefore the sum of the above analysis concludes towards the stocks bull market under going its most significant and a highly volatile correction since its birth in March 2009 (15 Mar 2009 - Stealth Bull Market Follows Stocks Bear Market Bottom at Dow 6,470 ). This correction could last for several months and may extend all the way into early October, which suggests that the next 2 months are going to see an ABC correction to be followed by a sideways price action between the extremes of 10,900 to 9,800 and so despite continuing wild gyrations I would not be surprised if the Dow is little changed from its last closing price of 10,620 in 2 months time (16th July 2010). Expectations remain for the bull market to resume its trend towards a target of between 12k to 12.5k by late 2010 after the tumultuous trading period over the next few weeks. I have tried to illustrate a more precise Dow forecast projection in the below graph, reality will probably end up being far more volatile.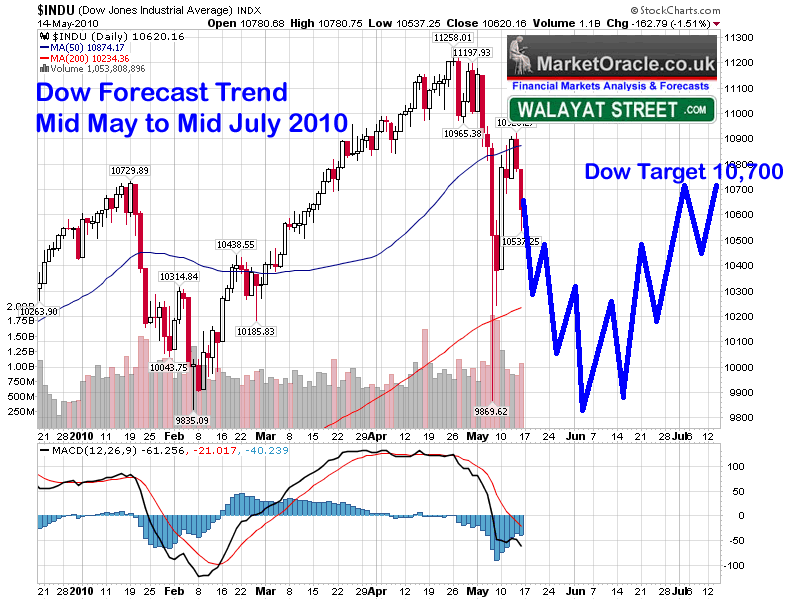 The stock market correction's assault on the low resulted in the Dow being propelled back up towards the mid way balancing point of the range at 10,350 which implies continued overshoot to above 10,400 in the immediate future.
My original expectations remain for a volatile stock market that targets a bottom in about 5 to 10 days in the target range of 9,800 to 9,850 within a trading range of 10,900 to 9,800, therefore the Dow is expected to trade back below 10k by early June. However the big picture is for this trading range is to eventually resolve to the upside, the forecast expectation is for the Dow to possibly remain stuck in the trading range until mid July, though it is a difficult call to make as to exactly when the Dow will make the breakout higher.
Gold and the Inflation Mega Trend
Gold Buying Opportunity! Notice no question mark, Gold's tumble to about $1,175 is healthy as my immediate take on the event concluded on Thursday (20 May 2010 - Gold Plunge to $1,175 a Buying Opportunity? ). Gold falling towards $1,150 is not even making me blink, its a non event, normal, expected even if I had not written about it before hand, its much better for Gold to be at $1,175 then to have risen to $1,300 BEFORE correcting, the bull is shaking the loose clingers on off of its back. I don't trade gold, but I am a long-term holder with a small investment position that I aim to increase.
Don't forget the big picture of the INFLATION MEGA-TREND (Ebook Free Download), all that money printed by our respective central banks can only end in INFLATION - Not DEFLATION, Gold at $1,175 is a manifestation of INFLATION NOT DEFLATION, the same goes for other commodities and assets to varying degrees as fiat currencies fight to competitively devalue towards Very High Inflation, where its only going to be rare assets such as Gold left standing, especially as we have all recently watched the European Central Bank go from a non-money printer to burning the Euro without limit in its quest to prevent a sovereign debt triggered Eurozone collapse! Though I must admit I was surprised to see the U.S. Fed apparently sending billions of dollars to support the Euro. So the U.S. is now printing money for the Europeans too! The dollar is rising because every currency is falling at different deflationary debt deleveraging escape velocities Towards INFLATION.
Your smoke monster analyst wondering if he will be in any shape to watch the LOST finale at 5am (UK)!
Comments and Source: http://www.marketoracle.co.uk/Article19726.html
By Nadeem Walayat
Copyright © 2005-10 Marketoracle.co.uk (Market Oracle Ltd). All rights reserved.
Featured Analysis of the Week


Most Popular Financial Markets Analysis of the Week :
1. Stocks Bull Market Hits Eurozone Debt Crisis Brick Wall, Forecast Into July 2010
By: Nadeem_Walayat
Are the markets manipulated ? Are they ?
You have been repeatedly told by those that clearly don't immerse themselves in trading on a regular basis that they are not manipulated instead the movements are a function of some ordered theory that implies certainty of outcome when all one can do in reality is to conclude towards a probability of outcome that are usually little better than 60/40, well on the 6th everyone got the answer that they should imprint into their memories that the markets REALLY ARE manipulated. If your going to learn one lesson from 2010 then let that be the lesson learned. Contemplate on it, let it sink in, let it skew how you interpret price action and maybe you too can join in on future market manipulations!
2. Global Debt Defaults Ahead as Keynesian's Race to Bankruptcy
By: Gary_North
The euro is falling. It is at the lowest exchange rate to the dollar in four years.
Confidence in the euro is falling because it is becoming clear that the region's commercial bankers have made the same sorts of bad decisions that American commercial bankers made after 2000. They loaned money to debtors in Eastern Europe who will not be able to repay. These loans were collateralized by real estate, which rose. Real estate prices in Eastern Europe are now falling. The bubble has popped.
3. Currency Markets Pointing to Another System Crash Including Gold
By: Shaily
While none of us predicted the massive crash of May 6 2010, premium readers at Investing Contrarian were fully aware of a S&P fall to 1120 from 1190 which was the day when we initiated short position.

4. Germany, Greece and Exiting the Eurozone
By: STRATFOR
Rumors of the imminent collapse of the eurozone continue to swirl despite the Europeans' best efforts to hold the currency union together. Some accounts in the financial world have even suggested that Germany's frustration with the crisis could cause Berlin to quit the eurozone — as soon as this past weekend, according to some — while at the most recent gathering of European leaders French President Nicolas Sarkozy apparently threatened to bolt the bloc if Berlin did not help Greece. Meanwhile, many in Germany — including Chancellor Angela Merkel herself at one point — have called for the creation of a mechanism by which Greece — or the eurozone's other over-indebted, uncompetitive economies — could be kicked out of the eurozone in the future should they not mend their "irresponsible" spending habits.
5. Sovereign Debt Crisis: Investor Emergency Strategy Update
By: Martin_D_Weiss
Martin Weiss: Just days ago, the cradle of Western democracy — Greece — was in flames! Rioters attacked banks, businesses and government buildings. The entire country plunged into chaos. Spain, Portugal, Italy and even the United Kingdom were reeling. The euro was crushed.
Then, as we have warned you consistently and persistently, the raging storm in Europe struck our shores … ripped through our corporate bond market … created chaos in our stock market … and threatened to derail our already-fragile economic recovery.
6. Stock Market Rally Failure Whilst Gold Rally Continues
By: Steve_Betts
"I wouldn't call it fascism exactly, but a political system nominally controlled by an irresponsible, dumbed down electorate who are manipulated by dishonest, cynical, controlled mass media that dispense the propaganda of a corrupt political establishment can hardly be described as democracy either." --- Edward Zehr

7. The World Has No Money, And The Emperor Has No Clothes
By: Pravda
Most of us are aware of the very old fairly tale by Hans Christian Andersen in which two weavers promise an emperor the finest suit of clothes imaginable, but from a fabric invisible to anyone who is unfit for his position or "just hopelessly stupid". Well, in the fairy tale it turns out that nobody wants to admit that they are "unfit" or "stupid", so when the emperor parades before his subjects in his imaginary new suit of clothes, it takes a child to cry out: "But he isn't wearing anything at all!"
8. U.S. Economic Recovery is Strengthening the Global Economy Against Europe's Debt Turmoil
By: Jon D. Markman
Jon D. Markman writes: Stocks scattered across the capital markets last week like the unwanted children of a terrible divorce, as a blunted rally following a global margin call put a hex on every sector and most commodities - but a U.S. recovery marched on.
So far in the ten sessions of May, the Dow Jones Industrial Average is down 3.6%, the Nasdaq 100 is -4.7%, the S&P SmallCap 600 is -3.1% and overseas large-caps are down 8.6%.
How to Subscribe
Click here to register and get our FREE Newsletter
About: The Market Oracle Newsletter
The Market Oracle is a FREE Financial Markets Forecasting & Analysis Newsletter and online publication.
(c) 2005-2010 MarketOracle.co.uk (Market Oracle Ltd) - The Market Oracle asserts copyright on all articles authored by our editorial team. Any and all information provided within this newsletter is for general information purposes only and Market Oracle do not warrant the accuracy, timeliness or suitability of any information provided in this newsletter. nor is or shall be deemed to constitute, financial or any other advice or recommendation by us. and are also not meant to be investment advice or solicitation or recommendation to establish market positions. We recommend that independent professional advice is obtained before you make any investment or trading decisions. ( Market Oracle Ltd , Registered in England and Wales, Company no 6387055. Registered office: 226 Darnall Road, Sheffield S9 5AN , UK )
© 2005-2022 http://www.MarketOracle.co.uk - The Market Oracle is a FREE Daily Financial Markets Analysis & Forecasting online publication.
Comments
Jas SIngh
25 May 10, 09:07
UK GOLD Buying Opportunity


Nadeem

Gold priced in Sterling -

Should we wait for Sterling to bounce before jumping into UK Gold? Or is it you think gold will appreciate at a faster rate than sterling?

Thank you

Long time follower.



Nadeem_Walayat
25 May 10, 09:12
Gold Sterling


Hi, its over 6 months since I last analysed both, my conclusions remain for sterling to trend towards £/$1.37 and gold to $1333 this year.

Best way to invest is to gradually accumulate a position.

I added some last Thursday, I am thinking about adding some more later this week.



Nadeem_Walayat
25 May 10, 12:04
Dow, Boing, Boing, Bounce


Dow hit the target range of 9,800 to 9,850, now just coming out of it so watch that baby bounce just as the perma doomsters such as Faber, Roubini and the ohers are on broadcast news with their 15% to 20% drop, end of the "bear" market rally calls - LOL :)




26 May 10, 06:33
Trading skills and market analysis


Hello Nadeem,

I love your Market Oracle site and I have probably spent far too much time on it over the last couple of years trying to gain insight into the markets. I am dedicated to learning the art and science of trading. I am fairly experienced in spread betting futures but have had little lasting success. Can you offer any advice on what I should be studying.

I know success in trading has a lot to do with psychology and mastering emotions, but what I'm really looking for is guidance on market analysis. What's your philosophy? How do you analyse the markets? How can I go about learning how to analyse them? Any advice you can offer would be most appreciated, even if its just recommended reading.

Kind regards,

Adrian Thornber



Nadeem_Walayat
26 May 10, 06:38
Trading


Ive written a few articles over the years which are in the archive and will write a book one day on the way I trade.

Basically it comes down to being in sync with the market your trading short-term, which means its not difficult to react to price movements in real time in either direction.

Analysis / forecasts no matter how accurate at the end of the day are best guesses and cannot be more important than reacting to price triggers.

In my experince, I can only be in synch with and trade one market at a time, and for me thats the Dow.

Best

NW.



Rob D
26 May 10, 09:54
sterling/yen


Hi, Great articles as always,many thanks for taking the time to write them.

looking at your analysis for GBP/USD a similar setup exists for GBP/JPY maybe? from 240 it dropped to 122 in early 09 its now at 130 do you see a similar type bounce/range? could be a wide range to trade perhaps?

PS i like your long range thoughts on $SSEC but CMC don't run this on a spread, do you know where this index could be traded?



Adrian T
26 May 10, 14:20
Trading Etc


Hi Nadeem ,

Thank you for posting that reply, that's one book I'm looking forward to. What you seem to be suggesting is a kind of free spirited approach, trading live, looking for short term support and resistance levels, and reacting to price movements off them.

It's interesting because that's how I started out trading years ago, also on the Dow, but without the necessary levels of skill and knowledge required. Consequently I generally lost money over a period of time and began looking at other methods as well as reading many books on the subject.

Years later I am now back to what I started out doing so it's very encouraging to read your posting. I just find it perplexing that you consistently make such good medium/long term calls on the markets and I couldn't understand how you could do it. To be honest I still cant lol. Anyway to sum up I look for low risk entry points using a tight stop and trail it.

Sounds simple doesn't it? Oh well, back to the screens! 9800 cool!

Adrian



Nadeem_Walayat
26 May 10, 14:28
£/Yen


Don't know about £/Yen. I only ever trade £/$.

Don't trade china SSEC, invest via etfs

My trading is pretty limited to Dow and FTSE 90% of the time.



Nadeem_Walayat
26 May 10, 14:36
Trading and forecasting


When I forecast I start blank, i.e. I don't know where the forecast will conclude, I guess many start out with a conclusion and make the analysis fit ?

It also helps that I treat trading as being SEPERATE from forecasting, whilst it helps it is not a deciding factor.

I.e. I don't buy the dow just because it enters a target low zone, I buy it because it triggers me long AFTER it has bottomed.

There are three elements to tradign which I learned early on -

1. Money management

2. Being triggered into and out of trades.

3. Frequency - You have to trade EVERY DAY (even if you don't enter into a position), else your not going to be thinking right.

Notice, whats missing ? T.A. ;)

Best

NW



Jas Singh
27 May 10, 01:25
Gold Buying


Nadeem

What is your preferred method of buying Gold?

Coins, Bars, ETF's, Trusts, BV, GM?

Do you worry about restrictions and higher CGT levies?



Nadeem_Walayat
27 May 10, 04:12
gold holdings


I have gold at bullionvault, and hold GLD and SLV.

tax free wrappers such as ISA's and SIPPs ensure any CGT change can be managed.



Nasir
28 May 10, 08:11
Head and Shoulders on main indices


Hi Nadeem, a lot of scribes point out a potential head and shoulders formation pattern on the main indices including the dow, the pattern shows the head at 11200 or so, and the left shoulder at the 10700, and they suggest that if dow can't breach this 10700 level, a full head and shoulders pattern will emerge? how much merit is there in this argument, so far advance/decline has not shown any divergence, and neither has mcclennans summation? what are your thoughts mate?

Nasir



Nadeem_Walayat
29 May 10, 12:58
Price Patterns


Hi

It would be great if price patterns mostly resolve in the expected direction.

However at best patterns have a 55% chance, which is barely better than 50/50.

Therefore patterns cannot be taken on their own.

TO arrive at a firm conclusion one has to keep plugging away at a wide field looking for the tipping point that pushes an analysis towards a conclusion, if one is possible.

Best

NW




Only logged in users are allowed to post comments.
Register/ Log in