Currency Markets Pointing to Another System Crash Including Gold
Stock-Markets
/
Financial Crash
May 16, 2010 - 06:57 AM GMT


While none of us predicted the massive crash of May 6 2010, premium readers at Investing Contrarian were fully aware of a S&P fall to 1120 from 1190 which was the day when we initiated short position.
Read our post at: Massive crash coming!
Looking at COT charts this week, we are once again forced to believe that the currency markets are pointing to another crash and this time it could endanger almost every asset class including Gold. The crash expected thanks to new found love for EURO carry and sometime even against the old carry love YEN.
EUR/USD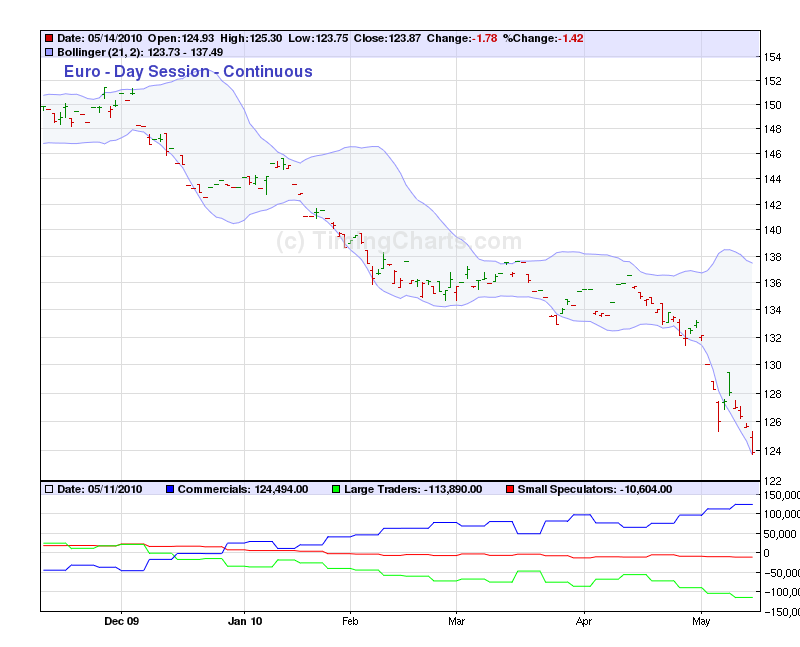 The EURO positions have now reached an unreal 113k short positions. I have worked in currency markets for over 10 years and I have not seen a more accentuated market in my life. I probably took a while to digest the fact that markets and funds have allowed themselves to short even when the positions outstanding are so massive that any rip could be fatal.
Selling EURO has become the favorite hobby of almost almost entry level analysts and am sure most of them on being asked their favorite trade will reply with the obvious.
Over the last 3 updates of COT, I have again and again stressed that shorting EURO is a dangerous game than shorting even dollar. EURO has a central bank which in the past has taken the brave step of raising rates to kill the shorts when no one expected it. (Ref 2004).
We are firmly off the view, that PIIGS is not a genuine case for EURO breakup but it is a self sustaining vicious move by the funds and institutions who first shorted the EURO during its early stages. The foolish government of EURO zone over reacted by letting the funds take control of the markets.
We do not know how far EURO will fall but the situation as it stands today should make one extremely nervous as EURO shorts are now fueling a dangerous carry trade into equities and Gold. Gold has no reason to find itself standing at 1250 (ignoring the Bugs) except that EURO is being borrowed to invest into Gold and the likes.
We continue to look at the euro fundamentals and we believe that the situation in Dec 2009 was no different than May 2010. There 5 countries with bloated deficit nos but the banks within these countries continue to have ample liquidity (except Greece which too became a problem only in April, a good 4 months post Dec 2009).
There is now a real possibility that PIIGS may be asked to stand out of the EURO and let their own currencies to trade while the ECB may help them tide over the debt refinancing for a fixed period. If such a proposal is executed, we believe that will be bullish for the EURO.
Not withstanding the proposals, we believe, the current EURO shorts are now stretching the system to a point of breaking. Either the EURO goes, or it snaps back with a speed that can take straight to 1.5 before falling back to 1.4. In the ensuing system restoration, we could easily see a correction in S&P and Gold.
EURO carry is the new buzz and it is poisonous the least to say.
S&P: Normal back?

Traders have reduced their bet on the short side which means that the short trade on S&P looks over for now. But if the realities of EURO unwind as foretasted above materializes, S&P may not be the most viciously affected. All bets seem to be off on the S&P for the time being and it only means that it may move in sideways for sometime.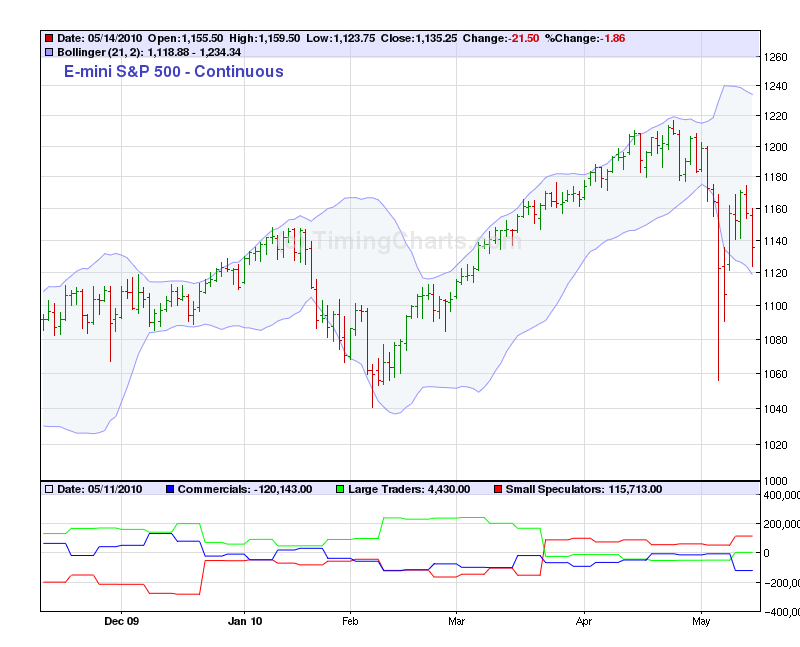 Gold: Enjoy whole it lasts?
Gold seems to have benefited thee maximum from the EURO carry and hence an unwind could see this falling straight to 1100 to the absolute horror of Gold bugs who will keep cursing the COMEX goons.
It is surprising that Gold bugs refuse to believe that Gold will not have role in the new monetary form being formulated. It is impossible for central bankers to agree to a Gold standard.
COMEX shorts which are the greatest complaint for the Gold bugs, are standing courtesy against an equal number of longs. And hence if the Shorts cover, the longs as well unwind. It is that simple.
But having said that I do see Gold at 1400 this year given the overwhelming expectation for Hyperinflation and hence the resulting demand for Gold to be part of the portfolios.
The greatest risk to the Gold rally is via EURO and one needs to watch this pair very carefully. For a change, dollar is not the center of focus here and that well indicate that the world is finally breaking away from dollar centred trade. By experience, we know that a carry currency will be the reserve currency of the world as its circulation increases manifold. The latest action by ECB to increase circulation may well be the steps required to make EURO centered trade balance.
Gold longs stand at 235k still 18% below its peak in 2009.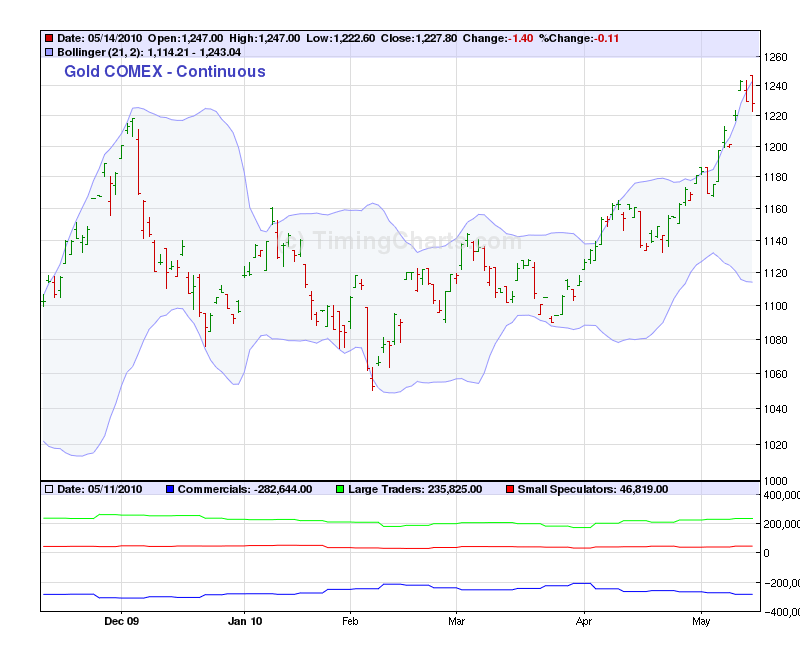 It is happening in front of our eyes while the world is focusing on lesser problems like PIIGS debt issue EURO has now taken the center stage and now almost all assets classes are getting closely correlated to EURO than the dollar. The dollar is being phased out right before you and for the first time EURO has a European treasury to manage its issuance courtesy the EU Deal of $1 trillion.
As discussed, euro and gold pairs are the real path breakers and in the coming weeks will show us the path forward. S&P and dollar role is increasingly being taken out.!
Welcome to EURO centered world where the world moves on the eccentricities of the currency.
Source: http://www.investingcontrarian.com/global/cot-report-system-crash-coming-again/
Shaily
http://investingcontrarian.com/
Shaily is Editor at Investing Contrarian. She has over 5 year experience working with Hedge funds in derivatives.
© 2010 Copyright Shaily - All Rights Reserved
Disclaimer: The above is a matter of opinion provided for general information purposes only and is not intended as investment advice. Information and analysis above are derived from sources and utilising methods believed to be reliable, but we cannot accept responsibility for any losses you may incur as a result of this analysis. Individuals should consult with their personal financial advisors.
© 2005-2019 http://www.MarketOracle.co.uk - The Market Oracle is a FREE Daily Financial Markets Analysis & Forecasting online publication.
Comments
Floridian
16 May 10, 10:09
Massive crash coming!


Read our post at: Massive crash coming!

I read it, it's dated 28th march and says -

We have suggested to our clients to books profits and stay in cash. Once S&P crashes below 1160 go short to a target of 1120/30.

Whats that got to do with what happened on May 6th ? 6 weeks later

Really confusing in one part you suggest gold could crash and another that its heading higher to 1400 ?



philo
17 May 10, 09:39
gold up down, down up, down down, up up.....


Floridain, that is also what I notice before reading your comment.

This chap wants to tbe bullish but he has obviously missed the move so he is hoping for a retracement to buy in.

Talk about "talking from one's position..."




Only logged in users are allowed to post comments.
Register/ Log in