Stock Market and Gold Summer Correction, Remember White Swans Out Number Black Swans
Stock-Markets
/
Stock Markets 2010
Jul 11, 2010 - 01:05 AM GMT


Seems like every day there is talk about black swans, what about white swans ? Positive developments to the upside ? Since the Stock market has not crashed, collapsed, evaporated into perma- bear abyss targets, it clearly is discounting something positive ? Whilst bears focus on the doom and gloom of double dip recessions, depressions, armageddon's, focusing wholly on the 15% downtrend price action since the April peak, though conveniently forgetting the 70% advance before it. So I will leave Nassim Taleb to See Black Swans everywhere as an excuse for poor analysis rather than anything of any actionable value. I mean Taleb says forecasts are irrelevant but then prances about in the mainstream media issuing economic depression forecasts, perhaps he should read his own book ?
Doom merchants are usually at their most influential right at the end of cyclical low points. I would happen a guess at Taleb having a perma-doom mindset that makes money during crisis but then gives much of it back during the booms.
In a nutshell, Taleb's strategy is to basically to keep betting on a crash "Black Swan" until it eventually happens. You don't have to be genius to follow a strategy of buying far out of the money Puts! That 99% of the time expire worthless.
The bottom line - Your money is not going to be made in a crash because as the Flash Crash illustrated, if you blink your going to miss it. Your money is going to be made trading the trends whether bull or bear, that is the exact opposite to Taleb's strategy / theory.
Remember white swans are far more common than black swans which is why we are sat getting fat in warm technology ridden rooms rather than sat in dark caves contemplating where the next meal will come from.
The Dow's break above 9,750 early week targets 10,550. Remains in a corrective trading range of 10,550 to 9,800. The Dow has now had 3 shots at breaking lower, all have failed to follow through. The Dow has yet to make a higher low, therefore remains well within the trading range. The most probable outcome during the week is for an attempt at making a higher low between 9,800 and 10,000 and thus break the pattern of lower lows into the last low of 9,614, which would set the scene for an assault on resistance at between 10,400 and 10,500.
Last weekends Interim Analysis - 4th July 2010 (Stocks Bull Market Correction or Bear Market? ) - Dow Break above 9,750 targets 10,550.
Stocks Last In depth Analysis - 16 May 2010 - Stocks Bull Market Hits Eurozone Debt Crisis Brick Wall, Forecast Into July 2010 - Dow Correction to 9,800 to resolve towards Mid July target of 10,700.
Stock Market Road Map for 2010 -02 Feb 2010 - Stocks Stealth Bull Market Trend Forecast For 2010 - Dow Targets Sideways trading range into Mid 2010, then 12,000 to 12,500 by end of 2010.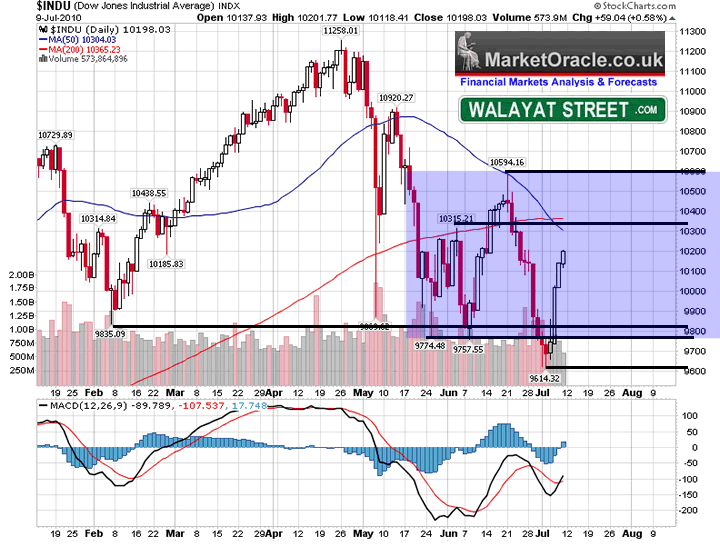 Gold - Remains in its seasonal corrective down trend pattern, the sharp drop from 1240 to 1200 followed by the current weak corrective reaction higher implies that it's not done to the downside. The last swing was about 80 dollars, similar swing off of 1220 suggests 1140, which is actually below support of 1,165, which means it will take some time to build a base to target a break of 1265. Target for 2010 remains at 1333 (18 Feb 2010 - Gold Analysis and Price Trend Forecast For 2010 )
Source and comments : http://www.marketoracle.co.uk/Article20998.html
Your grey swan analyst.
By Nadeem Walayat
Copyright © 2005-10 Marketoracle.co.uk (Market Oracle Ltd). All rights reserved.
Featured Analysis of the Week





Most Popular Financial Markets Analysis of the Week :
1. BP Oil Spill Global Catastrophe Reaches Epic Proportions
By: Dr. Tom Termotto
As BP Oil Spill Lets the Genie Out Of The Bottle
Why has it been so difficult to put this GENIE (Oil & Gas) back into the bottle (Macondo Prospect, Gulf of Mexico)? Or at least keep any more of him from coming out?
2. BP Gulf Oil Spill Disaster, An Impossible Well to Cap?
By: Joshua_S_Burnett
My first article in this series was a query; I listed the theories and evidence I'd seen thus far and asked for readers to respond and tell me I was crazy (which a few of you did, in as many words…much appreciated J). I felt that what I was writing about seemed to me far "too apocalyptic" as one comment on the original article stated. If you read the introduction and conclusion of the first article it becomes rather obvious that I wasn't advocating, I was inquiring. I received over 100 emails; after investigating those leads here are what I've concluded thus far.
3. Stocks Bull Market Correction or Bear Market?
By: Nadeem_Walayat
However in response to requests and price action here is an interim analysis of the stock market:

4. Coming Chaos: No Banks, No Public Facilities, No Food and Rampaging Gangs of Desperate People
By: Mac_Slavo
"Advice is what we ask for when we already know the answer but wish we didn't." ~ Erica Jong
Bob Chapman, of The International Forecaster, says it's time to prepare for the worst, comparing our impending economic crisis to that which was experienced at the onset of 1348 and the following century and a half.
5. U.S. Stock Market Sliding Over The Cliff, Crisis Redux Road To Perdition
By: Jim_Willie_CB
Time to awaken to a new dreadful reality. Just like autumn 2008, all over again, the stock market is breaking down in a powerful visible manner, after nothing was fixed with the vast financial structures but much money was spent. If only the USGovt had decided to address the problems instead of funding the myriad liquidity facilities, which by the way serve as a virtual banking system. If only the USGovt had decided to address the problems instead of funding the US Federal Reserve equity reserves, as in excess bank reserve lures. If only the USGovt had decided to address the problems instead of funding the bank preferred stock and bank executive bonuses. If only the USGovt had decided to address the fundamental need for capital formation toward job growth instead of simple extensions of jobless benefits.
6. More Red Flags for the U.S. Economy
By: Mike_Whitney
Bonds are signaling that the recovery is in trouble. The yield on the 10-year Treasury (2.97 percent) has fallen to levels not seen since the peak of the crisis while the yield on the two-year note has dropped to historic lows. This is a sign of extreme pessimism. Investors are scared and moving into liquid assets. Their long-term expectations have grown dimmer while their confidence has begun to wane. Economist John Maynard Keynes examined the issue of confidence in his masterpiece "The General Theory of Employment, Interest and Money". He says:
7. Gold Charts, Stocks and Bond Market Crash, Currency Wars and Financial Coup d'état
By: Jesse
If there is a stock crash, all asset classes will suffer liquidation for a period of time, except perhaps for treasuries, and chart formations will get tossed out the window. But at some time after the primary crash, the currency is devalued, and bonds are taken out and beaten.
8. Crude Oil $100 Sooner Than You Think
By: Dian_L_Chu
Sentiment in the crude oil market has been quite pessimistic lately after some disappointing economic data fueling fear over the strength of the U.S. recovery, and signs of a possible China slowdown. This is on top of the market distress already exerted by the Europe sovereign debt and banking crisis.

Oil price was down 8% for the week, with the front-month August delivery settled at $72.14 a barrel on the New York Mercantile Exchange.
You're receiving this Email because you've registered with our website.
How to Subscribe
Click here to register and get our FREE Newsletter
About: The Market Oracle Newsletter
The Market Oracle is a FREE Financial Markets Forecasting & Analysis Newsletter and online publication.
(c) 2005-2010 MarketOracle.co.uk (Market Oracle Ltd) - The Market Oracle asserts copyright on all articles authored by our editorial team. Any and all information provided within this newsletter is for general information purposes only and Market Oracle do not warrant the accuracy, timeliness or suitability of any information provided in this newsletter. nor is or shall be deemed to constitute, financial or any other advice or recommendation by us. and are also not meant to be investment advice or solicitation or recommendation to establish market positions. We recommend that independent professional advice is obtained before you make any investment or trading decisions. ( Market Oracle Ltd , Registered in England and Wales, Company no 6387055. Registered office: 226 Darnall Road, Sheffield S9 5AN , UK )
© 2005-2022 http://www.MarketOracle.co.uk - The Market Oracle is a FREE Daily Financial Markets Analysis & Forecasting online publication.

Only logged in users are allowed to post comments.
Register/ Log in