Three reasons to love and invest in uranium
Commodities
/
Investing
Jan 10, 2007 - 10:40 PM GMT

Uranium had a great year in 2006 — prices doubled . But I think that its performance in 2007 could blow the doors off of last year's results! That's why I'm starting to line up my favorite uranium stocks for the coming year. More on that in a moment. First, I'd like to tell you why I'm so bullish on this white-hot metal.
Uranium: The Most Recession-Proof Metal I've Ever Seen
Hey, I'm a pretty bullish guy by nature. But there are certainly troubling signs when it comes to the U.S. As guys like Mike Larson have been telling you, the housing bubble is imploding, Americans are in debt up to their eyeballs, and more.
Well, guess what? Recession bounces off uranium like bullets off of Superman.
Why? Because uranium is used for power generation, which is mostly immune to economic ups and downs. Even if people can't afford cable TV, they'll pay to keep their lights on.
What's more, utilities plan nuclear power plants many years in advance. Once they're up and running, you can't turn them on and off like coal- or gas-fired plants. An atomic power plant demands to be fed!
Even during a commodity bull market like we've enjoyed the past few years, other metals like copper have had their ups and downs. But look at uranium — it hasn't even flinched! As you can see from my chart (courtesy of UX Consulting Company), uranium hasn't just been climbing over the last two years, it's been accelerating!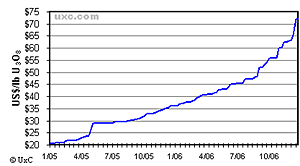 Uranium's Supply/Demand Squeeze Keeps Getting Tighter
About 16% of the world's electricity came from 440 nuclear reactors in 2005, according to the World Nuclear Association. That required about 77,000 metric tonnes of uranium.
But mines only supplied about 48,000 tonnes of that uranium. The rest was covered by inventories, according to data from the Uranium Information Centre. And those inventories, in turn, came mostly from reprocessed Russian nuclear weapons — a program that is slated to end in just a few short years.
Meanwhile, there are 28 reactors under construction around the world and another 62 being planned:
Japan intends to add 11 by 2010.
China hopes to add as many as 30 by 2020.
India wants to build up to 20 more.
Russia's energy goals call for at least 42 new nuclear reactors ... perhaps as many as 58!
Don't forget about Uncle Sam, either. While the U.S. has 103 nuclear plants producing 20% of its energy requirements, it's almost embarrassing how old the plants are.
In fact, there hasn't been a new U.S. nuclear power plant ordered since the 1970s. But that's about to change! There are 29 pending license requests for the construction of new nuclear power plants in the U.S.
And I expect many more new plants as existing facilities reach the end of their design life and U.S. energy needs increase. Experts are predicting that the U.S. will need 50% more electrical power by 2025.
All told, scientists estimate that the world will need about 900 more nuclear power plants by 2050!
Utilities and other uranium users were already nervous about the supply/demand squeeze. Then disaster struck in October when Cameco's Cigar Lake Mine flooded.
Cameco planned to bring Cigar Lake online in 2008, with seven million pounds of uranium in the first year and full-scale production of 18 million pounds annually thereafter. Keep in mind, 18 million pounds is more than a tenth of last year's total global demand of 171 million pounds. That's like the global oil market losing Saudi Arabia's production!
In 2008, uranium demand was already expected to exceed supply by 25 million pounds. With Cigar Lake seriously delayed, that gap will be 32 million pounds. Put another way — the shortfall in uranium is going to soar by 30% just in 2008.
Sure, Cigar Lake will be brought into production eventually. But meanwhile, demand keeps building up. Uranium consumers around the world can see this squeeze coming, so the race is on. That explains why spot uranium prices basically doubled in the course of a year, and the stocks of near-term uranium producers vaulted higher.
And if you think the rise we've seen in uranium is big, just wait till next year!
2008 Could Be the Year of the Great Uranium Feeding Frenzy!
Most uranium is sold under long-term contracts. But many utilities are now realizing that they're coming up short. And no wonder — when a nuclear reactor is first fired up, it can use triple its normal amount of uranium oxide.
So far, suppliers have managed to scrape together enough uranium to meet demand.
But by 2008, the situation could reach a tipping point because a lot of uranium users don't seem to have enough contracts to cover their needs.
Plus, many of the contracts currently in place will end. That means suppliers can negotiate at much higher prices.
So if you think uranium prices have been on a tear so far, just wait. By 2008, we could see an all-out feeding frenzy. And anticipating that crunch, prices should move well in advance.
The Second Wave of Uranium's Bull Market Is About to Begin!
I don't just call uranium the "white-hot metal" because it glows in the dark. Uranium traded at just $20 a pound two years ago. Now, it's trading well over $70 per pound — a stunning climb of nearly 300%!
But if you think you've missed the big move in this market, you ain't seen nothin' yet! Even though some of my favorite uranium stocks are up 70% ... 85% ... 103% in just 90 days, I believe we're now entering the second wave of uranium's big bull market.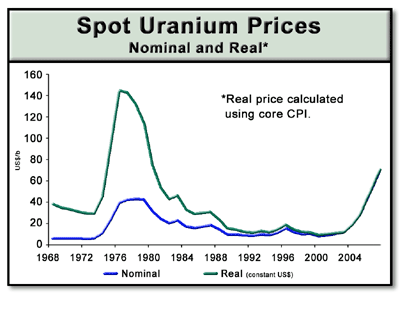 Remember, despite the huge rally in prices, uranium is still dirt-cheap on a historical basis! I say that because uranium hasn't come anywhere near its old peak once you account for inflation.
In 1978, uranium topped out at $43.40 per pound — but adjusted for inflation, that's around $145 per pound in today's dollars. So with uranium now trading at $72 per pound, it could more than double and still not surpass its old highs.
I think we're looking at $100-a-pound uranium by the end of this year — a 39% move from recent levels. And even at that point, uranium will still have plenty of room to run!
Some of my favorite uranium stocks have taken off like rockets. If you'd like the details, plus a heads up on my next three picks, check out the report I just posted to my website last night.
In the meantime, here's another way to
Get Ready For Uranium's Next Big Move
If you want to get in the uranium game, you could always buy shares of the Uranium Participation Corp. , a Canadian fund that tracks uranium by buying and holding uranium oxide and uranium hexafluoride.
The symbol is U on the Toronto Stock Exchange. In the U.S., the symbol is URPTF on the Pink Sheets. (On Yahoo, that would be URPTF.PK).
But for the really big returns, you can't beat investing in individual uranium explorers — the smaller cap stocks that are sitting on as-yet-unproven treasure troves of uranium.
The key is separating the dusty gems from the polished turds. That's why I'm flying up to Vancouver, Canada, for an investment conference in a couple weeks. I'm going to confer with industry movers and shakers ... the behind-the-scenes types who would rather stay in the shadows ... CEOs and engineers of some great little companies ... and guys with mud still on their boots.
I'll keep you posted!

Yours for trading profits,
Sean Brodrick
This investment news is brought to you by Money and Markets. Money and Markets is a free daily investment newsletter from Martin D. Weiss and Weiss Research analysts offering the latest investing news and financial insights for the stock market, including tips and advice on investing in gold, energy and oil. Dr. Weiss is a leader in the fields of investing, interest rates, financial safety and economic forecasting. To view archives or subscribe, visit http://www.MoneyandMarkets.com
NOTE - From time to time, The Market Oracle publishes articles from third parties. These articles do not necessarily express the viewpoints of The Market Oracle or its editorial team.
© 2005-2019 http://www.MarketOracle.co.uk - The Market Oracle is a FREE Daily Financial Markets Analysis & Forecasting online publication.

Only logged in users are allowed to post comments.
Register/ Log in