Obama Preparing to Attack Iran
Politics
/
US Politics
Jul 25, 2010 - 08:14 AM GMT

Webster G. Tarpley writes: After about two and a half years during which the danger of war between the United States and Iran was at a relatively low level, this threat is now rapidly increasing. A pattern of political and diplomatic events, military deployments, and media chatter now indicates that Anglo-American ruling circles, acting through the troubled Obama administration, are currently gearing up for a campaign of bombing against Iran, combined with special forces incursions designed to stir up rebellions among the non-Persian nationalities of the Islamic Republic. Naturally, the probability of a new fake Gulf of Tonkin incident or false flag terror attack staged by the Anglo-American war party and attributed to Iran or its proxies is also growing rapidly.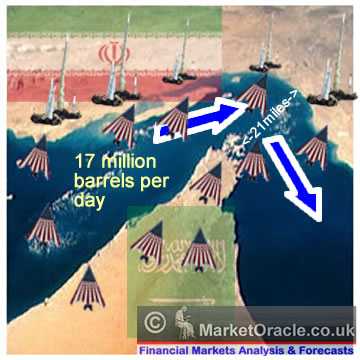 The moment in the recent past when the US came closest to attacking Iran was August-September 2007, at about the time of the major Israeli bombing raid on Syria.1 This was the phase during which the Cheney faction in effect hijacked a fully loaded B-52 bomber equipped with six nuclear-armed cruise missiles, and attempted to take it to the Middle East outside of the command and control of the Pentagon, presumably to be used in a colossal provocation designed by the private rogue network for which Cheney was the visible face. A few days before the B-52 escaped control of legally constituted US authorities, a group of antiwar activists issued The Kennebunkport Warning of August 24-25, 2007, which had been drafted by the present writer.2 It was very significant that US institutional forces acted at that time to prevent the rogue B-52 from proceeding on its way towards the Middle East. The refusal to let the rogue B-52 take off reflected a growing consensus in the US military-intelligence community and the ruling elite in general that the Bush-Cheney-neocon policy of direct military aggression towards all comers had become counterproductive and very dangerous, running the risk of a terminal case of imperial overstretch.
A prominent spokesman for the growing disaffection with the neocons was Zbigniew Brzezinski, who had been a national security director in the Carter administration. Brzezinski argued that no more direct military attacks by the United States should be made for the time being, and that US policy should rather focus on playing off other states against each other, while the US remained somewhat aloof. Brzezinski's model was always his own successful playing of the Soviet Union against Afghanistan in 1979, leading to the collapse of the Soviet empire a decade later. A centerpiece of Brzezinski's argument was evidently the claim that color revolutions on the model of Ukraine 2004 were much a better tool than the costly and dangerous US bombing and US invasion always championed by the monomaniacal neocons. There was clearly an implication that Brzezinski could deliver a color revolution in Iran, as he had done in Ukraine.
Brzezinski's Nightmare of 2007 Is Back
Brzezinski formulated his critique of the neocon methods of aggression and imperialistic geopolitics in his testimony before the Senate Foreign Relations Committee in February 2007, going so far as to point out the likely scenario of a false flag event or Gulf of Tonkin incident designed to embroil the United States in direct military hostilities with Iran. The heart of Brzezinski's analysis was this: 'If the United States continues to be bogged down in a protracted bloody involvement in Iraq, the final destination on this downhill track is likely to be a head-on conflict with Iran and with much of the world of Islam at large. A plausible scenario for a military collision with Iran involves Iraqi failure to meet the benchmarks; followed by accusations of Iranian responsibility for the failure; then by some provocation in Iraq or a terrorist act in the U.S. blamed on Iran; culminating in a "defensive" U.S. military action against Iran that plunges a lonely America into a spreading and deepening quagmire eventually ranging across Iraq, Iran, Afghanistan, and Pakistan.' 3 Today we could add Lebanon and Syria to that list, plus perhaps Yemen, Somalia, Sudan, and some others in central Asia.
The factors contributing to the current increased danger level include three major trends:
The CIA's Green Movement in Iran Has Fizzled
I. The US sponsored Green Movement in Iran has now demonstrably failed in its project of overthrowing the Achmadinejad government. Back in 2006-2007, the Brzezinski-Nye-Trilateral "soft power" or "smart power" group attacked the stupidity of the neocon plan for a direct US military attack on Iran by pointing out the opportunities for staging a color revolution in Iran, just as the Brzezinski faction had successfully staged the Orange Revolution to install NATO puppets in Ukraine. Why attack Iran directly, argued Brzezinski and his friends, when a US puppet regime in Teheran could be used against Russia and China in much the same way these same people had played Afghanistan against the Soviet Union, with catastrophic results of the latter. The apex of these subversion efforts came in June 2009, with the so-called Twitter Revolution, which was celebrated with hysterical gloating in the Anglo-American media. The Mousavi-Rafsanjani faction left no doubt about its CIA and MI-6 parentage with its signature chant of "Death to Russia, Death to China." The illusion of an easy coup in Iran has died hard in Washington and London. But by June 2010, the impotence of the Green forces in Iran had become evident. Hillary Clinton is even complaining that Achmadinejad now represents a military-backed government which has marginalized the mullahs, whom the US has demonized in public but privately relied on to prevent the economic modernization of Iran. This gives rise to the tendency to fall back on the previous neocon plan for some combination of direct military attack by Israel and the United States, combined with escalated subversion efforts among the Baluchis, Azeris, Arabs, Turkmen, and Kurds of Iran.
Russian Policy Now Uncertain
II. During the time that the neocons were attempting to launch aggression against Iran, that task was rendered much more difficult by pervasive uncertainty about the possible reaction of Russia. One of the targets of any bombing campaign against Iran would necessarily be the Bushehr nuclear reactor, being built by Russian technicians. Neocon war planners had to worry about events like the visit to Tehran of Russian President Vladimir Putin on October 16, 2007. During the Putin era, Russian media and figures like General Leonid Ivashov took the lead in calling attention to suddenly increases in US-UK war preparations, as in the case of Operation Byte, the attack on Iran proposed for Good Friday, April 6, 2007.4 While it was thought very unlikely that Russia would risk general war as a result of an attack on Iran, there remained nevertheless the question as to what Russia actually would do. This dangerous uncertainty was a very serious obstacle for the pro-war agitation by the neocons.
In this way, Putin was able to make a decisive contribution to the maintenance of world peace during the years after 9/11. As of mid-2010, it would appear that the foreign policy of Russian President Medvedev is momentarily evolving away from the fierce independence and Russian nationalism championed by Putin, and is placing more value on projects of cooperation with the NATO countries, sometimes obtained by unilateral concessions to the US. Part of this can be ascribed to the increasing influence of the free market ideologue Anatoly Chubais, the architect of the nomenklatura privatization of Soviet state property during the 1990s, whose concept of the modernization of the Russian economy depends very heavily on information technology, in which he portrays the United States as being in the lead. Newsweek has reported the approval of a new foreign policy outline drafted by the Russian foreign ministry which has allegedly gained provisional approval by President Medvedev. This document is entitled "Program for the Effective Exploitation on A Systemic Basis of Foreign Policy Factors for the Purposes of the Long-Term Development of the Russian Federation." 5 The main immediate effect of the reported new Russian policy is the apparent willingness of the Kremlin to make important foreign policy concessions to the United States with very minimal returns. This in turn means that key unknowns surrounding a US attack on Iran have become less of a concern for the resurgent neocon war faction in Washington. This adds up to a situation in which an attack on Iran is now more likely.
The US-UK Hedge Fund Blitzkrieg Against the Euro Falters
III. It is a grave error to imagine that normal relations with the Anglo-American financiers can be obtained in the current world depression through conciliatory behavior. The US-UK are experiencing cataclysmic instability in the form of a financial breakdown crisis, and this crisis impels these powers towards irrational, adventuristic, and aggressive behavior. A key lesson of the 1930s is that, when imperialist financier elites are faced by a disintegration of their fictitious speculative bubbles, they often respond with strategic flights forward of the most lunatic sort. In the wake of the 2007-2008 disintegration of the Anglo-American banking system, the New York and London elites have shown signs of going collectively bonkers, although these clinical tendencies have been primarily expressed in the area of their reactionary domestic socioeconomic policies. The specific form assumed by this tendency after the second half of 2008 involves the severe weakening of the US dollar as the world reserve currency by the creation of a $24 trillion credit line by the Federal Reserve, US Treasury, and FDIC for the purpose of bailing out the Wall Street zombie banks. This tidal wave of dollars led to a severe weakening of the US greenback on international markets during most of the second half of 2009. In late 2009 and early 2010 a group of Anglo-American hedge funds around Soros, Paulson, David Einhorn, and others launched a speculative attack against the government bonds of Greece, Spain, and Portugal, with the goal of using a crisis in the southern tier of the euro to bring on a panic flight of hot money out of the euro, thus collapsing that currency to Third World levels. Partly because of the countermeasures instituted by the German government, including the banning of naked credit default swaps on Euroland bonds and naked shorts of German stocks, and partly thanks to direct support from China, the planned Anglo-American blitzkrieg against the euro has now bogged down after eight months of effort, with the euro currently oscillating at a price of about $1.25 – $1.30. This means that, unless the city of London and Wall Street can come up with a new plan, the forces of world economic depression represented by $1.5 quadrillion of bankrupt and kited derivatives may now find a new victim, most likely in the form of either the British pound or the US dollar.
The immediate threat of a pound or dollar currency collapse is leading the ruling financier factions to reconsider a very dangerous flight forward in the form of an attack on Iran, precisely because such an aggression would likely lead to a blocking of the Straits of Hormuz or in any case to a serious disruption of one third of the world's tanker traffic. Following the tested model of the Kippur war/oil boycott of October 1973, the US-UK financiers would bid up the price of oil to $500 or $1000 per barrel, thus creating enough demand for dollars to soak up much of the dollar overhang and prop up the greenback, at least for a time.
An Astronomical Oil Price As Salvation for The US Dollar
As Jean-Michel Vernochet of the Réseau Voltaire has pointed out, the likely Iranian retaliation for the looming attack in terms of interdicting Hormuz and the Gulf is actually built into the US-UK war plan as a positive contribution towards saving the dollar by massively driving up the price of oil, which is of course still quoted mainly in dollars.6 Energy and Capital editor Christian A. DeHaemer, an oil market analyst, commented: "The last oil price shock in the Middle East was in 1990 when the United States invaded Iraq for invading Kuwait. The price per barrel of oil went from $21 to $28 on August 6… to $46 by mid-October. The looming Iran War is not priced in," he warned in his newsletter. Iran has the third-highest oil reserves in the world and is second only to Saudi Arabia in production. If any action prevents the flow of Iranian oil, the price of "black gold" would soar, he added.' (IsraelNationalNews.com)7
Playing The Arabs Against The Iranians
One important prerequisite for US aggression grows out of the Trilateral group's strategy, starting from the Baker-Hamilton Iraq Study Group of 2006, of forming a block of the Sunni Arab nations against the Persian-speaking Iranian Shiites and their allies in the Lebanese Hezbollah and the Palestinian Hamas, as well as Syria. The Anglo-American hope for this tactic of divide and conquer is that hostility between Arabs and Persians will eclipse the more recent enmity between Jews and Arabs. "The Jews and Arabs have been fighting for one hundred years. The Arabs and the Persians have been going at (it) for a thousand," wrote Jeffrey Goldberg on The Atlantic's website.8
With many reports that the United Arab Emirates and Saudi Arabia are ready to support the US aggression, great importance must be attached to the current struggle over the future shape of the government of Iraq. Here The secular Shiite Allawi is a US puppet, while his rival Maliki prefers Iran. Sadr and his Mahdi army, closely linked to Iran, represent a key stumbling block for US intentions. The US requires an Iraqi puppet state which will pursue at least a pro-US neutrality in case of war, and above all prevent Iranian special forces or guerrillas from cutting the long US supply line alone Route Tampa from Kuwait City. This is why the question of the Iraqi government was so important that Vice President Biden had to make a special trip to Iraq in the vain hope of quickly setting up a suitable puppet regime there. If the Iraq army turns against US, the situation of US forces could become extraordinarily critical.
War Warnings, Calls For War
Over recent days, warnings about imminent war and direct calls for war have been proliferating in the world media. The veteran Cuban leader Fidel Castro gave his most detailed media interview since the beginning of his illness several years ago, apparently for the express purpose of issuing a warning about US aggressive plans for Iran, and also for North Korea (DPRK). According to a wire dispatch of July 12, 'the 83-year-old former president talked about how tension between the United States and both North Korea and Iran could ultimately trigger a global nuclear war …. Castro warned that an attack on Iran would be catastrophic for America. "The worst (for America) is the resistance they will face there, which they didn't face in Iraq," he said.' 9
On July 11, the former Malaysian Prime Minister Mahathir Mohamad stated that 'the US compelled the UN Security Council to impose sanctions against Iran in order to weaken the country and lay the ground for a military attack. The former Malaysian premier added, "It is a matter of time before the war criminals in Israel and the United States launch another war of aggression, once Iran has been weakened by sanctions."' 10
Around the same time, former Senator Chuck Robb and former NATO deputy commander General Charles Wald issued an editorial call for the US to begin preparing an attack. Their argument was that the fourth round of economic sanctions extorted by the United States from UN Security Council on June 9 would never be effective, and that military action had to be geared up in parallel to these sanctions. They also warned that the Cold War doctrine of deterrence would not work in regard to Iran: 'Absent a broader and more robust strategy, however, sanctions alone will prove inadequate to halt Iran's pursuit of nuclear weapons…current trends suggest that Iran could achieve nuclear weapons capability before the end of this year, posing a strategically untenable threat to the United States. Contrary to a growing number of voices in Washington, we do not believe a nuclear weapons-capable Iran could be contained…. We cannot afford to wait indefinitely to determine the effectiveness of diplomacy and sanctions. Sanctions can be effective only if coupled with open preparation for the military option as a last resort. Indeed, publicly playing down potential military options has weakened our leverage with Tehran, making a peaceful resolution less likely. Instead, the administration needs to expand its approach and make clear to the Iranian regime and the American people: If diplomatic and economic pressures do not compel Iran to terminate its nuclear program, the U.S. military has the capability and is prepared to launch an effective, targeted strike on Tehran's nuclear and supporting military facilities…. The stakes are too high to rely on sanctions and diplomacy without credibly preparing for a potential military strike as well.' 11
The Neocons Promise A Cakewalk — Again!
One of the most blatant calls for war with Iran comes from the former CIA agent and neocon ideologue Reuel Marc Gerecht. The Weekly Standard, the central organ of the neocon warmonger party, devotes the cover story of its current issue to urging the Israelis to put an end to Obama's dithering by mounting the attacks themselves, thus presenting the feckless tenant of the White House with a fait accompli.12
In the inimitable style of neocon Kenneth Adelman, who notoriously promised a cakewalk in Iraq the last time we went down this road, Gerecht impatiently dismisses a series of arguments against such a fateful act of incalculable folly, and does not miss the opportunity to settle accounts with Brzezinski, whose alternative model of imperialist management is now losing support within the ruling elite. Gerecht writes: '… concerns about an Israeli bombing are no more persuasive. Hezbollah would undoubtedly unleash its missiles on Israel after a preventive strike…. Hundreds of Israelis could die from Hezbollah's new and improved store of missiles. Israel might have to invade Lebanon again, which would cost more lives and certainly upset the "international community."…. The Obama administration might fume, but it is hard to imagine the president, given what he has said about the unacceptability of Iranian nukes, scolding Jerusalem long. He might personally agree with his one-time counsel, Jimmy Carter's national security adviser Zbigniew Brzezinski, that Israel has become a pariah state, but politically this won't fly.' 13 Three years ago, Brzezinski had the upper hand and the neocons were in disarray, but now the tables have been turned to a significant extent.
There is nothing to worry about, Gerecht assures us, since the Iranians are a paper tiger and the results will be a cakewalk: 'American fear of Iranian capabilities in Iraq and Afghanistan has been exaggerated. The Americans are leaving Iraq; within a year, most of our troops are due to be gone….' 14 Back in 2002-2003, the neocon line was that Saddam Hussein was so powerful that he had to be attacked. This time around, their field is reversed, and the main argument is that the Iranians need to be attacked because they are a pushover: 'If the Iranians tried their mightiest, they could give us only a small headache compared with the migraine we've already got courtesy of the Pakistanis, who are intimately tied to Afghanistan's Taliban. And the Israelis know the U.S. Navy has no fear of Tehran's closing the Strait of Hormuz. If Khamenei has a death-wish, he'll let the Revolutionary Guards mine the strait, the entrance to the Persian Gulf: It might be the only thing that would push President Obama to strike Iran militarily. Such an escalation could quickly leave Khamenei with no navy, air force, and army. The Israelis have to be praying that the supreme leader will be this addle-headed.' 15 The tried and true 'cakewalk' argument is neither the first nor the last notorious neocon trick which is being brought back these days.
But what about the awesome threat of Iranian state-sponsored terrorism, the danger which these same neocons have been incessantly harping on for the past decade? No problem, says Gerecht. All we would need to do at that point is to issue a bloodcurdling thermonuclear ultimatum to Iran about incinerating that country with nuclear missiles, perhaps killing tens of millions of Iranians. As a matter of fact, Gerecht suggests, the US had better start issuing this sort of threat right now, without any further dithering: 'It is entirely possible that Khamenei would use terrorism against the United States after an Israeli strike. That is one of the supreme leader's preferred methods of state action, which is why he should not be permitted a nuclear weapon. The correct response for the United States is to credibly threaten vengeance. President Obama might be obliged to make such a threat immediately after an Israeli surprise attack; whether the Iranians would believe it, given America's record, is more difficult to assess.' 16 Note carefully that these statements amounts to the public advocacy of aggressive war, a behavior which may run afoul of the Nuremberg precedents of 1945.
The Iranians are crazy, says Gerecht, so the old-fashioned nuclear deterrence of Mutually Assured Destruction will never work. There is no point in wasting time any longer, and it is time for the Israeli missiles and bombers to fly: ''It is possible the Israelis have waited too long to strike. Military action should make a strategic difference….If we're not at the end of the road, then the Israelis probably should waste no more time. Khamenei is still weak. He's more paranoid than he's ever been. The odds of his making uncorrectable mistakes are much better than before. Any Israeli raid that could knock out a sizable part of Iran's nuclear program would change the dynamic inside Iran and throughout the Middle East…..Unless Jerusalem bombs, the Israelis will soon be confronting a situation without historical parallel…. In the best case scenario, if things were just "normal" in Tehran, Israel would likely be confronting Cuban Missile Crisis-style brinkmanship on a routine basis.' 17
Obama As The Cynical New Woodrow Wilson
The reactionary writer Michael Barone makes the apt comparison of Obama to the Morgan puppet Woodrow Wilson, who cynically got himself re-elected in 1916 on a platform of "he kept us out of war,' and then demanded the US entry into World War I about a month into his second term. Obama campaigned for the presidency quite explicitly as a warmonger in regards to Afghanistan, although his constant claim to have opposed the Iraq war left many voters with the false impression that he was less bellicose than Bush. In reality, Obama was always adamant about his desire to bomb and invade Pakistan in pursuit of the phantomatic "Osama bin Laden." Barone comments: 'It would be ironic if the professorial Barack Obama launches a military attack when his supposedly cowboy predecessor George W. Bush declined to do so….But I take it seriously when … nonhawks [Joe Klein and Walter Russell Meade] say Obama might bomb Iran.' 18
Acts Of War In Iran By Jundullah, a US Terrorist Proxy
The Sunni terrorist organization known as Jundullah, which operates in Baluchistan on both sides of the Pakistan-Iran border, is notoriously a creature of Anglo-American intelligence, as Brian Ross of ABC News documented in 2007.19 Earlier this year, the Iranians, acting with the help of Pakistan, succeeded in capturing the Jundullah leader Rigi, whom they then executed this month. Rigi, according to Wayne Madsen, had been on his way to a meeting with US regional Ambassador Richard Holbrooke at the US air base in Kyrgyzstan.20 Retaliation from Jundullah soon followed in the form of a murderous attack on Iranian territory which killed 21 persons, including members of the Pasdaran Revolutionary Guard. Iranian leaders were quick to denounce this action as the latest in a long series of acts of war against Iran by the United States using terrorist proxies. Majlis Speaker Ali Larijani condemned this attack, which occurred in Zahedan, while explicitly blaming the United States: '"The Americans should know that they have started a game that will not end well for them," he said in Tehran. Larijani asserted that Iran has ample evidence that the Jundullah terrorist group has links to the United States. The terrorist group Jundullah, which Iranian officials say enjoys U.S. support, has claimed responsibility for the attacks. In a statement posted on its web site, Jundullah described the attacks as retaliation for Iran's June 21 execution of the group's former ringleader, Abdolmalek Rigi. Larijani said that the United States cannot invent an excuse for the bombings. "They may get away with other issues, but not with this one," he added.' 21
Medvedev Policy Shift Increases Moscow-Tehran Friction
One of the main policy goals of the Brzezinski faction in the United States has always been to maneuver Russia into a position of hostility against Iran. The hope has always been to foment conflicts between these two Caspian powers. Unfortunately, the policy of attempting to placate the United States on certain issues pursued by President Medvedev has now created a Moscow-Tehran relationship in which elements of acrimony coexist with gestures of cooperation.
On July 12, Medvedev made an important verbal concession to the emerging US-neocon theory of Iranian nuclear weapons. A RIA-Novosti dispatch read: 'Iran is about to acquire the capability to make nuclear weapons, Russian President Dmitry Medvedev warned on Monday. He urged Russian ambassadors and permanent representatives to move away from "simplistic approaches" toward Iran's nuclear problem.' 22
On June 20, Medvedev had expressed concern about 'U.S. secret intelligence data that Iran has enough enriched uranium for construction of two nuclear bombs. "As for this information, it needs to be verified but in any case such information always worries. Today the international society does not acknowledge the Iranian nuclear program as transparent. If the information from the American secret services is confirmed it would make the situation more tense and I do not exclude that this issue would require extra consideration," Medvedev said at a news conference after the G8 and G20 summits in Canada.' 23 US intelligence regarding Iran is notoriously unreliable, and distorted by political agendas inside the US intelligence community. It is even possible that some of the material which Medvedev was shown during his time in North America came from the alleged defector Shahram Amiri, whose credibility is gravely in question.
In response to Medvedev's allegations about an Iranian nuclear weapons program, leaders in Teheran responded with vigorous denials. On July 13, RIA Novosti reported that 'Iranian officials on Tuesday angrily dismissed Russian President Dmitry Medvedev's remarks that Tehran was on the verge of acquiring military nuclear capability, the Fars News Agency reported. "These remarks are at odds with reality," Iranian Foreign Minister Manouchehr Mottaki said during a press conference at the Iranian embassy in Madrid, stressing that Tehran has always sought only peaceful uses for nuclear technology.' 24 During the preparation of the Iraq war, Russia was very skeptical of the explanations offered by the Bush regime, including at the UN Security Council. This time around, it would appear that parts at least of the Russian government are lending credibility to the US charges.
In response to these Iranian objections, Medvedev returned to the issue on July 15, reiterating that 'Russia possesses information indicating that Iran is continuing to develop its nuclear technology …"The information that is being received comes both from open sources and from special services that deliver relevant reports and shows that these [nuclear] programs are being developed," Medvedev said during a joint news conference with German Chancellor Angela Merkel in the Russian Urals city of Yekaterinburg.' 25
The Russian government has issued sharply conflicting statements about whether the sale of modern Russian S-300 surface-to-air missiles would be blocked by the new round of UN sanctions. It is generally thought that, if Iran can finally take delivery of these missiles, any design for air attacks against Iran would have to reckon with extravagant losses among the attacking aircraft. On June 11, RIA Novosti reported that 'a Kremlin source said on Friday the sale of S-300 air defense systems fall under the new UN Security Council's sanctions against Tehran, but the Russian foreign minister said it was up to the president to make the final decision.' 26 Ironically, this reading of the sanctions was less favorable to Iran then what the US State Department was saying on the same day. On June 11, the State Department opined that 'the delivery of Russian S-300 surface-to-air missile systems to Iran is not against the recently imposed UN sanctions.' 27
In the face of criticism, the Kremlin characterized its position as evenhanded. On May 26, RIA Novosti reported that presidential aide Sergei Prikhodko had argued that 'Russia's position on Tehran's nuclear program is neither pro-American, nor pro-Iranian. The statement comes after Iranian President Mahmoud Ahmadinejad said in a televised interview earlier in the day that Russia's support for UN sanctions against Tehran was "not acceptable to the Iranian nation."' 28
Russia also expressed no enthusiasm for an expansion of the so-called five plus one group (composed of the five permanent members of the UN Security Council plus Germany) which had been negotiating the nuclear issue with Iran. The arbitrary nature of this five plus one grouping had been pointed out by many countries, and inevitably arose after the initially successful mediation of the Iranian nuclear fuel enrichment issue by Turkey and Brazil. Why not have Turkey and Brazil joined the five plus one? The addition of these two states would obviously make the negotiating group less hostile to Iran. But the Russian Foreign Ministry was not interested. On July 19, RIA Novosti reported that 'Turkey and Brazil are not joining talks led by the Iran Six group of international mediators on Tehran's nuclear program, the Russian foreign minister said Wednesday. "There have been no discussions on the issue," Sergei Lavrov said. Iranian Foreign Minister Manouchehr Mottaki said Tuesday that the Islamic Republic wanted Turkey and Brazil to participate in the talks.' 29
Criticism of Iran keeps coming from numerous Russian diplomats. On July 14, Russia's UN ambassador Vitaly Churkin said there was "still cause for concern about Iran's nuclear program as signals from the Islamic Republic have been far from encouraging… "The signals I have heard from Iran are not encouraging," he said. "Iran continues to set out terms, make excuses and say that it will persist in enriching uranium to 20%."' 30
At the same time, Russia continued to assist Iran in the construction of the Bushehr nuclear power reactor, which should come on line and start generating electricity within a few months. The Iranians also operate research reactors. On July 12, Iran announced that 'nuclear fuel for the Tehran research reactor will be ready in September 2011…. "God willing, we will deliver the fuel to the Tehran reactor next September," Ali Akbar Salehi of the Atomic Energy Organization of Iran (AEOI) was quoted by Fars News Agency (FNA) as saying. "At present we have produced about 20 kg of 20%-enriched uranium and we are now producing fuel plates," he said.' 31 The Anglo-Americans have tried to make this 20% enrichment a virtual casus belli, despite the fact that weaponization requires far higher percentages, well above 90%.
Russia appeared inclined to defy the US on some issues. There were indications that Russia was willing to help Iran frustrate the UN Security Council ban on other nations' selling refined gasoline to Iran, which is one of the centerpieces of the latest US-backed sanctions offensive. Iran produces abundant oil, but lacks refineries to make that oil into gasoline and other products. Here was an ideal way to get around this gasoline embargo. According to RIA Novosti, 'Russian Energy Minister Sergei Shmatko said … that Russian companies are ready to supply oil products to Iran despite U.S. sanctions punishing companies that sell motor fuel to Iran or help it rebuild its refining capabilities, which have been degraded by years of international isolation.' ('Iran hopes to become largest gasoline exporter in 2-3 years', RIA Novosti, July 15, 2010, http://en.rian.ru/world/20100715/159829016.html)
According to Vernochet of the Réseau Voltaire, the Russian policy 'appears to reflect a certain schizophrenia at the highest level of the state, or an openly diverging policy with two heads, with a presidency a priori more pro-Western than Prime Minister Vladimir Putin.' 32 McDermott agrees about this latent conflict, noting: 'There is also the thorny issue that Prime Minister Vladimir Putin, has a group of foreign policy aides managed by Yuriy Ushakov functioning as a "little" foreign ministry: which represents the single greatest barrier to adopting such policy concepts (Ezhednevny Zhurnal, May 14).' The net result of these developments is that the aggressive forces inside the United States think they have a much freer hand with Iran than they did during the time of the Putin presidency.
Brzezinski Group Weaker, Neocon-Petraeus Faction Stronger
As already noted, the Brzezinski-Nye-Trilateral faction is losing ground to the neocons, who have been mightily strengthened by the ascendancy of their chosen factional figurehead and presidential candidate for 2012, General David Petraeus. The planned color revolution in Iran has not materialized, and therefore the neocon recipes for aggression are winning by default, especially given the systemic hysteria induced by the financial breakdown crisis. The Brzezinski-Nye-Trilateral group had been early supporters of Obama, and growing public awareness of Obama's weakness, fecklessness, dithering, and treachery are also weakening his backers.
Petraeus, The Savior Of The Savior
Obama's appointment of Petraeus as the new commander in Afghanistan, succeeding McChrystal, is an act of supreme political folly. By appointing Petraeus, Obama has focused new adulation by the political class on his most formidable opponent for the presidency in 2012, as seen in Petraeus' 99-0 confirmation vote by the U.S. Senate. It should be evident that Petraeus is not likely to have accepted this new command without having extracted certain binding policy commitments from Obama in advance, and one of these is likely to have been a more truculent US stance against Iran, to say nothing of Pakistan and other states. Obama had been the savior, but Petraeus now assumes the role of the savior of the savior, and it is the neocon faction and its strident war program which is the beneficiary.33
A New National Intelligence Estimate By And For Warmongers
During the declining years of the Bush regime, one of the most important signals of a general ruling class consensus that the US attack on Iran should be taken off the table was the national intelligence estimate issued in December 2007, which concluded that Iran no longer had a functioning nuclear weapons program. This simply meant in practice that the neocons, for the moment, were out of power. This finding was opposed tooth and nail by the neocons, and was directly contradicted by the claims of Israeli intelligence.
The way in which this new NIE is being rigged, with the facts and intelligence being fixed around the desired war policy, is reflected in a recent rare interview by CIA Director Leon Panetta. The new phony NIE is now guaranteed to repudiate the previous finding, and to accuse Iran of actively seeking nuclear bombs. This was in fact Panetta's first network news interview since taking over the CIA in early 2009. According to one published account, 'in an ABC News interview Sunday, CIA Director Leon Panetta alluded to a fact that was reported by Newsweek months ago: U.S. intelligence agencies have revised their widely disputed 2007 conclusion that Iran had given up its efforts to design or build a nuclear bomb. That shift is expected to be reflected in an update of the controversial 2007 National Intelligence Estimate, which was supposed to have been completed months ago, but according to three counter-proliferation officials, who asked for anonymity when discussing sensitive information, the formal update still is not finished and may be delayed for months to come. Even when it's done, officials have said, the Obama administration is expected to keep the revised report's contents officially secret….' 34 Panetta, a political hack, has claimed that Iran is working on weaponization of fissile material, which has been a central issue in the dispute within the US intelligence community. With this, Panetta clearly joins the warmonger camp.
State Department: Iran Wants Nukes, Iran Has Always Wanted Nukes
On June 8, David E. Sanger of the New York Times reported that US diplomats at the United Nations were already beginning to prepare the other members of the UN Security Council for a complete volte-face on the question of Iranian nukes compared to the December 2007 NIE. In December 2007 there were no nukes, but now there are some again, the US in effect argued. One imagines that UN Ambassador Susan Rice took special satisfaction in an Orwellian reversal of this type. Sanger wrote: 'The American briefings, according to foreign diplomats and some American officials, amount to a tacit admission by the United States that it is gradually backing away from a 2007 National Intelligence Estimate. It is using new evidence to revise and in some cases reverse conclusions from that estimate, which came to the much disputed conclusion that while Iran had stepped up its production of nuclear fuel, its leadership had suspended its work on the devices and warhead designs needed to actually build a weapon.' 35
The neocons are already mobilized to skew the new NIE in the direction they want. An example of their effort is the op-ed by Gabriel Schoenfeld of the arch-reactionary Hudson Institute appearing in the Wall Street Journal on July 19. Schoenfeld's first goal is to perform the Orwellian exercise of expunging the December 2007 NIE: 'In December 2007, our intelligence agencies put out a National Intelligence Estimate (NIE), which in its opening sentence baldly declared that "We judge with high confidence that in fall 2003, Tehran halted its nuclear weapons program." In a stroke, this authoritative pronouncement eliminated any possibility that President Bush, then entering his final year in office, would order a military strike against Iran's nuclear facilities. Perhaps even more significantly, it undercut White House and international efforts to tighten sanctions on Iran. After all, if the Iranian nuclear program had been halted in 2003, what would be the point?….Behind the scenes, the intelligence services of Germany, Great Britain, France and Israel all took issue with the NIE. It became the subject of fierce criticism in Congress and the press. It is now clear that while the U.S. dithered, Tehran forged ahead…. Evidence has surfaced that the flawed 2007 NIE was the result of political cookery…. Since late last year, U.S. intelligence has been preparing a new estimate of Iran's nuclear program. The critical question is whether the forces that led to politicization in 2007 have been eradicated. Will the drafters of the new Iran NIE call the shots as they are, or will they once again use intelligence as a political lever?' 36
Neocons Want a Team B For Iran
Notice that, for this neocon doublethinker, 'politicization' is anything which delays or avoids war, while objectivity is identified exclusively with the warmonger position. Schoenfeld is obsessed with counting how many months remain before Iran stages their first nuclear detonation. Israel says there may be as few as twelve months left! How to focus public attention on this issue? Schoenfeld has an answer ready: 'That is why a neutral outside panel should be brought in to scrutinize the discredited 2007 NIE and the entire estimating process in this sensitive arena.' This sounds very much like an old neocon trick – Team B, the panel of apocalyptic dissident ideologues created by Bush the elder in 1975-76 to prepare an alarmist estimate of Soviet intentions in contradiction to the findings of the official CIA.37 In such a contest, neocon Strangeloves proclaiming dramatic doomsday messages have an easy time marginalizing colorless bureaucrats with their plodding prose. It is the neocons who are the iron chefs of cooking intelligence. As Sir Richard Dearlove, the boss of MI-6, informed Tony Blair and his ministers in July 2002, 'the intelligence and facts were being fixed around the policy' by Washington in the runup to the Bush-Cheney aggression against Iraq.38
Leverett: There Is No Iranian Nuclear Weapons Program
One leading US expert on Iranian affairs is Flynt Leverett, who worked on Iran during his time in the G. W. Bush National Security Council. In a July 18 radio interview transcribed on Leverett's website, Race for Iran, which is also by run by Hillary Mann Leverett, an important Iran expert in her own right. the former official stated that 'to the best of my knowledge…there is no evidence of an Iranian nuclear weapons program.…I haven't been working in a classified environment for a number of years now and I certainly wouldn't claim to know everything that the U.S. intelligence community might have, [but]…my very strong impression is that we know that the Iranians have been working on…a dedicated fuel cycle program focused on uranium enrichment for a long time. Could they have at some point…looked into other kinds of technical or engineering problems that you would need to solve if you were actually at some point going to build a nuclear weapon? Yeah, that's possible, but I've never seen what I would consider clear and convincing evidence of it.' 39
The mendacious process by which National Intelligence Estimates are manufactured on sensitive issues like Iran is much illuminated by the case of the Iranian scientist Shahram Amiri. Amiri, it will be recalled, issued a Youtube video in which he alleged that he had been kidnapped by the United States while on a pilgrimage to Saudi Arabia, and was being held in Arizona. Later, he issued another videotape, this one better produced, in which he reassured the public that he was fine, studying physics in Arizona of his own free will. A third tape went back to asserting that he had been kidnapped. Amiri at length appealed to the Iranian interest section of the Pakistani Embassy in Washington, DC, and soon returned to Iran.
Amiri, The CIA's New Iranian Curveball?
So what is the truth about Amiri? We need to recall the examples of the anonymous "source Curveball" and of Achmed Chalabi, two Iraqi adventurers assiduously courted by the neocons and plied with large sums of US taxpayer money in order to make fantastic allegations about the allegedly threatening programs of weapons of mass destruction being pursued by Saddam Hussein. If the CIA had really brought Amiri to the United States and offered him $5 million, it is a pretty good guess that he was being paid to provide the lurid details of an Iranian nuclear weapons program which many qualified experts, as we have just seen, conclude to be nonexistent, just as the US government officially stated in December 2007.
The Leveretts stress that Amiri was never a top official of the Iranian science establishment, and it is therefore very likely that his opinions about the alleged Iranian nuclear weapons program are worthless. As the Leveretts wrote on July 15, 'We warned, in April that Amiri could not possibly be the highly valuable intelligence source that some Western officials and the National Council for Resistance in Iran (an affiliate of the MEK, which the U.S. government has designated as a foreign terrorist organization) claimed him to be — a source who "had worked on sensitive nuclear programs for at least a decade" and was now revealing the inside story on Iran's alleged clandestine nuclear weapons program. We were appalled that the Washington Post was reporting these claims without the most minimal, common-sense follow-up questioning. Now we learn that the CIA apparently tried to pay Amiri $5 million. Along with trying to figure out the details of Amiri's trajectory over the last year, journalists ought to be focusing on what the Agency's willingness to pay $5 million to a hyped-up source signals about the U.S. Intelligence Community's desperation to make a prosecutor's case against the Islamic Republic. Indeed, the CIA and the rest of the Intelligence Community seem sufficiently desperate to make their case that they will pay taxpayer dollars to gotten-up defectors who might be prepared to say—for the right price—what Washington elites want to hear. As we noted in our April piece, if the CIA and its partners in the Intelligence Community are unable to make a case against Iran, "how could Washington argue for intensified sanctions against the Islamic Republic—much less keep the military option 'on the table?'"'
Press comments on Panetta's ABC News interview suggest precisely this: Amiri was brought in to provide fodder for a campaign of mass brainwashing designed to show that Iran is on track to build nuclear bombs. On the ABC website we read: 'Panetta did not directly confirm that the controversial 2007 National Intelligence Estimate on Iranian nukes was under revision. But other officials have confirmed to Declassified that an update has been in the works since late last year. They say its completion has been postponed several times while agencies evaluate new intelligence reporting which has surfaced over the last few months. At least some of that fresh input is believed to have come from one or more Iranian nuclear insiders, including Shahram Amiri, an Iranian nuclear scientist who disappeared about a year ago while on a religious pilgrimage to Saudi Arabia. Earlier this year, ABC News reported that Amiri had defected to the United States. Although government sources have acknowledged …that they are aware of Amiri's defection and of information that he might have provided, they do not confirm that he defected to the U.S.' 40
Now that Amiri has fled back to Iran, another possibility opens up for the US mindbenders: they might now argue that the December 2007 NIE which concluded there was no Iranian nuclear weapons program had been based on falsified information procured by Amiri and others like him, who had been recruited to espionage by the US, but who later proved unreliable – as shown by Amiri's flight back to Iran to rejoin his family there. All of these points represent good reasons not to believe the contents of the new NIE when its contents are reported in the press in the very near future. It is guaranteed to be a tissue of lies.
Amiri's Last Word: No Iranian Nuclear Weapons Program
The last word from Amiri seems to be a statement that there is no Iranian nuclear weapons program after all. This has been established by CIA veteran Philip Giraldi based on leaks from his networks inside the agency. As Gareth Porter of IPS reported, 'Contrary to a news media narrative that Iranian scientist Shahram Amiri has provided intelligence on covert Iranian nuclear weapons work, CIA sources familiar with the Amiri case say he told his CIA handlers that there is no such Iranian nuclear weapons programme, according to a former CIA officer. Philip Giraldi, a former CIA counterterrorism official, told IPS that his sources are CIA officials with direct knowledge of the entire Amiri operation.' 41 But mere facts have never prevented the neocon mythographs from pressing for aggression. Maybe they will now re-create the Pentagon's Office of Special Plans, which was responsible for a series of whoppers in 2002-2003.
Obama Regime Beats The Propaganda Drum For War
In the wake of the new round of sanctions in June, top officials of the Obama regime have begun to suggest that sanctions will be inadequate to stop the nuclear weapons development which they will soon claim is going on, leaving the obvious conclusion that direct military attack is the only option. '"Will [sanctions] deter them [Iran] from their ambitions with regards to nuclear capability?" CIA Director Leon Panetta told ABC News on June 27. "Probably not."' 42
Defense Secretary Robert Gates is taking special pains to argue against the idea that Iran could be held in check by traditional nuclear deterrence of the time-honored Cold War type, even if Tehran were to procure nuclear weapons. This is an argument which has been endorsed by some leading US military officers, who are obviously not eager to go into the Iranian meatgrinder. According to Fox News, 'Gates is sounding more belligerent these days. "I don't think we're prepared to even talk about containing a nuclear Iran," he told Fox News on June 20. "We do not accept the idea of Iran having nuclear weapons." He added: "I don't think we're prepared to even talk about containing a nuclear Iran. I think we're — we — our view still is we do not accept the idea of Iran having nuclear weapons. And our policies and our efforts are all aimed at preventing that from happening." … "Actually, what we've seen is a change in the nature of the regime in Tehran over the past 18 months or so. You have — you have a much narrower based government in Tehran now. Many of the religious figures are being set aside. As Secretary Clinton has said, they appear to be moving more in the direction of a military dictatorship. Khamenei is leaning on a smaller and smaller group of advisors."' 43 Gates had been skeptical in public about the Iran attack, in conformity with his Brzezinski pedigree; his joining the extreme war party thus means the bureaucratic situation is deteriorating.
The US argument against the Iranian regime used to be that Iran was bad because it was a theocratic dictatorship of the mullahs, who were the bearers of Islamic fundamentalism. Gates and Clinton now argue that Iran is bad precisely because it is no longer a theocratic dictatorship of mullahs, but an authoritarian military dictatorship. The only constant is the desire for war and confrontation.
Netanyahu Of The War Party
In order for the US to assemble an Arab-Sunni front in the Middle East to oppose the chosen Persian-Shiite adversary, it was considered advantageous to get the Israelis to make a few concessions to the Palestinians with a view to creating the illusion of progress towards an overall peace settlement between these two parties. Because the politics of economic depression has produced a marked heightening of the extremist elements of Israeli politics, the Netanyahu regime has refused to make any concessions, and has acted out defiance of Obama for domestic political consumption. This dynamic gave rise to the hostile and heated atmosphere of Netanyahu's previous White House visit. This time, the atmospherics were kept more conciliatory. In any case, Netanyahu's demand for US military attack on Iran is a constant refrain.
As the Leveretts pointed out on July 11: 'it is the Prime Minister's remarks on Iran that deserve special attention—for these remarks suggest that Netanyahu is embarked on an extremely dangerous course. Netanyahu is pushing the United States to take eventual military action against Iran — a confrontation that would have predictably disastrous consequences for U.S. interests and regional stability, and for which Israel and the pro-Likud community in the United States will be blamed, because they will have led the charge to war. Such a scenario would be far more damaging to Israel and the American Jewish community than anything Iran might conceivably do. Netanyahu argued that the Islamic Republic's "irrational regime" cannot be allowed to develop nuclear weapons capability, because "you can't rely on the fact that they'll obey the calculations of cost and benefit that have governed all nuclear powers since the rise of the nuclear age after Hiroshima and Nagasaki."' 44
Netanyahu, it is argued, is also trying to force the US to take the lead in attacking, which is less convenient for Washington than being dragged into war by a supposed breakaway ally: '…while preserving the option of Israeli military strikes against Iranian nuclear targets, Netanyahu is shifting the onus for forestalling the further development of Iran's nuclear capabilities onto the prospect of U.S. military action.' 45
The UAE Calls For War At Aspen, Colorado Ideas Festival
Many reports stress that the political leadership of Saudi Arabia and the United Arab Emirates are issuing strident demands that the US make the attack on Iran, thus abandoning all hypocritical pretenses of Arab solidarity. One piece of evidence in this regard is the outburst of the UAE ambassador to the United States during a panel discussion in Aspen Colorado during the first week of July. In response to a question about Iran, UAE ambassador to the United States Yousef Al Otaiba issued a remarkable open call for US military aggression in regard to Iran, despite the likely serious negative side effects which his own country would experience because of its close geographical propinquity does a theater of war. '"I think it's a cost-benefit analysis," Mr. al-Otaiba said. "I think despite the large amount of trade we do with Iran, which is close to $12 billion … there will be consequences, there will be a backlash and there will be problems with people protesting and rioting and very unhappy that there is an outside force attacking a Muslim country; that is going to happen no matter what."' Al-Otaiba concluded: '"If you are asking me, 'Am I willing to live with that versus living with a nuclear Iran?,' my answer is still the same: 'We cannot live with a nuclear Iran.' I am willing to absorb what takes place at the expense of the security of the U.A.E."' 46 Al-Otaiba was soon called home for consultations. His formulation is reminiscent of French President Sarkozy's cynical comment that the only thing worse than bombing Iran is Iran with a bomb.
Joe Klein in Time: Arab Gulf States Want Iran Bombed
According to Joe Klein of Time Magazine, the demand for war by the Saudis and the Gulf states is pushing the United States rapidly down the path to military conflict. One senses that alibis are being prefabricated for Obama and his officials for when the body bags begin to come home. Klein writes: 'One other factor has brought the military option to a low boil: Iran's Sunni neighbors really want the U.S. to do it. When United Arab Emirates Ambassador Yousef al-Otaiba said on July 6 that he favored a military strike against Iran despite the economic and military consequences to his country, he was reflecting an increasingly adamant attitude in the region. Senior American officials who travel to the Gulf frequently say the Saudis, in particular, raise the issue with surprising ardor. Everyone from the Turks to the Egyptians to the Jordanians are threatening to go nuclear if Iran does. That is seen as a real problem in the most volatile region in the world: What happens, for example, if Saudi Arabia gets a bomb, and the deathless monarchy there is overthrown by Islamist radicals?' 47 We should stress that the rulers of Saudi Arabia and the Gulf states represent some of the most extreme and backward feudal relics to be found anywhere on this planet, having survived through the 20th century mainly thanks to the fact that these were British imperial puppet states for most of that time. The idea that a gaggle of titled feudal reactionaries can talk the United States into a catastrophic war shows how far gone the current situation actually is.
The clamor for war from the Saudi and Gulf potentates is also the theme of a recent article in the online edition of the pro-British German newsmagazine, Der Spiegel, where we read: 'Israel and the Arab states near the Persian Gulf recognize a common threat: the regime in Tehran. A regional diplomat has not even ruled out support by the Arab states for a military strike to end Iran's nuclear ambitions…. Never have the strategic interests of the Jewish and Arab states been so closely aligned as they are today. While European and American security experts consistently characterize a military strike against Iran as "a last option," notable Arabs have long shared the views of Israel's ultra-nationalist foreign minister, Avigdor Lieberman. If no one else takes it upon himself to bomb Iran, Saudi cleric Mohsen al-Awaji told SPIEGEL, Israel will have to do it. "Israel's agenda has its limits," he said, noting that it is mainly concerned with securing its national existence. "But Iran's agenda is global."' 48
A Philodoxer Of The War Party: Bernard-Henri Lévy
One who rejoiced that the UAE was now ready to fight the Iranians to the last American was the notorious philodoxer Bernard-Henri Lévy, who had already done yeoman service for the Anglo-Americans over many years as an all-purpose warmonger on the subject of Iraq. Here is part of the Huffington Post account of Lévy's remarks: '"The UAE has chosen to side with the camp of those who apply to the letter the new United Nations resolution of June 9," wrote Lévy, noting that it was "truly a blow to the regime" in Iran. For Lévy, the "union sacrée" of Muslim countries against the "Zionist enemy" is a fantasy. The countries that feel threatened by Tehran, he added, now have the opportunity to form an alliance of convenience. We might as well say that the Emirates' decision is truly a blow to the regime…. And the fact that, for the first time, an Arab country took this step, the fact that it said no to the Iranians' attempted holdup, thus foiling the manœuvre of which Hamas and Hezbollah were the vanguard but whose ultimate goal was to set the region ablaze, constitutes not only a gesture of survival but proof of maturity and a welcome sign of clarification. If this decision is maintained, nothing will ever be the same again. And for Ahmadinejad, the countdown will have begun.' 49 The reference to the countdown at the end suggests Lévy's vision of US missiles streaking towards Tehran with their deadly cargo.
Saudi Arabia Volunteers As Springboard For Assaulting Iran
Saudi Arabia has by all indications volunteered the use of its airspace as a transit corridor for Israeli planes attacking Iran. According to other reports, Israeli forces are now present on the territory of the kingdom. On June 12, The Times of London reported that Saudi Arabia had recently 'conducted tests to stand down its air defenses to enable Israeli jets to make a bombing raid on Iran's nuclear facilities' – as part of an attack on Iranian targets. In March, reports had started appearing in the European press about secret negotiations between Jerusalem and Riyadh to work out the details of cooperation.50
On July 5, these reports became more concrete when the London Times wrote that 'the head of Mossad, Israel's overseas intelligence service… assured Benjamin Netanyahu, its prime minister, that Saudi Arabia would turn a blind eye to Israeli jets flying over the kingdom during any future raid on Iran's nuclear sites. Earlier this year Meir Dagan, Mossad's director since 2002, held secret talks with Saudi officials to discuss the possibility. The Israeli press has already carried unconfirmed reports that high-ranking officials, including Ehud Olmert, the former prime minister, held meetings with Saudi colleagues. The reports were denied by Saudi officials. "The Saudis have tacitly agreed to t
© 2005-2022 http://www.MarketOracle.co.uk - The Market Oracle is a FREE Daily Financial Markets Analysis & Forecasting online publication.

Only logged in users are allowed to post comments.
Register/ Log in