Major Infrastructure Stock Too Cheap to Ignore
Companies
/
Company Chart Analysis
Sep 13, 2010 - 10:37 AM GMT


Last week the president announced his $50 billion plan to repair, rebuild and improve our nation's crumbling infrastructure systems, while adding jobs in the process. Of course, any new spending plan bill will most likely be met with some opposition and scrutiny. Let me first say that I am not a supporter of deficit spending, nor do I agree entirely with our current fiscal and monetary policies, but that's another article all together. What I can tell you is that a large portion of this country's infrastructure is in extremely poor condition and MUST be repaired by any means necessary.
An Infrastructure System in Dire Need of Repair
Our 50+-year-old interstate highway system has a total length of over 47,000 miles, which need constant maintenance to maintain traffic flowing freely (the interstate system has had a good reputation for keeping roads at least partially open over the years). Many other roads, bridges and highways are not in as good of shape. According to the AASHTO (American Association of State Highway and Transportation Officials), bridges that were constructed in the mid-20th century generally have a life expectancy of about 50 years. The problem is that the average age of most of the nation's 590,000 bridges is over 43 years old and many bridges are reaching the 50-year point. What's even more frightening is that 74,000 of those bridges (that's 12.4%) are reported to be "structurally deficient," meaning that one or more aspects of a bridge's structural condition requires attention.

As interstate commerce grows, hopefully aided by an economic recovery, road travel should increase. Combined with family vacation increases and trucks pushing for higher load weights, these bridges and roads will have to endure more and more abuse, and don't forget that many are currently not even in a condition to handle current traffic flow and rates.
This is more than some Washington politicians' bickering about who gets what and how. Our infrastructure is the bloodline for our nation; the citizens and cargo that are carried throughout can be thought of like nutrients for our economy getting to where we most need them. In our bodies, a clogged artery will most likely lead to a heart attack and I believe the same applies to the roadways of our great nation. Deficient bridges and roads can also lead to catastrophic failures causing injury and even death.
(By the way, investing doesn't have to be complicated. Sign up for Smart Investing Daily and let me and my fellow editor Sarah Nunnally simplify the stock market for you with our easy-to-understand investment articles.)
So now you're probably asking how we pay for this, especially when we are trying to reduce, not grow, the federal deficit. I'm sorry to say there is no simple answer. But what I have found in life is that humans (and Washington, D.C.) do what they need to survive, and we need our infrastructure to survive and thrive, period.
How to Profit From Infrastructure
Enter Martin Marietta Materials (MLM:NYSE), which at $77 may not be cheap at first glance, but when you look at the stock historically and compare it to its peers, it's not a bad deal considering most of its competition is losing money per share. Granted, this construction aggregates company is trading at 42 times trailing earnings, which may seem high, but again, it's relatively low compared to where it has traded in the past, and with a heightening awareness of our need for infrastructure, I think the stock has an upside potential of 20-35% in the not-so-distant future. Ninety percent of MLM's income is derived from its aggregates business. Aggregate is the industry term for coarse particulate material used in construction, including sand, gravel, crushed stone, slag, etc. Basically, the stuff used to create the surfaces that we drive on. MLM also offers investors a 2.1% dividend, which is an added incentive while you wait for the increase in stock price.
MLM Technical Analysis
If you look at the weekly MLM chart below, the $75 level (white horizontal line) offers very strong support and has only been breached a handful of times, which includes the market meltdowns in late 2008 and the low of the S&P in March 2009. There is a very clean and defined channel the stock has been trading in over the past year and a half and we are now near of the bottom of it. Even better, MLM is getting a fresh cross in the oversold area of the stochastic, indicating a reversal of the recent bearish trend. The top of this channel (range) has been about $100 per share, but if you were to buy in now, a run to $95 would be a 25% return and might be a good level to exit. Remember, none of those previous rallies to $100 had a potential $50 billion spending bill behind them. Even if this proposal fails to come to fruition the way President Obama intends, the looming issues with our nation's infrastructure and the slow, but hopefully steady recovery of our economy should both bode well for MLM regardless.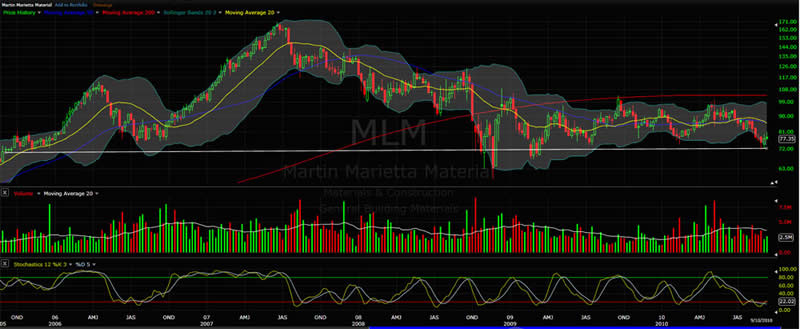 Don't forget to follow us on Facebook and Twitter for the latest in financial market news, investment commentary and exclusive special promotions.
Source : http://www.taipanpublishinggroup.com/tpg/smart-investing-daily/smart-investing-091310.html
By Jared Levy
http://www.taipanpublishinggroup.com/
Jared Levy is Co-Editor of Smart Investing Daily, a free e-letter dedicated to guiding investors through the world of finance in order to make smart investing decisions. His passion is teaching the public how to successfully trade and invest while keeping risk low.
Jared has spent the past 15 years of his career in the finance and options industry, working as a retail money manager, a floor specialist for Fortune 1000 companies, and most recently a senior derivatives strategist. He was one of the Philadelphia Stock Exchange's youngest-ever members to become a market maker on three major U.S. exchanges.
He has been featured in several industry publications and won an Emmy for his daily video "Trader Cast." Jared serves as a CNBC Fast Money contributor and has appeared on Bloomberg, Fox Business, CNN Radio, Wall Street Journal radio and is regularly quoted by Reuters, The Wall Street Journal and Yahoo! Finance, among other publications.
Copyright © 2010, Taipan Publishing Group
© 2005-2019 http://www.MarketOracle.co.uk - The Market Oracle is a FREE Daily Financial Markets Analysis & Forecasting online publication.

Only logged in users are allowed to post comments.
Register/ Log in