Will Gold Become Money as Currencies Race to the Bottom?
Commodities
/
Gold and Silver 2010
Sep 24, 2010 - 12:15 PM GMT


In the last two weeks we have seen the U.S. dollar move from $1.2751 to $1.3450 against the Euro. It has also fallen against the Pound, the Yen and the Swiss Franc. The Japanese government via the Bank of Japan is weakening the Yen as we write this. The dollar index has fallen to 0.79 [a 4% drop] and points to a further major drop still. The breakdown through support is critical and will incite arguments that the U.S. itself going to weaken the dollar via coming Quantitative Easing. Meanwhile, the gold price is nudging the record price of $1,300 and promising much more!
The argument from the U.S. Treasury that China should let the Yuan rise is now losing weight in line with the weakening of the U.S. Dollar. All eyes are on the Fed after the issue of its statement this week. These pointed downward to deflation for the economy, despite the general belief that the U.S. still has a recovery underway.
This is a major step forward for us in the gold and silver world. The Fed has indicated that deflation may have to be fought. If this is correct then the Q.E. we have seen to date is more than inadequate. More than that, the Fed is aware it may have to inflate, to give the right financial environment for a 'real' recovery to take place. This means that the value of the Dollar both inside and outside the U.S. will be lowered, in future. Markets are discounting deflation expectations right now. Once inflation appears, only then do we expect equity markets to rise, as the dollar cheapens.
The boom-bust history of the last three decades is now over and we are moving to and into new territory for global economies. The new ground is dangerous, requiring and facing extreme economic and currency conditions. We doubt whether the tools in the Fed's hands are sufficient to cope with future situations. This is when government should step in, as President Roosevelt did in the 1930's with huge quantitative easing and heavy, ground-level, employment stimuli.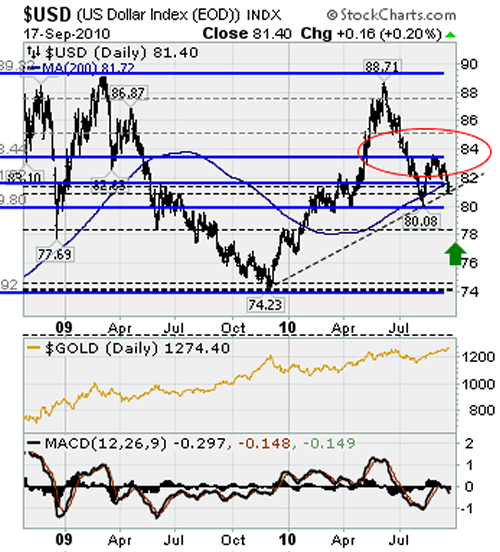 Unfortunately we are approaching a time when the U.S. government will be emasculated with the Administration unable to appoint people to high places, let alone pass critical legislation to really boost the economy. Global foreign exchanges have been the first to reflect the true picture on the dollar by sending it down through critical support levels.
As inflation [which may not be visible for another couple of months] debauches debt itself, repayment of debt will make it easier to repay. This could well propel the consumer from saving into spending.
Consumers will then turn to durables and other hard assets to protect their savings boosting the economy, but not in a good way [unless employment takes off to cope with the demand]. It worked in the 1930's, but industrial production was boosted by a supportive Second World War effort.
No such future exists for us though. Manufacturing will only revive if protectionism is employed. In fact, the future appears fraught with potential changes on such a scale that a complete re-vamp of the global monetary system is needed. That can only happen once the global pecking order of nations has been re-worked. That won't happen without economic strife. We are really watching the rise of China and the decline of the U.S.
In such an environment gold is the only common denominator of value, accepted globally.
As we saw in the huge gold / foreign currency swaps which the Bank of International Settlements conducted earlier this year gold can be harnessed to 'guarantee' international currency transactions. Having said this, the problem is, "how do you slot it into a fragmented global economy in such a way as to back currencies 'Officially'". Not for one moment do we think gold will be used in isolation as international money. It can only work with paper currencies, with international governmental approval, for it to be part of the global monetary system again.
As you can see from the above, the entire future global monetary game plan is changing. In the current issue of the Gold Forecaster you will see how we outline potential financial and currency crises that lie ahead.
Gold Forecaster regularly covers all fundamental and Technical aspects of the gold price in the weekly newsletter. To subscribe, please visit www.GoldForecaster.com

By Julian D. W. Phillips
Gold-Authentic Money
Copyright 2009 Authentic Money. All Rights Reserved.
Julian Phillips - was receiving his qualifications to join the London Stock Exchange. He was already deeply immersed in the currency turmoil engulfing world in 1970 and the Institutional Gold Markets, and writing for magazines such as "Accountancy" and the "International Currency Review" He still writes for the ICR.
What is Gold-Authentic Money all about ? Our business is GOLD! Whether it be trends, charts, reports or other factors that have bearing on the price of gold, our aim is to enable you to understand and profit from the Gold Market.
Disclaimer - This document is not and should not be construed as an offer to sell or the solicitation of an offer to purchase or subscribe for any investment. Gold-Authentic Money / Julian D. W. Phillips, have based this document on information obtained from sources it believes to be reliable but which it has not independently verified; Gold-Authentic Money / Julian D. W. Phillips make no guarantee, representation or warranty and accepts no responsibility or liability as to its accuracy or completeness. Expressions of opinion are those of Gold-Authentic Money / Julian D. W. Phillips only and are subject to change without notice.
© 2005-2019 http://www.MarketOracle.co.uk - The Market Oracle is a FREE Daily Financial Markets Analysis & Forecasting online publication.
Comments
Shalom Patrick Hamou
25 Sep 10, 12:41
A Tract on Monetary Reform
_______________________________ Our economy is slowly dying, your job, lifestyle are dominated by anxiety. The economy is kept alive artificially. No one is proposing a solution because no one has the slightest idea of why it is happening and many have vested interest in the present system. However an objective observation of the phenomenon can help us understand it and provide us with an innovative solution. Of course we can't solve the problem with the tools that brought us there in the first place and we need a new ideology. _______________________________

- Do you feel that your ideology pushed you to make decisions that you wish you had not made?

- Well, remember that what an ideology is, is a conceptual framework with the way people deal with reality. Everyone has one. You have to -- to exist, you need an ideology. The question is whether it is accurate or not. And what I'm saying to you is, yes, I found a flaw. I don't know how significant or permanent it is, but I've been very distressed by that fact.

- You found a flaw in the reality...(!!!???)

- Flaw in the model that I perceived is the critical functioning structure that defines how the world works, so to speak.

- In other words, you found that your view of the world, your ideology, was not right, it was not working?

- That is -- precisely. No, that's precisely the reason I was shocked, because I had been going for 40 years or more with very considerable evidence that it was working exceptionally well.

_______________________________ In order to alleviate those economic woes wee need to create, as fast as possible, a new credit free currency that will solve the credit crunch and bring incremental jobs, consumption and investments to the present system. An Innovative Credit Free, Free Market, Post Crash Economy
A Tract on Monetary Reform It is urgent if we want to limit social, political and military chaos. _______________________________

Is the fulfilment of these ideas a visionary hope? Have they insufficient roots in the motives which govern the evolution of political society? Are the interests which they will thwart stronger and more obvious than those which they will serve?

I do not attempt an answer in this place. It would need a volume of a different character from this one to indicate even in outline the practical measures in which they might be gradually clothed. But if the ideas are correct — an hypothesis on which the author himself must necessarily base what he writes — it would be a mistake, I predict, to dispute their potency over a period of time. At the present moment people are unusually expectant of a more fundamental diagnosis; more particularly ready to receive it; eager to try it out, if it should be even plausible.

But apart from this contemporary mood, the ideas of economists and political philosophers, both when they are right and when they are wrong, are more powerful than is commonly understood. Indeed the world is ruled by little else. Practical men, who believe themselves to be quite exempt from any intellectual influences, are usually the slaves of some defunct economist.

Madmen in authority, who hear voices in the air, are distilling their frenzy from some academic scribbler of a few years back. I am sure that the power of vested interests is vastly exaggerated compared with the gradual encroachment of ideas.

Not, indeed, immediately, but after a certain interval; for in the field of economic and political philosophy there are not many who are influenced by new theories after they are twenty-five or thirty years of age, so that the ideas which civil servants and politicians and even agitators apply to current events are not likely to be the newest. But, soon or late, it is ideas, not vested interests, which are dangerous for good or evil.

_______________________________ Credit Free Economy More Jobs, No Debt, No Fear. Prosperous, Fair and Stable. _______________________________


Only logged in users are allowed to post comments.
Register/ Log in