The United States Needs Uranium, Investors Alert on URZ
Commodities
/
Uranium
Nov 05, 2010 - 01:01 PM GMT


Uranium, a naturally occurring radioactive element is fairly common in the Earth's crust, groundwater and seawater. Usually found in concentrations of 2-4 parts per million (ppm) it's as common as tin, tungsten, molybdenum, etc. A 1.4 kilometer by 1.4 kilometer area of ground - the equivalent of 640 acres - being .3 meters deep, will contain almost a tonne of uranium.
The Green fuel of the Future
By far the biggest use for uranium is to produce electricity - the US produces close to 20 percent of its electricity via nuclear power. One pound of yellowcake (U3O8 - the final product of the uranium milling process) has the energy equivalence of 35 barrels of oil. One 7 gram uranium fuel pellet has an energy to electricity equivalent of 17,000 cubic feet of natural gas, 564 liters of oil or 1,780 pounds of coal.
Nuclear power's life-cycle emissions range from 2 to 59 gram-equivalents of carbon dioxide per kilowatt-hour. Only hydropower's range ranked lower at 2 to 48 grams of carbon dioxide-equivalents per kilowatt-hour. Wind comes in at 7 to 124 grams and solar at 13 to 731 grams. Emissions from natural gas fired plants ranged from 389 to 511 grams. Coal produces 790 to 1,182 grams of carbon dioxide equivalents per kilowatt hour.
Energy Independence
Today, there are some 441 nuclear power reactors operating in 30 countries and nuclear energy provides approximately 15% of the world's electricity. These 441 reactors, with combined capacity of over 376 Gigawatts (One GWe equals one billion watts or one thousand megawatts), require 69,000 tonnes of uranium oxide (U3O8).
According to the World Nuclear Association, about 58 power reactors are currently being constructed in 14 countries. In all there are over 148 power reactors planned and 331 more proposed. Each GWe of increased capacity will require about 195 tU per year of extra mine production - three times this for the first fuel load. Let's also consider the fact that no one builds a $4 to $6-billion dollar reactor just to watch it go idle. They will order one or perhaps several year's worth of fuel supply to guarantee it doesn't.
In 2008, mines supplied 51,600 tonnes of uranium oxide concentrate containing 43,853 tU, which means mining supplied roughly 75% of nuclear utility power requirements. The remaining supply deficit used to be made up from stockpiled uranium held by nuclear power utilities, but their stockpiles are pretty much depleted. Mine production is now primarily supplemented by ex-military material - the Megatons to Megawatts program which ends in 2013 - the Russians have stated that the agreement will not be renewed.
The approximately 104 nuclear power plants operating in the USA today consume about 51 million pounds of uranium fuel per year but the U.S.'s current annual production is only about 4 million pounds per year.
As is the current situation with oil, the USA is highly reliant on foreign sources for its uranium.
Wyoming Roll-Fronts
Wyoming has roll-front uranium deposits in its sandstones and the largest known uranium reserves of any US state. There is no doubt in this author's mind the state will be a key player in supplying the fuel nuclear power plants in the US need to become independent of foreign supplies.
A pro-mining state, prolific numbers of roll-front uranium deposits, and a rising spot uranium price in a resurgent uranium bull market all combine to make Wyoming the U.S. center for in situ recovery mining (ISR), also known as solution mining.
"Nuclear power is going to play a big role in future electrical production. But that industry will need more uranium to go forward ... and the question is where will it come from. We shouldn't rely on imports for all that uranium ... we should produce it out of the United States and out of Wyoming." Marion Loomis, Wyoming Mining Association executive director
ISR uranium mines were the only ones that were able to continue operating economically in the US during the 1980's and 1990's when the downturn in uranium prices happened.
Solution Mining
In situ recovery (ISR) - also known as in situ leaching (ISL) - involves leaving the ore in the ground and recovering the minerals from it by dissolving them and pumping the pregnant solution to the surface where the minerals can be recovered. There is little surface disturbance and no tailings or waste rock are generated. ISR mining comprised 36% of global uranium production in 2009. World Nuclear Association
In the USA ISR mining is seen as the most cost effective and environmentally acceptable method of mining. The first commercial ISR uranium mine in Wyoming began operations in 1974.
The black boxes are injection wells, piping is underground
"It's safe, it's clean, it's cost-effective, there are zero emissions and it should be in the energy mix. We should have a very viable and successful industry uranium industry in Wyoming and to do that, we need in situ mining." state Sen. Eli Bebout
In the USA legislation requires that the water quality in the affected aquifer be restored after ISR mining. This means the water must be usable for the same purposes as it was before mining began.
Permitting
In Wyoming there are two major permits/licenses required for the commencement of In-Situ Recovery (ISR) uranium mining:
The federal Nuclear Regulatory Commission (NRC) Source Material License
The Wyoming Department of Environmental Quality (WDEQ) Permit to Mine
These two items allow for the construction of an ISR uranium operation and ultimately the commencement of uranium production.
For the NRC, the Source Material License is comprised of two parts:
A technical review that results in a Safety Evaluation Report (SER)
An environmental review which produces an Environmental Impact Statement (EIS)
The EIS is in two parts: the Generic EIS, and the Supplemental EIS.
In order to receive the WDEQ Permit to Mine, a technical review of the project must be approved and an Aquifer Exemption must be granted.
In addition to the two major permit/licenses there are two semi-major permits required from the WDEQ:
Deep Disposal Well permit
An Air Quality permit
The Air Quality permit is required along with the Permit to Mine to begin construction of the ISR uranium facility. The Deep Disposal Well permit is not needed for construction, but is necessary for the commencement of operations for the ISR uranium facility.
For the Deep Disposal Well permit and the Aquifer Exemption permit, the federal Environmental Protection Agency (EPA) is also involved. The EPA reviews the applications for the Deep Disposal Wells and Aquifer Exemption and gives their approval of the permits, but the issuing authority is the WDEQ since they have primacy with the EPA for Wyoming.
Current Production in Wyoming
Commercial ISR mining in the Powder River Basin has been ongoing since 1987.
Cameco Resources Inc.'s Smith Ranch-Highland in situ mine in Converse County is currently the only active uranium production facility in the state. It is the largest in situ uranium facility in the country producing approximately 1.8 million pounds of uranium in 2009.
Cameco plans to increase its Smith Ranch-Highland operations and undertake new operations in the Gas Hills (central Wyoming) and near Pumpkin Butte in Campbell County.
Uranium One's Christensen Ranch ISR facility in the Powder River Basin (the Powder River Basin has some of the highest grade uranium deposits in the State that are amenable to ISR mining methods) is expected to resume operations in 2011. It is expected to yield about 1 million pounds of yellowcake over a period of three years.
Recently the Nuclear Regulatory Commission (NRC) issued an operating license for Uranium One's Moore Ranch uranium mine. It is the first new uranium mine license issued in the USA since 1998. Production of uranium bearing resins from Moore Ranch is expected to begin in 2012.
Uranerz Energy Corp. TSX - URZ NYSE AMEX - URZ Frankfurt - U9E Outstanding shares: 64.2 million Warrants: 6.25 million Options: 7.1 million Fully Diluted: 77.6 million Insider Share Ownership: 10.3 percent Retail Share Ownership: 60-70 percent Institutional: 20-30 percent Cash: US$20 million Debt: 0.0
Uranerz Energy Corporation has an experienced team of mining personnel, many of whom are former officers, senior management and employees of the original Uranerz Exploration and Mining Limited and related companies.
URZ's advisory board consists entirely of ex-Uranerz Group professionals.
The Uranerz Group was the world's third largest uranium producer when it was acquired in 1998 by Cameco, the world's largest primary uranium producer at the time.
Permitting Activities
There has never been a uranium ISR mining application rejected in Wyoming.
The Company has submitted federal and state mining applications to build and operate the Nichols Ranch ISR Uranium Project - a central processing facility at the Nichols Ranch property and a satellite facility at the Hank property.
The central processing facility is being licensed for a capacity of 2 million pounds per year of uranium (as U3O8). This facility will process uranium-bearing well field solutions from Nichols Ranch, as well as uranium-loaded resin transported from the Hank satellite facility, plus uranium-loaded resin from any additional satellite deposits that may be developed on the Company's other Powder River Basin properties.
This centralized design enhances the economics of the Company's potential additional satellite projects by maximizing production capacity while minimizing further capital expenditures on processing facilities.
The US Nuclear Regulatory Commission (NRC) recently issued an operating license for Uranium Ones Moore Ranch ISR project. Given the proximity of Uranerz's Nichols Ranch Project/Hank properties to Moore Ranch and similar timing of both companies applications this author expects the final Supplemental Environmental Impact Statement (SEIS) for URZ's Nichols Ranch Project very soon.
A finalized SEIS for URZ's Moore Ranch Project from the NRC would lead to a issuance of a source materials license that would allow Uranerz to receive, possess, use, transfer and deliver radioactive materials - a requirement ahead of construction.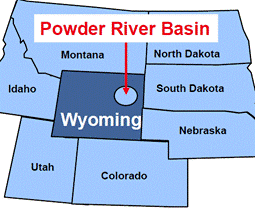 Properties and Resources
Uranerz has over 30 wholly-owned and joint-ventured projects in the Powder River Basin of Wyoming.
The Company also has an undivided eighty-one percent (81%) interest in the NAMMCO properties, which cover approximately 67,000 acres (27,113 hectares) in the central Powder River Basin The Arkose Property is located in close proximity to the Company's 100%-owned properties in the Powder River Basin.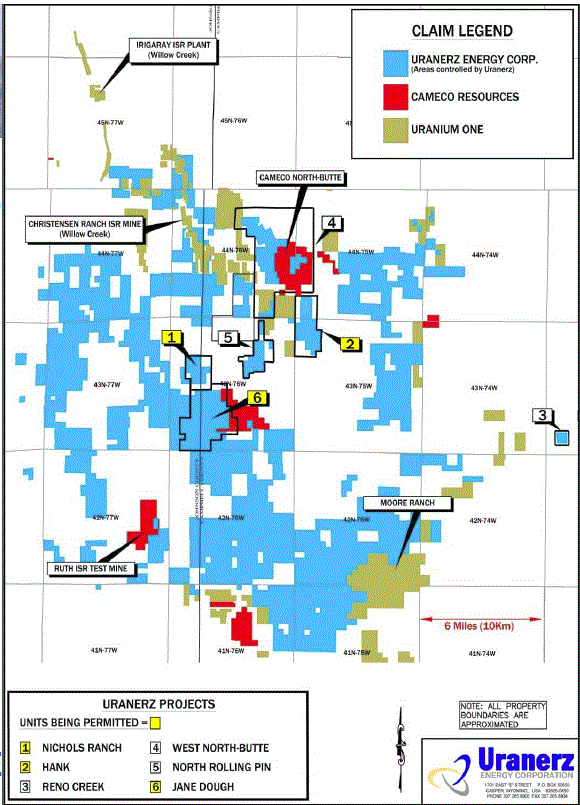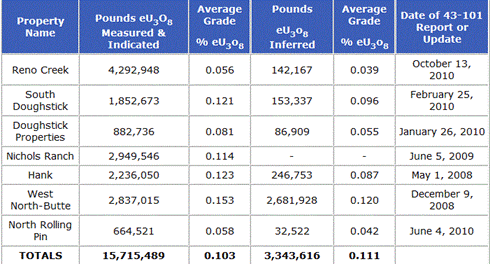 Uranerz is German for Uranium Ore
In the 1970's Germany's largest utility company, RWE, created the Uranerz Group of Companies to explore for, develop and produce uranium to supply Germany's growing nuclear reactor fleet. By the 1990's, the Uranerz Group had grown into an internationally recognized company and had become the 3rd largest primary uranium producer in the World.
The Group included country divisions - Uranerz U.S., Uranerz Canada and Uranerz Australia etc. In the late 90's, Germany decided not to continue supporting nuclear energy and in 1998, RWE made the corporate decision to sell-off its interests in the Uranerz Group to Cameco, the largest primary uranium producer in the World at the time.
Today's Uranerz Energy Corporation has a very experienced team of mining personnel with many members being former officers, senior management and employees of the original Uranerz Group. Including the Company's management, Board, and advisory board, the team includes 9 ex-Uranerz Group members out of 16 people.
Fortunately in July of 2005 management was able to adopt the "Uranerz" name as their corporate identity. The name carries a strong sense of goodwill since many of the current team worked with the old Uranerz Group.
Management
Any company being considered for investment purposes, in this sector or any other, has to meet certain criteria, they are:
Experienced senior management
Strong share structure
Quality projects
Limited Country risk
Operating in a sector set to outperform
Uranerz Energy Corporation has significant expertise in the in-situ recovery mining method - they have licensed, designed, constructed or operated no less than seven separate in-situ recovery uranium mines located in Wyoming, Texas, Nebraska, and Kazakhstan.
Dennis Higgs, B.Com. Executive Chairman
Mr. Higgs has been involved in the financial and venture capital markets for over twenty-five years, raising millions of dollars in the United States, Canada and Europe.
In July 1990, Mr. Higgs established Senate Capital Group Inc., a private venture capital and management consulting company. With this company, his focus is on the creation and funding of seed and early-stage companies with sound projects and good management.
Glenn Catchpole, M.S., P.Eng. President, Chief Executive Officer
Mr. Catchpole is a licensed engineer who holds an M.S. in civil engineering from Colorado State University. He has been active in the uranium solution mining industry since 1978, holding various positions including well field engineer, project manager, general manager and managing director of several uranium solution mining operations.
Glenn began his career in the uranium sector in 1976 by joining the Wyoming Department of Environmental Quality (DEQ) as their senior groundwater hydrologist and supervisor of the Technical Support Group. His responsibilities at the DEQ included the hydrologic review and approval of uranium ISR permit applications. Today, Uranerz Energy Corporation is now following those very same guidelines which Glenn used to enforce as part of the WDEQ.
Glenn started with the original Uranerz Group in 1988 and after takeover of the Uranerz Group in 1998, he continued to work with Cameco to spearhead the Inkai ISR uranium project in Kazakhstan. Glenn was responsible for the acquisition and start-up of the initial test mine, which is now on its way to becoming the world's largest ISR mine and is projected to produce 5.2 million lbs U308 annually by 2011.
George J. Hartman, M.S. Executive VP, Chief Operating Officer
Mr. Hartman has thirty-seven years experience developing metals and industrial mineral projects from the green fields stage to production. He has an M.S. degree in Mineral Economics (Colorado School of Mines) and a B. S. in Chemical Engineering (University of Denver). Four process patents have been granted in his name. His experience includes thirteen years managing several in-situ leach uranium mines from green field exploration sites through commercial production.
From 1982 to 1989 George was General Manager, In-Situ Leach Projects, for Uranerz USA. During this period he managed the interests of all in-situ uranium projects which Uranerz USA owned including Ruth, Crow Butte, and North Butte. Under his management Uranerz served as the contract operator for the successful test solution mining of the Christenson Ranch uranium property now owned by Uranium One. He was on the Uranerz acquisition team that studied potential uranium and precious and base metal properties in Nebraska, Colorado, Texas, New Mexico, Utah, California and Wyoming.
George is known as an ISR mining expert, early in his career with the Uranerz Group he was called in to help increase the production at the Ruth Test mine. After making the appropriate adjustments to the operation, the mine restarted and produced more uranium than the geologists had estimated was possible. The geologists then re-calculated the numbers, increased their estimates and asked George to restart production again. George did so and this time he again produced more uranium than the geologists estimated was possible.
Kurtis Brown, B.A., P.G. Senior Vice President, Exploration
Mr. Brown started his uranium geology career with the OPI-Western Joint Venture in Wyoming in 1977. He managed the exploration program in the Great Divide Basin for the Joint Venture delineating over 20 million pounds of uranium resources. Kurtis later became the well field engineer for the OPI-Western Joint Venture at the Bison Basin commercial In-Situ Recovery ("ISR") uranium mine. He designed and supervised the construction of some 450 monitor and mining wells for the 600 gpm (gallon per minute) mining operation.
In the mid-1980s Kurtis joined Malapai Resources Company (subsidiary of Arizona Public Service) working at the Willow Creek Research and Development ISR uranium test site located in the Powder River Basin of Wyoming. After the successful test mine, he was transferred to Malapai's Irigaray Mine where he assisted with the start-up of the Christensen Ranch ISR commercial uranium mine performing environmental permitting and compliance duties. While with Malapai Kurtis was also involved with aquifer restoration activities at the Irigaray ISR mine.
Kurtis joined Uranerz USA, Inc. (former Uranerz Group) in 1989 to conduct detailed feasibility studies for the proposed North Butte ISR mine. He also drilled out and installed the well-fields at the Christensen Ranch Projectwhich is now owned by Uranium One. He joined Uranerz USA, Inc. (former Uranerz Group) in 1989 to conduct detailed feasibility studies for the proposed North Butte ISR project which is now owned by Cameco.
Gerhard F. Kirchner, Ph.D., P.Eng. Director
Dr. Kirchner has 40 years of international mine development and management experience including 20 years with Uranerz Exploration and Mining Ltd. He received a multidisciplinary education in mining engineering and economic geology, and a Doctorate in Mining Sciences from the University of Leoben, Austria.
At Uranerz, Dr. Kirchner spent nine years as General Manager and 11 years as Senior Vice President. He and his team were responsible for the Key Lake uranium discovery, and the engineering and development of projects such as the Midwest uranium deposit, Eagle Point North uranium deposit, Star Lake gold deposit and the Crow Butte ISL uranium deposit.
Dr. Kirchner was the general manager of the original Uranerz Group in Saskatoon when they discovered the Key Lake deposit in the Athabasca Basin. The Key Lake mine turned out to be the largest, lowest cost producer of uranium in the world in the 1980s and 1990s producing over 99,700 tonnes of uranium (as U3O8) over the life of the mine.
Dr. Franz Dahlkamp (Advisory Board Member)
Dr. Dahlkamo literally "wrote the book" on uranium ore deposits. He has published over fifty papers including six books (e.g. Uranlagerstätten 1979, Uranium Ore Deposits 1993). Dr. Dahlkamp has a PhD (1958), a Dr. of Science (Habilitation 1979), and is an Honorary Chair (Honorary-Professor) at Mining-University of Leoben (1990).
This management team has the experience, the contacts, the ability, the competency and the desire to build this Uranerz into a significant producer of uranium.
Demonstratable Industry Knowledge
Members of Uranerz's current management team were directly involved with obtaining the permits for 3 of the total of 7 approved ISR mining applications in Wyoming.
Uranerz signed two long-term uranium sales agreements with US based utilities. Few development stage companies have the industry connections and knowledge to achieve similar contracts. This long-term focus on their market shows management understands the actual business side of the sector along with the technical and permitting aspects of the uranium business.
Conclusion
The World Nuclear Association projects world nuclear generating capacity growing from a base capacity of 373 GWe today to at least 1130 GWe and possibly as high as 3500 GWe by 2060.
The International Atomic Energy Agency anticipates at least 807 GWe in new net capacity to be in place by 2030. This would equate to mining an additional 157,365 tU per year. Yet the uranium market is, and has been, in deficit for years.
It could well be Uranium One is considering acquiring URZ because its properties could supply feed for their Christensen Ranch ISR facility. But Uranerz's management is fully capable, in this authors opinion, of transforming URZ into a uranium production company. In either outcome shareholders would be the beneficiaries. Uranerz and its potential to be a major player in the supply of US mined uranium should be on all investors radar screens. Is it on yours?
If not, maybe it should be.
By Richard (Rick) Mills
If you're interested in learning more about our junior markets please visit us at www.aheadoftheherd.com. Membership is free, no credit card or personal information is asked for.
Richard is host of aheadoftheherd.com and invests in the junior resource sector. His articles have been published on over 200 websites, including: Wall Street Journal, SafeHaven, Market Oracle, USAToday, National Post, Stockhouse, Casey Research, 24hgold, Vancouver Sun, SilverBearCafe, Infomine, Huffington Post, Mineweb, 321Gold, Kitco, Gold-Eagle, The Gold/Energy Reports, Calgary Herald, Resource Investor and Financial Sense.
Copyright © 2010 Richard (Rick) Mills - All Rights Reserved
Legal Notice / Disclaimer: This document is not and should not be construed as an offer to sell or the solicitation of an offer to purchase or subscribe for any investment. Richard Mills has based this document on information obtained from sources he believes to be reliable but which has not been independently verified; Richard Mills makes no guarantee, representation or warranty and accepts no responsibility or liability as to its accuracy or completeness. Expressions of opinion are those of Richard Mills only and are subject to change without notice. Richard Mills assumes no warranty, liability or guarantee for the current relevance, correctness or completeness of any information provided within this Report and will not be held liable for the consequence of reliance upon any opinion or statement contained herein or any omission. Furthermore, I, Richard Mills, assume no liability for any direct or indirect loss or damage or, in particular, for lost profit, which you may incur as a result of the use and existence of the information provided within this Report.
© 2005-2019 http://www.MarketOracle.co.uk - The Market Oracle is a FREE Daily Financial Markets Analysis & Forecasting online publication.

Only logged in users are allowed to post comments.
Register/ Log in