How Rapidly Inflation Eats Away at Money Tucked Away in CDs
Personal_Finance
/
Savings Accounts
Dec 23, 2010 - 09:11 AM GMT


Behind the meaning of one of the most famous sayings ever coined lies a fundamental flaw that our friend Benjamin Franklin didn't warn you about. While Mr. Franklin noted how hard it was to make a buck, his emphasis was on how much harder it was to save it. Unfortunately, he had no idea what the world would look like in 2011.
I'm sure most of our founding fathers would have more than one bone to pick with the current state of financial affairs in this country, but I'll save that for another article.
I'm not here to bash fiscal or monetary policy, but to inform you that you may be losing with your hard-earned dollars wasting away in one of the most popular asset safe haven investments out there.
Many of you reading this may either be on a fixed income, looking for preservation of capital, or maybe you just want some or all of your money to be "safe" for now, while you save. The certificate of deposit (CD), regrettably, is the preferred choice for many investors.
Certificates of Deposit: Big Yields No More
According to Bankrate.com, the national average for a 12-month certificate of deposit is about 1.06%, up from 1% last week. You may find higher or lower rates out there depending on location and amount invested. Shorter-term yields, such as the three-month certificate of deposit, are much lower, currently averaging about 0.21%. If you are looking for liquidity and NOT wanting to lock yourself into low rates, you are more than likely to choose a shorter-term CD that you can hopefully roll into a higher-yielding product later.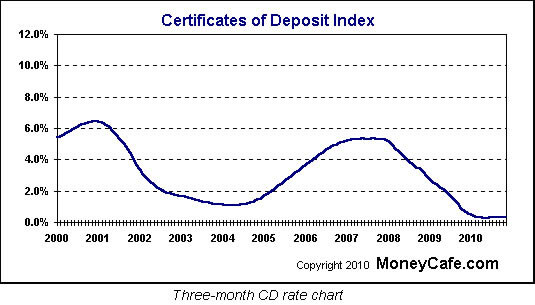 The Savings Problem
My grandparents ingrained my parents with the mantra, "Save for a rainy day," because they, who had lived through the Great Depression, saw a "rainy day" that didn't seem to end. For my generation, things have been a bit different.
Saving your money has been a virtue lost over the years among many Americans both younger and older than I. That is, until recently, when the savings rate has actually ballooned, which is why I write this today.
In 2005, America had fallen to a negative 0.5% savings rate, spending more than we were earning on average! It had been steadily declining since 1985, when the normal American saved about 11.1% of their disposable income.
Today, and ever since the fourth quarter of 2008, the U.S. savings rate has bounced back to just below 6% on average according to the Bureau of Economic Analysis (BEA) and it remains fairly steady.
You see, it takes a disaster for some of us to realize just how vulnerable we are financially. The problem is that when you're living in fear of so many other things going wrong around you, you sometimes forget to make the most efficient and profitable decisions for yourself.
(By the way, investing doesn't have to be complicated. Sign up for Smart Investing Daily and let me and my fellow editor Sara Nunnally simplify the market with our easy-to-understand articles.)
The Inflation Issue
Inflation is coming, and while hyperinflation is certainly not here yet, many experts see it on the rise soon enough. The average inflation rate from 1999 to 3Q/2010 was about 2.5% annually.
Let's assume that you were a "smart saver" and in 2005, you started putting your money into three-month CDs. Let's say you started with $10,000. Looking at the rate chart above, you would have averaged about 2.5% annual return, compounding your interest four times a year and reinvesting your returns of about $250 annually, today you would have about $12,662.00 -- not bad!
This means that you would have earned a total of 26.62% on your original investment!
From January 2005 until today, using the CPI (consumer price index), the inflation rate was about 13.75%.
This basically means that even though you made a total of 26.62%, your money (or what your dollars are worth) actually devalued by 13.75%, meaning that you actually had a real return on your investment of about 12.87% (2.57% annually) and that's with compounding and reinvesting your interest/returns.
If you didn't reinvest and simply put the $10,000 back into the CD every three months, you made a 12.5% return, but would have actually lost money due to inflation.
Scared yet?
Overcome Currency Devaluation
It is perfectly normal for some inflation to be present. In fact, it's good for hard assets like your house, coins, land, fine art, collectable cars, precious metals, etc. Anything that is a hard, durable asset will tend to do well during periods of inflation. Your savings will not fare so well, unfortunately.
If you are looking to save money and get ahead of inflation, at the very least check out these alternative investments:
Money Market Accounts -- Money market funds are fairly safe, and most are insured by the FDIC up to $250,000 per account holder. Money markets accounts invest in government and high-rated corporate debt. They are generally more liquid than CDs and offer a higher rate of return; you can also write checks directly from them.
Fixed Annuities -- If you don't need liquidity, fixed annuities can be another alternative. For these investments, which are considered insurance products, you must talk to an insurance specialist, but with the right advice and structure, you may be able to beat the CD.
Alternative Investments -- Many of us right here at Taipan offer unique investment opportunities for you to diversify your portfolio and get the most return at different levels of risk. Just one example of this is Wealth Legacy Advisory, written by Joey McBrennan. He looks at unique, non-stock-type investments targeted at building wealth. You can read more here.
Knowledge is power: No one knows your financial situation better than you and we will help you make sense of the investing world. Just because something is safe doesn't always mean it's a good investment.

Don't forget to follow us on Facebook and Twitter for the latest in financial market news, investment commentary and exclusive special promotions.
Source : http://www.taipanpublishinggroup.com/tpg/smart-investing-daily/smart-investing-122110.html
By Jared Levy
http://www.taipanpublishinggroup.com/
Jared Levy is Co-Editor of Smart Investing Daily, a free e-letter dedicated to guiding investors through the world of finance in order to make smart investing decisions. His passion is teaching the public how to successfully trade and invest while keeping risk low.
Jared has spent the past 15 years of his career in the finance and options industry, working as a retail money manager, a floor specialist for Fortune 1000 companies, and most recently a senior derivatives strategist. He was one of the Philadelphia Stock Exchange's youngest-ever members to become a market maker on three major U.S. exchanges.
He has been featured in several industry publications and won an Emmy for his daily video "Trader Cast." Jared serves as a CNBC Fast Money contributor and has appeared on Bloomberg, Fox Business, CNN Radio, Wall Street Journal radio and is regularly quoted by Reuters, The Wall Street Journal and Yahoo! Finance, among other publications.
Copyright © 2010, Taipan Publishing Group
© 2005-2019 http://www.MarketOracle.co.uk - The Market Oracle is a FREE Daily Financial Markets Analysis & Forecasting online publication.

Only logged in users are allowed to post comments.
Register/ Log in