Ben Bernanke and The Confidence Men
Interest-Rates
/
US Debt
Feb 09, 2011 - 07:10 AM GMT


Barack Obama, Ben Bernanke and other government officials always talk about the importance of "confidence" to the economy. But that is because they are confidence men (aka. conmen) playing a confidence game (congame).
Economies based on a free market financial system don't rely on confidence, but rather on mutual interests. A free market economy, with a free market money (gold, most likely), would not need confidence to run effectively. All it would need is for the government to bud out, and you would never see another recession for as long as you lived. Governments and their central banks create the recessions and depressions that they say they exist to circumvent. No one would ever lose confidence in the value of gold if his government waffled or waged war. The President of the US would never extort the President of China to devalue his gold because it is hurting the US economy to have Chinese gold worth so much.
But in this world hoisted on a paper foundation that governments abuse to abrogate economic wealth for themselves, the slope is slippery and what people like Bernanke are concerned about isn't really a loss of confidence. They are concerned about an increase in perception. An increase in perception that the entire financial system is an unnatural, centrally planned, ponzi scheme. A perception that grows larger now every day.
One need look no further than Treasury yields.
On January 20, the yield differential between two and thirty-year Treasury paper exceeded 4% for the first time since Bloomberg records on the data began in 1977. At its height for the day, the difference touched 4.02%. On the same day, the difference in the yield between two and ten-year Treasury debt paper hit 2.82%. That is only 10 basis points (0.1%) below the multi-year record high of 2.92% set on February 18, 2010.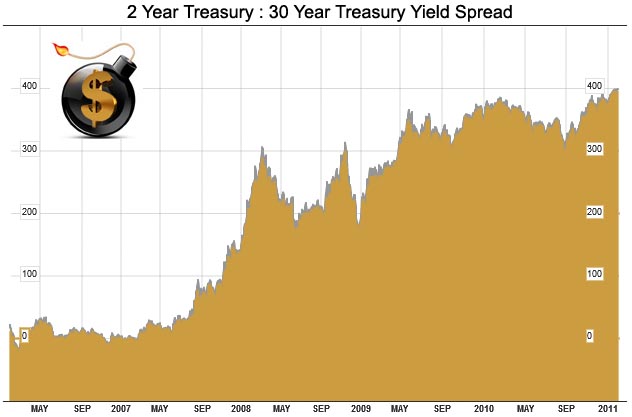 Under an un-manipulated financial system it is standard thought that a steepening yield curve is said to be a feature of an economy "recovering" from recession. In a recession, short-term yields are said to "stagnate". When the recession ends, the longer end of the curve rises first - "once the demand for capital is re-established by growing economic activity".
These are the same texts and economic thought that most mainstream economists and people such as Ben Bernanke all adhere to. There is only one problem with that. These texts don't take into account situations where a central bank holds its controlling rates at zero and directly monetizes government debt in an attempt to hold interest rates down.
Today, rising yields show only one thing: An increasing concern over the validity of the debt. Or, in other words, a loss of confidence in the entire monetary system.
THE DEBT CEILING
Is it any wonder that people are losing confidence in this system? The annual raising of the US debt ceiling has been in the news of late and was used by the US politicos to point fingers at each other, as always, but in the end it will be raised, yet again. How could it not? They'd be out of work if the US Government couldn't continue to borrow ever increasing quantities of money.
Being slightly masochistic we decided to go to the US Government's own website and see what they had to say about the debt limit.
In the Congressional Research Service's, "Report to Congress", it starts off with the following header: WHY HAVE A DEBT LIMIT?
If they had any sense of pride they would have just left the remainder of the page blank and left it as a poignant, sarcastic remark on the stupidity of having a debt limit when you just meet annually to raise it again. But, sadly, they continued on to come up with fanciful, hypothetical reasons why they have a debt limit and finished with the following:
"In the words of one author, the debt limit "expresses a national devotion to the idea of thrift and to economical management of the fiscal affairs of the government."
Only in government can things get so completely twisted. According to the US Government, the most indebted entity that has ever existed with debts so large they could never, under any circumstance, pay, they somehow tie having a fungible debt ceiling as being an expression of the national devotion to the idea of thrift!
Let's ponder that sense of thrift for a moment.
In 1940 the debt ceiling of the US Treasury was $49 billion. With a population of 132 million, that's $370 per person. The present debt ceiling is $14 trillion. With a population (2009 est.) of 305 million, that's $45,901 per person.
Since 1940 the US population has risen by a little over 100%. The debt ceiling has risen by 285 times.
And even that is only achieved with smoke & mirrors fraudulent accounting. When the US Government's numbers are calculated under Generally Accepted Accounting Principles (GAAP) the total owed via debt or liability is over $70 trillion or $229,500 per person. Or $918,000 for a family of four - just in US Government debt.
Now, that's thrifty!
The Dollar Vigilante is a free-market financial newsletter focused on covering all aspects of the ongoing financial collapse. The newsletter has news, information and analysis on investments for safety and for profit during the collapse including investments in gold, silver, energy and agriculture commodities and publicly traded stocks. As well, the newsletter covers other aspects including expatriation, both financially and physically and news and info on health, safety and other ways to survive the coming collapse of the US Dollar safely and comfortably. The Dollar Vigilante offers a free newsletter at DollarVigilante.com.

© 2011 Copyright Jeff Berwick - All Rights Reserved

Disclaimer: The above is a matter of opinion provided for general information purposes only and is not intended as investment advice. Information and analysis above are derived from sources and utilising methods believed to be reliable, but we cannot accept responsibility for any losses you may incur as a result of this analysis. Individuals should consult with their personal financial advisors.
© 2005-2019 http://www.MarketOracle.co.uk - The Market Oracle is a FREE Daily Financial Markets Analysis & Forecasting online publication.

Only logged in users are allowed to post comments.
Register/ Log in