Labour Market Economics Sank the Howard Government
Politics
/
Austrailia
Nov 27, 2007 - 10:52 AM GMT

Although it is probably correct to point to rising interest rates and Howard?s admission that he would resign if re-elected as contributing to his defeat, it is still very likely that an autopsy will reveal that the principle cause of the Liberal Government?s demise was its grotesque mishandling of labour market reform. Trying to explain to Liberal politicians what was needed to successfully sell the benefits of free labour markets was an impossible task.


Last week I stated that the Liberal Party?s failure to interest itself in economic ideas put it in grave ?danger of losing the coming election?. Well, they lost. Rather than educate themselves Liberal politicians took what they thought was the easy way out and outsourced the battle for labour market reform to the HRNS (H. R. Nicholls Society). This turned out to be a mistake of the first water.
An honest appraisal leads to the conclusion that morality, economics and economic history overwhelmingly support free labour markets. Unfortunately the H. R. Nicholls Society is run by a bunch of idle incompetents who successfully sold the Liberal Party a phony bill of goods. Fr餩ric Bastiat (1801-1850) pointed out more than a 150 years ago:
The worst thing that can happen to a good cause is not to be skilfully attacked, but to be ineptly defended.
For years I have been warning Liberals that the HRNS is political poison and that the advice it gave the Liberals would be to the detriment of their electoral success. And so it was. By the time some Liberal politicians woke up to the H. R. Nicholls Society it was too late, the damage was done. ( Why the H. R. Nicholls Society might help sink the Liberal Government ). The Labor Party, unions and lefty journalists had successfully painted Howard as anti-worker. Not at all difficult when one considers the contempt in which the HRNS holds ordinary Australians.
However, it needs to be pointed out that no one held a pistol to the head of the Liberal Party and ordered it to take the HRNS's lousy advice. I guess what is particularly distressing about this shabby affair is that not a single Liberal politician — including staffers — realised that the HRNS was serving up snakeoil. Not one of these politicians even sought an alternative opinion. By the time most of them had arrived at the opinion that the HRNS was a danger to their parliamentary pensions it was too late to take evasive action.
The HRNS is so arrogantly blind to its severe shortcomings that Bob Day — a man who sits on the HRNS board — had the effrontery to run as a Liberal candidate for the South Australian seat of Makin ? which is now a Labor Party seat. That the Liberal Party was stupid enough to select Day is another reason why they lost the election. Any party that displays this kind of rotten judgement is certainly not fit to govern.
Julian Sheezel, director of the Victoria State Liberal Party, is another symptom of what seriously ails the Libs. This clown mindlessly parroted HRNS nonsense about free labour markets generating economic growth and productivity. So dim is this character that he came to even believe that capital accumulation was impossible if labour markets are badly hampered. When I pointed out that this view was at variance with history and economic theory I was basically told to drop dead. ( Liberal Government?s labour market reforms looking shabbier — so who?s to blame? )
Sheezel made it very clear that only influential people would be allowed to address the Liberal Speakers Group: ordinary members are not good enough. And this is the bloke who is being touted as a future senator! Sheezel's behaviour highlights another problem with the Liberal Party — snobbery. For the likes of Sheezel and Michael Kroger it is not what you know that matters but who you know.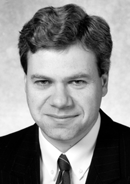 Micheal Kroger?s vindictive
behaviour and shabby
ambitions have wrecked
the state Liberal Party.
Because the Liberal Party at the state level is a bloody shambles Australia now has wall-to-wall Labor governments. Victoria used to be called the ?jewel in the Liberal Crown?. Thanks to Michael Kroger, a founding member of the HRNS, the state is now a Labor stronghold. Kroger is an arrogant and duplicitous man who holds no official position in the Liberal Party. Yet he stacked the administrative committee of the party with his stooges, put his mouthpiece in charge of state Liberal Party headquarters, stripped a branch of its voting rights, forbid branches from contesting seats, and made it verboten to form new party branches.
The last charge is particularly interesting. The party is bleeding members yet Kroger has made it impossible to expand the membership by forming new branches. Why? Because he knows he will not be able to control them. In other words, he deliberately crippled the state party. And for what? So that he could use what was left to advance his own odious political interests. And while this was going on the Liberal Government stood by and did nothing.
After another crushing defeat by the state Labor Party Kroger put his tactical genius on public display with the opinion that the Liberals do not have to worry because the Labor Party always screws up the economy and when that happens again the electorate will come crawling back. What a brilliant strategy: let?s just hang around until the Labor Government stuffs things up and then the Libs will be back in clover. No wonder the Labor Party now dominates Australia?s political landscape to the point where we have virtually become a one-party state.
It might be awhile before it sinks in that Labor?s stunning victory probably handed it a poisoned chalice. The ALP and the unionocracy ran against industrial relations reforms that they claimed damaged living standards and jobs. But unemployment is at its lowest level in more than 30 years. This means that if Howard?s labour reforms are scotched and this is followed by rising unemployment then Howard will have been vindicated.
However, they if don?t abolish the reforms then they will have betrayed their base. Moreover, a recession is coming. Now if Rudd and his union mates raise the cost of labour above its market rate ? a near certainty with this gang of economic illiterates ? then unemployment is bound to return to its previous high level.
As for a Liberal Party recovery, a lot of housecleaning is needed if it is to regain the confidence of the electorate. A good start would be Kroger?s expulsion ? an unlikely event, unfortunately. But until the cancerous influence of the likes of Kroger have been removed from the Party it will very likely spend a longtime in the political wilderness.
--------------------------------------------------------------------------------
Why the H. R. Nicholls Society might help sink the Liberal Government
Liberal Government fails on labour market reform and the right throws a tantrum
Michael Kroger's shabby ambition is destroying the Victorian Liberal Party
Michael Kroger gets a savaging while the Victorian Liberal Party crumbles
Why is the Kroger Liberal Party giving Bracks' Muslim blasphemy laws a pass?
Will Michael Kroger's corruption sink the Victorian Liberal Party?
Michael Kroger rigs a candidate's selection and the cowardly Liberal Party of Victoria caves in to this thug's corruption
Marginally stupid? That's a question for Michael Kroger's Victorian Liberal Party
By Gerard Jackson
BrookesNews.Com
Gerard Jackson is Brookes' economics editor.
© 2005-2019 http://www.MarketOracle.co.uk - The Market Oracle is a FREE Daily Financial Markets Analysis & Forecasting online publication.

Only logged in users are allowed to post comments.
Register/ Log in