Iran Nuclear Intelligence; Now Off the Hook or On the Hook?
Politics
/
Iran
Dec 08, 2007 - 09:31 AM GMT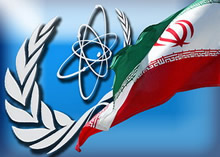 The bolt from the blue called the National Intelligence Estimate (NIE) on Iran, which was released on Monday the 3rd of December, reported "with high confidence that in fall 2003, Tehran halted its nuclear weapons program 'because of international pressure'."
The NIE, in reality, is a final acknowledgement, and a sort of culmination, of a long trail of track-2 diplomacy and intel gathering that the US State department and intelligence agencies have been conducting, and misconducting, with their Iranian counterparts for some time now.
The report is almost a complete U-turn of the community's 2005 judgment that Iran was "determined to develop nuclear weapons". Apart from being a supposed damper on the war lust of the Neocons, the report is a grudging acknowledgement by the West's intelligence agencies of the rationality of the mad Mullahs.
Now that it is proven that the mad Mullahs were not so mad after all, is Iran off the hook? To answer this question let us go back in time to the immediate post 9/11 period.
In a very recent article written by John H. Richardson in the Esquire magazine, two former high-ranking policy experts from the Bush administration have, in some startling disclosures, enumerated several Iranian overtures to resolve their issues with the United States and the Americans' arrogant rejection of the same.
In this revealing Esquire report, Flynt Leverett and Hillary Mann, who worked at the highest levels of the Bush administration as Middle East policy experts for the National Security Council, disclosed that whatever little overt U.S.-Iran engagement the world did see was 'never serious and designed to fail'. They cite, as an example, the U.S. ambassador to Iraq Ryan Crocker's much-publicized meeting with his Iranian counterpart in Baghdad. Crocker didn't even have permission from the White House to schedule a second meeting.
Earlier too, according to the duo, the Iranians had been offering to provide many significant concessions in the war against the Taliban. They agreed to provide assistance if any American was shot down near their territory, consented to let the U.S. send food in through their border, and even agreed to restrain some "really bad Afghans," like an extremely anti-American warlord named Gulbuddin Hekmatyar, by quietly putting him under house arrest in Tehran. But the most important thing, according to Flynt Leverett and Hillary Mann, was that the Iranians agreed to talk unconditionally. Mann says, "They specifically told me time and again that they were doing this because they understood the impact of this attack on the U.S., and they thought that if they helped us unconditionally, that would be the way to change the dynamic for the first time in twenty-five years."
The American response came in President Bush's 2002 State of the Union address. In that speech Bush linked Iran to Iraq and North Korea in a portentous phrase, "the axis of evil". By then the Iranians had been trying to engage American government in high-level diplomacy for more than a year. The shock for them was profound.
Despite the rude 'axis of evil' jolt, according to the illuminating Esquire article, the Iranians continued to walk the extra mile in their efforts to normalize their relations with United States. In a fax to the State Department from the Swiss ambassador to Iran, who represented American interests in that country, the ambassador reported to have met with Sadeq Kharrazi, a well-connected Iranian who was the nephew of the then foreign minister and son-in-law to the supreme leader. Kharazzi presented to the Swiss ambassador a stunning proposal for peace in the Middle East, approved at the highest levels in Tehran. In the two-page summary of the proposal, the Iranians gave some spectacular allowances to the United States. Among other things, they promised to take "decisive action" against all terrorists in Iran, an end of support for Hamas and the Islamic Jihad, a promise to cease its nuclear program and, above all, also an agreement to recognize Israel .
The White House not only ignored the offer, it lodged a formal complaint with the Swiss government about their ambassador's meddling. What's more, a little while later, America sent a second carrier group to the Persian Gulf, its troops began to arrest Iranians living in Baghdad, blaming them for meddling in Iraq and openly started accusing Iran of "providing material support" for attacks on U.S. forces, with undertones of a legal justification for a preemptive attack.
According to the op-ed, the situation, in fact, became so alarming that Colin Powell had to warn, "You can't negotiate when you tell the other side, 'Give us what a negotiation would produce before the negotiations start'." Even Henry Kissinger, the chief author of the Cambodian Bombing campaign, urged the need to "exhaust every possibility to come to an understanding with Iran."
The overtures of the protagonists in the events, from immediately post 9/11 period right up to the 2007 NIE, show pretty unambiguously who had whom fixed in their sights and to what end. So much for the madness of the mad Mullahs.
That was then.
Since the report has been released, in the past few days, the war mongers within the US establishment, and their sympathizers all around, have left no stone unturned in disparaging the NIE to make sure that the US war machine stays on course i.e. on an inexorable path of slamming into Iran.
It has come to light that at the time of his infamous World War-3 statement in the month of October, President George Bush was already aware of the contents of the yet to be released NIE report. Despite the knowledge, he went ahead and proclaimed, "I've told people that if you're interested in avoiding World War III, it seems like you ought to be interested in preventing them (Iran) from having the knowledge necessary to make a nuclear weapon,". His administration, resultantly, remains unyielding in its position that policy toward Iran shouldn't change.
Generally speaking, nearly all the U.S. hardliners on Iran are saying the intelligence document is too ridden with internal political bickerings to be credible. In a Washington Post Op-ed , one John R. Bolton, a fanatical Neocon, a former U.S. ambassador to the United Nations, the author of "Surrender Is Not an Option: Defending America at the United Nations and Abroad" and currently a senior fellow at the American Enterprise Institute, observes;
"That such a flawed product could emerge after a drawn-out bureaucratic struggle is extremely troubling. While the president and others argue that we need to maintain pressure on Iran, this "intelligence" torpedo has all but sunk those efforts, inadequate as they were."
Fox News reports Rush Limbaugh, a rabid Neocon mouthpiece, as blasting the testimony in the Conservative talk radio. He called it a "sabotage of the Bush administration,". The Wall Street Journal editorial , yet another conservative periodical, shreds the credibility of the NIE by proclaiming some of its authors as 'hyper-partisan anti-Bush officials.'
Above all Israel, the chief beneficiary of America's foreign policy largesse, doesn't seem too happy with the NIE. Israeli Defense Minister Ehud Barak is said to have observed , "We cannot allow ourselves to rest just because of an intelligence report from the other side of the Earth, even if it is from our greatest friend." If Israel is not happy with the NIE, it does not matter who else is.
So in conclusion, none of the original members of the war party seem to be much impressed by the NIE. Moreover, little things like a NIE cannot be allowed to stand in the way of ideologies needing solid military muscle for a springboard. Iran, therefore, stays on the hook. The American military juggernaut, for the same reason, stays on course. Only the countdown may be delayed a wee bit.
In an inadvertently honest observation, the NIE categorically states that "Tehran's decisions are guided by a cost-benefit approach rather than a rush to weapons irrespective of the political, economic and military costs". Wish the same could be said of the country in whose service the spy masters have compiled the report.
By Anwaar Hussain
http:/www./truthspring.info
Copyright © 2007 Anwaar Hussain
Anwaar Hussain is an ex-F-16 fighter pilot from Pakistan Air Force. A Masters in Defense and Strategic Studies from Quaid-e-Azam University Islamabad, he now resides in UAE. He started writing as a hobby not very far back and has, since then, published a series of articles in Defense Journal, South Asia Tribune and a host of other web portals. Other than international affairs, Anwaar Hussain has written extensively on religious and political issues that plague Pakistan.
© 2005-2019 http://www.MarketOracle.co.uk - The Market Oracle is a FREE Daily Financial Markets Analysis & Forecasting online publication.
Comments
Vincent Bemowski
08 Dec 07, 23:17
THE LIES OF THE CLINTONS


THE LIES OF THE CLINTONS - THE IRAQ WAR - OPINIONS VERSUS THE TRUTH

Bill Clinton's Claim of Opposing Iraq War From Outset Disputed - "A former senior aide to then-national security adviser Condoleezza Rice disputed Bill Clinton's statement this week that he "opposed Iraq from the beginning," saying that the former president was privately briefed by top White House officials about war planning in 2003 and that he told them he supported the invasion."

Commentary: More lies from the spiritually shallow Clintons. See: Text Of Clinton's Feb. 17, 1998 Statement On Iraq - President Clinton's address to Joint Chiefs of Staff and Pentagon staff - "If Saddam rejects peace and we have to use force, our purpose is clear. We want to seriously diminish the threat posed by Iraq's weapons of mass destruction program."

Background: On May 2, 2003 Pope Benedict XVI, as Cardinal Ratzinger, (Head of the Congregation for the Doctrine of the Faith) stated: "He (John Paul II) did not impose this position ('Iraq War not necessary') as doctrine of the Church but as the appeal of a conscience enlightened by faith" (Zenit News Agency).

The above statement by Pope Benedict, while truthful, does not reveal any evidence that these two men actually prayed about this issue like President George W. Bush did. Since there is only ONE Holy Spirit, why are Pope John Paul II and Cardinal Ratzinger's views on the Iraq War the same as radical Islamists, terrorists, morally corrupt left-wing liberal Democrats, biased people in the U.S. media, immoral Hollywood movie "stars," and other selfish, spoiled Americans? The answer is that they were simply "opinions" that were confirmed to be incorrect because of the morally twisted people that agreed with them. Many other good men & women (including veterans who suffered far more than Pope John Paul II did during World War II) did pray about this matter & strongly disagreed with their conclusions - and to this day continue to disagree with Pope Benedict XVI on this moral issue. You are known by the type company you keep, and this is also true of your opinions. When your opinion is according to God's Holy Will, many good people will agree with you, but if your opinion is not according to God's Will, for the most part people not right with God will find agreement with your point of view.

However, unlike many U.S. Democrats, Pope John Paul II's thoughts on the Iraq War were not voiced in an arrogant, judgmental manner. He loved America, and praised President George W. Bush's moral leadership. See: President George W. Bush Presents Medal of Freedom to Pope John Paul II, June 4, 2004 - "I also continue to follow with great appreciation your commitment to the promotion of moral values in American society, particularly with regard to respect for life and the family....Mr. President, as you carry out your lofty mission of service to your nation and to world peace, I assure you of my prayers and cordially invoke upon you God's blessings of wisdom, strength and peace."

Pope John Paul II never praised President Clinton for his "moral values," because Clinton, along with most Democrats, believe you have the "right to kill" someone through an abortion - a horrible crime against humanity that has resulted in the cruel deaths of millions & millions of innocent, defenseless, unborn human beings.

Cardinal Ratzinger later confirmed: "There may be a legitimate diversity of opinion, even among Catholics about waging war and applying the death penalty, but not however with regard to abortion and euthanasia" (Italian magazine "L'espresso," June 2004 - published online in July).

Would Pope John Paul II have considered it a "Just War" if France, England, and the U.S. had disarmed Germany, preventing Hitler from invading Poland and other countries or deliberately exterminating & killing millions of innocent Jewish people? The vast majority of Americans agreed with President George W. Bush's decision to disarm Iraq, and eliminate their capacity to wage war when it was thought by U.S. intelligence agencies that Iraq was developing biological, chemical, and nuclear weapons that could be used against the United States and other countries.

Aided by the Democratic Party, the House and Senate overwhelmingly approved the Iraq War Resolution.

If President Bush is a "liar," why aren't double-tongued Democrats held accountable? Do they think faulty intelligence on Iraq only came through Bush? It originally came from Bill Clinton's administration.

Hypocritical, immoral Democrats want it both ways - they supported the Iraq War Resolution, but also want to place the blame for going to war on President Bush. President Bush's only mistake was to trust incorrect intelligence reports. But others, including politicians from the U.S. Democratic Party made the same type of mistake. For example:

"We know that he has stored secret supplies of biological and chemical weapons throughout his country."

Al Gore, Sept. 23, 2002 (Vice-President under Clinton - ran for President in the year 2000)

"We have known for many years that Saddam Hussein is developing weapons of mass destruction."

Senator Ted Kennedy (Massachusetts), Sept. 27, 2002.

"I will be voting to give the President of the United States the authority to use force — if necessary — to disarm Saddam Hussein because I believe that a deadly arsenal of weapons of mass destruction in his hands is a real and grave threat to our security."

Senator John F. Kerry (Massachusetts), Oct. 9, 2002.

"He (Saddam Hussein) has also given aid, comfort, and sanctuary to terrorists, including al-Qaida members....Left unchecked, Saddam Hussein will continue to increase his capacity to wage biological and chemical warfare, and will keep trying to develop nuclear weapons."

Senator Hillary Clinton (New York), Oct 10, 2002

As you can see from the above, many U.S. Democrats have very short memories when it comes to the judgments of leaders in their own political party.

Vincent Bemowski - "Retired" freelance writer

Appleton, Wisconsin




09 Dec 07, 15:48
US Presidents


"retired"

does that mean fired by an editor that does not share your pro worst president america ever had views?

while clinton wasnt a bad president he was far from the best.

your good presidents that care for the people have a tendency to get killed by hitmen hired by big companies.




Only logged in users are allowed to post comments.
Register/ Log in