The Lunacy of Soviet Communist Central Planning
Politics
/
Social Issues
Dec 12, 2011 - 05:34 AM GMT

This 1992 documentary, The Engineers' Plot, is a history of Soviet central economic planning. Central planning did not work. This is a planned society that modeled its premier showcase city after Gary, Indiana. The video is a fine demonstration of the truth of Ludwig von Mises' 1920 essay, "Economic Calculation in the Socialist Commonwealth." Mises argued that the socialist system is irrational, because it cannot price anything rationally. You will especially enjoy the parade of marching working women in white dresses. This is a Busby Berkeley extravananza, Soviet style.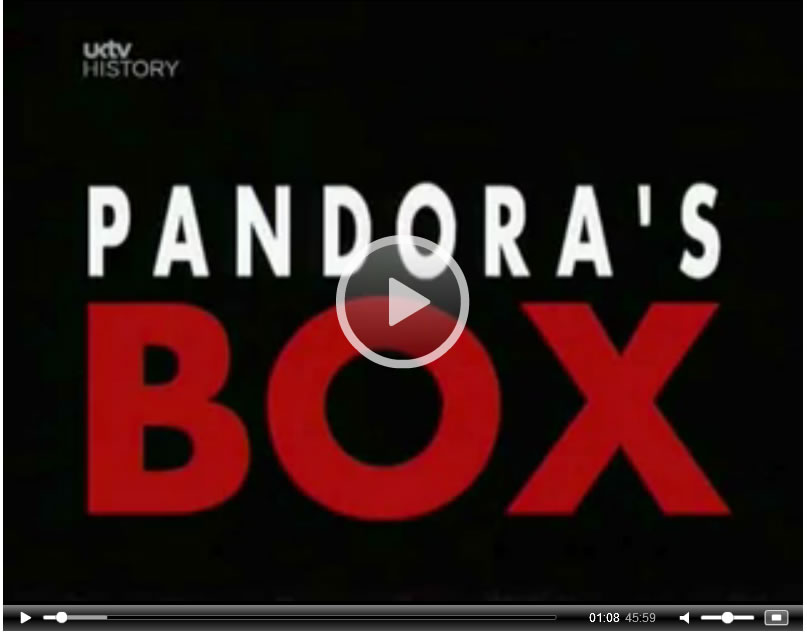 Gary North [send him mail ] is the author of Mises on Money . Visit http://www.garynorth.com . He is also the author of a free 20-volume series, An Economic Commentary on the Bible .
© 2011 Copyright Gary North / LewRockwell.com - All Rights Reserved
Disclaimer: The above is a matter of opinion provided for general information purposes only and is not intended as investment advice. Information and analysis above are derived from sources and utilising methods believed to be reliable, but we cannot accept responsibility for any losses you may incur as a result of this analysis. Individuals should consult with their personal financial advisors.
© 2005-2019 http://www.MarketOracle.co.uk - The Market Oracle is a FREE Daily Financial Markets Analysis & Forecasting online publication.
Comments
alan2102
12 Dec 11, 19:46
Soviet central controls


Hi, Gary!

I suggest that it is time for you to start taking in a broader spectrum of facts than those to which you seem to have exposed yourself.

Soviet central controls actually worked quite well. Among other things, they were successful in lifting the common people out of miserable poverty and associated short life expectancies -- from under 30 (life expectancy at birth) before the revolution to over 60 just a few decades later. A dramatic improvement! And it sure as hell would not have happened without a socialist state. The same thing (or even better) happened in China: life expectancy went from under 30 to 65+ in about 30 years! Go ahead and compare those stunning achievements with other countries -- more laisez-faire, more market-oriented. There is no comparison. The FSU and the PRC performed spectacularly well, from the standpoint of the most fundamental of all human rights: the right to simply BE ALIVE!

I am attaching a few paragraphs from Stephen Gowans' blog which cover other pertinent facts. Gowans is a guy you might want to follow for a while. You'd learn a lot, I am certain.

Enjoy!

see:

http://gowans.wordpress.com/2011/08/08/socialism's-agenda-time/

Socialism's Agenda Time

Posted in Socialism, Soviet Union by gowans on August 8, 2011

By Stephen Gowans

From 1928, when the Soviet Union laid the foundations of its socialist economy, until the late 1980s, when Gorbachev began to dismantle them, the Soviet economy grew without pause, except during the period of the Nazi war machine's scorched-earth invasion. Unemployment and later economic insecurity became ills of the past.

True, growth slowed beginning in the 1970s, but the major culprits were the diversion of budgets and R&D to the military to counter threats of US and NATO aggression, and growing resource extraction costs, not the alleged inefficiencies of public ownership and central planning, as is now widely believed. (1)

In fact, Soviet socialism -- while it existed -- worked better than capitalism in producing economic growth.

From 1928 to 1989, GDP per capita grew in the USSR by a factor of 5.2, compared to 4.0 in Western Europe and 3.3 in the major industrial offshoots of Western Europe -- the United States, Canada, Australia and New Zealand.

And importantly, Soviet growth happened without the recurrent recessions -- and their attendant pain in unemployment, hunger, and despair -- that were routine features of the capitalist economies over the same period.

Indeed, while capitalism was mired in a major depression during the 1930s, leaving hundreds of millions without work, the Soviet economy was expanding rapidly, absorbing all available manpower. And while the dual ills of inflation and unemployment ran rampant in the stagflation crisis that roiled the capitalist economies during the 1970s, the Soviet economy expanded without interruption and without inflation or joblessness.

But that's not what we're told today. The received wisdom -- rooted not in reality but Cold War propaganda -- is that the Soviet economy collapsed under the weight of it inefficiencies, and that the demise of the USSR proves that an economic system based on public ownership, central planning and production for use, is unworkable. Even many Marxists believe this, touting the merits of "market socialism" as the only workable alternative.

And yet the Soviet economy's record of peacetime expansion and full employment remained unblemished until Gorbachev began to experiment with the very same market socialism that many Marxists now embrace.

Hence, Soviet socialism's reputation for being unworkable is underserved. A slow-down in economic growth -- having as much to do with US efforts to cripple the USSR by embroiling it in a ruinous arms race as it did with internal problems -- has been transformed into a myth about economic collapse.

Myths work both ways. While they can turn successes into what appear to be failures, then can also turn failures into what appear to be successes.

[...snip... continues at the url...]

----------------------------------------------

see also:

http://gowans.wordpress.com/2011/10/30/social-democracy-soviet-socialism-and-the-bottom-99-percent/#comments

Social Democracy, Soviet Socialism and the Bottom 99 Percent

Posted in Communism, Social Democracy, Socialism, Soviet Union

by gowans on October 30, 2011

By Stephen Gowans

[...snip...]

The Soviet Counter-Example

It is instructive to consider Soviet social welfare, to understand what capitalist democracies once competed against, and to appreciate its breadth and depth. Although it is certainly unfashionable in capitalist democracies to say so, it is true all the same that the Soviet Union was organized to serve the interests of the mass of its people, and not to enrich an elite of bankers, major investors and corporate titans, as is true in our own societies, and in Russia and other countries of the former Soviet Union today.

Some will object that the USSR was organized to serve the interests of the Community Party elite, and that it too was divided between the 99 percent and the one percent. To be sure, the Soviet Union was not built along anarchist lines. There was an elite, but the advantages the elite enjoyed were picayune by the standards of capitalist democracies. The elite lived in modest apartments and had incomes relative to the average industrial worker that were no greater than the incomes of physicians in the United States relative to the average US industrial wage. Top Communist Party officials did not own productive property and therefore could not transfer it, and neither could they transfer position or privilege across generations to their children. Moreover, the very mild level of income disparity in the Soviet Union was mitigated by the reality that many necessities were available free of charge or at highly subsidized rates. (5)

Employment in the USSR was guaranteed -- indeed, obligated (an important point to correct one of the cruder misconceptions that socialism amounts to the unemployed collecting welfare cheques.) Work was considered a social duty. Living off of rent, profits, speculation or the black market -- social parasitism -- was illegal. Education was free through university, with living stipends for post-secondary students. The USSR had a lower teacher to student ratio than the United States. Healthcare was free, and drugs prescribed in the hospital or for chronic illness were also free. The Soviet Union had the greatest number of doctors per capita of any country in the world and had more hospital beds per person than the United States or Britain. That US citizens have to pay for their healthcare was considered extremely barbaric in the Soviet Union, and Soviet citizens "often questioned US tourists quite incredulously on this point." (6) Soviet workers received an average of three weeks of paid vacation per year. Necessities, such as food, clothing, transportation and housing were subsidized. By law, rent could exceed no more than five percent of a citizen's income, compared to 25 to 30 percent or more in the United States. Women were granted paid maternity leave as early as 1936. The constitution of 1977 guaranteed that "The state (would help) the family by providing and developing a broad system of childcare, by paying grants on the birth of a child, by providing children's allowances and benefits for large families." All Soviet citizens were eligible for generous retirement pensions -- men at age 60, women at 55. Concerning women's rights: "The Soviet Union was the first country to legalize abortions, develop public child care, and bring women into top government jobs. The radical transformation of women's position was most pronounced in the traditionally Islamic areas, where an intense campaign liberated women from extremely repressive conditions." (7) The work week

was limited to 41 hours and overtime work was prohibited except under special circumstances. Night-shift workers worked only seven hours per day (but were paid for eight), and people who worked at dangerous jobs (coal miners, for example) or jobs that required constant alertness (physicians, for example) worked shorter shifts but received full pay. (8)

To be sure, life could be harder in the Soviet Union compared to what it was for middle- and upper-income citizens of the rich capitalist democracies (but not the poor of these countries nor the millions of Blacks and Hispanics in US ghettoes nor the denizens of the capitalist global south, i.e., the bulk of humanity.) Housing was guaranteed and rents extremely low, but the housing stock was limited. The Nazis had destroyed much of the country's living accommodations, and the USSR's emphasis on heavy industry slowed the building of replacement stock. Incomes, too, were lower, but the Soviet Union had started at a particularly low level of economic development, and despite rapid gains, had not caught up to the West at the point of its demise. Still, life was more certain. And on such human development measures as infant mortality, life expectancy, doctors per capita, adult literacy, daily calories per person, and educational attainment, the Soviet Union and other communist countries performed at the same level as richer, industrialized capitalist countries, and better than capitalist countries at the same level of economic development. (9)

[...snip... continues at the url...]



alan2102
12 Dec 11, 19:58
Hail the Reds


Gary, here's one more that I would like you to read. You really need to read the whole thing. I am just posting here the link, title, and closing paragraph:

http://www3.sympatico.ca/sr.gowans/reds.html

October 19, 2004

Hail the Reds

By Stephen Gowans

[...snip...]

Where Reds have prevailed, the outcome has been far-reaching material gains for the bulk of the population: full employment, free health care, free education through university, free and subsidized child care, cheap living accommodations and inexpensive public transportation. Life expectancy has soared, illiteracy has been wiped out, and homelessness, unemployment and economic insecurity have been abolished. Racial strife and ethnic tensions have been reduced to almost the vanishing point. And inequalities in wealth, income, opportunity, and education have been greatly reduced. Where Reds have been overthrown, mass unemployment, underdevelopment, hunger, disease, illiteracy, homelessness, and racial conflict have recrudesced. Communists produced gains in the interest of all humanity, achieved in the face of very trying conditions, including the unceasing hostility of the West and the unremitting efforts of the former exploiters to restore the status quo ante. What they achieved surpassed anything achieved by social democratic struggle in the West, where the advantages of being more advanced industrially, made the promises of socialism all the more readily achievable - and to a far greater degree than could be achieved elsewhere in the world. Hidden, or at best, acknowledged but quickly brushed aside as matters of little significance, these are achievements that have been too long ignored in the West - and greatly missed in the countries where they were reversed in the interests of restoring the wealth and privileges of a minority.



ernie messerschmidt
12 Dec 11, 23:04
the lunacy of not planning


This is cold war propaganda, not useful contemporary analysis. North is being ideological, not rational. In fact, the USSR had some pretty good successes with its plans. The most successful countries plan for the future, as do the most successful corporations. A CEO without a plan is worthless. China kicks our butts with its 5 year plans. The USA, directionless, is at the mercy of parasitic elements. The banks govern the USA and their plan is to loot -- to confiscate the wealth of the real economy -- in ever new and more ruthless ways. The lunacy, in fact, is in NOT planning! If America is to be competitive in the world and the American people are to win back their freedom and prosperity, planning on the national level is essential. By not planning, the government abdicates its responsibility, and the people are left hopeless.



Andrew McKillop
14 Dec 11, 05:15
Central Planning


Like ernie says the problem is throwing the babe out with the bathwater: capitalism should in theory be a totally decentralized decision-making model or system. But isnt.

The Soviet model of total centralization was only the exact opposite, and it also didnt work.

Neither worked.

So we need to think about Decentralized Local Communism, which should work, because its local and can use democratic decision making.

OK the word "communism" sticks in the throats of plenty, so we can use the words Community-oriented Economic Development



Brian Huffman
14 Dec 11, 13:48
Soviet Central Controls


The defenders of communism probably missed the joke in the quote, "Other than that, Mr. Lincoln, how was the play?" The Soviet model may have had short-run success, Mrs. Lincoln may have enjoyed Act I, but it was doomed to failure because it runs counter to human nature (to each according to his need from each according to his ability...how long is it before those providing according to their ability get tired of those taking according to their need?...about 10 seconds).



Manuela Lopez
20 Dec 11, 02:20
Not the best but honest


Cuban Revolution

Following the Cuban Revolution, the country made economic progress. In the period 1960-85, real income growth per capita averaged 3.1 percent per year, compared to 1.8 percent in the rest of Latin America. As a result of this growth, Cuba's per capita income in 1987 exceeded $3500, compared to only $2200 in the rest of Latin America.

China like Cuba. They are absolutelly not the best places to live. But if greedy corrupted western banksters show up it would be worse, lot worse. See Late Victorian Holocaust.

For years there is School for the americas. What they teach 'em?

http://www.thirdworldtraveler.com/Terrorism/SOA.html

I recomend to read our bible: The Blood Bankers; and Confesions of an Economic Hitman. It is like Old testatemnt and New testament for this era.

Behind great fortune stand big crime. For everyone living above standard on the west there were 10 people sufering somewhere else.



Andrew
22 Dec 11, 02:53
Growth Sucks, Socialism Sucks


As the one born in the USSR, I side with Gary.

Perhaps "growth" and "wealth" are unrelated concepts. It's an issue of quantity vs. quality. Centrally-planned economies are successful at pumping up synthetic quantitative aggregates like GDP - but none of them had ever come up with a CHOICE of TANGIBLE goods for the population to enjoy. The von Mises insight on "calculation problem" hits the nail on the head.

This is also a lesson to be taken by the "pro-growth" creed today. The neoliberal agenda of spiking specific sectors of the economy with "incentives" and flooding them with inflationary credit replicates the errors of socialist planning and will backfire sooner rather than later.




Only logged in users are allowed to post comments.
Register/ Log in