Stocks Bull Market Relief Rally Sends Dow to 5.5% Gain for 2011 Before Dividend Income
Stock-Markets
/
Stock Markets 2011
Dec 31, 2011 - 01:13 PM GMT


The DJIA closed an extremely volatile 2011 up 5.5% at 12,217 (11,577) before dividend income is taken into account, which in terms of the indices is about the minimum return one should expect from long-term stock market investing, so as to beat Inflation. Now before readers start stating a string of indices that failed to end the year in positive territory i.e. showed significant divergence to the DJIA. In which respect the Dow has always been my primary stock index for analysis and trading for the past 25 years, and highlights the mistake many analysts tend to make which is to play pick and mix with stock indices, such as the perma-bear's who jump from index to index, whichever with the benefit of hindsight supports the bear point of view, which at this point would have many opting for the european stock markets, China's SSE (-21%) or for a really big 'ouch' factor India's BSE (-24%), though it is unlikely the bear trends in any of these markets would have actually been capitalised upon since most are only being mentioned with the benefit of hindsight.
So my advice for all seeking to trade stock index futures, is to pick ONE index and then stick to it, and don't confuse the situation further by playing pick and mix with indicators on the indices because your meant to be trading the index and NOT the indicator. Price is always King, which where my analysis is concerned means the Dow, which ended 5.5% higher coupled with an intra-year positive swing of 18.5% (low to high). Whilst many may refer to the likes of the S&P500 ending flat, they need to take a closer look at relative out-performance of dividend stocks that I have been banging the drums for all year (and before).
About here is when I start deviating form the script that most market analysts are engaged in pumping out at this time of year, which is geared more towards marketing towards seeking to expand paid subscriber bases, because the reality of the stock market trend for most of 2011 is that the observed volatility was outside the realms of market expectations of virtually EVERY ANALYST.
No one could imagine at the start of the year that there would not only be so much volatility but that there would be such a breakdown between global stock markets especially when those that were supposed to decouple (emerging markets) were supposed to out perform the likes of the Dow when instead the exact opposite transpired to as much as 30% difference in trend!
Well, okay the perma-bears claimed victory during the depths of the summer- autumn correction just before they were once more hit by subsequent rallies as illustrated by our friend who did the rounds on the BBC just as the stock market was bottoming in late September / Early October.
"know the stock market is finished."....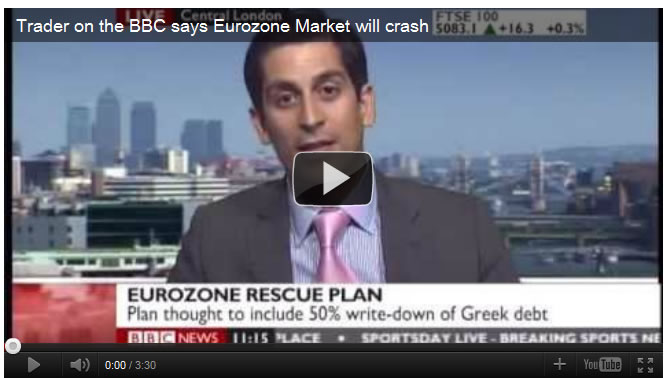 The Dow is up 13% since he spoke and the FTSE is up 10%.
The below graph portrays the price action in terms of my trend expectations during the year. The Green sections indicates first half of the year trend expectations when even the likes of Dow 14k by year end seemed possible following a brief summer correction that would provide another good buying opportunity.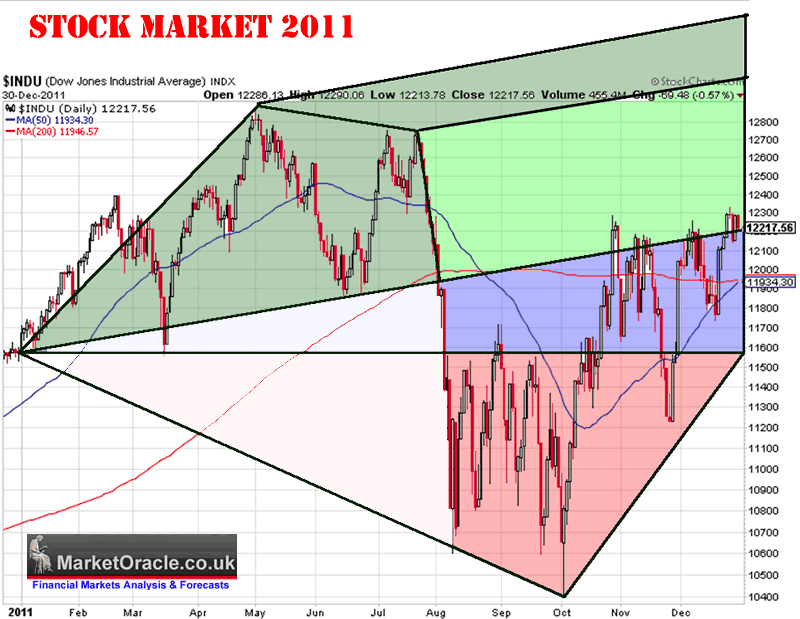 However going into August not only did the summer correction prove far more severe than expected. The drop below Dow 11,600 was NOT part of the script, but more than that the stock market entered into a trading range which whilst presenting good ongoing opportunities to accumulate into the bull market (the greater the deviation from the bull market peak the greater the buying opportunity) however this meant that the amount of time left to achieve an year end new bull market high (above 12,876) never mind more fanciful targets such as Dow 14k was becoming increasingly improbable.
By year end, the DJIA just did not make it anywhere near a new bull market high and instead came in at virtually the lowest end of the year end trend expectations channel which is a major sign of weakness and thus prompting me (as of last analysis) to take the ongoing rally to sell into to reduce risk for 2012 (when in doubt, get out) that just on a technical basis looks likely to be worse than 2011.
Stock Market Expectations for 2012
Given the level of extreme uncertainty, I am going to hold off on generating a projection for 2012 until I have completed fundamental analysis on the economy over the next week or so, but what analysis I have done to date suggests the all prevailing cries of Recession 2012 may prove premature, a recession is definitely not a done deal, not for the US, not for the UK, in fact the US is looking uber strong (to me anyway), which is a positive for another year for Dow out performance, though I am not so sure about Europe, that depends on whether or not the powers that be stop listening to the clueless academics and realise what they need to do to save the euro-zone economy which my next in-depth analysis will explain how it can be done with relatively little pain, and yes it has its basis in the Inflation Mega-trend.
Meanwhile, my last analysis still stands and more so given the weakness of the actual closing level of the Dow for 2011.
As things stand today, the first half of 2012 is not looking good for stocks and other asset markets, we will probably see several market panics in response to the ongoing euro-zone debt and economic crisis, and the second half needs work to determine to any reliable extent, but I am assuming that we will see the euro emerge intact from this crisis as a consequence of global coordinated central bank QE's and other special measures that will succeed in igniting asset price recoveries during the second half of 2012, hopefully this foggy picture will become much clearer over the next few weeks as each piece of analysis is completed.
The technical bottom line for the stock market is is that the year end close of Dow 12217 is pretty weak, about the weakest I could have expected the Dow to close at, failure to close at a new bull market high of above 12876 does not bode well for the indices for 2012. This definitely demands more in depth fundamental analysis before I turn to a fine tuned technical trend forecast.
Your analyst relieved by the end of year relief rally wishing you all a Happy and Prosperous New Year.
Source and Comments: http://www.marketoracle.co.uk/Article32390.html
By Nadeem Walayat
Copyright © 2005-2011 Marketoracle.co.uk (Market Oracle Ltd). All rights reserved.
Nadeem Walayat has over 25 years experience of trading derivatives, portfolio management and analysing the financial markets, including one of few who both anticipated and Beat the 1987 Crash. Nadeem's forward looking analysis focuses on UK inflation, economy, interest rates and housing market. He is the author of three ebook's - The Inflation Mega-Trend; The Interest Rate Mega-Trend and The Stocks Stealth Bull Market Update 2011 that can be downloaded for Free.
Nadeem is the Editor of The Market Oracle, a FREE Daily Financial Markets Analysis & Forecasting online publication that presents in-depth analysis from over 600 experienced analysts on a range of views of the probable direction of the financial markets, thus enabling our readers to arrive at an informed opinion on future market direction. http://www.marketoracle.co.uk
Disclaimer: The above is a matter of opinion provided for general information purposes only and is not intended as investment advice. Information and analysis above are derived from sources and utilising methods believed to be reliable, but we cannot accept responsibility for any trading losses you may incur as a result of this analysis. Individuals should consult with their personal financial advisors before engaging in any trading activities.
© 2005-2022 http://www.MarketOracle.co.uk - The Market Oracle is a FREE Daily Financial Markets Analysis & Forecasting online publication.
Comments
Kevin
31 Dec 11, 19:14
Happy New Year


Happy New Year to you too!

Thank you for all your efforts last year. They are appreciated.

Maybe if you have time, you might do some analysis on the commodity and precious metal stocks?...

Best,

Kevin



Marcin Strojny
01 Jan 12, 05:39
Le Front National


If Marine Le Pen wins the April presidential election, it will be the beginning of massive changes in Europe. France is on a verge of revolution, with a whole generation struck with unemployment, having swollowed for years half-measures devised by baby boomers' government. Marine Le Pen is anti-Euro, anti-EU, anti-USA, Putin-friendly, anti-immigration and wants to nationalise major parts of the economy. Even if she means well, I doubt the process she may start would be painless and peaceful.

CAC40 is close to 2009 low, as if it was priced in.



jonnysingapore
01 Jan 12, 19:03
Happy New Year


Hi Nadeem

thanks for all your hard work. You're the premier writer out there.

After some real pain this year for you (and some illness too), I do hope 2012 adds to your well being.

Look forward to your work - would love to be taught to analyse the way you do (where to start?).

Kind regards.



Nadeem_Walayat
02 Jan 12, 03:18
France and The Far Right, Wolves in Sheeps Clothing


Unfortunately financial crisis that spark economic depression do allow the far right a chance to gain power and really screw things up.

After all until the 1929 crash hitler for the preceding 10 years was seen by most as a goose stepping joker, unable to gain over 2% of the vote despite the economic crisis that Germany had experienced during the preceding 10 years from losing WW1 to French repeated stupidity of forcing reperaations that Germany could not afford thus periodically marching its troops into Germany which angered the German population and sowed the seeds for WW2 vengence, however NONE of this was enough to lift the far right from fringe status it was only after the 1929 crash and several years into the Great depression that Hitler with approx 1/3rd of the vote killed of democracy and became the El Ducchi style dicatator of Germany.

The Far right have an increasing chance if the depression is allowed to unfold, but as per the 1930's I think they are very early, perhaps if France is still in depression 5 years from now at the next Presidential Election ?

Until then they are still a growing fringe party that feeds on fear and dispair by offering what they cannot deliver in terms of economic prosperiy rather the reality will be fear of the state, death and destruction.

Best

NW



Marcin Strojny
02 Jan 12, 06:38
Hitler or Jean d'Arc


I cannot say if Le Front National has the same intentions as Hitler's Nazis. The mainstream media will always make this allusion. Marine le Pen is an eloquent speaker and might crush Szarkozy in a TV debate. Economically she refers to the works of Maurice Allais, probably the greatest modern economist, banned from the media by industrial elites. Allais was strongly opposing globalism, fractional reserve banking, credit bubbles, EU treaties and international derivatives markets. All she seems to want is to take France out this vicious circle as EU is killing France. The plan is good, but even if she wants to achieve it, it won't be easy to realize.



Nadeem_Walayat
02 Jan 12, 08:54
Eurozone Killing France


Yes, its true, the Eurozone is killing France and most of the rest of the eurozone members, but there is a way out, a way to turn things around and boom ! My next in-depth analysis will explain how.

Best

NW



Lubomir Rehak
03 Jan 12, 01:23
Correct me if I am wrong


but the former French frank was inflated with the similar speed the Euro was for the past decade, so how is it possible that it is now killing France?

I think that what is killing France and any Eurozone country is governement spending, budged deficits and resulted sovereign debt, overregulated industries, corrupted elites and less and less people that are really working in private sector, its as you said 20-30pc of population, we cannot expect miracles then...I think there is now a BILL to pay for last decade and there is no easy way out, some people will have to bear the loss and the loss is in trilions...

Hasppy New Year to all readers and to you Nadeem



RF
04 Jan 12, 12:24
New Bull Market Highs


Nadeem,

Do you still expect dow circa 12850 by mid jan as previously stated or do you think we are done with the rally for now?

RF



Robert
05 Jan 12, 19:53
Market run up


Hi Nadeem yeah i am interested in if you think dow could reach 12850 by mid jan as pointed out by RF. But i would like to know what happened to Dow 14000 by end of 2011 as per your article back in April 2011.

What changed.



Marc Horn
08 Jan 12, 11:45
Debt crisis resolution


The problem I see is as described by LR.

Too much Government spending as a result of the banking oligarcs force feeding credit. This combined with the fact that all western governments are in bed with the bankers will do ANYTHING to stay in power and that means the only law left is the protection of those loan sharks. On top of that add apathetic populations who so long as I am OK FU Jack attitude are quiet happy to have their human rights taken away from them see http://www.huffingtonpost.com/2011/11/29/senate-votes-to-let-military-detain-americans-indefinitely_n_1119473.html

History shows that we have learned NOTHING! The outcome will be no different to what is happening in the Arab Spring - Revolution! It is just a matter of time.



Martin
12 Jan 12, 10:03
2012 Market Projection


Hi Nadeem,

Could you give us an idea on when we can expect your next market trend forecast? The market has had a good run from the bottom, but it seems to be running out of steam and stock rotation has moved into the most speculative of stocks (often the last stage of a move). Do you feel we are near a major top before we all remember there is a major debt crisis again, or do we have more upside potential in the near term? Thanks.



Nadeem_Walayat
12 Jan 12, 22:51
Stock Market Analysis


Hi

I am well behind schedule, I could do a quick update during the weekend but without the preceding moutain it would be lacking a greater probability of transpiring, better to bite the bullet and finish the fundemental analysis first. For instance the trigger for virtually the whole bull market is the inflation mega-trend, withuot knowign that then I would only have had half a picture.

Its a long list to get through...



William Piper
14 Jan 12, 03:43
Stock Market Analysis


How can small investors compete against the collusion/manipulation revealed in the Rob Kirby item?



piper
11 Apr 12, 03:09
Dark Pools


Dear Nadeem,

You previously stated "markets are manipulated" but regardless, "action is revealed in the charts".

Has this not changed with "Dark pools" and unrevealed in-house trading?

Small investors have no hope.



Nadeem_Walayat
11 Apr 12, 11:04
How to invest


Hi

I'll explain in-depth in my next article how to invest in manipulated markets. But basically instead of following tips, and media spin you really, and i mean REALLY need to understand what you are investing in.

I.e. if your invesing in a software company then you should have already learned how to program. If your investing in a networking company then you should have installed a network and understand all of its elements.

Only then will you understand whether to take notice of the price action or ignore it, else your just playing pin the tail on the donkey.

Best

NW



wa.piper
12 Apr 12, 23:21
Monitoring price action


Dear Nadeem,

What you say is logical. What about the main indecies?




Only logged in users are allowed to post comments.
Register/ Log in