Food, The Near-Perfect Product
Commodities
/
Agricultural Commodities
Jan 06, 2012 - 12:42 AM GMT


What if we found a product to which consumers have an uncontrollable physical craving?
What if consumers bought more of this addictive product as their incomes rose?
What if as their incomes rose they demanded higher quality, more expensive to produce versions of this product?
What if about half of production was lost or wasted?
What if governments around the world made this product rarer than it might be?
What if this product was legal to produce?
What if economic growth of China made this product in structurally short supply?
If we found companies that made such a product, might they be good investments?
Well, we did. Our search found this near perfect product many years ago and the companies that are involved in bringing it to market. We have been writing about both on a regular basis on this web site for some time. The product: Food! The companies: Agri-Producers and Agri-Services. Take a look at what happened to the prices these companies were able to charge in 2011.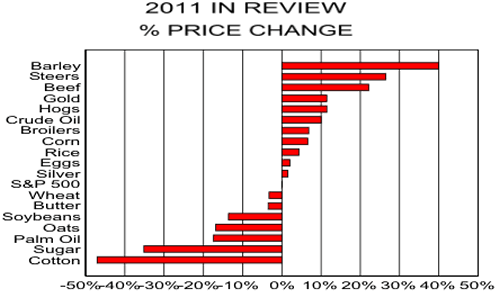 Above graph portrays the price changes for a large sample of Agri-Commodities. A steer munching grass on your estate would have provided a higher return than all the bulls on the Street, but that should come as no surprise. Owning a hog was about equal to holding Gold, and the recent similarities between the two shall go unnoted. A few chickens in the yard or that bag of rice in the cupboard? They both did better than gambling with silver.
Rarely does a market act in a unified manner. Markets are a collection of individual prices often going in different directions. Agri-Commodities are no different. In a market some components will be rising and some will not be, as they say, participating. Palm oil, sugar, and cotton did not participate in a positive manner last year. However, unlike the imaginary prices in the financial markets, Agri-Commodity prices influence real economic activity. Producers respond to weak prices by producing less. For that reason, prices for palm oil, sugar, and cotton are likely to be materially higher by the end of 2012.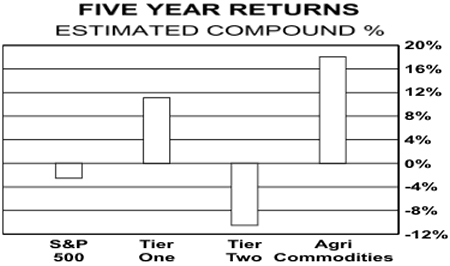 As can be observed in the above chart, the compound price change for Agri-Commodities, bar on the right, has been fairly strong over the past few years. That extremely positive set of fundamentals has helped the Tier One Agri-Equities, large multinational firms, to do quite nicely in a period when the mismanagement of monetary policy by the Federal Reserve has destroyed stock market returns. The opportunities at this time, based in part on the above chart and in part on the fundamentals, are in the second tier of companies, those most closely tied to China, the only growth story of 2012.
8th Agri-Food Commodities: An Investment Alternative, the premier quarterly analysis of Agri-Commodity returns, is to be released this weekend. This report compares the returns on Agri-Commodities with U.S. stocks, U.S. debt, Chinese equities, and Gold. Again this analysis found that portfolios without exposure to Agri-Commodities were constructed in an inefficient manner. Investment recommendations that include only minimal investment exposure to Agri-Commodity sector are trivial and without merit. This report can be ordered at our web site.
By Ned W Schmidt CFA, CEBS
AGRI-FOOD THOUGHTS is from Ned W. Schmidt,CFA,CEBS, publisher of The Agri-Food Value View, a monthly exploration of the Agri-Food grand cycle being created by China, India, and Eco-energy. To contract Ned or to learn more, use this link: www.agrifoodvalueview.com.
Copyright © 2010 Ned W. Schmidt - All Rights Reserved
© 2005-2019 http://www.MarketOracle.co.uk - The Market Oracle is a FREE Daily Financial Markets Analysis & Forecasting online publication.

Only logged in users are allowed to post comments.
Register/ Log in