Gold BREAKS All Records!
Commodities
/
Gold & Silver
Jan 10, 2008 - 05:32 AM GMT

Wow! Can you believe what gold is doing? It literally has broken every established record climbing to where it has never been before. So far it has climbed as high as 870 before leveling back a bit. Just remember though. This is not about gold. This is actually about deteriorating world economic and political events.


"Finally, after 28 years, gold hit a record of $858 an ounce, besting its previous high of $850 way back in January 1980." "Jim Rogers has made a historical study of commodities and found that the typical cycle lasts 15-20 years. That means we could be in for another decade of higher commodity and gold prices." "The Midas Metal should be an important part of anyone's portfolio, anywhere from 5 per cent-15 per cent. Just remember, gold is a good long-term inflation hedge, but in the short run, the yellow metal can be volatile." Rediff.com
Any of you familiar with these child proof prescription bottles? Picked up a prescription at the drug store and for the life of me I could not get that cap off. Had to resort to a pair of channel locks. Those channel locks did the trick. Gold continues to surprise everyone. The old ball and chain securing its price to the floor has long been removed.
I have been harassed by some readers because of my thinking that a conflict between the US and Iran is in the works and inevitable. And you don't think so? I see posturing between both sides going on. The below article displays Iran 's recent posturing against the US and their threat to blow up three warships. Now you tell me that a conflict is not brewing in the works. Read on below .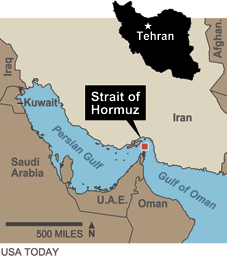 "Iran boats threaten to blow up U.S. ships" "Iranian speedboats harassed three U.S. Navy ships in the Strait of Hormuz over the weekend, a "reckless" provocation that comes as President Bush leaves Tuesday to visit the Middle East, the Pentagon said." "Five small boats, believed to be part of the Iranian Revolutionary Guards, threatened to blow up the USS Ingraham, Port Royal and Hopper in international waters Sunday at about 8 a.m. local time, according to the Navy." "The Iranian actions were reckless and dangerous," Pentagon spokesman Bryan Whitman said" Last month, Bush called for continued international sanctions against Iran ."
" U.S. commanders have also maintained that Iran has supplied sophisticated weapons to insurgents in Iraq used to kill American troops. Iran has denied doing so. Sunday's incident escalated after high-speed boats approached the Navy's vessels from the north, said Vice Adm. Kevin Cosgriff, commander of the 5th Fleet. The boats split into two formations, zoomed around the ships and radioed a threat that U.S. ships would explode. Crew on two of the boats dropped two boxes in the path of the Ingraham." "The Strait of Hormuz is the only seaway linking the Persian Gulf to open ocean and is a key international route for oil tankers. More oil travels through this "chokepoint" than in any other strait in the world, according to the U.S. Energy Information Agency." USATODAY.COM
We mentioned at the beginning of this article that, yes, gold is breaking all records.
Gold futures surged to an all-time high above $875 an ounce Tuesday…" "When adjusted for inflation, gold remains well below its all-time high. An ounce of gold at $875 in 1980 would be worth $2,115 to $2,200 today." "An ounce of gold for February delivery climbed as high as $879.40 an ounce on the New York Mercantile Exchange, easily breaking its previous record of $875 set in 1980." USATODAY.COM
And the new records just continue and continue.
"Gold, platinum and oil prices set new records Thursday as commodity markets extended their sprint start in the second session of the new year. Oil set a record of $100.09 a barrel in intraday trade, breaking through the $100 level that was briefly reached in the previous session in a single trade." "We believe that $100 oil is sustainable," said Giovanni Serio of Goldman Sachs." "The price rally has been fundamentally driven. Inventories have been declining quite dramatically and are now very close to critically low levels. Strong support continues from escalating industry costs which are putting upward pressure on long-dated oil prices." "It is very encouraging to see such a positive start to the gold market in 2008," said James Burton, chief executive of the World Gold Council." "It is evident that gold's unique investment attributes as an effective safe haven and dollar hedge have resonated with investors during this time of financial uncertainty." FT.COM
Where to from here? With oil breaking 100 per barrel and the dollar still weakening it is impossible to guess gold's future direction. Consolidation may be in order or it may climb further under the existing momentum.
"The first trading week of 2008 has been rocky for stocks, but for the precious metals market, things have started out simply golden. Spot gold has had record highs in its sights and has broken into territory not explored since 1980." Forbes.com
This is really a historic occasion. Odd, that we see such limited press coverage of this record breaking event. I remember well when gold was under 300 an ounce years ago and there was a major article in a major publication every week taking time out to ridicule gold and its low price at the time. But as it climbs to new levels now it is quietly and stealthily ignored by the media.
"Gold is among only a handful of financial assets that is not matched by a liability. It can help to provide insurance against extreme movements in the value of traditional asset classes that can happen during unsettled times…" "Last year gold rose by more than 30 pct, partly because the metal re-established itself as a safe haven asset amid concerns the US sub-prime crisis might result in a recession." Interactive Investor
Where to from here? We'll just have to wait and see.
"With little improvement in the health of the U.S. economy, interest rates still forecast to move lower, record oil prices creating inflationary pressure and little improvement in the geopolitical climate, gold should remain in a strong mood and look to challenge $900 an ounce during the first quarter…" Marketwatch.com
I have been accused many times before of being a cheerleader for gold. But not really. I have simply gazed at external events and their ultimate direction and estimated that gold and other commodities would rise in price. So what will we see in this new year? A lot of volatility and that you can take to the bank. There's not much to say about the gold price really. We are in a multi year bull cycle and it is still in a climbing mode. As it will be for quite some time yet.
"Merrill Lynch forecasts gold between $700-$900/ounce in 2008" marketwatch.com
Where is the gold price today? Study the chart below and determine if this is one game you should be in on.
It's not too late to invest in gold related equities to take advantage of their wealth preserving attributes. We are living in the last days of cheap resources and commodities. Recognizing these facts Gold Letter, Inc. reviews undervalued gold and other resource stocks under valued and poised to rise in this time of increased demand for resources. Gold will only continue to escalate in value.
Click here to review Gold Letter
By David Vaughn
Gold Letter, Inc.
David4054@charter.net
© Copyright 2008, Gold Letter Inc.
"The Worldwatch Institute, an organization that focuses on environmental, social and economic trends, says the current rate of global demand for resources is unsustainable."
The publisher and its affiliates, officers, directors and owner may actively trade in investments discussed in this newsletter. They may have positions in the securities recommended and may increase or decrease such positions without notice. The publisher is not a registered investment advisor. Subscribers should not view this publication as offering personalized legal, tax, accounting or investment-related advice. The news and editorial viewpoints, and other information on the investments discussed herein are obtained from sources deemed reliable, but their accuracy is not guaranteed. © Copyright 2008, Gold Letter Inc.
© 2005-2019 http://www.MarketOracle.co.uk - The Market Oracle is a FREE Daily Financial Markets Analysis & Forecasting online publication.

Only logged in users are allowed to post comments.
Register/ Log in