Niall Ferguson China, Turmoil and Triumph, a Flawed Understanding of China?
Politics
/
China
Apr 01, 2012 - 03:41 PM GMT

Niall Ferguson's latest series on China to be broadcast in the UK ended in a highly convincing conclusion of what could come to pass, but I fear that Niall has let himself get too close to the subject at hand and miss the real big picture about why China is developing and where it is going, in a way he may again be repeating the mega mistake he made 12 years ago in 1999 with Gold when he stated :
"The twilight of gold appear[s] to have arrived. True, total blackout is still some way off...Gold has a future, of course.
"But mainly as jewelry." -Niall Ferguson
And that was when Gold hit rock bottom and began a 13 year bull market, and for many years since he remained bearish. As with all academics with plenty of time to construct arguments and theories based on extrapolating existing trends which can as we often see with the markets and economies prove worthless to what actually comes to pass, as by the time the story is being broadcast by the likes of Channel 4 to a mainstream audience, it is already a well established and obvious to most trend with much of the move already behind it.
Niall's latest China series comprised of 3 parts, parts 1 and 2 can be put down to candy floss, as they basically looked at China's history and how it arrived at the present under Mao's communist party, therefore the meat of his arguments were contained in the third installment that can be summarised into the following views of China and where it is going and what it means for the world.
* China can only be held together by the autocratic communist party
* Chinese people can be easily mobilised by the communist party, though with near random good or bad outcomes.
* The Chinese people do not think like the people in the west, which is why the vast majority do not want democracy and freedom.
* As the Chinese people get richer they will NOT become like the west.
* Nationalism is on the rise in China as Chinese people increasingly believe their own propaganda of being special as to the reason why they are developing at such a fast pace.
* China could follow the same path as early 1900's Germany into wanting to build an empire and world conflict.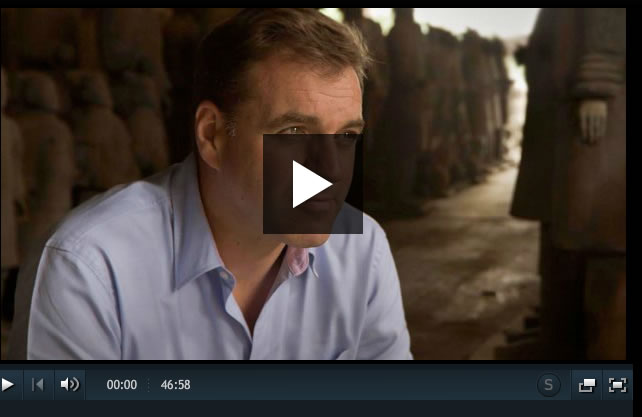 This and the other 2 episodes are available to view online at the Channel 4 website.
Flaws in Niall Ferguson Understanding of the China Story.
Niall Ferguson has over complicated the reason for China's development by getting far too close to the subject at hand because the same reasons for China's development can be applied to virtually every other developing nation that could replicate China's growth rate just as developing countries before have such as Japan developing at mega-fast from nowhere to fully developed states, and as we are seeing with China in the present this is being aided by current technology that acts to accelerate the pace of development.
The major error that Niall Ferguson is making is that he is forgetting that China is a country of 1.3 billion people so of course everything will appear to be on a huge scale considering the mass of people at work, however to get the real picture and real state of the chinese economy one has to divide everything produced by 1.3 billion to get a true state of the development on a per capita basis.
The real reason why China is developing so fast and as is the case with many other developing countries such as Brazil with India not far behind is because of the mega-trend for convergence of GDP as detailed in the Inflation Mega-Trend ebook (FREE DOWNLOAD) as the below excerpt illustrates.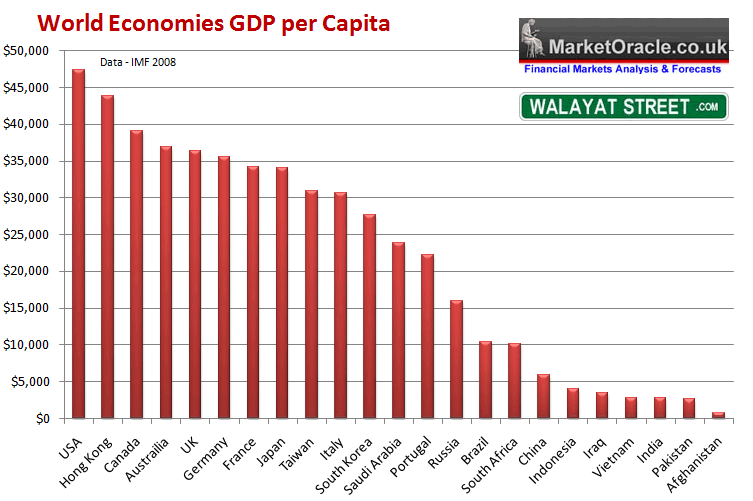 The Chinese fast growing economy with consistent annual growth rates of 10% per annum is on course towards becoming the worlds dominant economy over the next 10 - 15 years, with GDP per capita at just $6,000, China's economy retains the capacity to keep doubling in size several more times before growth rates seriously start to diminish, therefore despite the growth to date the economy still has a long way to go towards even reaching half the per capita income of that of the western economies.
China Intellectual Growth Problems
One possible fly in the ointment is future political stability, as so far the 'communist' in all but name one party state in China has been able to keep its peoples eyes focused on economic prosperity and not to stray into political activism, whether at some point in time a crunch point comes when a more wealthy educated people demand more openness and freedom of expression.
Another problem that follows on from the authoritarian government structure is that China's access to the information age is very limited, i.e. web searches are usually blocked and user access to the internet closely monitored. This implies that China is unlikely to replicate the global growth in the production of consumer durable goods on to the internet technologies, which will still largely remain something in the hands of the democratic relatively free English speaking world as long as they do not erode their own countries freedoms by means of the states misapplication of technology to prevent free thought.
So the real reason why China is developing at such a fast pace is because China on a per capita basis is so far behind the western nations, with current per capita estimated at $8500 still lagging far behind the likes of the US and UK at 48k and 36k per capita which explains in totality why China is enjoying growth rates of near 10% per annum because it has yet to get to even to the half way mark of where the west is today.
Contrary to what Niall Ferguson may suggest or threaten for the west, China can never even approach the west let alone beat the west because many of the reasons Niall Ferguson puts forth as China's great strengths will in fact act as nooses around the Chinese economies neck that will tighten as China approaches 50% of Western per capita GDP mark with the rate of development likely stalling soon afterwards.
The main nooses around China's neck are -
* The communist party that infects every facet of ordinary life so as to control the people through fear of what the party could do to anyone that does not follow the party dictats. This is a huge and growing bureaucratic leech that numbers 81 million today that acts to drain the Chinese economy that will make its presence increasingly felt as China's economic growth rate slows.
* Corruption - As a consequence of the one party state, corruption in China is endemic, the Corruption Index ranks China as 75th most corrupt country. Off course China is not alone in corruption amongst the developing nations as countries such as India (95th) will also face bottlenecks to growth as a consequence of corruption, but they have at least some resemblance of democracy to produce a mechanism for change, whereas there is no such mechanism in China, corruption goes hand in hand with the communist party and as long as the communist party is in charge it cannot be effectively dealt with.
Neither do I agree with Niall's conclusions that the Chinese people as being different to western people and thus not wanting democracy and freedom as well as everything else available to those in the west, the same used to be said of the Russians. Yes it will take a bloody revolution for the Chinese people to free them from communist party rule which is ultimately what will happen though which is still probably more than a decade away, but which I see as inevitable and as we have seen with the arab spring it is something that could happen relatively quickly.
The bottom line is this that China can never rival the west on a per capita basis unless it becomes the same as the west in virtually every aspect.
This means China, as is the case with all totalitarian states will start to hit an economic road block at around the 50% of the west's GDP that puts it around at $20k per capita. Still a $20k per capita economy gives China plenty of room to grow over the next 10 years.
Another major element of Niall's series is to warn the west of a world effectively turning Chinese, and the risk of China following the early 1900's Germany into a series of empire building conflicts as it lashes out at existing powers standing in its way, much as the West had to confront communist Russia that whilst never proved to be an an economic rival to the west, did however result in a highly costly resource consuming high risk cold war for some 50 years, which could be replicated in a similar cold war conflict with China as the west attempts to keep the Chinese Dragon boxed into East Asia, which would feed the military industrial complexes of all nations. Still it is bit of a leap for Niall to scare monger to such an extent by putting the German label onto a possible Chinese future empire when it appears to be following the early British model of Empire building through Trade.
China Feeding the Inflation Mega-trend
The mega-trend for the convergence of GDP's between developing countries such as China, India and Brazil continues to unfold which means downward pressure on wages and purchasing power of the west and upwards pressure on wages and purchasing power of the developing or more accurately termed as the newly industrialising world. In this respect we have at least a decade to go, which in my opinion will result in high inflation in the west as governments print money to inflate the purchasing power of wages away so as to converge with the likes of China, and even higher inflation in the east as they seek the consume as westerners.
This mega-trend will stoke the fires of Inflation for at least the rest of this decade. And it could yet get even worse than that as China's growing economic power will also play out militarily in attempts at rivaling the west. Whatever follows will result in an highly inflationary environment as we will be forced into a new arms race whether we like it or not, much as Niall Ferguson concludes that China's dash for development and resulting empire to feed the totalitarian state driven manufacturing engine has all of the potential pitfalls in place to replicate that of early 1900's Germany as the Chinese start to believe their own nationalistic propaganda that they are special people, different to others, destined to rule over others by virtue of natural superiority.
We are not there yet, but we can see elements at work in Africa today as Niall shows Chinese workers deprecating the value of african workers performance that they employ to whom they pay chinese wages and offer chinese working conditions that do not match those offered by western mining corporations. As China's trade links coalesce into the formation of a colonial empire of sorts, this would set the scene for many flash points for conflict between China, the West and the peoples of these new Chinese colonies as China would react with its own version of gun boat diplomacy in the form of a fleet of newly built air craft carriers that will soon start sailing towards new colonies.
However at the end of the day, the Empires of the West have a well over 200 year head start, the best China can hope for in the long-run is to become a big version of Japan, or it faces a similar fate to the Soviet Union, including the possibility of a break-up. Therefore my opinion is that Niall Ferguson has got it all wrong, instead of China's development being a threat to the Western world, it is rather that China is under greater threat from Western interference as a consequence of painting an ever larger target on its back. For the bigger the perceived threat China appears to pose to the Western Nations, the more willing they will be to martial resources towards neutralising this threat, as western populations are increasingly fed plenty more mouthfuls of propaganda such as Niall's scare mongering threats of China effectively becoming the next Nazi Germany!
Therefore for China to survive, intact, it needs to continue doing what China does best which is to produce junk on an epic scale to first fill up western garages and then domestic Chinese garages whilst attempting to steer clear of the global Geopolitical arena, which is something it may find increasingly hard to do if rising Chinese nationalism as Niall Ferguson suggests is true.
The bottom line: China's growing economic prosperity is turning it into a target as the military industrial complexes on BOTH sides mobilise for profit. Resistance is Futile, China will be assimilated just as every nation is being into a uniformly western world.
My next in-depth analysis will focus on the Inflation Mega-trend expectations for this whole decade. Ensure you are subscribed to my newsletter to get this in your email in box.
Source and Comments: http://www.marketoracle.co.uk/Article33906.html
By Nadeem Walayat
Copyright © 2005-2012 Marketoracle.co.uk (Market Oracle Ltd). All rights reserved.
Nadeem Walayat has over 25 years experience of trading derivatives, portfolio management and analysing the financial markets, including one of few who both anticipated and Beat the 1987 Crash. Nadeem's forward looking analysis focuses on UK inflation, economy, interest rates and housing market. He is the author of three ebook's - The Inflation Mega-Trend; The Interest Rate Mega-Trend and The Stocks Stealth Bull Market Update 2011 that can be downloaded for Free.
Nadeem is the Editor of The Market Oracle, a FREE Daily Financial Markets Analysis & Forecasting online publication that presents in-depth analysis from over 600 experienced analysts on a range of views of the probable direction of the financial markets, thus enabling our readers to arrive at an informed opinion on future market direction. http://www.marketoracle.co.uk
Disclaimer: The above is a matter of opinion provided for general information purposes only and is not intended as investment advice. Information and analysis above are derived from sources and utilising methods believed to be reliable, but we cannot accept responsibility for any trading losses you may incur as a result of this analysis. Individuals should consult with their personal financial advisors before engaging in any trading activities.
© 2005-2022 http://www.MarketOracle.co.uk - The Market Oracle is a FREE Daily Financial Markets Analysis & Forecasting online publication.
Comments
ernie messerschmidt
01 Apr 12, 23:00
absurd China analysis


"The bottom line is this that China can never rival the west on a per capita basis unless it becomes the same as the west in virtually every aspect."

This statement is an asininely absurd excuse for analysis, and could only been pulled out from a place within you distinctly lacking in the light of day. China is a very radically different culture. It will never be "the same as the west in virtually every aspect."

What is happening is that China is becoming more like Japan. You underestimate the strength of East Asian Confucian culture and overestimate the strength and health of Western culture. The US and UK are headed downhill in almost every way perhaps as fast as China is moving forward.

More likely than your baseless contention that China will fall to inevitable westernization is Ian Fingleton's contention in In the Jaws of the Dragon that the West is becoming more Chinese.

Why in the world would you think that they would want to become like the rotten West? Just look at "our" failed financial system, fraught with fraud, functioning for a tiny criminal "elite," supported by tax payer money in the worst of all possible fascist arrangements.



Nadeem_Walayat
02 Apr 12, 06:08
System's and China


A system is more than the sum of its parts.

China is only playing catchup and has a LOOOONG way yet to go, as i stated in the article it has many nooses around its neck that will impact China hard once it reaches the half way mark and it WILL need to change if it wants to progress further, just as Japan has.

Already China cities are westernising, attemping to replicate the west in many aspects.

But the communist party is a huge noose around China that will limit the countries growth potential.

The West is NOT in decline, the West (which Japan is part of as an example of manifestation of the westernisation of the world) is still in the acedence, and nothing has changed to suggest that the west is in decline so Nial Ferguson is WRONG.

So no china can never rival the west on a per capita basis until it becomes a western nation just as Japan has.

Best

NW



R.E.B
02 Apr 12, 08:12
China vs West


Mr Messerschmitt, take a look at the GDP per capita graph again. THAT is why they want to become more like the west. As for corruption, the Chinese ruling elite are in a league of their own. Imagine coming home one day to find that the local party official has sold the land your house stands on to the highest bidder and you are told to move forthwith.At gunpoint. As Nadeem has already said, the west has already won, all others are now playing catchup.



Nadeem_Walayat
02 Apr 12, 11:01
The West Has Won!


Yes REB, the west has won and everyone wants to emulate the wests prosperity.

I think Niall is trying to create a scenerio for conflict with China, when its more likely that China like a child (which econonomically is what it is) is trying to impress the West and other countries, so everything it is doing is copying the west just as former colonies of Britian seek to do at every opportunity to let their father figure know that they are doing well. China sees the west as a father figure to impress, I doubt very much we will see conflict between China and the West, there is not much evidence of that being there in history.

In fact communist China pallied up with the West against Communist Russia that it saw as the real threat.

Best

NW



Morton
02 Apr 12, 11:26
Nobody Wins


You are all typically missing the point entirely ! You people can't see the wood for the trees . I suggest you watch :

http://youtu.be/pMgOTQ7D_lk . . . and wake up .



Simon
02 Apr 12, 11:45
West in Decline


Nadeem

Face facts that the west is in decline and is making way for a rising China, those are the facts, the west is bankrupt.



Nadeem_Walayat
02 Apr 12, 12:07
Nobody Wins and Decline of the West


Hi

Morton - They video is typical academia, looks in a rear view mirror and this one appears to be looking way back to the 1950's to tell you what has already happened. It is totally worthless for what is to come !

TOTALLY, UTTERLY WORTHLESS.

It is staring you in the face when yuo watch the 1950's film that the film producer is blind to, and that is the impact of INNOVATION !

Yes, the producer is a typical rear view mirror waste of time academic.

Simon

West in Decline ?

How can the west be in decline when its not even peaked yet ?

We are still at the beginning of the beginning get that in your mindset and you won't miss the mega-trend booms that are yet to come.

AT THE BEGINNING OF THE BEGINNING

Ive touched on several related trends over the years that are converging towards a rate of development that we cannot even imagine today.

YOU thought the internet developed fast ?

YOu ain't seen nothing yet cos the rate of change is ACCELERATING TOWARDS WHAT ? I cannot imagine the world we will be in 20 years from now because it will be infintely different to where we are today, on par with comparing today to the 1920's!

Best

NW



Pat
02 Apr 12, 14:17
East - West Divide?


Democracy or single party state? They're both the same really, both deliver government and a bit of corruption.

What sets the west apart is it's instant mass communication and computerized/industrialized farming, food, manufacturing, knowledge, healthcare, finance, warfare, dating, everything! It just happened that when the world became ready for this stage in development, it was the west's turn. (Also that the west is generally a mixing pot of ideas so best placed for this).

As the east and eventually everyone gains TV, Internet and industrialized production, so too must democracy come. Why? In the age of instant information and media spin, what more effective way to confuse a people into apathy than imposing pseudo democracy on them?

So I'm with Nadeem on this one.



Gill
02 Apr 12, 19:51
China


Dear Nadeem,

Thanks for your excellent thoughtful article on China. It makes sense and puts the geo/political economic events in perspective.

Cheers

Gil (Sydney Oz)



Dave
02 Apr 12, 19:53
China Synopsis


Thoroughly agree with your synopsis. Ferguson, an author I respect, has got it 100% wrong on China, I believe the Chinese will grow old before they get rich ( someone else says this better than me) but more importantly, they will face food shortages because their fields are worked by a rapidly aging older generation and the "town-transplanted" young rural workers will not swap their mobile phone shops or factories for an 18 hour backbreaking day in the rice paddies



Nadeem_Walayat
02 Apr 12, 22:49
Seeing China Develop, Missing the West Accelerating


Whilst we can all see China developing at hyperspeed before our eyes.

But what we do not see is how fast the west is developing because we have nothing to relate it to other than time and where humans are concerned they tend to quickly forget what happened more than a year ago and instead rely on indicators such as economic statistics which can mask huge mega-trends for quite a while due to the cycling nature of sectors.

Just as if you looked at the Nasdaq chart you would miss the huge advance of the internet over the past 10 years.

Similarly we are so close to the cutting edge of advancement that we just cannot see the changes that are taking place today despite being fully aware of the markers such as the smartphone that is as powerful as a super computer of 20 years ago, DNA sequencing, biot-tech etc...

The pace at which the west is developing is accelerating, and everything, including the stock market at this point in time is a lagging indicator.

I think it is already too late for any country that is not already developed to catch up to the west (and I mainly mean the US), they will always be behind an ever accelerating curve no matter what the GDP growth rates suggest.

So no end of america, collapse etc... etc.. instead the US and those that try to stay close to the US are going to accelerate away from the rest.

Niall Ferguson is OH SO WRONG! The EXACT opposite of what is to transpire over the next few decades. However this is usually the case with academics, they will ALWAYS MISS THE MEGA-TRENDS as there are few consquences for being wrong.

You have to understand that whilst China is developing, building sky scrapers etc, the west is not standing still waiting. China is painting broad brushstrokes, whereas the west is constructing intricate detailed patterns.

Best

NW



William R. Thomson
03 Apr 12, 07:34
China and the west


Nadeem: No one needs to tke Ferguson too seriously. Far from being a serious historian he is a mere publicity hound chasing the ideas of the day to make light-weight (disguised as heavy-weight) TV documentaries. He makes his money from these TV shows as well as 'advising' clowns such as McCain in the 2008 US Presidential race and hedge funds. He will say whatever his masters want him to say. He is, in fact, a useful fool in Lenin's terms of the military industrial complex.

That said, I believe you are much too sanguine about the west. It is fat, rotten, corrupt, lazy, old and sinking into authoritarianism everywhere, especially in the Anglosphere. Look at the NDAA legislation in the US and the proposals on internet snooping in the UK. Freedom, privacy and democracy are all taking a back seat in the west and we are struggling with the challenges of the Kondratiev winter. If China becomes more like the west - and I don't doubt it will - it is in part because the west is becoming more like China.



Nadeem_Walayat
03 Apr 12, 08:19
Moores Law


In two words - Moores Law.

I.e. today's smartphone's will be floating around in peoples blood streams 20 years from now.

The accelerating pace of develepment far exceeds everything corrupt lazy governments throw at the technological machine, in which respect the credit / financial crisis / inflationary depression have had NO Impact on the rate of development so are a none story in terms of the mega-trends.

Best

NW



David
04 Apr 12, 02:24
Not so optimistic


Nadeem,

I am not as optimistic as you. Although I believe you are right about technological development, I think there are many other factors that will decrease people's quality of life, such as the crushing burdens of debt not accompanied by increasing wages, poor demographic trends, and increasing authoritarianism in the West. Not to mention the crushing burdens of socialism for the rich. As technological development increases the size of the pie, it is the top 1% that consume and/or hoarde the majority of that increases.

I would be interested to see an article explaining how technological development would trump all these factors.



Nick
04 Apr 12, 02:59
Inflation


Look Nadeem,

I don't want to be overly critical, but you have been spouting on about inflation and the inflation mega trend for some time now, yet many commodity stocks have been falling over 50% for almost two years now and they are selling off viciously every time the DOW or FTSE 100 sells off a few points very recently. How can you justify your arguments when quite clearly commodity stocks (a hedge against currency debasement) are doing the exact opposite to what they should be doing in this (supposedly) inflationary environment you keep mentioning. I would suggest lending has all but dried up and LTV's are actually decreasing not increasing.

I also note a few months ago a number of people were (quite rightly in my view) raising this subject about commodities and commodity stocks performing poorly and sadly you remained quiet on this subject at the time.

Would appreciate you coming out of your slumber on this topic rather quickly if you feel able to.

Many thanks,

Nick

p.s. you are spot on with regard to the Niall propoganda, but I would also suggest that the western world is becoming more like China also with regard to control.



Nick
04 Apr 12, 03:38
commodity prices and inflation


...In fact, if you take a quick look at the FTSE 100 commodity stocks, VED has fallen over 60% since April 2010, RIO has fallen over 30% since February 2011, KAZ over 50% since January 2011, BLT over 30% since December 2010. I could go on.

If inflation was such a problem, why would we see such massive falls in commodities? Surely all the currency debasement going on would put a support under commodity prices? Am I missing something?

Nick



Nadeem_Walayat
04 Apr 12, 08:51
The Future


Hi David

I will look at an indepth article at a future date, but its the exponential increases in productivity delivered by moores law that will trump all, as long as moores law continues to be true and I see no reason why it should not then technology will continue to develop exponentially, the pace that took decades to achieve a 100 years ago is taking place in months today.

We just cannot see it because we are too close to it. Go back in time even a few decades to say the 1950's and I would be sat wondering why everything appears to be so static and very little change in the rate of innovation than the world we are emersed in today.

We are in an accelerating world, with plenty of hyper speed revolution's around the corner and probably some we are already emmersed in that we just cannot acknowledge due to the fact we are swimming in that soup that will only become clear with the benefit of hindsight, just as today we can all see the rise of microsoft in the 1980's whilst at the time all eyes were on IBM.

Best

NW



Nadeem_Walayat
04 Apr 12, 08:59
Stocks and Inflation


Nick

Inflation is the mega-trend, i.e. that pushes multi-year / decade trend around which markets oscilate.

If inflation is 3-5% and say a stock goes up 50%, then falls 30%, then its your fault for not banking profits because the intra-year trends are investor sentiment driven

i.e. Silver going from $10 to $50 and then back down to $30 during a period of accmulative inflation of about 15% explains that the mega-trend is pushing silver higher over the long-run trend which speculators jump on to exaggerate which offcourse will result in huge bear markets because a rise of 500% is in no way related to inflation of 15% !

So first before you invest, you need to learn money and risk management rather than look for something to blame for not exiting when you had the opportunity to so.

All that the Inflation mega-trend does is to tell you is that the trend is for compounding rising prices at the rate oof between 3-5% per annum.

An investors job is to look for opppirtunities, today I am seeing that opportunity in the housing market.

Best

NW



ernie messerschmidt
04 Apr 12, 11:01
never the twain shall meet


Nadeem says "So no china can never rival the west on a per capita basis until it becomes a western nation just as Japan has."

China has 4 times the US population. It does not have to attain a per capita GDP equal to that in the West to dominate and control the world. At a GDP of 1/4 that of US GDP its output would be the same. US GDP includes financial flim-flam garbage that is meaningless -- mere shuffling of papers; whereas the Chinese GDP is more solidly based on real production. Jim Willie writes of this. If you think Japan is a Western nation, go live there for a few years, study the language, see what they really think and feel, and you'll change your mind. Never the twain shall meet, Baby! They have deeply more affinity for China, Korea, and their fellow Asians. The Greater East Asian Co-prosperity Sphere has in effect been created. They don't need the West and their Westernization is superficial and spurned. Japan leads the world in high-tech manufacturing. 250k patents a year, China 160k, the US 150k, Korea 110k, Germany way up there, the UK a turd barely visible as it heads down the toilet in that respect -- behind N Korea. These are real stats that indicate the future. The West's financialized economies have self-cannibalized themselves into a real fix, into debt slavery with precious little real production to support it, while China builds real wealth. The point is to face reality and fix our economies. I don't believe that facts support the complacent attitude that the West has won. Stats and trends tell a different story. I'm not rooting for China. They are not our friends.



Nadeem_Walayat
04 Apr 12, 15:22
China, Japan and the West


Japan is a westernised CAPITALIST country, China is also westernising though with several obsticles to overcome such as the communist party, until it does so it will nto be able to pass even the half way mark.

As you say Japan has many differences which is why it is still not fully westernised even though it has changed hugely from what it used to be, so at still is disadvantaged to some extent to the west, which I term as being most closest to the U.S. in most aspects, to which we have countries such as the UK, Canada and Austrailia as being the closest compared to other western countries, so its a degree of westernisation.

And don't forget that Japan exists under the western banner both in terms of trade and protection. To somehow think Japan is not part of the west is to not understand what the west actually is. which is the sum of all systems many of which today's Japan incorporates and others such as China work towards achieving.

GDP per capita is of paramount importance !

It is what determines where the smartest and brightest of the worlds populations gravitate towards. Very few want to go and live in a far lower GDP per capita econonomy even if it is growign at 10% per annum.

Best

NW



Helix
04 Apr 12, 18:16
Never say never
Re: Contrary to what Niall Ferguson may suggest or threaten for the west, China can never even approach the west let alone beat the west because many of the reasons Niall Ferguson puts forth as China's great strengths will in fact act as nooses around the Chinese economies neck that will tighten as China approaches 50% of Western per capita GDP mark with the rate of development likely stalling soon afterwards. Never say never. Extrapolating from China's current social constraints into the future is just plain unrealistic. All societies evolve as they industrialize. For that matter, extrapolating America's future from present circumstances is similarly perilous. The current US trend seems to be to send it back to the 3rd world by inflating away the wealth of the 99%. But then, I'm extrapolating here myself. The bottom line is that no one really knows. However, the US seems to be very slow to recognize that it no longer has a monopoly on educational attainment, natural resource endowment, and favorable business climate. Plus China has seen an enormous growth in manufacturing (at the expense of the US), and manufacturing is a strong promoter of innovation. The US has no guarantee that it will continue to be the world's premiere destination for innovation. In short, never say never...

Kelvin
05 Apr 12, 03:51
...to give a fish or to teach someone to fish


Hi Nadeem,

I am pleased you posted above in response to Nick's dilemma.

It would appear that he is probably correct that many of these commodity stocks have been sold off rather relentlessly to date, especially with pe ratios in the single digits. Something is brewing - that is for sure!

Anyway, the purpose of this comment was to ask whether you might feel able to share your thoughts or your advice on the best links to information on money management and risk. This might prove most helpful to some people like "Nick".

Perhaps, you might even point some of us in the right direction on how you do your analysis of the stock markets, currencies and indices in order to ascertain the best probability trades? I know you once mentioned Gann (commodities) but I wonder whether there is any other information you might think is useful in carrying out market research and technical analysis. Do you think you could point some of us in the right direction?

I only ask because your advice always seems to be impartial and honest (and you are always courteous) which is a refreshing quality in the environment we live in today.

Many thanks.



ernie messerschmidt
05 Apr 12, 10:55
Japan, China beyond capitalism/socialism?


According to this article http://majorityrights.com/weblog/comments/the_japanese_economic_model_as_a_refutation_of_neoliberalism/

the way the keiretsu system operates in Japan, networks of industrial concerns and banks are virtually self-owning, with insignificant outside ownership, such that the workers are the effective, beneficiary owners -- thus bypassing capitalism/socialism. Profits either go to workers, to improve production, to improve market share. Just the opposite of Welch's shareholder equity maximization, the LBO process (which is still going on), derivatives,and other rip-off perversions of the Western financialized economies. Moreover, Japan is a planned economy, with the ministry of finance setting the agenda and in charge, tightly controlling and supervising -- virtually owning. In China the government outright owns the banks and thus controls, making sure 5 yr. plans are implemented. China uses market mechanisms but keeps them subordinate and in control. It is overridingly socialist and will remain so. The idea of the dysfunctional West as some sort of Platonic ideal that the East must strictly imitate or suffer accordingly is fatuous. Look! The parasitic predatory Western financial system is moribund and on life support from government. It is no shining example at all.

yes, Best!



Nadeem_Walayat
05 Apr 12, 16:11
Free Market Capitalism


Hi Ernie

The closer an economy is to free market capitalism then the greater the long-term prosperity.

As you say China and Japan central planning shows fundmental flaws in those economies.

Same as in the west the corrupt financial system is a flaw in the system.

It's just that the West retains a net advantage as our flaws are less severe than those in the likes of China and lesser so in Japan which is far closer to the west than China, though off course its banking system is also corrupt.

Again, there need to be mechanisms to drive those that cannot compete out of business, which Japans socialist model prevents hence why its stagnated for 2 decades now.

Best

NW



Nadeem_Walayat
05 Apr 12, 16:12
Learning to Trade


Hi Kelvin

Trading is centered around reacting to price movements in real time.

Investing is centrered around identifying mega-trends and then attempting to monetize them.

I'll get around to writing a book some day. But thats basically what I do for trading and investing.

Best

NW



Nadeem_Walayat
05 Apr 12, 16:14
China Trends


Hi

China is trending towards a road block at about 50% of the Wests GDP per capita when it will have to change.

So when it does change, then it won't be the same as today's China i.e. communist party rule and so be open to new possibilities.

But the system that Niall Ferguson paints is destined to fail because when you hit a road block and you cannot compete then you go bust.

Best

NW



R.E.B
07 Apr 12, 09:00
West & East


There are some very good points being raised here about the weaknesses of the western economies but I believe the possible negative ramifications are being exaggerated and the weaknesses of the east downplayed. The UK economy has been a basket case for most of my lifetime. We spent the whole post WW2 era lurching from one crisis to the next with multiple currency devaluations, bond market crisis, IMF bailouts etc etc. Yet through all that time the living standards of your average Brit have risen relentlessly. We sit here now in centrally heated houses with power showers, dishwashers, tumbledryers, two cars and more computing power at our fingertips than NASA had a generation ago. Yes we are bankrupt. Yes we will have our day of reckoning in the bond markets. But we will not go back to year zero!



Dan
07 Apr 12, 11:28
Middle East


Hi Nadeem,

I would be curious to read your analysis of the Middle East and Africa areas. I read with great interest this analysis of China and the one of Russia.

Thanks,

Dan



Nadeem_Walayat
08 Apr 12, 00:40
This is NOT the 1930's


Those that harp back to a re-run of the 1930's miss one fundemental fact and that is today is NOT the 1930's.

It IS different this time, because it is NOT the same world as the 1930's by several orders of magnitude.

We are accelerating towards what ? We can only imagine.

The ONLY things standing in our way are big government, public sector and state subsidiies.

The more competitive an economy the greater potential it has to profit from the unfolding new industrial revolutions for I am seeing MULTIPLE emerging industrial revolutions from robotics, to nano to bio-teck to AI, to micro manufacturing, to....

We will look back on today and wonder how could we live without x,y,z. Just as we look back on the 1970's and wonder wow how did we get by without personal computers, mobiles and the internet. We just cannot imagine a world without these devices, similarly 20 years from now we will not be able to imagine a world without AI and robots.

So forget the always wrong doom mongers, instead prepare yourselves for mega-profit opportunities from expoential innovation.

Best

NW



rubin
08 Apr 12, 06:18
china rising


HI Nadeem

I have admired your every post on market oracle but this one. The best solution to complex problems is always found by keeping things simple

Believe me i have lived in west IE USA and canada and also

asia thou not china but india in last decade

And if my expereice is any thing to go by i have seen

people in Usa and canada crying for there power and utility bills many telling me they work just to pay there bills ect

And here in india those people who would go crazy 10 - 15

years back looking at a single 100 $ bill not only talk about millions but Spend millions Yes in dollars on cars houses and what not

Yes i am taliking about the upper middle class of india with whom i dealt with but these same people used to ask me to for small things when i used to come here

now they talk live and spend like big business tycoons

On the other hand i have frineds in US loosing there jobs

houses and even cars to banks after working for 15 hours a

day

The indian middle class which had a networth equal to 1/10 of and american 15 years ago can now buy 5 american families in cash Mine included

Now when china is better that india economically how on earth do i believe your conclusion that west is going up

and BRICS are not

Remember though you might not agree the way things are going down its not unexpected to see that one day china will reach to 75 % GDP per capita of west but west may loose 50 % GDP per capita to brics

and eventually become poorer that BRICS

Most of the middle class i know spends 6000 to 10000 USD

For holidays abroad every years how many of us in West go for such holidays these days

Also most of my frineds here in india say each family owns gold oranaments worth 200,000 to 300,000 USD and thats a given minimum

PS I am not as brillant as you are i just wrote what a saw in this decade you may or may not agree with me but according to me wealth is shifting its flowing like water from west to brics some have seen it 5 years back some see it today some will see after 5 years



Jake M
08 Apr 12, 10:31
Market Targets


Hi Nadeem,

I have follow your writings for just about four years now and first wanted to thank you for your constant wisdom and grounded approach to investing as it is truly unique in today's world of media.

Conversely, I wanted too get your opinion on a few time frames here. We clearly want to trade the meat moves as day trading is usually a loser's game, but lets assume that 1420 was a minor top on the Sp500 and a normal 5% correction brings us to 1355 before putting in our next high in late April going into earnings. Does this fit into your views or do you weight any significant probability on this being a deeper correction and that 1420 will be a top until sell in may/june doldroms alleviate?

Best,

Jake M



Nadeem_Walayat
08 Apr 12, 14:09
China India and Markets


Hi

Rubin - India and China are playing catchup, and there is plenty of room for high growth for the remainder of this decade, so yes it will appear as though these and others are ascending.

At the end of the day these countries have fundemental flaws that outstrip those in the west (and I mainly mean the US), that limit their potential so they will find it hard to beat even 50% of the wests GDP let alone beat the west.

That does not mean that countries cannot change further to emualte the west, which is basically what these countries are trying to do, i.e. copy the west.

At this point in time it is very easy to be seduced by growth rates approaching 10% per annum to conclude that the west is done and the east is rising to the top because the gap between the west and countries such as China and India is still HUGE.

I can imagine 5 years from now when these countries will be stalling, these will be old growth stories instead everyone will be then talking about the rise of BURMA !

It is just not possible to conclude today that countries with GDP per capita of near 1/10th the west (india) are going to beat the west, for the economies could double in 10 years whilst at the same time fall behind the west in total GDP per capita so in reality NEVER catch up with the west.

Look, I am trying to determine the most probable trends so that i can profit from them, so it nothing to do with politics but what is actually likely to be the most probable outcome, whereas Ive noticed those those that reside in the emerging world, are perhaps too eager to believe their own spin, which is not so surprising because everyone towards the end of a trend gets caught up in its certainty so the feedback I am getting confirms that I am probably right, instead of the decline of the west, and rise of the east, the west is about to leave the rest far, far behind.

These are the trends I see likely to unfold over the next 20 years and the time to invest in them is NOW. Not in yesterdays story which is what China and India represent, for instance I would not be surprised if all of the factories China has been busy building become redundant over the next 10 years! Same goes for India and its call centres, all of which could be replaced by AI's over the coming decade.

The future is just around the corner.

Hi jake

I'll try to take a look at stocks in the coming days, but my strategy for the past 3months has been to liquidate my stocks portfolio from about 40% of assets to now about 10% so the incentive to analyse the market is far less now then it was several months ago.

Best

NW



James
09 Apr 12, 03:00
Commodities


Hi Nadeem

How do you think commodities fits in with the new magatrends of the west that you speak of?

Many thanks

James



CC
11 Apr 12, 00:34
East versus West


Anyway one more point, the East is not directly copying the West. Look at Japan, it may look western hardware wise but the ways of doing things is still very much Japanese. People always criticize Japanese system for not being efficient but they do look after the broad needs of the society. The west is nowadays very much where everyone talks about their own rights and very few about their obligations. The last point has certainly creep into some Asian societies like Hong Kong.

CC



Marcin Strojny
16 Apr 12, 08:19
So called progress


NW :

"The accelerating pace of develepment far exceeds everything corrupt lazy governments throw at the technological machine, in which respect the credit / financial crisis / inflationary depression have had NO Impact on the rate of development so are a none story in terms of the mega-trends."

I would like to be that optimistic. Unfortunately, the West is far from being a natural phenomenon. There are many trends that started in 1700's when an intellectual elite vowed to end the monarchies and religions. In addition to the 'inflation mega-trend', we have 'mass education (mass production of subjects fit for the new times) mega-trend', 'dumbing down of societies by scientific design mega-trend', 'planned obsolescence of all goods produced mega-trend', industrial food production (a decrease of nutritive value in food) mega-trend', destruction of family mega-trend', 'destruction of morality mega-trend', globalisation (which is an outright war on any competition in the market) mega-trend', consolidation of everything everywhere (war on community, individuality, autonomy and submission to institutions) mega-trend'.

Personally I cannot believe that new gadgets are going to make people happy, while they become energy donors to a global structure matrix-style where everything is staged and preplanned (WWI, WWII, Cold War, War on Terror, Landing on the moon) for the masses, while other programs are run behind the curtains.

I found recently in my attic an old Russian torch light - the rechargeable batteries not used for 15 years still work like 20 years ago. 1000 GBP worth HP laptop's battery will day in 2 years.

Tesco's corn fed chicken which cost 8 GBP is maybe 20% (quality wise) of the chicken naturally bred in my grand mother's farm. Who can afford to have food this quality today?



Paul
19 Apr 12, 04:08
Housing


Housing - in depth analysyio due any time soon?

Keep up the good work



Jim
24 Apr 12, 05:19
stocks and shares


Nadeem,

Could you please give us another update (asap) as to what is happening in the stock markets right now and their likely trend for the next few months.

Thank you.



Nadeem_Walayat
24 Apr 12, 09:52
stocks and Shares


Hi

Ok, my eyes have been elsewhere on the mega-mega-trend, plus housing and inflation, but I will give you my quick take.

Clearly the volatility is as a consquence of the ongoing euro-zone crisis, not helped by the Dutch wobble.

The actual trend is nothing, its just gone sideways, yes there is a potential bearish head and shoulders but I know that more often then not this pattern FAILs to materialise.

Yes, I know its usually a case of sell in may and go away but that chart is suggesting this year we may see the opposite i.e. a higher May / June.

Ok, thats my quick take.

Best

NW



Jim
25 Apr 12, 01:49
Thanks Nadeem


Thank you very much.

This was my take also on a balance of probabilities and looking to see a primary wave 5 commence.

It is comforting to hear your views from time to time (wish it was more often) so thanks again for replying.

p.s. everything you state it taken "off the cuff". It's just refreshing and enjoyable to hear your views on the markets.

Best

Jim




26 Apr 12, 12:33
DaveH


Small H&S patterns within the context of a bull market often tend to be nothing more than continuation patterns imho



Kelvin
02 May 12, 04:24
Technical analysis


Good morning Nadeem,

I would like to see a detailed analysis of the markets going forward if you have some time.

(It would be a refreshing change to read something different to the usual suspects on this site)

Many thanks,



Nadeem_Walayat
03 May 12, 05:12
Analysis


Hi Kelvin

I've written a draft mega-article that I am goinf to have to chop up and post in 4 sections before I look at anything else.

So -

Part 1- Debt and Inflationary depression

Part 2 - Multi-year inflation forecast

Part 3 - The mega-megatrend (to be revealed).

Part 4 - What will drive economies.

The problem is as I am doing the analysis I am finding myself wondering off to monetize on it i.e acting on it, hence the delay in completing and posting.

Best

NW



kelvin
03 May 12, 07:26
analysis


Hi Nadeem,

Does that include precious metal stocks or commodity stocks?

Thanks.

p.s. I do think the torch is going to asia in much the same way it did from Great Britain to America - after a similar financial crisis. I say this taking on board all the comments you make above. The only question I have in my mind right now is what currency do we have today to match the USD. Unfortunately, nothing today springs to mind. Therefore, if you take away a viable currency, what are you left with? (rhetorical question).



Nadeem_Walayat
03 May 12, 16:33
Peeling back the layers


Hi

To get to understand how the machine works, I have to peel back the layers to reveal the underlying cogs, but as you know, like an onion, you peel one layer only to reveal another beneath, all analysis is accumulative, if I don't go through this process, then when I come to markets I will just be flipping coins.

Best

NW



Nasir
07 May 12, 09:34
Economic Forecasts and Unemployment


Hi Nadeem, as always love your commentary and insight, but I think we really need an honest analysis of the UK economy and umemployment. Have your forecasts changed? and will unemployment still continue rising into 2014 as you previously predicted. I would love to read an up to date analysis of the economy and future GDP growth prognosis for 2013,2014,2015 and 2016. So far growth has been well not existent, so what can we expect going forward please?

Kind Regards

Nasir



Nadeem_Walayat
07 May 12, 16:17
Economy


Hi

I'll get the ball rolling this week with a series of 6 or 7 articles to cover the whole spectrum as well as what to do.

Best

NW




Only logged in users are allowed to post comments.
Register/ Log in