Facebook Tanked and Soybeans Soared!
Commodities
/
Agricultural Commodities
Jul 12, 2012 - 02:30 PM GMT


Facebook was to be the rebirth of the glorious technology stocks. Portfolio managers have been longing to return to the era when they did not think. They just owned massive positions in technology and internet stocks. Social networking was to be the seed from which that rebirth would sprout. Rather, Facebook turned out to be one damp squib. As we write, that stock is still off 30% from the high achieved on opening. While Facebook may not be the worst performer of the 2012, it will certainly be the worst recommendation of the year.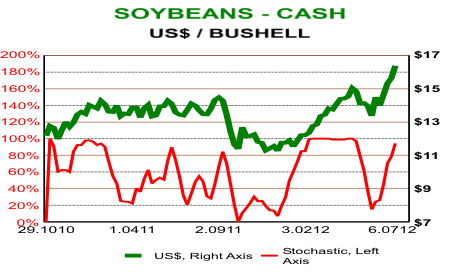 We were always told that commodities were risky. Turns out that having money with a commodity broker may be far riskier than the commodities. Apparently, the only times the U.S. regulatory agencies and accounting firms can detect a problem is when the elephant drops out of the sky onto them. Barny Fife clones are apparently running the CFTC and the NFA.
All the time the gurus were talking of the wonder of such investments as Facebook, Groupon, and Zinga(Some think FarmVille is real.), they were telling us to stay out of commodities. According to these seers, China is crashing and will not import any commodities. Unaware that soybeans and iron ore are different, this uninformed group did not differentiate between the two. While Chinese imports of metals are weak their June imports of Agri-Foods were double those of last year(Financial Times, 11 July).
Ignoring the above advice from the gurus: Facebook Tanked & Soybeans Soared!
Soybeans, in the above chart, are a commodity that China is importing, with gusto. According to the latest USDA WASDE, China will import 61 million tons of soybeans in the 2013 crop year which begins in September. Those imports will be up from 52 million tons in the 2011 crop year. Of the coming soybean crop the world will begin harvesting in September, China will consume about 30%. They will import nearly a quarter of the world's total soybean production. Street gurus rarely let facts interfere with their investment recommendations.
Rally in soybean prices began earlier in the year when the South American harvest was less than expected due to dry weather. Compounding that problem, farmers in the Northern Hemisphere, particularly those in the U.S., preferred to plant corn rather than soybeans. The acreage devoted to soybeans was less than hoped. Then the weather turned dry, and has stayed dry. That drought, if it continues, could reduce the soybean harvest by a meaningful amount. Soybeans are not produced in a factory. They are only grown in dirt when water is applied.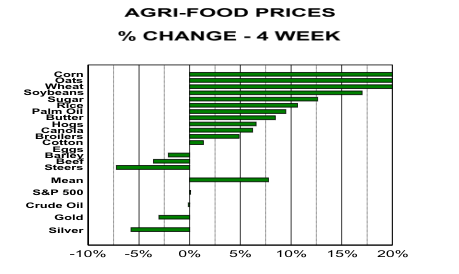 The USDA estimates that in August the U.S. will have 35 days of soybean consumption in the bins. In August of next year those soybean inventories will be less than 28 days. To put those numbers into perspective, a soybean crop is harvest every 365 days. Soybean prices are likely to remain high, even if rains come, till the next South American harvest in early 2013.
Chart above is of the percentage price changes that occurred over the past month by the important Agri-Commodities. Drought in Midwestern U.S. has propelled the four at the top higher. While rain when it comes will help, each day some damage is being done to North American crops.
Sugar has risen as the same weather phenomenon that brought dry conditions to North America brought rain to Brazil. That development interfered with the sugar cane harvest in that nation. Forecasters believe that those weather conditions will soon begin to reverse themselves.
Clearly, Agri-Commodities are driven by fundamentals different from iron ore and copper. The long-term Super Cycle in Agri-Commodities and Agri-Investments has years to run. Do not let journalists and out of touch Street gurus manage your portfolios. Researching Agri-Equities this Summer would be a good use of your time. Besides, too darn not and dry to go outside.
Editorial: With PFGBest clients losing what appears to be ~$200 million the U.S. has again secured the 2012 Global Accounting Fraud Award. A reasonable conclusion would be that nothing meaningful has been accomplished by the CME, CFTC, or NFA since the collapse of MF Global. Not one person at these organizations should receive one dime of pay till every client of PFG is fully repaid. To date, we have not read of one person at these organizations losing their jobs for their failure to perform their supervisory duties. We just hope some judge somewhere will realize that these organizations should pay, pay, pay till every client of PFG is made whole!
10th Agri-Food Commodities: An Investment Alternative, July 2012 is now available. While clearly the most boring report in the Western world, it is the premier, independent source of research on returns produced by Agri-Commodities. Included in it are comparisons with U.S. equities, U.S. bonds and bills, Gold and Chinese stocks. For more information see our web site.
By Ned W Schmidt CFA, CEBS
AGRI-FOOD THOUGHTS is from Ned W. Schmidt,CFA,CEBS, publisher of The Agri-Food Value View, a monthly exploration of the Agri-Food grand cycle being created by China, India, and Eco-energy. To contract Ned or to learn more, use this link: www.agrifoodvalueview.com.
Copyright © 2012 Ned W. Schmidt - All Rights Reserved
© 2005-2019 http://www.MarketOracle.co.uk - The Market Oracle is a FREE Daily Financial Markets Analysis & Forecasting online publication.

Only logged in users are allowed to post comments.
Register/ Log in