UK House Prices Fall in February- Home Owners have Lost £7,600 in 6 months!
Housing-Market
/
UK Housing
Mar 08, 2008 - 12:28 AM GMT


Seasonally adjusted house prices fell in February by 0.3% to £196,649 (Halifax:SA), a fall of £600. None seasonally adjusted house prices are now down £7,600 since the peak made in August 2007 which equates to an average drop of £1,266 per month in equity. This is against an interest rate implied cut of 0.5% on interest repayments on an average UK mortgage of £150,000, or just £62.50 per month (Rate cuts inline with Sept 07 forecast). Therefore housing market commentators expecting UK interest rate cuts to support the housing market need to revisit their methodology of calculating the difference between implied impact of rate cuts i.e. £62.50 per month against that of the loss of equity per month of £1,266. I say implied impact of rate cuts as the credit crisis has ensured that the spread between bank mortgage rates and the Bank of England Base Rate has widened, therefore effectively not entirely passing on the rate cut to mortgage customers.


The Market Oracle forecast as of August 2007 - Is for fall in average UK house prices of 15% (minimum) over 2 years from August 2007 to August 2009 (Data:Halifax NSA). As the below graphs illustrate the housing market remains on track to meet this target.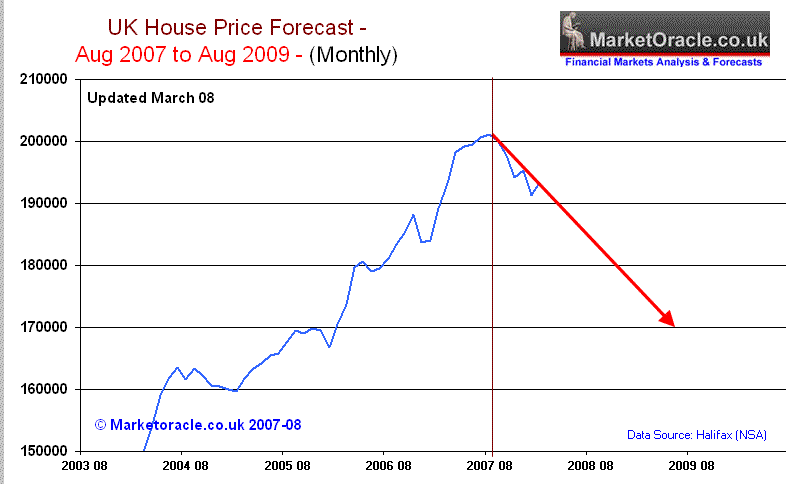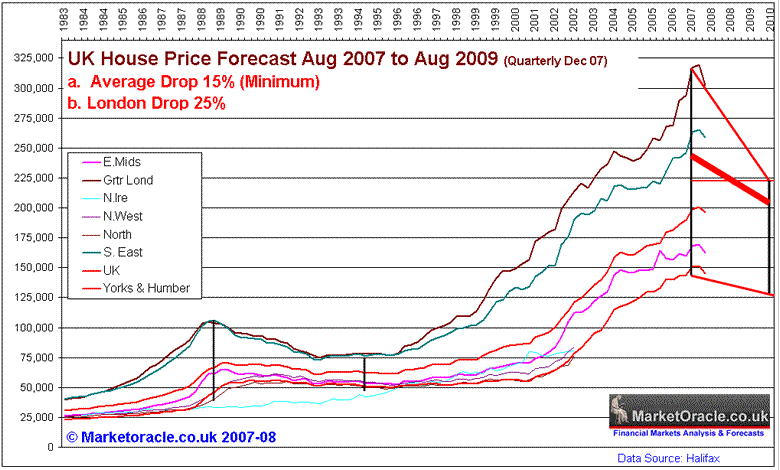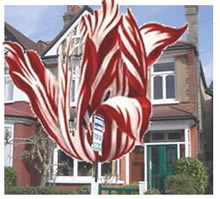 The strong bullish trend in house prices was sustained by the tulip mania mentality of bidding up house prices to avoid missing out on future house price gains with little regard or consideration given to interest rate costs. Similarly as house prices fall, falling interest rates are not going to help support the crumbling housing market. This is something that I have re-iterated several times over the last 6 months as the articles archive illustrates.
The UK economy and Housing market has entered a downward spiral, similar to which the US market has been experiencing, which is approximately a year ahead of the UK in terms of house prices trend. During 2008 some 1.4 million UK home owners are to experience their fixed interest rate mortgages taken out under easy credit terms and at low interest rates during the housing boom, reset at higher interest rate levels and find themselves unable to fix again at favorable rates due to the mortgage banks being decimated by credit and debt market losses and in most cases unable to offer anything other than the high standard variable rates, especially to those on high multiple of earnings ratios (X3.5 salary) or those with lack of equity (less than 10%), and thus these mortgage re-setters are at high risks of repossession which are expected to explode in number to beyond 70,000 repossessions this year , which will feed the banking crisis and house price deflation cycle.
Jim Willie - US Dollar-Gold: A Perfect Hyper-Stagflationary Storm
Home Owners Psychological Shock Coming - May 08
The UK Housing market's annual rate of house price inflation is on track to go negative in April 2008 for data to be released during May 2008. This is expected to act as a psychological shock to the housing market participants. The complacency that continues to exist today will turn to fear at that point as speculative buy to let investors feel the adrenaline rush and palpitations of the actual consequences of the real loss of capital of tens of thousands of pounds.
Even today the mortgage banks and estate agencies talk up the market by denying that house price inflation is about to go negative. As illustrated by Britain's biggest mortgage bank, the Halifax that continues to predict that there will be no fall in UK house prices this year. Martin Ellis, chief economist said "that strong underlying fundamentals will continue to support the market throughout 2008". "Over the past year, the average price of a home in the UK has increased by £4,390 to £196,649," he commented. "Whilst the housing market has slowed over the past six months, it is supported by sound economic fundamentals. Interest rate cuts by the Bank of England are also helping to underpin house prices,". The up beat note is reminiscence of the last housing bear market when a falling market was consistently followed by bullish announcements by those with a vested interest in keeping their jobs! ( Media Lessons from 1989! )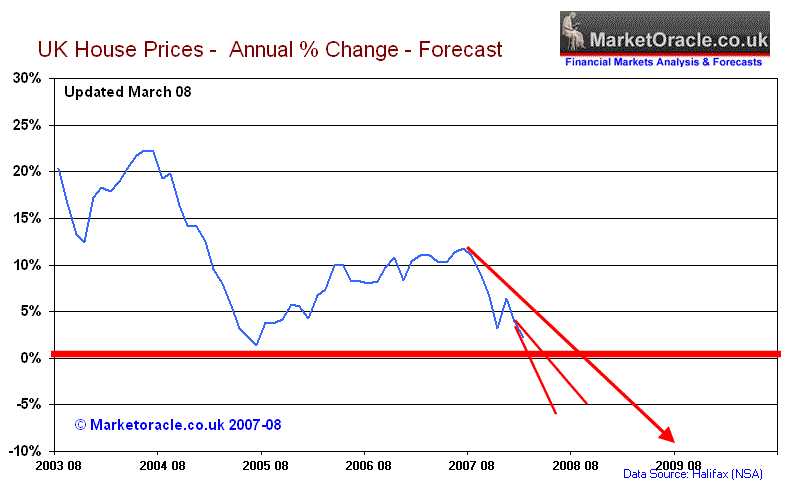 Sitting Fat on Equity Gains ?
Home owners who bought early into the boom and are now sitting on gains of 200% or more may think that in the light of a 15% drop there is nothing much to worry about need to reconsider how they calculate the impact of a 15% fall - A 15% nominal fall in house prices on a 200% gain is an effective loss of 22.5% of the gain (£200k examples) i.e. £200,000 X 15% = £30,000 house price fall; £30,000 / £133,333 Gain = 22.5% loss of gain. Add RPI inflation of 8.5% (over 2 years) and that's a real terms loss of 35% of the gain, on a £200k house that's equivalent to £47,000 (133,000 X 35%), ignoring inflation that is still a £30,000 nominal loss.
I have received several emails asking if I expect the UK housing market to bottom in August 2009. My response is that we are still at the beginning of the UK housing bear market that I expect to run to August 2009. There is no sign at this point in time to suggest that August 2009 will be a bottom as the UK economy by that time will be either in or close to being in recession. However, towards the end of this year (2008), I will be able to update the housing market forecast to beyond 2009.
By Nadeem Walayat
Copyright © 2005-08 Marketoracle.co.uk (Market Oracle Ltd). All rights reserved.
Nadeem Walayat has over 20 years experience of trading, analysing and forecasting the financial markets, including one of few who both anticipated and Beat the 1987 Crash. Nadeem is the Editor of The Market Oracle, a FREE Daily Financial Markets Analysis & Forecasting online publication. We present in-depth analysis from over 120 experienced analysts on a range of views of the probable direction of the financial markets. Thus enabling our readers to arrive at an informed opinion on future market direction. http://www.marketoracle.co.uk
Disclaimer: The above is a matter of opinion provided for general information purposes only and is not intended as investment advice. Information and analysis above are derived from sources and utilising methods believed to be reliable, but we cannot accept responsibility for any trading losses you may incur as a result of this analysis. Individuals should consult with their personal financial advisors before engaging in any trading activities.
Attention Editors and Publishers! - You have permission to republish THIS article if published in its entirety, including attribution to the author and links back to the http://www.marketoracle.co.uk . Please send an email to republish@marketoracle.co.uk, to include a link to the published article.
© 2005-2022 http://www.MarketOracle.co.uk - The Market Oracle is a FREE Daily Financial Markets Analysis & Forecasting online publication.
Comments
sixpack
12 Mar 08, 13:40
London - a special case ?


hi Nadeem. Can you see London being a special case resisting price falls ? Asking prices remain ludicrously high here esp in zone 2 - not many flats are available even at £300K ! thx.



Nadeem_Walayat
12 Mar 08, 13:48
London House Prices


I am expecting London to be hit the hardest, with a greater % drop over the duration of the 2 year forecast. As the bubble in London is that much bigger.



Dominic
13 Mar 08, 07:47
Uk Housing Missing data?


Dont suppose theres data on the three lines that stop at 2002 is there?

Simply because these actualy increased during the last "crash", which is interesting if nothing else.



Nadeem_Walayat
14 Mar 08, 23:40
UK house price data


Dominic,

I will look at reintegrating the three regions for the next quarterly update due mid April.



Jane
18 Mar 08, 18:47
Contemplating Home moving...


Hi, is it a really crazy time to be thinking of selling our house and moving? I need to move in order to be within the catchment for the school we wish our son to go to - we have good equity and are hoping to upsize and re-mortgage, this has already been agreed in principle with the bank. I am just scared that this could be a disaster if there is a major price crash - I appreciate that prices are already down by 10% on last summer.



Nadeem_Walayat
18 Mar 08, 19:29
Buying a House - Moving Up


Firstly, You should not view your house as an investment but rather as a home. Therefore the housing market price trend should be secondary, and your primary consideration should be that you are able to afford the mortgage.

A longstanding measurement to see if you are taking too much risk is if the mortgage is greater than X3 joint salaries or X3.5 single salary. The more the mortgage is beyond those yardsticks the greater the risk you are taking on, especially in the current credit crisis atmosphere which has led to a widening in the spread between mortgage interest rates and the BOE base interest rate.

In an falling housing market, moving up 'should' be more beneficial than moving down the housing ladder, as the same % drop in house prices has a greater impact on the price of a more expensive property.

I.e. a £100k house losing 10% = £10k fall in price

A £200k house losing 10% = £20k fall in price, so you are paying a net £10k less then before house prices fell.

Disclaimer: The above is a matter of opinion provided for general information purposes only and is not intended as investment advice. Individuals should consult with their personal financial advisors before engaging in any investment activities.




Only logged in users are allowed to post comments.
Register/ Log in