New Look At Currencies - MAP Wave Analysis
Currencies
/
Forex Trading
Dec 07, 2013 - 05:58 PM GMT


I have been perplexed by the accuracy of MAP Wave Analysis projections for Gold, Silver as well as the US markets and the DAX, however the currency projections have been somewhat disappointing! It has picked pivots, however I misinterpreted much of it because of FOLLOWING THE CROWD that the Dollar and Euro are correlated, much like the crap that goes around that Gold is inflation proof and retains its value etc..... say no more!
Yesterday I came across this which has totally got me to actually look at what my analysis tells me, rather than trying to find things that match the crowd theory......
Chinese Yuan is now the world's SECOND biggest trade currency! That is why the projections were showing one thing and I was looking for substantiation of the crowd bullshit!
So lets us see what the analysis is showing.....
Taking my analysis without my preconceptions here is the Euro Jan14 high for W-2 of 1388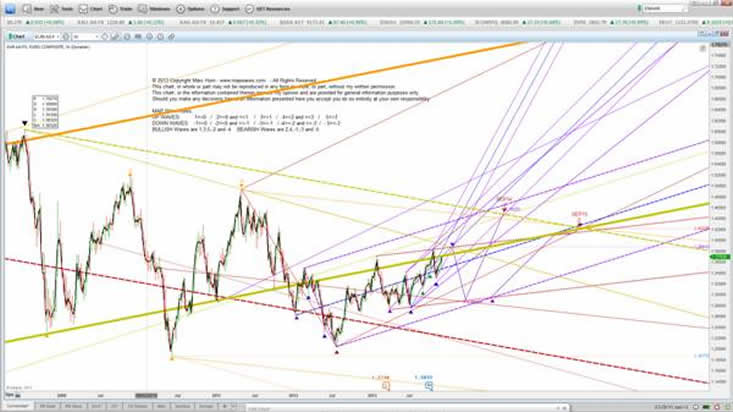 Japanese Yen is also showing a M-4 Jan 14 high around 110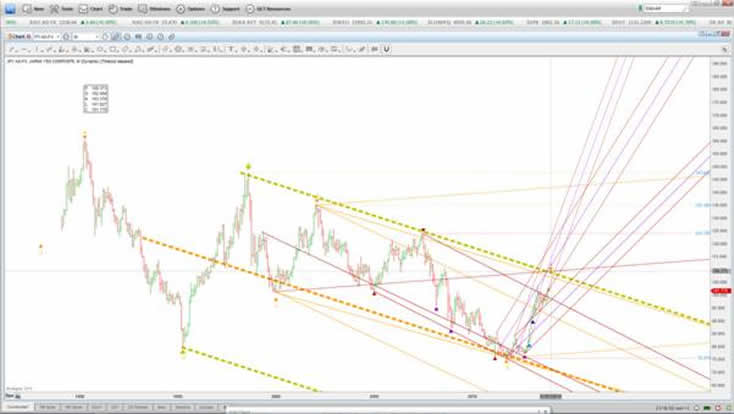 The dollar short term needs another low on the daily tick scale to complete W-1. Jan14 of just under 77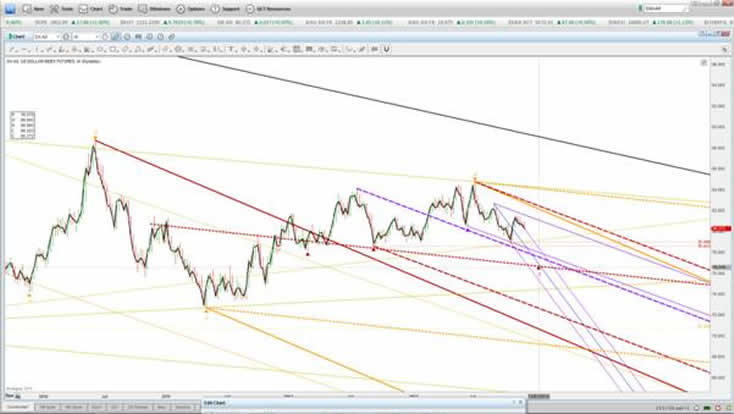 Now quick look at dollar more long term showing a Sep15 bottom........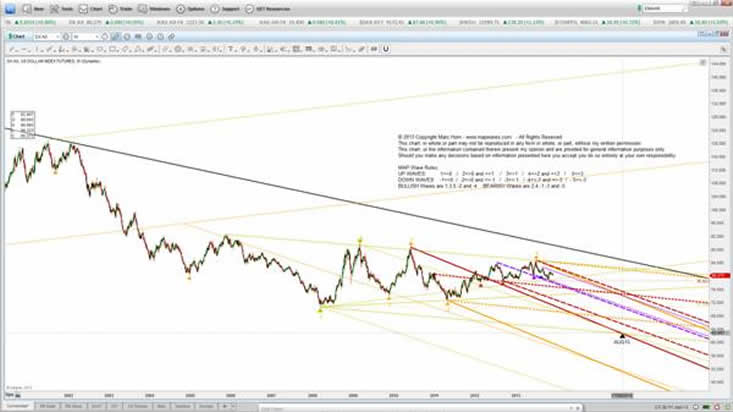 and from my first work the Euro..... the correction for our politicians arrogance looks to take the Euro completely down before 2031ish!!! So far they have been able to kick the can down the road, so the next fall is going to be fast and furious.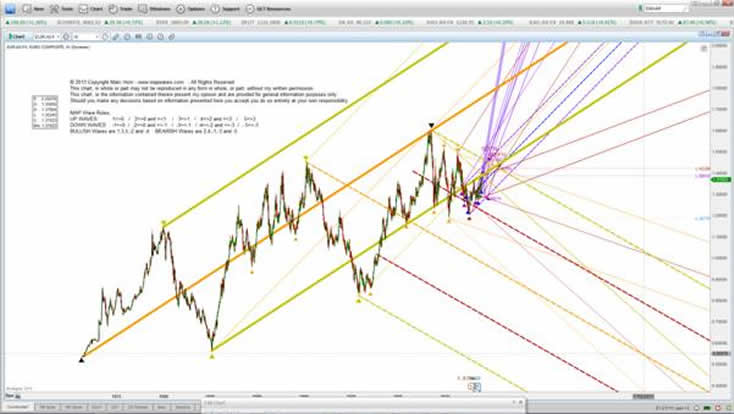 Those of you that have been following my projections from 21Feb2012 Massive Global Gold Price Manipulation Exposed for gold's low is projected Q3 2015, as are my US markets tops off the 2009 low in Stocks Bull Market Confirmed by MWA Set to Continue?, this is getting to be more than just coincidence!
Everything is linked - we just do not understand how and to believe our lawyer friends who run our western governments has resulted in the slow death of the final Marxist systems. Russia and the Eastern block collapsed because they ran out of other people's money and China is through a "non democratic" system is changing the political landscape for the better where people come above petty party politics. We have so much to learn, but choose to ignore history which is doomed to repeat itself until we reach the age of enlightenment, which hopefully the internet will be able to bring as long as our governments DO NOT get control of it, for then we may be doomed to Dark Ages II. Just imagine the chaos of no electricity or water in any major city!
There is nothing we can do about that. The Marxist West is too rotten to the core with corruption (oops I mean lobbyists - corruption only happens in the East!) with the politicians being Adam Smith's Invisible hand - SELF INTEREST! and must collapse. before the rebuilding can begin!
MAP Wave Analysis, unlike Elliot Wave and Andrews Pitchforks, is a systematic methodical rule based approach, details of which can be found either on my blog www.mapwaves.com or here on The Market Oracle and data is archived and updated in a format that is traceable. This allows easy evaluation of MAP Wave Analysis effectiveness when making investment decisions, as well as traceability to improve the methodology.
Click here to accept your social responsibility and your duty care.
Terms of Use and copyright is described therein:
Probabilities are derived from the MAP Analysis methodology described therein,
Click follow on my blog to receive regular FREE market updates
..
For other articles published click here
The statements, opinions and analyses presented in this site are provided as educational and general information only. Opinions, estimates, buy and sell signals, and probabilities expressed herein constitute the judgment of the author as of the date indicated and are subject to change without notice.
Nothing contained in this site is intended to be, nor shall it be construed as, investment advice, nor is it to be relied upon in making any investment or other decision.
Prior to making any investment decision, you are advised to consult with your broker, investment advisor or other appropriate tax or financial professional to determine the suitability of any investment.
© 2005-2019 http://www.MarketOracle.co.uk - The Market Oracle is a FREE Daily Financial Markets Analysis & Forecasting online publication.
Comments
maphorn
28 Apr 14, 09:03
Dollar looking fragile - MWA


The dollar is looking fragile, and is approaching decision time from timing!

Copy and paste link below for latest update on MAP Wave Analysis

http://mapwaveanalysis.com/mapwaves/currencies/2334-2/us-weekly/#comment-179

Marc




Only logged in users are allowed to post comments.
Register/ Log in