Crude Oil Tops $119! What's Next ...
Commodities
/
Crude Oil
Apr 24, 2008 - 04:54 AM GMT


Sean Brodrick writes: Since trading as low as $50.53 early in 2007, oil prices have exploded higher, stunning the world. Just yesterday, crude jumped to a new all-time high above $119 a barrel!
Consumers would probably be happy just to see oil fall back to $100 a barrel. How sad is that?
My 2008 price target on oil remains $127 ... but where do we go after that? I'd expect a big pullback sooner or later — but then prices should head higher again.
In fact, I think we need to come to grips with the unthinkable — oil prices running much higher, say to $200 a barrel. How will that affect your driving ... your family ... your work ... your life?
Today, I'm going to give you seven tips on how to improve your gas mileage — plus an investment idea for $200-a-barrel oil.
But first, let's talk about WHY the price of a barrel of oil has skyrocketed ...
America has an Unquenchable Thirst for Foreign Oil
I don't think that higher gas prices will cause SUV-loving Americans to change their driving habits anytime soon. The hikes we've already seen in the prices of oil and gasoline so far haven't trimmed America's thirst for imported oil. Far from it.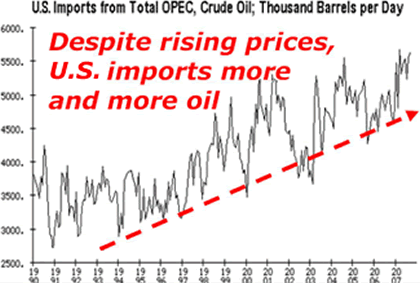 And while I don't have a crystal ball, I can give you a glimpse of our future. In some parts of Canada, drivers are already paying the equivalent of US$4.92 a gallon for gasoline ... and experts are warning our friends up north to brace for prices above US$5.65 this summer.
You think that's high? In Europe, consumers pay up to $9 a gallon for gasoline, in part because the government there slaps taxes of $2 or more per gallon on fuel. And yet people still keep driving from Paris to Prague!
Here's a question: How high will gasoline have to go before you stop driving? America doesn't have the alternate infrastructure — trains, for example, that Europe does. I think many Americans will pay $10 a gallon or more before they plop their chubby butts on bicycles.
Heck, the surge in gas prices hasn't even forced Americans to slow down — I know, because they're all speeding by me on the highway.
Enter the Gas-Guzzling New Economies
Here's something that should make you nervous — this is the first year that emerging markets will use more oil than the U.S. I'm talking about countries like China, India, Russia, and parts of the Middle East. According to the International Energy Agency (IEA) those countries are expected to consume 20.67 million barrels a day this year, an increase of 4.4%. The IEA predicts that U.S. demand will contract 2% to 20.38 million barrels daily.
It should be noted that the IEA habitually under-estimates rising oil demand and over-estimates contracting oil demand.
But before we start wagging our fingers at the gas hogs in the developing world, remember that there are three billion of them and only 300 million of us. Per capita, we're still using a lot more oil than our friends in India and China. The really bad news is they want to use oil the way we do.
Last year, Chinese drivers bought 5.5 million cars, minivans and SUVs and three million commercial vehicles, up from just 1.6 million vehicles sold in 1997. Sales are expected to grow 15% to 20% this year. Looking down the road, China's auto sales are expected to grow by one million vehicles annually through 2015.
Meanwhile, India is poised to zoom past China as the world's fastest-growing car market. Sales of passenger cars in India increased 12.17% to 1.5 million in this past year.
As a result, China's oil imports are expected to nearly double by 2020, and India's oil imports are projected to more than triple over the same time period.
And that's not all ...
Longer-Term, the Outlook Is Even MORE Bullish for Oil and Gasoline Prices!
Here are some other forces that should drive oil prices higher ...
As oil prices threaten to go parabolic, many experts believe OPEC members hold the fate of the U.S. economy in their hands.
Abdalla Salem el-Badri, secretary-general of the Organization of Petroleum Exporting Countries, recently said that prices would likely go higher and that there is no shortage of crude. Saudi oil minister Minister Ali al-Naimi also says the world is well-supplied. And Saudi Arabia's King Abdullah said he had ordered some new oil discoveries left untapped to preserve wealth in the world's top exporter for future generations. Meanwhile, Iran's hard-line President Mahmoud Ahmadinejad recently said that crude at $115 a barrel is too low.

World crude oil production has been essentially flat for the last three years while 1.3 billion people in China, 1.1 billion in India, and hundreds of millions more in oil exporting countries continue to increase their oil consumption rapidly. The more oil that exporters including Iran and Saudi Arabia use, the less they have to sell to us.

The earth's population is expected to grow by 50% to nine billion by sometime in the middle of the century (assuming we can feed everyone — read my MoneyandMarkets.com column from last week, " Food Crisis May Threaten Your Portfolio ," for more about that). Meanwhile, the number of cars and trucks is projected to double in 30 years to more than two billion.

Many forecasters predict that liquid-fuel demand world-wide will hit 100 million barrels a day by 2015. To meet that, producers will first have to make up for steep declines in existing fields. That decline rate now subtracts an estimated 4.5 million barrels a day from annual output. And that demand assumption assumes supply can keep up. I don't think it can, so we will probably see "demand destruction" through higher prices.

While there is new production coming online from producers including Angola and Libya, we are seeing serious declines in major producers like Russia and Mexico.
Let's talk about Mexico for just a minute. Mexico is our #2 source of imports — 1.2 million bpd, or 12.6% of our imports, and the decline in production from its super-giant Cantarell oil field can only be described as catastrophic.
Last year, Mexico's oil production fell 5.3%, and then fell EVEN FASTER in the first quarter of this year, by 7.8%. Mexico's crude oil exports dropped even faster in the first quarter, down 12.5% to 1.49 million barrels per day. Unless something changes, the country's proven oil reserves are expected to run out in approximately nine years.
What do you think that will do to the price of oil? Heck ...
Even Good News Is Bad News
As illustrated in my chart, total production in January broke a new all-time high production record at 74.47 million barrels per day.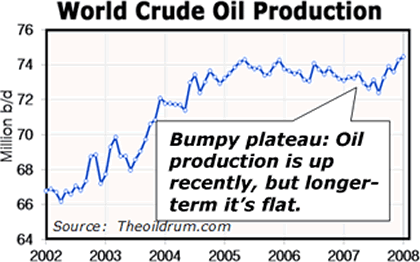 That sounds like good news, doesn't it? Except for two things ...
First, while oil production is up recently, in the longer-term, we're just catching up to the 2005 high, despite oil companies spending billions and billions of dollars.
Second, this record production hasn't caused oil prices to go down. That's because demand for products, especially gasoline, is soaring. So if prices are high when production is high, what will happen to prices when production invariably goes lower?
I'd say we're on the track to $200-per-barrel of oil.
A Picture Is Worth a Thousand Words
As you can see from the chart below, even with oil at record highs, Exxon didn't start producing any more oil last year than it did two years ago ... or four years ago ... or seven years ago.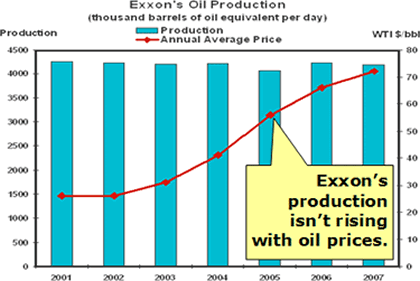 Sure, Exxon is the most profitable company in the history of the world, earning a record $40.6 billion last year on sales of $404 billion. And yet, its production is not rising. Don't you think it would want to sell more product if it could?
In fact, looking at its longer-term plans, Exxon isn't planning on producing more oil this year ... or next year. In fact, the company's oil production won't even keep pace with its own projections of worldwide oil demand growth of 1.3% a year.
And here's an interesting note: Exxon is paying more and more money to pump the same amount of oil. The company's capital expenditures should rise to $25 billion a year from $21 billion last year.
It's not that we're running out of oil. We're running out of cheap oil.
How can you prepare? Here are ...
Seven Steps to Prepare for $200 Oil
1) Slow down. Typically, a car going over 60 miles an hour is likely to decrease its fuel economy. The rule of thumb is for every mile per hour faster than 55 mph, fuel economy drops by about 1%; the drop-off increases at a greater rate after 65 mph. According to fueleconomy.gov, "you can assume that each 5 mph you drive over 60 mph is like paying an additional $0.20 per gallon for gas."
2) When you're finished at the gas pump, turn the handle 180 degrees so that it's upside down. This will force out up to 1/2 cup of gas into your tank. Put your gas cap back on right away and tighten it firmly — gas evaporates quickly.
3) Check gas prices on the Internet at sites like Gas Price Watch . Just put in your zip code and compare. However, don't drive out of your way to get cheap gas — you'll burn more gas on the detour than you'll save at the pump.
4) Use cruise control on the highway. That cuts down the engine speed and allows your car to maintain a steady momentum without exerting too much effort.
5) Remove excess weight from your car. By that, I don't mean leave your mother-in-law at the rest stop. I mean dump all the junk you may be carrying around in your trunk. Every extra 100 pounds your car carries decreases fuel efficiency by about 2%.
6) Perform needed maintenance on your car. A well-tuned engine, clean air filter and fully-inflated tires will do wonders for your gas mileage. According to fueleconomy.gov, under-inflated tires can lower gas mileage by 0.4% for every 1 psi drop in pressure of all four tires. On the other hand, fully inflating your tires can improve your gas mileage by about 3.3%. Replacing a clogged air filter improves your mileage by about 10%, and tuning your car (when it needs it) improves gas mileage by about 4%. Add it up and that's 17% improvement. If your car gets 25 miles to the gallon and you drive 12,000 miles a year, you'll save 81.6 gallons — about $326 at $4 per gallon gas.
And if you get 15 miles to the gallon, the same tips could save you $544.
7) Telecommute as much as possible . This isn't possible for everyone, but the cheapest gas is the gas you don't use; plus time you don't spend driving is time you can spend working. If you need another argument to convince your boss, here's one: It's patriotic. A portion of every dollar we send our "good friends" in Saudi Arabia goes to support al Qaeda.
And here's an investing idea for higher fuel prices ...
Consider Buying a Good Oil Index Fund!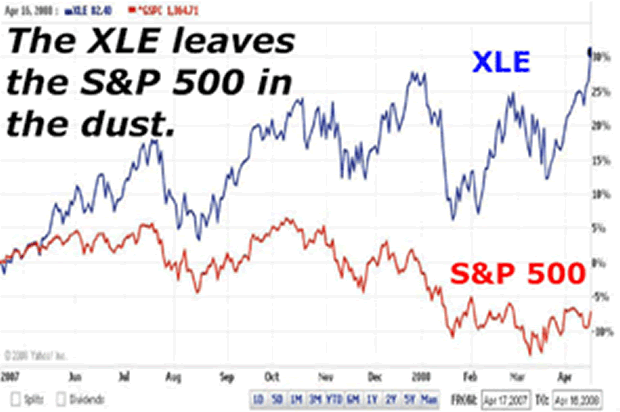 For example, look at how the Energy Select Sector SPDR Fund (XLE) is outperforming the S&P 500 ...
If you think that's good, just wait until oil gets to $150 ... or higher!
The XLE is chock full of energy giants including Exxon, Chevron, ConocoPhillips and more. It's up about 34.5% in the past year ... and it should do pretty well as oil prices go even higher.
Yours for trading profits,
Sean
This investment news is brought to you by Money and Markets . Money and Markets is a free daily investment newsletter from Martin D. Weiss and Weiss Research analysts offering the latest investing news and financial insights for the stock market, including tips and advice on investing in gold, energy and oil. Dr. Weiss is a leader in the fields of investing, interest rates, financial safety and economic forecasting. To view archives or subscribe, visit http://www.moneyandmarkets.com .
© 2005-2019 http://www.MarketOracle.co.uk - The Market Oracle is a FREE Daily Financial Markets Analysis & Forecasting online publication.

Only logged in users are allowed to post comments.
Register/ Log in