Japan - Gyver & Guffin
Stock-Markets
/
Financial Markets 2014
Apr 30, 2014 - 10:11 AM GMT


This week's TTMYGH revolves around "Macs." The first is a man-turned-verb who was capable of extricating himself from seemingly hopeless situations, armed with an array of tools seemingly singularly unsuited to the purpose; and the second is an ingenious, though ultimately futile, plot device which has been used by everyone from Welles to Hitchcock to Tarantino.
Though at first blush it's hard to see a link between the two, in today's world there are Angus MacGyvers everywhere, beetling away with duct tape and Swiss army knives, trying to extricate themselves from completely hopeless situations; and if they are to succeed before the credits roll, they must rely upon one very important thing: the suspension of disbelief by their audience.
That's where the other "Mac" comes in.
Man first.
Angus MacGyver was a troubleshooter. He worked for the fictional Phoenix Foundation as a secret agent and also for the US government in the (also fictional) Department of External Services.
Educated as a scientist and possessing an encyclopedic knowledge of the physical sciences, MacGyver had been a bomb disposal technician during the Vietnam War and possessed a distinctly pacifist outlook on life — he hated guns.
Also, his luck could scarcely be described as merely "good."
Somehow, over the course of seven seasons, MacGyver managed to get himself into some 139 impossible-to-get-out-of situations — each of which he managed to navigate successfully by using conventional items in a distinctly unconventional way.
By way of illustration, in the pilot episode alone, MacGyver managed to do the following:
•Rig a machine gun with a cord, string, stick, and matches so that when the string burned through, the machine gun fell and was triggered by the stick and began firing (while still being held by the cord).
•Plug a sulfuric acid leak with chocolate. MacGyver stated that chocolate contains sucrose and glucose. The acid reacted with the sugars to form elemental carbon and a thick gummy residue. (NB this was subsequently proven to work, as demonstrated on the show Mythbusters.)
•Make a "rocket thruster" by hitting a flare gun with a rock, launching MacGyver and a man he rescued off of a mountain, whereupon he opened a parachute and made a clean getaway.
•Create a bomb to open a door using a gelatin cold capsule containing sodium metal, which he placed in a glass jar filled with water. When the gelatin dissolved, the sodium reacted violently with the water and caused an explosion which blew a hole in the wall.
Impressive stuff. It's no wonder he ended up becoming a verb. But to witness perhaps his greatest-ever escape, afford yourself two minutes to watch THIS little stunt to see how MacGyver escaped from his own coffin.
I couldn't help but think of MacGyver this past week as I sat chatting with a colleague about the situation Japan now finds itself in.
I won't recap the details of the straitjacket into which the Japanese have been strapped for the past two decades — enough ink has been spilled on that subject already, including in a recent Things That Make You Go Hmmm... entitled "Avenomics" — but my conversation this week stemmed from the following statement, made by me to myself, as I leaned back in my chair after reading an article about proposed changes to the GPIF (Government Pension Investment Fund), Japan's public pension fund:
"Japan really is totally f*****."
What led me to that well-thought-out and eruditely expressed conclusion? Read on.
In case you are not familiar with the GPIF, it is the largest pool of government-controlled investment capital on the planet — outstripping even the infamous Arab sovereign wealth funds.
The GPIF controls ¥128.6 trillion, or $1.25 trillion, and to say the organization is somewhat risk-averse is akin to calling the Kardashian family somewhat shameless.
The GPIF holds almost 70% of its assets in bonds — and the vast majority of them are of the local variety. The reason for this? Well that would be because the GPIF is (and has always been) run by bureaucrats from the Ministry of Health, Labour & Welfare, as opposed to, say, investment professionals.
But that's probably no bad thing, because no investment professional worth his salt would have bought so many JGBs; so if GPIF didn't buy them, THAT would be a big problem for the Japanese government AND the BoJ.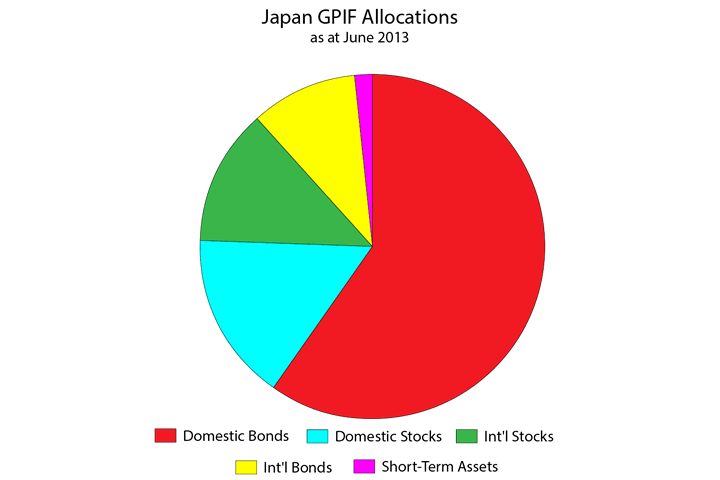 Source: GPIF
How did that allocation to domestic bonds do last year? Well, as it turns out, not so great:
| | | | | | |
| --- | --- | --- | --- | --- | --- |
| | Q1 2013 | Q2 2013 | Q3 2013 | Q4 2013 | Total 2013 |
| Domestic Bonds | -1.48 | 1.18 | 0.18 | - | -0.14 |
| Domestic Stocks | 9.70 | 6.07 | 9.19 | - | 27.05 |
| Int'l Bonds | 4.01 | 1.64 | 8.16 | - | 14.34 |
| Int'l Stocks | 6.14 | 7.13 | 16.23 | - | 32.17 |

Source: GPIF
Fortunately, over the last twelve years the GPIF has managed to meet its targets — by growing at an annualized rate of 1.54%.
Thankfully for the GPIF, despite their largest allocation throwing off negative returns, the BoJ's actions in weakening the yen boosted the Nikkei, and the central-bank-inspired strength in equities and bonds elsewhere in the world helped GPIF's performance to pass the smell test for 2013.
Now, when it comes to bureaucracy, Japan is in a league all of its own. My first up-close experience of this came in 1989 when I went to get a driver's license after moving to Tokyo. Anybody who has attempted to complete that fairly straightforward objective in Japan knows that it requires the best part of a day traipsing upstairs and down between several counters, getting the same piece of paper stamped by numerous people in a very specific order. Several visits are required to the same person — but only in the correct order.
Maybe this process has changed 25 years on, maybe it hasn't. I'm willing to bet on the latter.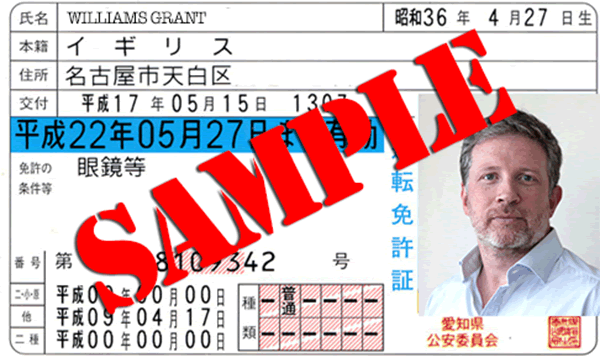 Anyway, amongst themselves, foreigners in Japan have a saying which strikes at the very heart of this little bureaucratic problem:
"Everything makes sense once you realize Japan is a communist country."
Aki Wakabayashi's book Komuin no Ijona Sekai (The Bizarre World Of The Public Servant) sprang from her 10 years working at a Labour Ministry research institute and lifted the lid on some of the peccadilloes of Japan's civil service.
Wakabayashi told of being scolded for saving her department ¥200 million, as her effort put that amount in jeopardy for the following year's budget allocation; of senior managers taking female subordinates on first-class, round-the-world trips to "study labour conditions in other countries"; and of the mad dash by all departments to spend unused budget before year-end — the collective result of which saw monthly total expenditures by government agencies jump from ¥3 trillion in February to ¥18 trillion in March.
The facts unearthed by Wakabayashi are remarkable:
(Japan Times): The national average annual income of a local government employee was ¥7 million in 2006, compared to the ¥4.35 million national average for all company employees and the ¥6.16 million averaged by workers at large companies. Their generosity to even their lowest-level employees may explain why so many local governments are effectively insolvent: Drivers for the Kobe municipal bus system are paid an average of almost ¥9 million (taxi drivers, by comparison, earn about ¥3.9 million).
Click here to continue reading this article from Things That Make You Go Hmmm… – a free weekly newsletter by Grant Williams, a highly respected financial expert and current portfolio and strategy advisor at Vulpes Investment Management in Singapore.
© 2005-2019 http://www.MarketOracle.co.uk - The Market Oracle is a FREE Daily Financial Markets Analysis & Forecasting online publication.

Only logged in users are allowed to post comments.
Register/ Log in