UK Housing Market Bubble Warnings Mainstream Media Mania
Housing-Market
/
UK Housing
May 11, 2014 - 02:51 AM GMT


The mainstream media has been busy this past week regurgitating on a near daily basis warnings of a UK housing market bubble from wide range of academic economics institutions despite the fact that the said institutions never saw the housing bull market coming.
Guardian - Three former chancellors warn of house price bubble
Pressure on the Bank of England and the chancellor to scale back the Help to Buy programme has risen after three former chancellors, including two Conservatives, warned that the scheme needed revision and might be fuelling a house price boom.
Britain's former chancellors - Lamont, Darling and Lawson who each played their parts in fuelling past UK housing market bubbles are now busy dribbling advice out of the corner of their mouths to George Osbourne as if we need their utterances to realise the fact that the ONLY solution ANY government has to attempt to get reelected is by INFLATING housing bubbles! So of course George Osbourne is inflating a housing bubble that ultimately he too will screw up just as the three former financial clowns had before him.
Instead George Osbourne's response has been to play pass the buck back to the Bank of England.
Belfast Telegraph - Bank 'can act on housing market'

George Osborne has indicated he will not act to cool the housing market and instead lay responsibility at the door of the Bank of England.
The Chancellor said the central bank "should not hesitate" to use its powers to tackle any house price bubble but suggested he would not directly intervene despite growing concerns about the possibility of strong rises in values leading to a crash.
The Paris based OECD which consistently shows that it cannot forecast its way out of a paper bag by usually calling trends several years AFTER the fact, thus today's housing bull market is a bubble ready to burst, which translates into many years from now when the market does eventually PEAK the OECD will likely be stating that it was in a sustainable trend.
Telegraph - OECD warns housing boom risks overheating UK economy
The Government and Bank of England must act to curb mortgage lending or the recent surge in demand could see house prices spiral out of control, the Organisation for Economic Co-operation and Development has warned.
Even senior paper pushers at the Bank of England have jumped onto the UK housing market bubble warning band wagon as they attempt to cover their backs for future career prospects post BoE -
Guardian - Bank of England warns housing market boom may turn to crash
Britain's booming housing market could be heading for a fresh crash, the Bank of England said in its toughest warning yet about the dangers of the return of rapidly rising property prices.
Sir Jon Cunliffe, Threadneedle Street's deputy governor for financial stability, said it would be dangerous to ignore the momentum apparent across the country and dropped strong hints of new measures to slow down the market in the months ahead.
The same flip flopping Jon Cuncliffe who several months earlier was stating that there was NO housing bubble!
"It doesn't look that we are in a bubble." Sir Jon Cuncliffe telling members of parliament's Treasury Committee (Oct 2013).

The mainstream press rambles on with literal warnings that Bank of England may go nuclear against home owners!
theguradian - Bank may yet need to go nuclear to burst the housing bubble
The response to a UK real estate boom-bust is being toughened up as more evidence emerges of history repeating itself.
The truth about the Bank of England's warnings are one of pure smoke and mirrors for the BoE has ENGINEERED the current housing bull market via a successive series of EXTREME measures from ZERO INTEREST RATES into their 6th year, to QE4EVER debt monetization that continues to funnel cash onto the balance sheet of the still mostly bankrupt banks, to the Money for Lending scam that PAYS the banks NOT to borrow money from depositors and thus the scandal of sub inflation savings interest rates stealth theft of purchasing power continues. Thus the Bank of England's primary remit it is NOT to control inflation but instead to INFLATE house prices!
The Bank of England actions speak volumes over propaganda as the BoE continues to funnel cold hard cash (tax payer funded profits) to its bankster brethren whom it ultimately serves and is staffed by.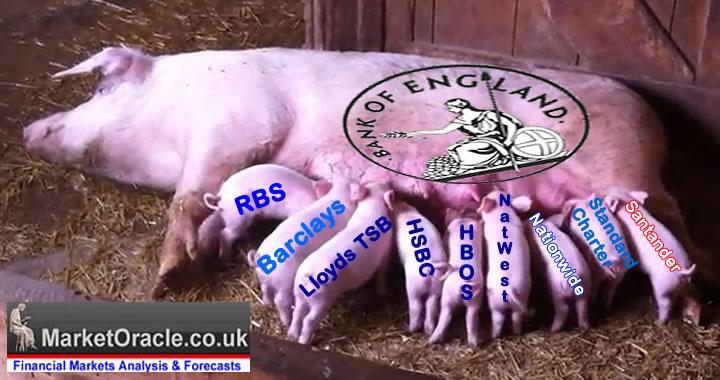 What the banks desire for further artificial profits is a housing bull market that inflates the value of the property assets on their balance sheets that as a consequence of fractional reserve banking and the £1 Quadrillion+ derivatives market that they are leveraged to i.e. a relatively small percentage change in house prices results in a huge swings in profits which is why a few percentages drop in house prices in 2008 was enough to start bankrupting virtually EVERY UK BANK that ultimately resulted in tax payer bailout liabilities that SPREAD the price paid for the bailout out over the subsistent 6 years, as year on year average wage slave earnings failed to keep up with the Bank of England debt monetization inflation consequences.
The truth about the the UK housing market as illustrated at length in the new UK Housing Market ebook (free download ETA 15th May 2014) and excerpted below is that of continuing exponential inflation resulting in average UK house prices being far from the bubble stage -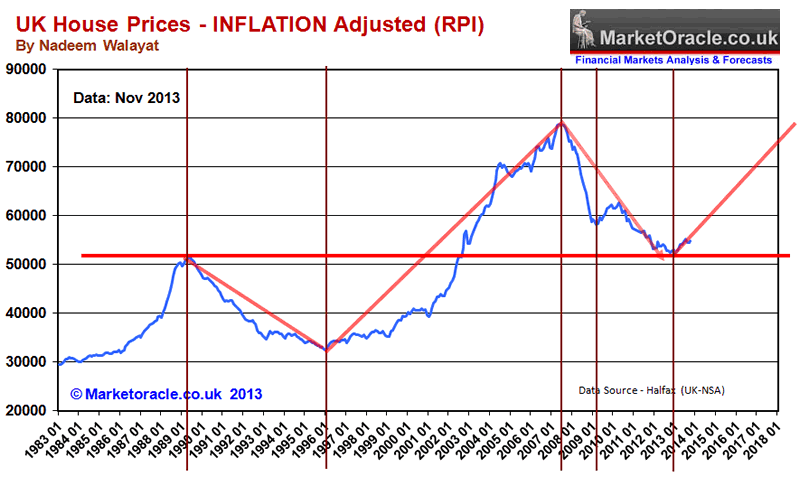 The implications of the real trend in UK house prices are:
1. The forecast real terms trend trajectory of June 2010 proved remarkably accurate in terms of mapping out where UK house prices would likely bottom several years later both in terms of price and time. Thus this indicator will again play a pivotal role in the extension for my existing forecast.
2. This supports my long standing view that the UK housing bull market can be sustained for the WHOLE of the remainder of this decade (6 years) and probably beyond.
3. That my existing expectations for a 10% per annum trend trajectory is more than sustainable, in fact the average rise in UK house prices over the next 6 years could easily exceed 80%! Which translates into an average of over 13% per annum that is well beyond anything that most housing market commentators, academic economists and journalists who think they are economists can comprehend today.
UK General Election 2015
And don't forget that a general election is just 12 months away so instead of putting the housing market into reverse gear the Government will instead be putting the pedal to the metal and ACCELERATE UK house prices inflation. So watch for the Bank of England to come under even more pressure to NOT take any action that will stop the head lines of average house prices rising by more than £2000 per MONTH.
My long standing forecast is for a UK housing bull market induced election boom to deliver a Conservative outright election victory as illustrated by the excerpt below -
30 Dec 2013 - UK House Prices Forecast 2014 to 2018, Inflation, Trend Trajectory and General Election 2015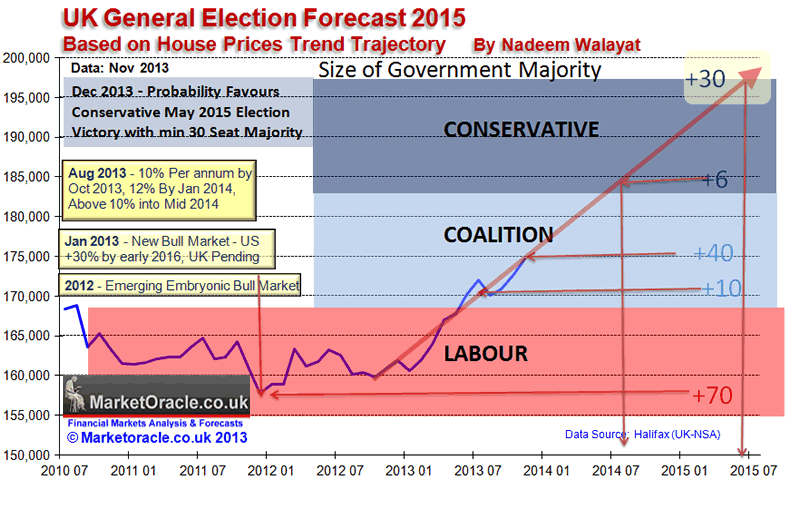 In conclusion a May 2015 general election at an average house price inflation rate of 8.5% would result in a Conservative overall majority of at least 30 seats. Therefore this is my minimum expectation as I expect UK house prices to start to average 10% per annum from early 2014 with my actual forecast converging towards average UK house prices breaking to a new all time high just prior to the May 2015 general election which would be a significant boost for housing market sentiment and thus the Conservative's election prospects.
At the time opinion polls put Labour 6 points ahead of the Conservatives that translated into a 74 seat majority (Independant on Sunday).
Today, some 4-5 months on the latest opinion polls show that Labours poll lead has plunged to now being only 1 point ahead at 32% to the Conservatives on 31% (ICM 4th May 2014), which would translate into a hung parliament which is precisely inline with the forecast trend trajectory as I don't expect the Conservatives to start nudging into the outright election victory zone until around September by which time the UK economy will be entering the election economic boom phase of growing at the rate of more than 1% per quarter.
The bottom line is that we are going to hear such bubble talk for the duration of this UK housing bull market that looks set to last for the remainder of this decade! Just as the now over 5 year stocks bull market has been followed by highly vocal ramblings of an always imminent crash or bear market for its duration.
Ensure you remained subscribed to my always free newsletter for the latest in-depth analysis and my latest ebook in the Inflation Mega-trend series on the UK Housing Market (ETA 15th May 2014) which goes beyond housing market analysis and detailed trend forecasts by covering many home buying and selling topics such as -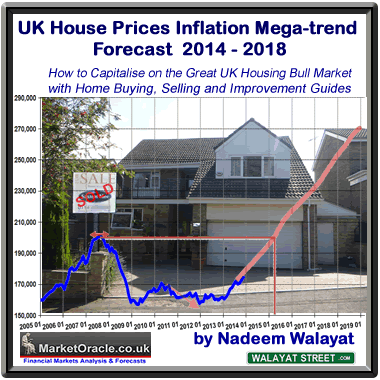 Thorough step by step guides of how to buy and sell homes, from locating properties, to making offers to dealing with estate agents and much more.
What to do after you move into your new home.
Analysis of buying vs renting
15 detailed guides on how to increase the value of your home
Costly home improvements to avoid.
Managing your mortgage debt
Maintenance that can save you a lot of money long-term
Regional house prices analysis
Surveying properties - what to look for
and even how to get on with your new neighbours.
Source and Comments: http://www.marketoracle.co.uk/Article45548.html
By Nadeem Walayat
Copyright © 2005-2014 Marketoracle.co.uk (Market Oracle Ltd). All rights reserved.
Nadeem Walayat has over 25 years experience of trading derivatives, portfolio management and analysing the financial markets, including one of few who both anticipated and Beat the 1987 Crash. Nadeem's forward looking analysis focuses on UK inflation, economy, interest rates and housing market. He is the author of four ebook's in the The Inflation Mega-Trend and Stocks Stealth Bull Market series.that can be downloaded for Free.

Nadeem is the Editor of The Market Oracle, a FREE Daily Financial Markets Analysis & Forecasting online publication that presents in-depth analysis from over 1000 experienced analysts on a range of views of the probable direction of the financial markets, thus enabling our readers to arrive at an informed opinion on future market direction. http://www.marketoracle.co.uk
Disclaimer: The above is a matter of opinion provided for general information purposes only and is not intended as investment advice. Information and analysis above are derived from sources and utilising methods believed to be reliable, but we cannot accept responsibility for any trading losses you may incur as a result of this analysis. Individuals should consult with their personal financial advisors before engaging in any trading activities.
© 2005-2022 http://www.MarketOracle.co.uk - The Market Oracle is a FREE Daily Financial Markets Analysis & Forecasting online publication.
Comments
Chris111
11 May 14, 07:23
Bank of Enlgand


In my innocence, I always thought the Chairman of the BoE was independent of political machinations?

Apparently not in this case, he was so obviously bought and paid for - by Osborne - and worst of all, with our money

Being an ex GS 'player' I would not be at all surprised if his every move is co-ordinated between the Treasury, The City and Wall St.

A disgraceful piece of economic skulduggery (which we will all pay for)

Chris



Anon1243
11 May 14, 09:14
Bank of Enlgand Blame


I don't think you can place all the blame on the Bank of England.

Osborne's little wheeze "Help to Buy (Votes)" has had a great deal to do with it as well.

Deliberately re-inflating a housing bubble, underwritten by taxpayers, in order to bring in £billions in tax revenue and generate a bit of a feel-good factor on the run up to the General Election is cynical politics at its worst.

The Government's debt is being transferred onto the shoulders of people who are struggling to buy their first home and are once again being encouraged to over-borrow. But this time, instead of hiding the fact that taxpayers will be picking up the bill, Osborne's made it perfectly clear who will be paying.

Basterwarde.



Brit1234
11 May 14, 12:59
UK housing Bubble Ruining Lives


This Housing Bubble is ruining lives, it has priced out my generation and if continues will price out future generations.

Something must be wrong when people with good jobs and big deposits are priced out. Meanwhile the % of interest these saved housing deposits get is pitiful and well below inflation to bail out all those reckless borrowers who have borrowed too much. 5 years this inequality has continued with savers being robbed.

Raise interest rates now and stop these 35 year mortgages which are the new serf cert / liar loan mortgage scam.

Brit1234



R.E.B
11 May 14, 16:48
Bubble economics


The UK housing market is, like so many areas of the economies in so many other countries, the direct result of the bubble economics of the politicians and central bankers. Now I have no idea how long this will continue, but any economic trend that requires exponential inflation to maintain it is just a catastrophe waiting to happen. The longer it runs up the worse the crash will be when it finally happens. I wonder if we have entered the "crack up boom" Von Mises wrote about?




Only logged in users are allowed to post comments.
Register/ Log in