A Gold Stocks Golden Opportunity On Hope's Doorstep
Commodities
/
Gold and Silver Stocks 2014
Dec 26, 2014 - 09:28 PM GMT


Some 1,200 junior resource exploration and development companies are located in Vancouver, British Columbia. Vancouver is well known as a hub for mining expertise and is one of the greatest mining centers in the world.
Not many of those 1200 companies can claim to have a mine, let alone one with:
A stable, just inspected permitted tailings impound with room to grow
Only a 6 km drive down an all weather gravel road from the Coquihalla Highway to the mine site
Power lines only six km away
Old mill equipment and foundations still in place
Extensive mine workings
Inferred gold resource of 686,540 ounces in two ore bodies open in all directions
Water and mining permit already in place
Politically mining friendly jurisdiction
Positive response from local community
New Carolin Gold Corp. TSX.V - LAD can claim all that, and a whole lot more - it's fully permitted mineproject sits just 160 km east of Vancouver, close to the town of Hope. Workers can complete their shifts and sleep in their own beds in their own homes. Supplies can be easily sourced and transported to the mine site.
New Carolin's Ladner Gold Project
'The Coquihalla serpentine belt is an elongate, north - northwest trending, steeply dipping ultramafic unit. The belt lies within a major crustal fracture, the Hozameen fault and exceeds 50 kilometers in discontinuous strike length. The serpentine belt reaches its maximum development in the Carolin mine-Coquihalla River area, where it is greater than two kilometers in width. It gradually narrows to the south (Manning Park area) and north (Boston Bar).' Exploration in B.C. 1989, Ministry of Energy and Mines
The Coquihalla Gold Belt (CGB) has geological similarities to the Mother Lode district of California (7m ozs of gold) and the Bridge River district (4.1m ozs of gold) of southwestern BC.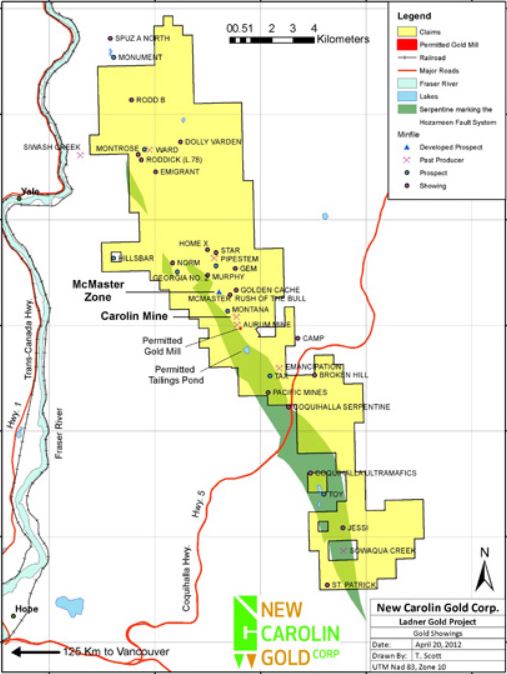 New Carolin's Ladner Gold Property follows the Hozameen fault structure for approximately 28 km and exceeds 144 square kilometers covering substantially all of the accessible, yet still very underexplored, CGB.
The Ladner Gold Project contains several former underground producing gold mines and numerous gold prospects – more than 30 have been discovered so far.
Approximately 11 gold showings have been found within a 2 km stretch north of the Carolin Mine.
Carolin Mine
The Carolin Mine, a former underground gold producer from 1982 – 1984, is located on the west fork of Ladner Creek, approximately 18 kilometers northeast of Hope.
The 1,360 tpd mill at the mine was commissioned in early 1982 and produced over 43,500 ounces of gold during 27 months of operation
Construction of the New Carolin Mine started in 1980 when gold's price was US$600.00 an ounce. When the first gold was poured gold was down to US$300.00 oz. With poor gold recoveries (just 60%) and mined grades lower than forecast due to country rock dilution the mine had to close in 1982.
The original resource estimate was finalized in 1997. The gold resources reported in the table below are historic estimates (not NI 43-101 compliant) based on exploration and development work undertaken by Athabaska Gold Resources in 1995 and 1996 using a database of 595 diamond drill holes (approximately 40,000 meters of diamond drilling).

Currently the Carolin Mine has a compliant Inferred Mineral Resource estimate of 607,000 oz gold @ 1.5 g/t in 12,352,124 tonnes at a cutoff grade of 0.5 g/t gold.
Confirmation drilling is required to bring the current resource up to the historic numbers. The historic resource grade of plus 4 gpt was also much closer to the average grade that was originally mined from the Idaho Zone (New Carolin Mine).
The Carolin Mine mineralized zone is open in all directions.
A mine development map from 1981 shows the 800 level being extended north for 1.2 km to the McMaster Zone. The proposed cross cuts for drilling indicate to this author that previous operators had high confidence that gold mineralization runs beyond the Carolin Mine and that the area between the Carolin Mine and the McMaster zone could yield additional gold resources as development continues.
There are no shafts at the Carolin Mine and the underground workings are dry and fully accessible.
The future mine model for the Carolin Mine envisions open pit and underground components.
McMaster Zone
The McMaster Zone is approximately 1.3 km north of the Carolin Mine.
A New Carolin May 2012 technical report established an inferred resource on the McMaster zone of 3.6 million tonnes grading 0.69 gram gold for 79,540 oz. gold using a 0.5 gram gold cut-off. Note that over half of this existing resource is at 2 gpt and near surface.
Highlights
The McMaster Zone occurs within the current mine permit area and is open in all directions.
The McMaster Zone resource takes into account only gold. The silver accompanying the gold mineralization was not included in the historical database.
The current resource estimate doesn't take into account a gold oxide zone. If it continues to depth it could be significant.
The Emancipation Mine was an intermittent gold producer from 1916 to 1941.
The Aurum, Pipestem and Ward adits all produced gold intermittently from 1935 to 1937.
There's also 'Jewelry Box' type gold showings present:
The Montana - 30 oz's gold from two tons of material.
Georgia No. 2 prospect - 33 oz's of gold from one ton of material.
Tailings Pond
Athabaska Gold Resources drilled 60 holes into the tailings and New Carolin drilled another nine. These 69 holes were drilled into just 60% of the tailings pond's surface area. They were used to establish a National Instrument 43-101 resource of 404,000 indicated tonnes grading 1.83 grams gold per tonne for 24,000 contained oz., plus 84,400 inferred tonnes grading 1.85 grams gold for a further 5,000 oz gold.
Since the Carolin Mine shut down the fully permitted tailings impoundment has been monitored and inspected by independent consulting engineers. After the Imperial Metals Mt. Polley tailings dam breach BC's Ministry of Mines mandated that all of the Provinces tailings impoundments be inspected and reports filed by December 1, 2014. New Carolin completed its inspection in September 2014. Remaining tailings capacity is 1,327,723 metric tonnes.
Metallurgy
Core from the McMaster Zone (DDH 32-09; 3.96 g/t gold over 27.6 meters, from 32.4 to 60.0 meters) was provided to SGS Canada Ltd. for gold recovery testing.
Pressure-oxidation and carbon-in-leach has shown recoveries of 96.3% on flotation concentrate from the McMaster Zone. Using flotation, pressure oxidation and cyanidation - combined with cyanidation of the flotation tailings - returned overall recoveries of 94.5%.
Mineralization of the McMaster Zone is similar to that of the Carolin Mine (no core is available for testing).
The Plan
Management is reviewing plans to set up a portable mill at the tailings pond which could yield 25,000 oz. gold.
The McMaster zone, because it's a surface expression, has potential as an open-pit mine and could supply additional mill feed.
There is broken inventory underground at the Carolin mine totaling several thousand tonnes - there was always several days of inventory stacked ahead of mining. When the mine was shut down this inventory remained. This inventory could be used to support the portable mill plan if found feasible or for bulk sampling at a future date.
Obstacles
Nothing worth doing is easy and New Carolin achieving 100% ownership of the Ladner Gold Project is no exception (New Carolin currently owns 10% of the Ladner Gold Project).
Although the company has a deal in place with the Receivers to acquire the remaining 90% ownership interests, at the time of writing the company is still waiting for a vesting order from the Quebec bankruptcy court to effect the transfer of all mineral claims and land titles to the company.
"December 16, 2014- New Carolin Gold Corp. TSX-V: LAD announces that, further to its August 27, 2014 press release, a vesting order was granted by the Quebec Superior Court on December 2, 2014 in the Century Mining Corporation ("Century") receivership proceedings to permit the receiver to complete the acquisition agreement announced on August 27, 2014 pursuant to which the Company has the right to acquire all remaining ownership interests in and to the Carolin Mine and the 144 sq kilometer Ladner Gold Project.

The Quebec Court Vesting Order follows the recent granting of an Ontario Court Vesting Order in the Tamerlane Ventures Ltd. ("Tamerlane") receivership proceedings permitting Tamerlane's receiver to sell its interests in the project to Century pursuant to an outstanding option (the "Tamerlane Option") in order that Century can transfer that interest to the Company pursuant to the acquisition agreement. Tamerlane and Century are the two remaining owners of interests in the project in addition to the Company. Both Vesting Orders are conditions of closing of the acquisition agreement.

Upon completion of the acquisition agreement the Company will have acquired 100% ownership of the Carolin Mine and Ladner Gold Project, which will be the first time in over a decade that title to the project has not been split among multiple parties."
As an additional condition of closing the deal, the company must also raise $2,000,000 for property development.
Conclusion
Revitalizing New Carolin's Ladner Gold Project could make it a cornerstone industry for the community of Hope, BC. But not only Hope, Vancouver as a mining hub and the people of BC need projects like this to succeed to reap the social and economic benefits that come from resource extraction.
As for New Carolin's shareholders, by processing the tailings and mining the current resource at the McMaster Zone New Carolin should generate significant cash flow. Money that can be used to potentially increase the already significant resources at the McMaster Zone and New Carolin Mine and saving the company's investors considerable future dilution.
There's also considerable discovery upside left on the property. A recently completed airborne geophysical survey indicated a major magnetic linear structure that can be traced for over 18 km within the company's claims. All the aforementioned gold prospects occur along this major magnetic anomaly and there's several kilometers of untested ground left along the structure to explore.
Is New Carolin Gold Corp. TSX.V – LAD on your radar screen?
If not, maybe you should.
By Richard (Rick) Mills
If you're interested in learning more about the junior resource and bio-med sectors please come and visit us at www.aheadoftheherd.com
Site membership is free. No credit card or personal information is asked for.
Richard is host of Aheadoftheherd.com and invests in the junior resource sector.
His articles have been published on over 400 websites, including: Wall Street Journal, Market Oracle, USAToday, National Post, Stockhouse, Lewrockwell, Pinnacledigest, Uranium Miner, Beforeitsnews, SeekingAlpha, MontrealGazette, Casey Research, 24hgold, Vancouver Sun, CBSnews, SilverBearCafe, Infomine, Huffington Post, Mineweb, 321Gold, Kitco, Gold-Eagle, The Gold/Energy Reports, Calgary Herald, Resource Investor, Mining.com, Forbes, FNArena, Uraniumseek, Financial Sense, Goldseek, Dallasnews, Vantagewire, Resourceclips and the Association of Mining Analysts.
Copyright © 2014 Richard (Rick) Mills - All Rights Reserved
Legal Notice / Disclaimer: This document is not and should not be construed as an offer to sell or the solicitation of an offer to purchase or subscribe for any investment. Richard Mills has based this document on information obtained from sources he believes to be reliable but which has not been independently verified; Richard Mills makes no guarantee, representation or warranty and accepts no responsibility or liability as to its accuracy or completeness. Expressions of opinion are those of Richard Mills only and are subject to change without notice. Richard Mills assumes no warranty, liability or guarantee for the current relevance, correctness or completeness of any information provided within this Report and will not be held liable for the consequence of reliance upon any opinion or statement contained herein or any omission. Furthermore, I, Richard Mills, assume no liability for any direct or indirect loss or damage or, in particular, for lost profit, which you may incur as a result of the use and existence of the information provided within this Report.
© 2005-2019 http://www.MarketOracle.co.uk - The Market Oracle is a FREE Daily Financial Markets Analysis & Forecasting online publication.

Only logged in users are allowed to post comments.
Register/ Log in