UK House Prices Trend 2015 and the May General Election
ElectionOracle
/
UK General Election
Feb 27, 2015 - 10:19 AM GMT


For Britain the most critical economic driver, far beyond interest rates, inflation, or even unemployment is the trend in average house prices for the fundamental reason that positive housing market SENTIMENT IS that which makes the all difference between the UK economy being in recession or in an common boom, as you don't tend to get one without the other. Which any government of the day fully realises and why the Coalition government has literally bent over backwards to first ignite and then to target maintaining a house prices bull market right into the May 2015 General Election through a myriad of tax payer funded schemes such as ZERO interest rates, the Help to Buy Scheme, Stamp duty cut and a continuous flood of liquidity forcing savers to spend or invest depreciating value of bank deposits into primarily bricks and mortar as I have covered at length for several years -
19 Aug 2013 - UK House Prices Bull Market Soaring Momentum
What Academics and Journalists Will Never Understand About Markets
In having immersed by myself in the markets for 30 years now, I know that what many academics tend to take for granted rarely matches reality. Whilst I covered many aspects of trading markets in my last ebook (Stocks Stealth Bull Market 2013 and Beyond - Free Download). However in terms of economic trends what academics will always fail to grasp is that markets are NOT driven by fundamentals but by SENTIMENT and it is SENTIMENT that CREATES the fundamentals! Which is why the academic economists rarely have any real clue as to what is going in the markets because they are nearly always looking in the WRONG direction i.e. they are looking at the CAUSE rather than the EFFECT, as in reality it is the EFFECT that makes itself manifest in the price charts long before the CAUSE appears in the economic data that academics focus upon, which is why the SAME economic data can and is used by economists and pseudo-economist (journalists) such as that which we see on TV news shows to explain EITHER price rises OR falls.
You can only know the markets IF you TRADE the markets! The pseudo and academics economists will never get you on the right side of trends years ahead of the herd, in fact most press media commentators will be some of the LAST people to jump onboard trends, usually just before they end!
Momentum Drives Housing Market Sentiment and Economic Growth
As house price rises continue to accelerate, many people sat on the sidelines waiting for prices to fall or even crash will realise that it is just not going to happen, and in their despair at the relentless accelerating trend of rising prices, in increasing numbers will feel no choice but to jump onboard the housing bull market as a they see the houses they have been viewing sold and asking prices trending ever higher.
As house prices rise, home owners see the value of their houses rise £x thousands per month, in many cases by more than their salaries, this will encourage many to borrow and spend more, and save less which will meet the governments primary objective for inflating the economy by means of the housing market. Everyone will be playing the game of how much has my house value increased by, a quick analysis of my own housing portfolio (based in Zoopla estimates) shows a 5.5% increase in housing wealth over just the past 6 months! Does this make me feel richer, more willing to spend? Well, being only human, YES it does!
UK House Prices 5 Year Forecast
It is now 14 months since excerpted analysis and the concluding 5 year trend forecast from the then forthcoming UK Housing Market ebook was published as excerpted below-
UK House Prices Forecast 2014 to 2018 - Conclusion
This forecast is based on the non seasonally adjusted Halifax House prices index that I have been tracking for over 25 years. The current house prices index for November 2013 is 174,671, with the starting point for the house prices forecast being my interim forecast as of July 2013 and its existing trend forecast into Mid 2014 of 187,000. Therefore this house prices forecast seeks to extend the existing forecast from Mid 2014 into the end of 2018 i.e. for 5 full years forward.
My concluding UK house prices forecast is for the Halifax NSA house prices index to target a trend to an average price of £270,600 by the end of 2018 which represents a 55% price rise on the most recent Halifax house prices data £174,671, that will make the the great bear market of 2008-2009 appear as a mere blip on the charts as the following forecast trend trajectory chart illustrates: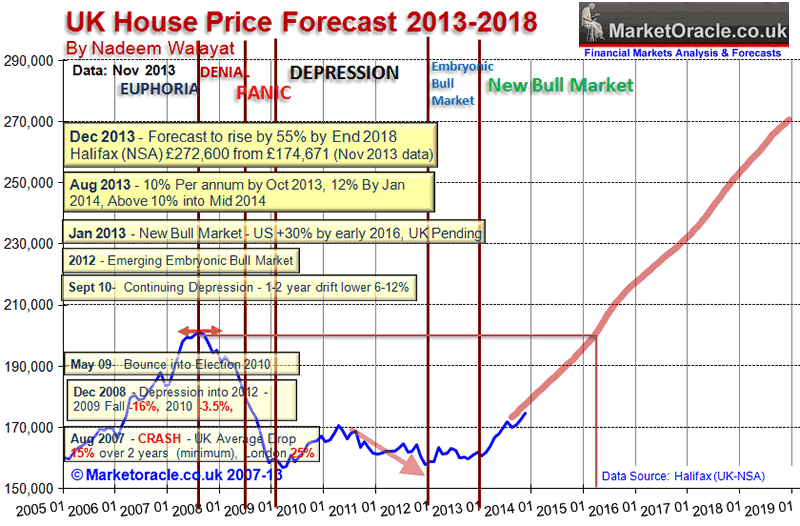 Additionally, a video version of excerpts of the forecast was posted during early January 2014 -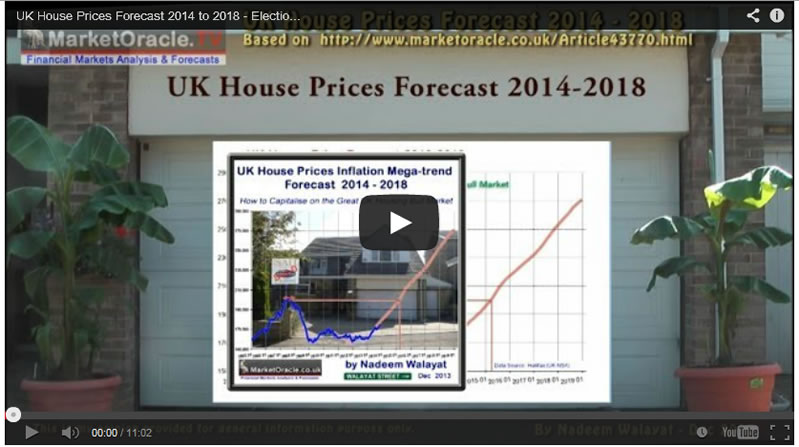 Current State of the UK House Prices Forecast
The updated Halifax average house prices (NSA) graph to Jan 2015 of £190,113 basically shows that the UK housing bull market paused from August to December 2014 before resuming its bull run in January. House prices are currently showing a deviation of 3.3% against the forecast trend trajectory. In terms of the long-term trend forecast for a 55% rise in in average UK house prices by the end of 2018, if the current deviation continued to persist then this would result in an 15% reduction in the forecast outcome to approx a 40% rise by the end of 2018.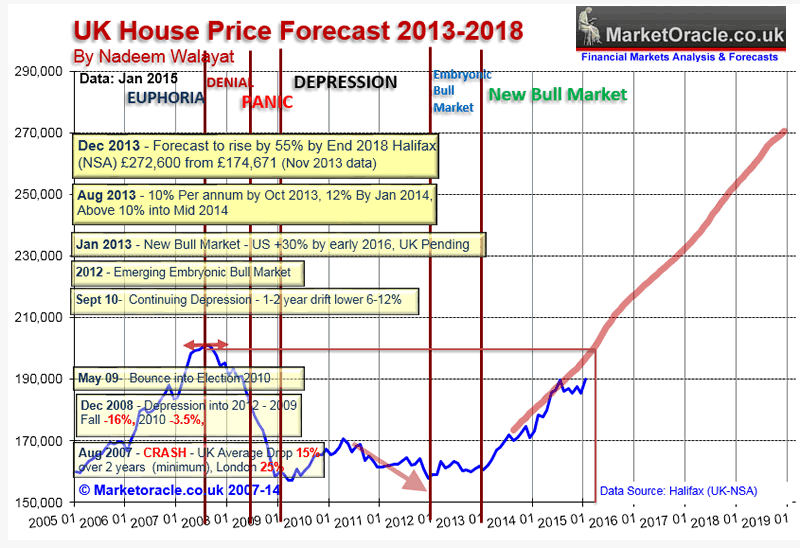 UK House Prices Momentum into Election 2015
The following graph further illustrates the fall in momentum during the second half of 2014 and the recent surge higher back to 10% as UK house prices look set to soar to an annual inflation rate well above 10% per annum, timed to just reach their peak during May 2015 at probably around 12%, though unlikely to accelerate any higher due to weakness in house prices in the South East.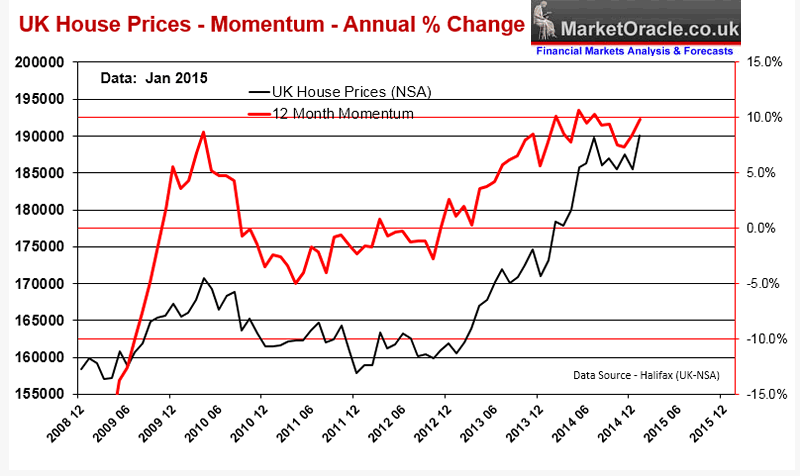 Thereafter we can expect a similar sharp slowdown to probably a greater extent than that of 2014. In fact the momentum trend is likely to be very similar to Labours 2010 house prices mini-election boom that I had started to warn to expect from mid 2009. Though at this point I am not expecting a similar post election collapse to -5% as that was as a consequence of Labour going for broke on a near £160 billion annual deficit debt printing binge.
Implication for Sellers
In my opinion property sellers have a golden window into Summer 2015 to maximise the selling price of their homes. So if your thinking of putting your home on the market then the time to act is NOW! Even a few weeks delay could make tens of thousands of pounds difference in outcome.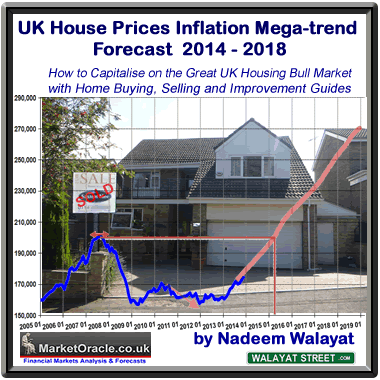 Implications for Buyers
We'll to be blunt you have left it a bit late, for I started warning of the embryonic beginnings for a multiyear bull market in 2012! That gave birth to the bull market proper of 2013 where the consolidation of late 2014 allowed for some respite for buyers but now momentum once more looks set to soar into the May 2015 election.
Therefore it maybe better to await a post election correction than attempt to jump onto a galloping housing bull right now. Though do remember my forecast for a FIVE YEAR bull market into the END of 2018, so don't take any post election weakness to once more sit on your hands and wait for house prices to continuing weakening towards your fantasy price level because they won't, so do understand that post election weakness in UK house prices will be TEMPORARY!
Of course this analysis is focused on AVERAGE house prices, as there will be a great deal of regional variations in trend where currently the closer one gets to London the weaker house prices will tend to be, and even negative, thus giving those buyers the upper hand. WARNING - Especially STEER CLEAR of FLATS! As my warning of 2014 continues into 2015. So if your thinking of buying in london then buy a HOUSE and NOT a FLAT! And finally not forgetting Scotland's oil price collapse bust that is hitting cities such as Aberdeen hard.
Also See my UK Housing Market ebook (FREE DOWNLOAD) for a whole host of buying, selling and improvement guides.
Implications for the General Election
Clearly the house prices and economic mini boom is timed to PEAK during the May 2015 at approx 12% per year, to just exceed the Labour mini-boom into the May 2010 general election. Which therefore implies that the prospects for the Conservatives and to a far lesser extent the Liberal Democrats should continue to improve right into polling day. Although 12% will not be on par with the booms of the noughties of over 30% so house prices are suggesting a very similar election result for the Conservatives at least to that of 2010.
My next in-depth analysis concludes in a detailed seats per party general election forecast, so ensure you are subscribed to my always free newsletter to get this in your email box on completion.
In the meantime see my existing long standing forecast conclusion as of December 2013.
16 Dec 2013 - UK General Election Forecast 2015, Who Will Win, Coalition, Conservative or Labour?
The following graph attempts to fine tune the outcome of the next general election by utilising the more conservative current house prices momentum of 8.5% which has many implications for strategies that political parties may be entertaining to skew the election results in their favour.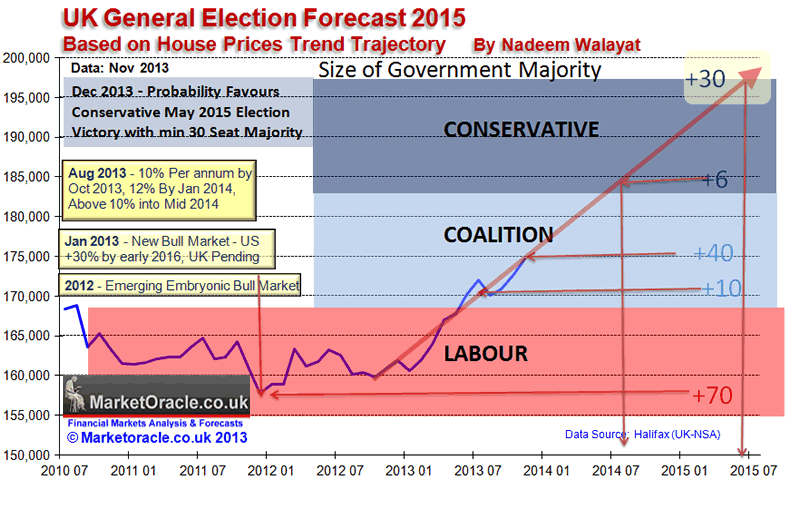 The the key implications of the above graph are -
The window for an outright labour election victory has ended as of July 2013.
As of writing an election today would result in a Coalition government with a majority of about 40 seats.
The window of opportunity for a Coalition government ends by mid 2014 after which there is an increasing probability for a Conservative outright majority.
A May 2015 general election at an average house price inflation rate of 8.5% would result in a Conservative overall majority of about 30 seats. Therefore this is my minimum expectation as I expect UK house prices to start to average 10% per annum from the beginning of 2014.
And also a video version of the analysis and forecast conclusion -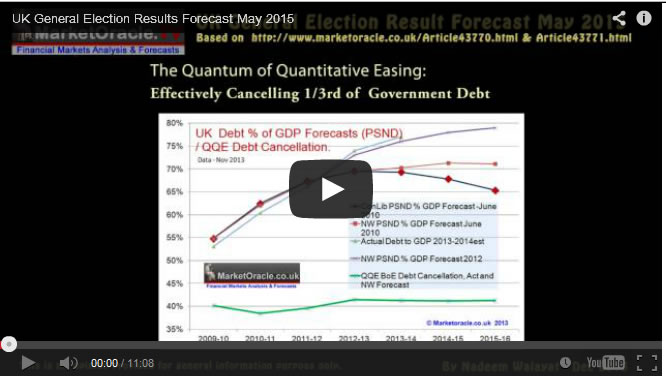 Source and Comments: http://www.marketoracle.co.uk/Article49614.html
By Nadeem Walayat
Copyright © 2005-2015 Marketoracle.co.uk (Market Oracle Ltd). All rights reserved.
Nadeem Walayat has over 25 years experience of trading derivatives, portfolio management and analysing the financial markets, including one of few who both anticipated and Beat the 1987 Crash. Nadeem's forward looking analysis focuses on UK inflation, economy, interest rates and housing market. He is the author of five ebook's in the The Inflation Mega-Trend and Stocks Stealth Bull Market series that can be downloaded for Free.

Nadeem is the Editor of The Market Oracle, a FREE Daily Financial Markets Analysis & Forecasting online publication that presents in-depth analysis from over 1000 experienced analysts on a range of views of the probable direction of the financial markets, thus enabling our readers to arrive at an informed opinion on future market direction. http://www.marketoracle.co.uk
Disclaimer: The above is a matter of opinion provided for general information purposes only and is not intended as investment advice. Information and analysis above are derived from sources and utilising methods believed to be reliable, but we cannot accept responsibility for any trading losses you may incur as a result of this analysis. Individuals should consult with their personal financial advisors before engaging in any trading activities.
© 2005-2022 http://www.MarketOracle.co.uk - The Market Oracle is a FREE Daily Financial Markets Analysis & Forecasting online publication.
Comments
zahlen2k
27 Feb 15, 21:19
London


Thanks alot Nadeem! Was really looking forward to this. So to clarify if I'm looking to buy a house in the London suburbs it could well be in my favour to wait another 6 months?

Do you think a house is better in terms of value to flats because of the freehold and land associated? Even if for the same price as a flat you get a lower rental yield?

Thanks alot

Zahir



Andy
28 Feb 15, 12:06
Will the govt continue to support house prices?


Nadeem, as usual spot on forecasting of house prices over the past few years. I'm more curious about the future. Do you think the govt will continue to support the house price once the election is over? As you say the market is driven by sentiment - a 1% increase in rates could quickly reverse sentiment, especially in London where people are mortgaged up to the eyeballs.

I now live in London with a low 6 figure income, which I think puts me into the top 2%, yet I'm priced out. 98% are in a worse position than I, hence I struggle to see how it can continue.

No doubt without immigration London would die - I can't see British graduates on a reasonable starter income agreeing to move here and having to share bedrooms as rents are so high, when they could stay in their own towns and live far better.



Nadeem_Walayat
28 Feb 15, 18:09
London Houses vs Flats


Hi

Yeh, you could wait 6 months and then buy a house in the suburbs.

London flats are in a bubble, a lot of investors (mostly chinese and russian) are going to get burned.

Best

NW



Nadeem_Walayat
28 Feb 15, 18:12
House prices support


Hi

Yes government will continue to support house prices because it will be WEAK, weak governments tend to bend over backwards to appease vested interests such as house owners.

Interest rates are irrelevant. Yes I understand that this is contrary to the consensus view, but if housing market sentiment is strong i.e. over 10% per annum inflation, then it does not matter if mortgage interest rates are 3% or 6%.

Best

NW



zahlen2k
01 Mar 15, 05:42
London


Thanks alot for your response Nadeem, much appreciated, and your content has been invaluable to me over the years.

Wanted to also point out the 20% discount for first time buyers site is now up to register, not sure what limit they will put on the amount, but 20% discount, and even 5% down, seems like a no brainer.

Regards

Zahir



zahlen2k
01 Mar 15, 05:44
Houses vs Flats


Yh I've been thinking this about the offplan luxury flats in zone 1-2. If credit tightens in China, then there may be alot of repos when it comes for completion. Although I've heard alot of them are cash buyers too. But if theyre buying for rental yield, zone 1-2 yields will be very low I reckon in 2016, there's already so much supply, and 3% yield is quite common in zone 1 prime areas.

Thanks again



Sam
04 Mar 15, 14:47
London Prime Flats v Houses


Hi Nadeem - first off thank you so much for your insightful work over the years. Given the quality and accuracy of your work, I am amazed the mainstream press has not given you more attention. Anyway, thats another story. I just wanted to clarify something re your recommendation of houses vs flats in London. Apart from the fact foreign buyers are the dominant force in prime London, within that, there is a strong cultural preference for flats vs houses both among foreign buyers as well as overseas-born Brits like myself. I'm not sure why that should be the case, but from personal experience and anecdotes it may be a function of security (your front door does not open on to a public street), and a preference for lateral spaces. In many streets around Kensington (where we reside), a family sized apartment in a well maintained portered block has arguably appreciated more in £ per square foot over the past say 10 years than a similar sized terraced house in the area. Many Middle Eastern buyers I know looking to buy in the area will only consider flats and not houses. Could you please elaborate a bit more on the reasoning behind your preference for houses vs flats? I will declare my own self-interest in this question as we are considering selling our Kensington apartment and moving to a house in the suburbs (for family/schools reasons rather than any kind of bet on property within London). I am therefore quite intrigued, especially by your view of a "sellers window" existing between now and election time. Many thanks in advance for your time.




Only logged in users are allowed to post comments.
Register/ Log in