Stocks Bear Market Investors Nightmare!
Stock-Markets
/
Stocks Bear Market
Aug 12, 2015 - 10:38 AM GMT


Ugly Outlook – Global Economics, Quantitative Easing and Equities - A take on the global economy and equities markets that paints a simple and clear pictures I think.
The DJIA index has recorded seven consecutive down days in a row! These 7 distribution days are a sign that many institutions are taking profits or establishing losses.
As we are entering the second half of 2015, financial panic is occurring globally. Currently, this tremendous financial devastation is happening throughout the world. Stock prices are crashing in China, Europe and soon I feel the United States. Puerto Rico has now defaulted on their debts. Quantitative Easing has been masking the symptom of this endemic disease. The Greek Banks are still frozen and will continue to stay this way; however, the mainstream media is not reporting on this current situation in Greece. There is a limit on weekly withdrawals of 420 Euro per (around US $455).
The corporate leaders of the major banks were left in place back in 2008/2009 and were allowed to continue receiving their huge bonuses. Their banks only existed because of the unprecedented taxpayer subsidy. The system is still essentially the same as it was before, due to any lack of meaningful reforms that have been required. It is this lack of change in all the required global fiscal policies that I am warning you of the coming collapse of this new "Asset Bubble". This is where "profits" are Privatized and "losses" are Socialized.
The printing of limitless sums of virtually free money under various "Quantitative Easing" programs and simultaneously slashing interest rates to their lowest levels in history has created stock markets that have been artificially "levitated" for many years now. This growth is based on virtually "free money". I am warning you that the current business valuations and calculations are NOT accurate and even NON-sustainable. Our previous "Credit Bubble" has now been leveraged and replaced by an even larger and more dangerous "Asset Bubble".
The Federal Reserves easy money policies have left stocks and bonds on the verge of a massive collapse. Their "Financial Engineering" has created such a "horrendous bubble" that it will lead to the largest historical economic deflationary depression that we have ever experienced. This bubble, when it finally implodes, is going to be absolutely devastating to the global economies. All irrational bubbles eventually burst.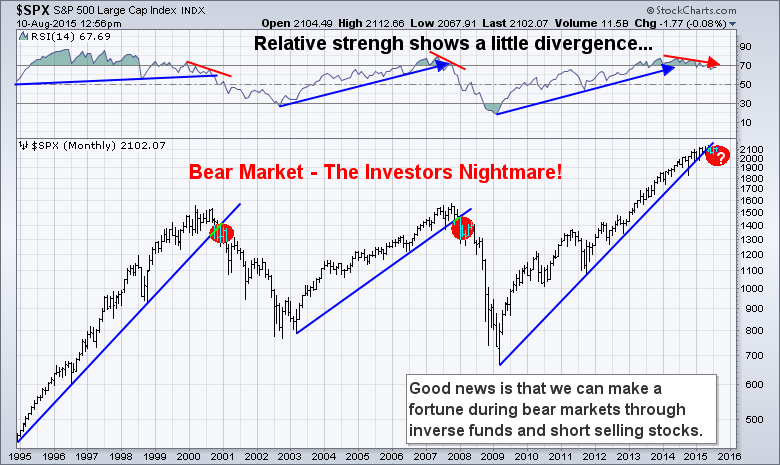 What is actually required today is a universally respected reserve asset capable of filling our current void with a reliable presence that serves as a "store of value". We do not require a complex international committee to solve this new future problem. This "store of value" asset is already in existence and currently held by some central bankers and prudent individuals around the world. It is known as gold. From the ruins of our chaotic financial crisis, a degree of sanity will prevail. Gold, as a freely floating asset, will arise in stature as the only element of global monetary reserves. The floating aspect is the vital evolutionary improvement over all previous structural monetary failures which tried to use a gold standard at a fixed price (i.e: unit of account).
When the global financial crisis hit in 2008, U.S.Dollar liquidity dried up and international financial markets experienced widespread paralysis. First to the scene was the U.S. Federal Reserve Board, pumping liquidity into the system and establishing a series of large-scale bilateral swap agreements with major central banks. This included several countries in the major emerging markets. The International Monetary Fund (IMF) followed with a number of programs for countries hit by the crisis and it adapted its financing toolkit to meet the demands of the crisis. For the first time, policy makers looked to the Special Drawing Rights (SDR) to provide much-needed liquidity throughout the international monetary system.
SDR is an artificial "basket" of currency used by the International Monetary Fund (IMF) for internal accounting purposes. The SDR is also used by some countries as a peg for their own currency and is used as an international reserve asset. The SDR was created by the countries participating in this system who needed official reserves (government or central bank holdings of widely accepted foreign currencies) that could be used to purchase the domestic currency in foreign exchange markets where it is required to maintain its exchange rate. It is a potential claim on the freely usable currencies of IMF members. The Special Drawing Rights was created by the IMF in 1969 to support a fixed exchange rate system.
The SDR is neither a currency nor a claim on the IMF. It is a potential claim on the freely usable currencies of IMF members. Holders of SDR can obtain these currencies in exchange for their SDR. The SDR is primarily a unit of account for the purpose of accounting.
It is my view point that the SDR, which is a "Virtual Reserve Currency", will never come close to achieving a status anywhere near that of "the principal reserve asset in the international monetary system" as envisioned by The International Monetary Fund for a future global reserve currency!
Gold has been declining sharply since its all-time high of $1,920/ounce on September 2011. It is experiencing a historical correction that we forecasted years ago. I am expecting much lower prices over the next few months. My predictive trend and cycle strategy will inform us when we have roughly hit the bottom of these two markets (gold & silver).
Today, the majority of investors now believe gold is dead and no longer relevant and that cash and the U.S. dollar is King. With this type of "herd mentality", investors will mostly likely miss the next historical buying opportunity for metals, and miss the ultimate short-sell trade on US equities.
Chris Vermeulen
Join my email list FREE and get my next article which I will show you about a major opportunity in bonds and a rate spike – www.GoldAndOilGuy.com
Chris Vermeulen is Founder of the popular trading site TheGoldAndOilGuy.com. There he shares his highly successful, low-risk trading method. For 7 years Chris has been a leader in teaching others to skillfully trade in gold, oil, and silver in both bull and bear markets. Subscribers to his service depend on Chris' uniquely consistent investment opportunities that carry exceptionally low risk and high return.
Disclaimer: Nothing in this report should be construed as a solicitation to buy or sell any securities mentioned. Technical Traders Ltd., its owners and the author of this report are not registered broker-dealers or financial advisors. Before investing in any securities, you should consult with your financial advisor and a registered broker-dealer. Never make an investment based solely on what you read in an online or printed report, including this report, especially if the investment involves a small, thinly-traded company that isn't well known. Technical Traders Ltd. and the author of this report has been paid by Cardiff Energy Corp. In addition, the author owns shares of Cardiff Energy Corp. and would also benefit from volume and price appreciation of its stock. The information provided here within should not be construed as a financial analysis but rather as an advertisement. The author's views and opinions regarding the companies featured in reports are his own views and are based on information that he has researched independently and has received, which the author assumes to be reliable. Technical Traders Ltd. and the author of this report do not guarantee the accuracy, completeness, or usefulness of any content of this report, nor its fitness for any particular purpose. Lastly, the author does not guarantee that any of the companies mentioned in the reports will perform as expected, and any comparisons made to other companies may not be valid or come into effect.
© 2005-2019 http://www.MarketOracle.co.uk - The Market Oracle is a FREE Daily Financial Markets Analysis & Forecasting online publication.

Only logged in users are allowed to post comments.
Register/ Log in