Obama Has 14 Days To Start World War III
Politics
/
WW3
Jan 08, 2017 - 04:58 AM GMT


Barack O'Bomber was nominated for the Nobel Peace Prize before he even became President. And he hasn't had one day of peace in his eight years.
And, he now has 14 days left and appears to be trying to foment World War III with his remaining opportunity.
Long ago O'Bomber accepted the Nobel Peace Prize, but didn't do anything to either justify or deserve it. More recently he's actually done a lot to repudiate it.
In fact, according to an analysis done by the Council on Foreign Relations of Defense Department data, the U.S. dropped over 26,000 bombs in 2016 during Obama's final year in office, that's over 3,000 more than in 2015!
Meanwhile, in Ukraine, the ousting of Viktor Yanujovych was followed by the ascension of Petro "Porky" Porochenko. Porky was a pro-Western puppet and moved Ukraine in a Westerly direction.
Vladimir Putin as a result, made overtures to a portion of southwestern Ukraine that was pro-Russian. In March, 2014, Russia and the self-proclaimed Republic of Crimea signed a treaty of accession of the Republic of Crimea and Sevastopol in the Russian Federation.
This was just the beginning of more blatant challenges to Putin and his reign. Sanctions have been placed on Putin as challenges to him have become more overt, but no more rational.
The US seems to need an enemy and a sizeable part of the military industrial complex is supportive of the demonization of Russia as a demonstrable and necessary one. This demonization is being accompanied by a continued and escalating fighting in Syria where the US wants to remove Assad.
The removal of Assad would bring the West right up to the doorstep of Putin and make his position even worse vis a vis the West. It is being accompanied by serious allegations that the West and O'Bomber in particular have been supporting the anti-Assad terror group ISIS and may have even helped to found it.
Between aiding ISIS and supporting today's Ukrainian regime, along with numerous past anti-Russian activities, O'Bomber has set the US up as an ongoing foe of a country that itself maintains no ongoing enmity toward the West.
Nonetheless, the US has gone out of its way to put considerable pressure on Putin, Russia and its activities. Most recently, O'Bomber has moved even closer to a direct confrontation. Lithuania has just confirmed the presence of US special forces saying the deployment is to "train local forces and act as a deterrent against Russian aggression."
Furthermore, sometime during the spring of 2017, NATO will be sending battalions to the Baltic States and Poland as part of something called operation "Atlantic Resolve". Even Great Britain will be shipping fighter jets and troops to the region.
It has been reported by the German Armed Forces Press and Information center that 3 US transport ships are expected to arrive in Bremerhaven in the first week of January, containing 2,500 pieces of cargo, trucks, combat vehicles, trailers and containers. Upon their arrival they will be transported to Poland by rail and military convoys by approximately January 20th. Just in time for Donald Trump's inauguration.
One German newspaper called this arms stockpiling the largest US military redeployment operation in Germany since 1990 with more than 2000 jeeps and trucks expected to be deployed over the next 9 months.
According to statements made by the US army, 4000 additional troops and 2000 tanks will also be contributed to strengthen the alliance's "defenses".
Colonel Todd S Bertulis, deputy head of logistics of the Stuttgart military base in Germany, stated, the operation will "Ensure that the necessary combat power is brought to the right place in Europe at the right time."
Another US military statement which came from Lieutenant Ben Hodges, the commanding general of US armed forces in Europe, was that three years after US tanks left the European continent "We [the United States] need to get them back." He went on to tell journalists that these recent measures were in response to the Russian invasion of Ukraine as well as their "illegal" annexation of Crimea.
The natural question which arises as a result of all this is of course, what exactly are O'bomber and the globalist elites trying to incite in Eastern Europe? Are they actually trying to kick off World War III?
The answer is yes, of course. To revamp the cold war is to stoke the flames of the military industrial complex.
The trigger happy warmongers in the US government would love a direct confrontation with Russia and China - especially people like Senator Lindsey I-never-saw-a-war-I-didn't-like Graham who stated in reference to Russia's supposed interference in the US election, that we [the USSA] have to be ready to "throw rocks" and all Obama has done is "thrown a pebble".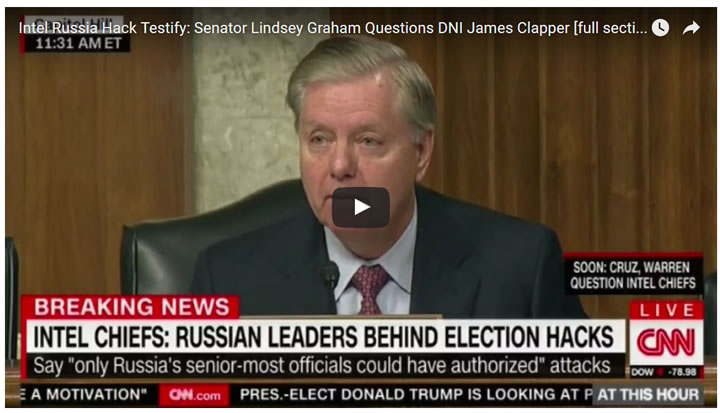 It is interesting how quickly the US propaganda apparatus has switched their boogey man from Al- qaeda to ISIS and now to Russia for cold war 2.0 as it more aptly suits their agenda.
So with armaments being moved into strategic positions in Eastern Europe and hostile rhetoric being tossed around by trigger happy politicians who stand to benefit from the fostering of a major world war, it is important to keep in mind the financial ramifications of these possibilities.
Markets don't like uncertainty and nothing sends mixed signals like the prospect of a war between superpowers.
That is why it is important to keep some of your assets outside the financial system in more secure alternatives such as precious metals and cryptocurrencies.
To learn more, join us this February in Acapulco, Mexico for the TDV Internationalization & Investment Summit. The timing of the summit couldn't be better as a lot appears to be about to change in the world and you'll need to stay one step ahead to survive and profit from it.
There are a number of geopolitical pieces in motion including Donald Trump who just came out with rhetoric to reign back the CIA… which is a whole other story in and of itself that we will cover here tomorrow.
Anarcho-Capitalist. Libertarian. Freedom fighter against mankind's two biggest enemies, the State and the Central Banks. Jeff Berwick is the founder of The Dollar Vigilante, CEO of TDV Media & Services and host of the popular video podcast, Anarchast. Jeff is a prominent speaker at many of the world's freedom, investment and gold conferences as well as regularly in the media.
© 2016 Copyright Jeff Berwick - All Rights Reserved Disclaimer: The above is a matter of opinion provided for general information purposes only and is not intended as investment advice. Information and analysis above are derived from sources and utilising methods believed to be reliable, but we cannot accept responsibility for any losses you may incur as a result of this analysis. Individuals should consult with their personal financial advisors.
© 2005-2019 http://www.MarketOracle.co.uk - The Market Oracle is a FREE Daily Financial Markets Analysis & Forecasting online publication.

Only logged in users are allowed to post comments.
Register/ Log in