Recessionary Contracting Earnings Lift Stock Market P/E Ratios
Stock-Markets
/
Stock Market Valuations
Aug 17, 2008 - 10:20 AM GMT


Richard Russell (Dow Theory Letters): Danger of deflation
"We've recently seen the greatest expansion of credit in history. It was a product of Asian and Mid-Eastern countries holding down the value of their currency by creating more of their own money and buying dollars. The Fed got into the act in 2003 when it held down Fed Funds to 1% for month after month. It was a wild expansion of money and credit. Now the party is over.


"The US and the economies of the free world run on credit. In the US it now takes six dollars in credit to produce one dollar in Gross National Product. Maybe the biggest problem today is that the banking system has become so traumatized that it is restricting credit. Today 'nobody can get a loan', the complete opposite of the situation which existed prior to the housing bust. The danger – constricting credit will impact heavily on the nation's GDP. If that happens, say hello to a blistering recession.
"With credit being restricted, a second and very serious danger surfaces. That danger is asset deflation. The very thought of asset deflation sends chills of fear up Fed chief Ben Bernanke's spine. Credit contraction, asset deflation – shades of the Great Depression.
"What's the antidote for deflation? It's print, print, print. What would gold's reaction be to 'print, print, print'? Gold's reaction would be – rise, rise, rise."
Source: Richard Russell, Dow Theory Letters , August 13, 2008.
Asha Bangalore (Northern Trust): Industrial production – details reveal significantly soft factory conditions
"Industrial production increased 0.2% in July following a revised 0.4% gain in the prior month. These headline readings mask the soft production situation at the nation's factories. On a year-to-year basis, industrial production dropped 0.2%, the first drop in factory production since June 2003. Output of utilities fell 1.8% and that of mining (mainly related to oil drilling) moved up 0.95%. The operating rate of the factory sector edged up one notch to 79.9% in July."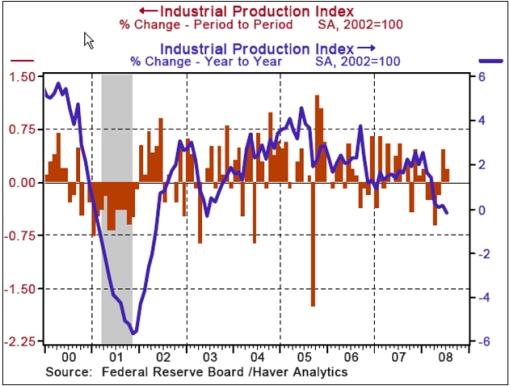 Source: Asha Bangalore, Northern Trust – Daily Global Commentary , August 15, 2008.
BCA Research: US retail sales – slowing, and more weakness to come
"It will take a much deeper correction in oil prices, some light at the end of the housing tunnel, and a stabilization of employment trends to reverse the US consumer retrenchment.
"Retail sales growth slowed in July, led by dismal sales at auto dealers. The ongoing squeeze on discretionary spending continues, thanks to elevated essential spending costs like food, energy, interest payments and medical bills. The recent decline in oil prices is helpful, but will need to persist for much longer before consumers perceive energy as 'affordable'.
"The main factor that will determine consumer spending behaviour will be employment growth and we expect hiring trends to continue to deteriorate until at least the end of the year. In addition, the other major headwinds (housing and the banking system) are still in place. Bottom line: Economic risks are high and we doubt there will be much improvement in the next few quarters."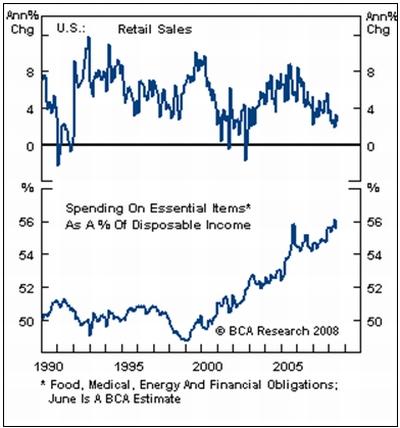 Source: BCA Research , August 14, 2008.
Asha Bangalore (Northern Trust): Narrowing of trade deficit is noteworthy, but future is less promising
"The trade deficit narrowed to $56.8 billion in June from $59.2 billion in May. The decline in the trade gap reflects the faster pace of growth in exports of goods and service (+4.0%) compared with imports (+1.8%). All other things constant, real GDP growth in the second quarter should be stronger than the 1.9% growth rate reported to account for a narrowing of the trade gap. However, soft economic data from abroad particularly from Europe suggests that an increase in exports is most likely to show muted growth in the months ahead."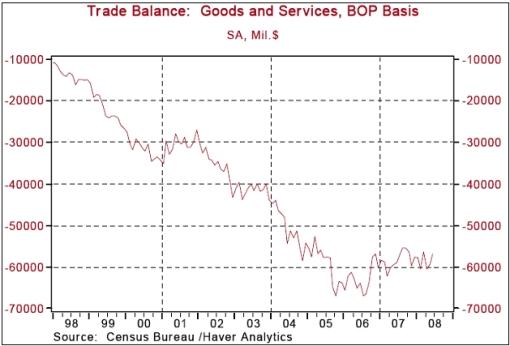 Source: Asha Bangalore, Northern Trust – Daily Global Commentary , August 12, 2008.
Mike Lenhoff (Brewin Dolphin): US exports to come under pressure
"The chart below shows the year-on-year growth rate for US GDP over the past 40 years along with the contribution from net exports in goods and services. The message is not that each cyclical downturn has been associated with a rise in the contribution from net exports but that, whatever its contribution, net exports have never prevented the US economy from sliding into a recession. The contribution from net exports today is greater than at any time in the past four decades but will this make a difference? Probably not!
"US GDP grew by 1.8% year-on-year in the second quarter of 2008. Yet 1.5% of this growth came from net exports. Less than a third of a percent came from domestic demand. The domestic economy has lost pretty well all momentum. So imports have been curbed but US exports have been holding up well, thanks to a competitive exchange rate and the strength, at least until now, of the developing economies. The contribution from net exports is just about all that is holding up US growth, but this is now likely to give."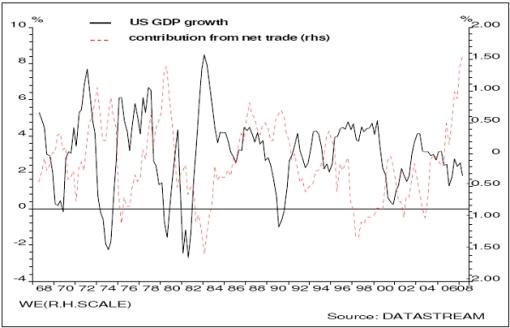 Click here for the full report.
Source: Mike Lenhoff, Brewin Dolphin , August 12, 2008.
Bloomberg: Zillow's Rascoff says housing market not at bottom yet
Spencer Rascoff, chief financial officer of Zillow.com, talks with Bloomberg about the outlook for the US housing market. Almost one-third of US homeowners who bought in the last five years now owe more on their mortgages than their properties are worth, according to Zillow, an Internet provider of home valuations.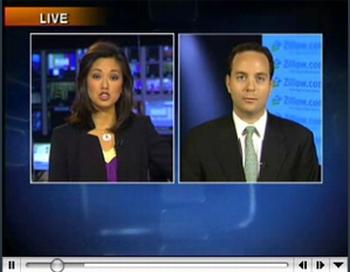 Source: Bloomberg , August 13, 2008.
Casey's Research: Bankers' headache getting worse
"Delinquency rates on single-family mortgages have reached their highest level on record (the Fed started tracking this statistic in 1991), dragging up the delinquency rate on all loans held by US banks. This chart is more proof that, despite lowered interest rates, there are a record number of mortgages in the hands of subprime borrowers who can't make their payments.
"These delinquency rates show that the financial system has not emerged from the credit crisis, but rather, entered a new stage where bad loaning schemes are blowing up in the face of the bankers who created them."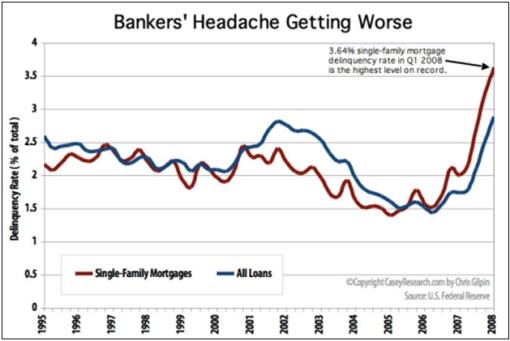 Source: Casey's Research , August 14, 2008.
CNN: The next wave of mortgage defaults
"Prime mortgages are starting to default at disturbingly high rates – a development that threatens to slow any potential housing recovery.
"The delinquency rate for prime mortgages worth less than $417,000 was 2.44% in May, compared with 1.38% a year earlier, according to LoanPerformance.
"Delinquencies jumped even more for prime loans of more than $417,000, so-called jumbo loans. They rose to 4.03% of outstanding loans in May, compared with 1.11% a year earlier.
"And prime loans issued in 2007 are performing the worst of all, failing at a rate nearly triple that of prime loans issued in 2006, according to LoanPerformance.
"'The extent of how bad these loans are doing is very troubling,' said Pat Newport, real estate economist with Global Insight, a forecasting firm.
"Prime loans are just the latest class of mortgages to suffer a spike in failure rates. The first lot to go bad was, of course, subprime mortgages, whose problems set the housing meltdown in motion. Next were the Alt-A loans, a class between prime and subprime loans that doesn't require strict documentation of a borrower's assets or income.
"Now, as prime loans are added to the mix, the resulting foreclosures could haunt the housing market for a long time, according to Global Insight's Patrick Newport."
Source: Les Christie, CNN Money , August 12, 2008.
Bloomberg: Banks' subprime losses top $500 billion on writedowns
"Banks' losses from the US subprime crisis and the ensuing credit crunch crossed the $500 billion mark as writedowns spread to more asset types.
"The writedowns and credit losses at more than 100 of the world's biggest banks and securities firms rose after UBS reported second-quarter earnings today, which included $6 billion of charges on subprime-related assets.
"The International Monetary Fund in an April report estimated banks' losses at $510 billion, about half its forecast of $1 trillion for all companies. Predictions have crept up since then, with New York University economist Nouriel Roubini predicting losses to reach $2 trillion.
Click here for a table of the asset writedowns and credit losses as well as the capital raised in response. Also, a table of the net capital raised is provided here ."
Source: Yalman Onaran, Bloomberg & Econompic Data , August 12, 2008.
Bloomberg: S&P 500 pulls ahead of Brazil, India, Russia and China for first time in 2008
"US stocks pulled ahead of Brazil, Russia, India and China this week for the first time in 2008, spurred by the Federal Reserve's efforts to cut borrowing costs even as the biggest developing countries are raising theirs.
"The "Chart of the Day" shows the S&P 500's 12% loss this year leaves it ahead of Brazil's Bovespa Index, whose drop through last week had been the smallest of the five countries. The US equity benchmark claimed the lead after banks rallied 22% and the steepest monthly retreat in commodity prices sent the Bovespa into a bear market.
"The Bombay Stock Exchange's Sensex Index dropped 25% in 2008 through yesterday, China's CSI 300 Index decreased 54% and Russia's benchmark RTS Index fell 21%. Brazil's Bovespa has lost 15% this year.
"In the US, where economic growth this year is projected to be less than a third of Brazil's 4.7%, the Federal Reserve reduced interest rates seven times to 2% in the past year. Brazil's central bank has raised its benchmark 1.75% points to 13%, India's climbed 1.25 points to 9% and Russia's increased 1 point to 11%."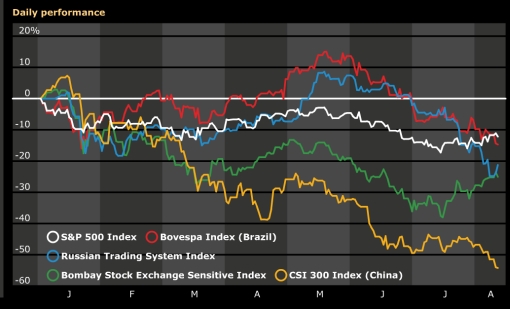 Source: Eric Martin, Bloomberg , August 13, 2008.
Times Online: Swing back to bank stocks is overdone, says Merrill Lynch
"The fashionable investment tactic of the past month – buying bank stocks while selling energy companies – could already have gone too far, Merrill Lynch warned clients yesterday.
"In mid-July, hedge funds, pension funds and other institutional investors dramatically reversed their enthusiasm for energy stocks and loathing for financials in an abrupt about-turn that sent bank shares soaring and oil and gas companies sinking.
"But Merrill said yesterday that the unwinding of the classic bet of the credit crunch may already have been overdone, giving warning that banks across Europe could still be forced to raise between $70 billion and $120 billion in new equity on top of the $120 billion already raised.
"Merrill said that the rush to buy back into banks may already have gone too far after it stress-tested their balance sheets. It also said that fears over the sliding energy price were being overplayed."
Source: Patrick Hosking, Times Online , August 14, 2008.
Rovert Parkes (HSBC): Equity sector reversal taking place
"What will be the likely impact on equity markets if the dominant global themes of the first six months of the year – rising commodity prices, inflation and interest rate fears and a weakening dollar – continue to unravel in the second half?
"Robert Parkes, equity strategist at HSBC, says there has been a clear reversal in global sector performance between the first half of 2008 and the period from July 1 to date.
"'The top five performers in the first half – oil services, industrial metals, mining, oil producers and chemicals – have been the five worst in the second half. Of the 38 sectors in our universe, 29 showed a reversal in performance in the second half versus the first half (four sectors outperformed in both periods and five underperformed in both).
"'Away from the likely path of commodity prices, inflation, interest rates and the dollar, a theme likely to remain prominent … is concern about the global growth outlook,' he says.
"'It may be too early to get involved in cyclical sectors, particularly on the consumer side.
"'For eurozone companies with dollar exposure, the negative impact from the exchange rate on earnings growth is likely to remain prominent in the third quarter before it fades in the fourth quarter and then turns positive as we move into 2009.
"'For UK companies with dollar exposure, the currency is likely to boost earnings growth in each of the next four quarters.'"
Source: Robert Parkes, HSBC (via Financial Times ), August 14, 2008.
Bespoke: Changes in P/E ratios during the current bear market
"Since the S&P 500 peaked on October 9th, the index is down 17.85%. As shown, Financials are down the most at 43%, followed by Telecom (-27.5%), and Consumer Discretionary (-20.15%). The other seven sectors are actually outperforming the index as a whole, and the Consumer Staples sector is actually up 1.64%.
"During bear markets, P/E ratios typically contract as prices fall faster than earnings. During this bear market, the S&P's P/E ratio has risen from 19.62 to 25.67. This P/E expansion can be attributed to the 3 worst performing sectors. Financial and Telecom P/Es have both gone negative, and Consumer Discretionary is pretty much negative at 1,402. On the other hand, five sectors have seen P/E contraction. Technology has seen the biggest P/E decline, going from 28.19 on 10/9/07 to 21 at current prices. Utilities, Industrials, Health Care and Energy are the other sectors that have seen P/Es contract. This is definitely a concentrated bear market, where a couple sectors have caused all the problems."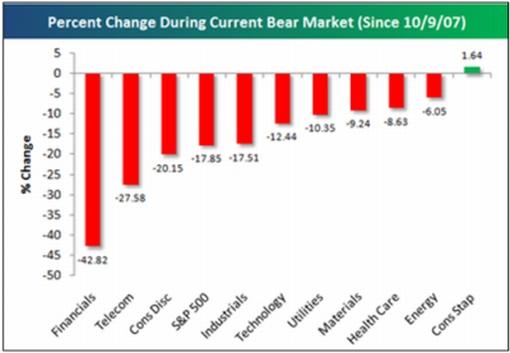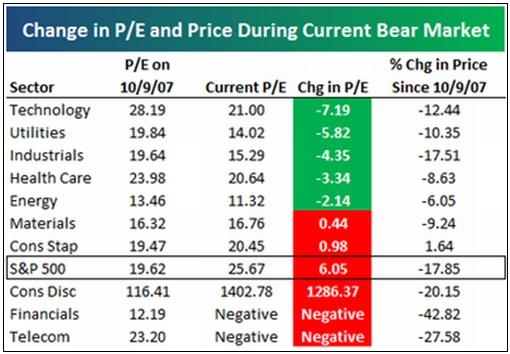 Source: Bespoke (via Real Clear Markets , August 14, 2008.
GaveKal: Chinese equities looking increasingly attractive
"After selling off -9.4% in the last two days of trading, and -60% since its peak last October 16th, the Shanghai Composite is now back to December 2006 levels (i.e. below 2500).
"How do we explain this? After all, we have been arguing that the main reason the Chinese equity bubble burst so long before the Olympics (the previously anticipated catalyst) was that commodity prices soared, which in turn squeezed margins, hampered domestic demand, raised political uncertainty and risk premiums, etc…
"So today, with oil and other commodity prices in determined decline, shouldn't Chinese equities be catching a break? We have come up with four potential explanations for the continued selloff: 1) foreign outflows; 2) continued inflation concerns; 3) excess inventories; and 4) disappointing government support.
"Needless to say, the continued selloff in Shanghai shares is concerning. However, since Chinese shares are now massively oversold and valuations are looking increasingly attractive , we are getting cautiously optimistic. And if commodities can continue to moderate, perhaps the most significant weight on Chinese equities will be lifted …"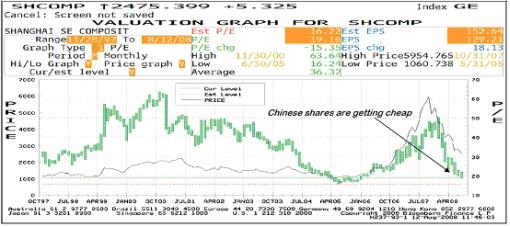 Source: GaveKal – Checking the Boxes , August 12, 2008.
GaveKal: Asia – tremendous buying opportunity
"… with a) Asian equities being very oversold, b) Asian central banks shifting their tune to easier policies, and c) valuations getting more attractive, this might be a good time to start nibbling on Asian assets. Indeed, this could end up being a tremendous buying opportunity."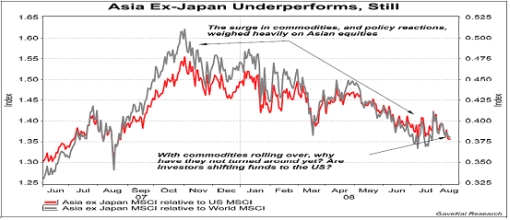 Source: GaveKal – Checking the Boxes , August 13, 2008.
Vladimir Savov (Credit Suisse): Russian equities
"Russian equities have been excessively punished over the last couple of weeks, and even allowing for a higher risk premium and more normal oil prices, valuations look compelling, says Vladimir Savov, strategist at Credit Suisse.
"He notes the market has fallen to levels last seen in November 2006, but says there are material differences in the economy and valuations since then.
"'Russian GDP in 2006 was $986 billion, compared to our expectation for 2008 of $1,644 billion,' he says. 'The average oil price in 2006 was $66 a barrel, compared with $116 so far in 2008. In 2006, earnings growth was 39%, against our forecast of 51% for this year. A price/earnings ratio of 12.1 times in November 2006 compares to our estimate of 9.2x times for 2008.'
"Mr Savov says investors have taken too conservative a view on Russian market risk. He adds that while recent government actions to address pricing issues at Mechel have impacted on the mining sector in general, these measures should be positive for inflation and growth in the longer term. On the South Ossetia conflict, he says that fundamentally Russia's economy and infrastructure will not be affected.
"Mr Savov sees three catalysts for Russia to bounce. 'First, a lasting ceasefire, and ultimately, some long-term resolution of the South Ossetia issue; Second, a rebound in oil prices. Third, an outcome of the Mechel situation in which the company remains a going concern.'"
Source: Vladimir Savov, Credit Suisse (via Financial Times ), August 11, 2008.
Bloomberg: Goldman reverses course, says dollar has "bottomed"
"Goldman Sachs Group reversed course on its dollar forecast, saying the greenback has 'bottomed' as global growth weakens, oil prices decline and the US trade balance improves.
"The US currency, after reaching a 5 1/2 month high of $1.48 per euro, will climb to $1.45 per euro in three months, analysts led by Thomas Stolper wrote in a research note. Goldman had forecast a decline to $1.56 for the same period. From today's 109.8 yen, the dollar will strengthen to 110 yen in three months, up from a previous forecast of 106.
"The dollar has gained 7.6 percent versus the euro since touching a record low in July as traders reduced bets that the European Central Bank will raise interest rates and crude oil tumbled.
"'The fundamental picture for the dollar has improved substantially in recent weeks,' Stolper wrote in the note."
Source: Ye Xie, Bloomberg , August 14, 2008.
Bill King (The King Report): US dollar an unattractive haven
"After over-levered dollar shorts/euro longs cover those positions much of the world will realize that the exploding US budget deficit and further financial system problems make the dollar an unattractive haven. So with the euro and pound no longer safe havens from the dollar, the yen and gold should rally.
"With international tensions reaching a new level of intensity and the global financial system still under historic duress, we'd guess that the dollar rally could continue but it is a temporary technical reaction.
"Soon the fundamentals, especially an already record US budget deficit that should greatly escalate, will re-emerge and instigate a very, very painful re-connection with economic and financial realities."
Source: Bill King, The King Report , August 11, 2008.
John Authers (Financial Times): Sterling breaking down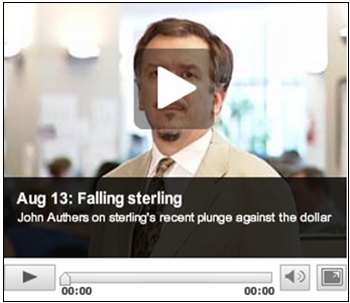 Click here for the full article.
Source: John Authers, Financial Times , August 13, 2008.
Eoin Treacy (Fullermoney): Harrowing time for precious metals
"For investors in precious metals this has been a harrowing time where portfolios have taken a beating. There are a range of arguments against this sector advancing, including a strong dollar, deleveraging in the commodity complex, demand destruction due to high prices and a negative platinum lead. However, we must not forget that acceleration is an ending signal and they cannot keep falling at this rate so there is cause for some optimism.
"Platinum's upside acceleration was a warning that we were on the cusp of a medium-term correction. However, the faster downward acceleration this week also indicates that we are swiftly approaching the lows for this reaction. At Fullermoney, we continue to believe that precious metals are in a long-term secular uptrend, but given the technical deterioration, investors will have to be patient before these metals can justify significantly higher levels. However, for investors unwilling to wait out the correction, this is probably a bad time to sell considering how overextended the market is right now. Patient, more risk tolerant investors may consider nibbling around current levels or more prudently wait for a clear upward dynamic which will signal that at least a short-term floor has been reached."
Source: Eoin Treacy, Fullermoney , August 15, 2008.
Ambrose Evans-Pritchard (Telegraph): Stage two of the gold bull market is just beginning
"A war breaks out in the Caucasus, pitting Russia against a close ally of the United States. Inflation reaches a new peak in the euro-zone. The CPI reaches the highest in Britain since Bank of England independence. Rampant inflation sweeps the developing world.
"Yet gold crashes. It has failed to deliver on its core promises as a safe-haven and inflation hedge, at least for now. Why?
"Four possible answers:
1) Nobody seriously believes that Russia will over-play its hand. The world could not care less about Georgia anyway. Ergo, this is a bogus geopolitical crisis.
2) The inflation story is vastly exaggerated in the OECD core of countries that still make up 60% of the global economy. The price of gold is already looking beyond the oil and food spike of early to mid 2008 (a lagging indicator of loose money two to three years ago) to the much more serious matter of debt-deflation that lies ahead.
3) The seven-year slide of the dollar is over as investors at last wake up to the reality that the global economy is falling off a cliff. Indeed, the US is the only G7 country that is not yet in or on the cusp recession. (It soon will be, but by then others will be prostrate). As an anti-dollar play, gold is finished for this cycle.
4) The entire commodity boom has hit the buffers. Looming world recession (growth below 3% on the IMF definition) trumps the supercycle for the time being.
"Gold has fallen from $1030 an ounce in February to $807 today in London trading. It has collapsed through key layers of technical support, triggering automatic stop-loss sales. The Goldman Sachs short-position that I have been observing with some curiosity has paid off.
"For gold bugs, the unthinkable has now happened. The metal has fallen through its 50-week moving average, the key support line that has held solid through the seven-year bull market. This week is not over yet, of course. If gold recovers enough in coming days, it could still close above the line.
"Well, my own view is that gold bugs should start looking very closely at something else: the implosion of Europe. (Japan is in recession too.)
"My guess is that political protest will mark the next phase of this drama. Almost half a million people have lost their jobs in Spain alone over the last year. At some point, the feeling of national impotence in the face of monetary rule from Frankfurt will erupt into popular fury. The ECB will swallow its pride and opt for a weak euro policy, or face its own destruction.
"What we are about to see is a race to the bottom by the world's major currencies as each tries to devalue against others in a beggar-thy-neighbour policy to shore up exports, or indeed simply because they have to cut rates frantically to stave off the consequences of debt-deleveraging and the risk of an outright slump.
"When that happens – if it is not already happening – it will become clear that the pillars of the global monetary system are unstable, infested with the dry rot of excess debt.
"Gold bugs, you ain't seen nothing yet. Gold at $800 looks like a bargain in the new world currency disorder."
Source: Ambrose Evans-Pritchard, Telegraph , August 12, 2008.
Frank Holmes (US Global Investors): Commodities are oversold
"Faced with slowing global growth, macro investors began dumping commodities and commodity-related stocks, with small- and mid-cap stocks hurt the most. This commodities sell-off, which began in July and has continued into August, also corresponds to the long-term seasonal cycle in which prices for many commodities tend to bottom out in late summer before rebounding in the fall.
"The unwinding of the long energy/short financials trade also has been a big driver of recent share price performance. The combination of rules to eliminate naked short selling on financial stocks, a backlash against higher commodity prices and potential government intervention aimed at speculators in the futures market, along with calls for pension funds to divest their commodity holdings, all converged in mid-July.
"We remain optimistic about the long-term picture for natural resources. However, the short term will remain volatile due to uncertainties in global currency exchange rates and future derivatives write-downs by investment banks and other financial institutions. We've seen that when the banks and brokerages have to raise capital to address their derivatives problems, it triggers abrupt liquidity squeezes that increase short-term volatility, especially in emerging markets and small-cap equities. The recent confrontation between Russia and Georgia has brought about heightened geopolitical tensions, which have contributed to volatility in currency markets and introduced significant uncertainty over the current world order.
"On a positive note, China announced last week that it was changing policy to increase loan quotas. This is a significant shift in policy; in effect, China is refocusing on economic growth now that inflation there has trended lower. This type of policy action will continue to drive infrastructure spending, which in turn will drive demand for commodities. Another positive is the clear election-year signal by the U.S. government that it will do what is necessary to protect the financial sector and avoid a major recession, including an additional fiscal stimulus package in early 2009.
"We believe this correction, while painful, is healthy and constructive for natural resource markets over the long term. Commodity supplies remain extremely tight, and as global population and emerging economies continue to grow, these trends will be supportive of commodity prices. The risk to this scenario would be major policy changes by the world's most populous countries that would slow infrastructure spending, which we continue to view as unlikely."
Source: Frank Holmes, US Global Investors – Weekly Investor Alert , August 15, 2008.
Ifo: Eurozone economic climate indicator falls further
"The Ifo Economic Climate in the euro area has worsened again in the third quarter of 2008 for the fourth time in succession. The decline in the Ifo indicator is both the result of less positive assessments of the current economic situation as well as clearly more pessimistic expectations for the coming six months.
"The economic climate has further clouded over in nearly all countries of the euro area in the third quarter of 2008. Particularly negative assessments of the current economic situation have come from Italy, Spain, Portugal, Ireland and Belgium. Favourable assessments of the current situation continue to come from Finland, Austria, Germany and the Netherlands, however. In the opinion of the World Economic Survey (WES) experts, the slowing in economic activity will continue in all countries of the euro area in the coming six months.
"At 3.6%, the inflation expectations exceed the ECB target even more so than at the beginning of the year (2.5%). In contrast to the previous survey, the WES experts anticipate an increase in key lending rates in the course of the come six months.
"The US dollar is assessed as undervalued vis-à-vis the euro. In the coming six months, a slight strengthening of the US dollar is expected. Also the Japanese yen and the British pound are seen as undervalued vis-à-vis the euro."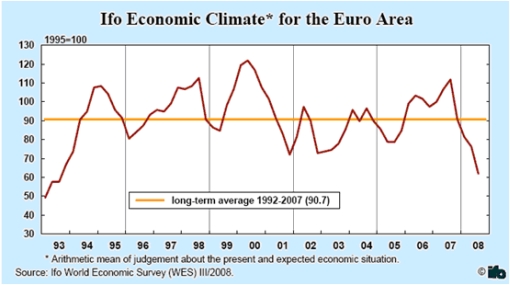 Click here for the full report.
Source: Ifo , August 13, 2008.
James Pressler (Northern Trust): Eurozone economy contracted in Q2
"The three largest Eurozone economies all contracted last quarter, with the largest (Germany) posting a drop of 0.5%, compared with 0.3% for France and Italy. Germany's abnormally-strong Q1 performance (+1.3% from Q4) raised concerns that the growth was largely borrowed from Q2, which would imply an even more precipitous fall, but for the most part this failed to emerge. Nevertheless, these powerhouse countries are now one quarter away from a technical recession, and likely to be followed by other 'zone members before long."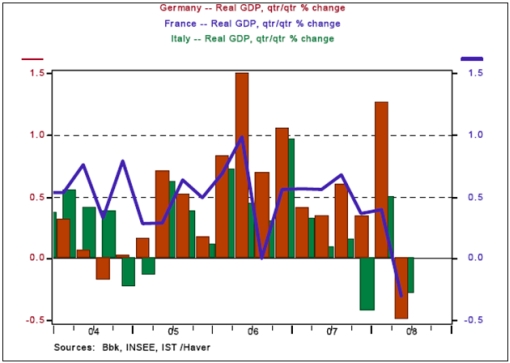 Source: James Pressler, Northern Trust – Daily Global Commentary , August 14, 2008.
James Pressler (Northern Trust): Eurozone economies seeing price acceleration
"… inflation remains just as much a problem as ever, with July inflation for the Eurozone touching 4.1% last month and the main economies still exhibiting some price acceleration. This completes the stagflation scenario that the European Central Bank (ECB) has increasingly recognized over the past few months, and now the central bank is in a bind.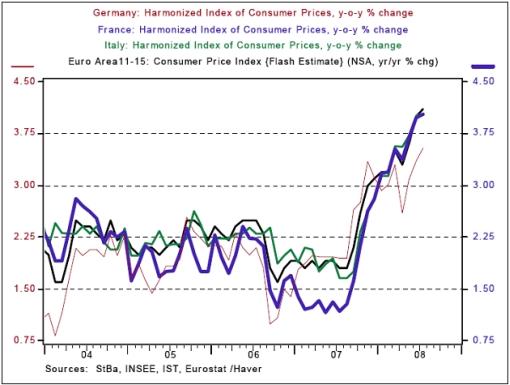 "Today's Eurostat report offers the ECB a chance to hold monetary policy for the near-term – recognizing that growth has slowed considerably but the slowdown appears contained given current interest rates. If the recent fall in oil prices translates into less-threatening CPI figures in the coming months, the ECB will have every justification in focusing its attention on the weak economy with an eye toward easing if necessary."
Source: James Pressler, Northern Trust – Daily Global Commentary , August 14, 2008.
Edmund Conway (Telegraph): Mervyn King issues warning on UK economy
"The economy is now on the verge of recession, the Bank of England has warned for the first time. In his gravest assessment yet, Governor Mervyn King said the economy will start to shrink by the end of the year, the first decline since the early 1990s.
"He warned that households face an 'extremely difficult' year ahead as Britain is hit by rising energy and oil prices and the worst financial crisis 'since the Second World War'.
"Setting out a gloomy diagnosis of the problems facing families, Mr King also warned that:
• Inflation will rise to 5% or above – the highest level in 16 years – ruling out an immediate cut in interest rates.
• House prices will continue to fall in the coming months, despite already suffering the biggest drops in recorded history.
• Thousands more workers will lose their jobs as struggling firms cut back on staff.
"Mr King slashed his forecast for the UK's growth, acknowledging that by the end of this year the economy will be shrinking rather than expanding.
"This last happened in 1992, when Britain was in the midst of a major recession. The Governor added that a technical recession – defined as the economy shrinking for two successive quarters – was more than possible.
"'It is bound to be the case there will be a quarter or two of negative growth,' he said. 'Oil prices are at the highest level in real terms at any point in the post-war period apart from the late 1970s, and we've also seen the biggest financial dislocation since the Second World War.
"'What is unique about the present set of circumstances is that both shocks have happened at the same time, and the combination has meant that life is extremely difficult, and will be for the UK economy over the next year.'"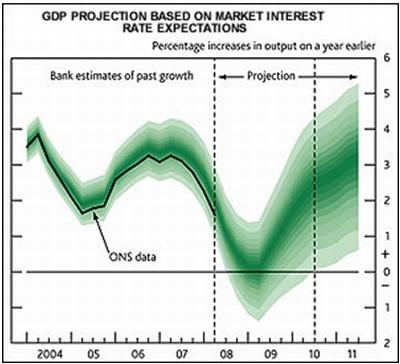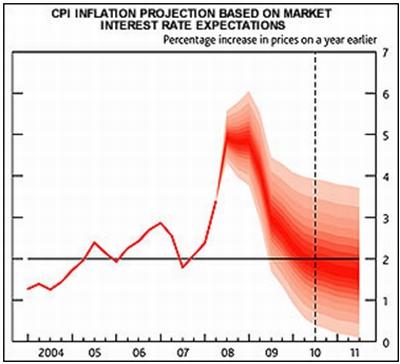 Source: Edmund Conway, Telegraph , August 13, 2008.
Financial Times: Alert as Japanese economy contracts
"Advanced economies received a wake-up call on Wednesday that none were immune to the effects of the credit crisis stalking financial sectors on both sides of the Atlantic.
"In Japan, new data showed the world's second largest economy contracted by 0.6% in the second quarter, its worst quarterly performance for seven years.
"The quarterly decline makes Japan the biggest economy yet to experience economic contraction this year."
Source: Chris Giles, Financial Times , August 13, 2008.
Bloomberg: Nomura's Koo says Japan may already be in recession
Richard Koo, chief economist at Nomura Research Institute, talked with Bloomberg about the outlook for the Japanese economy, the US subprime credit crisis, and prospects for the Japanese government after the cabinet reshuffle.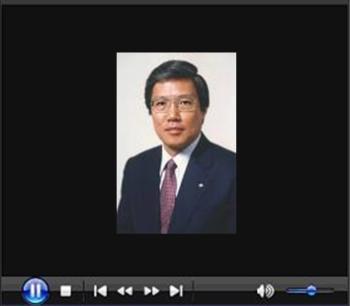 Source: Bloomberg , August 11, 2008.
Financial Times: China to overtake US as largest manufacturer
"China is set to overtake the US next year as the world's largest producer of manufactured goods, four years earlier than expected, as a result of the rapidly weakening US economy.
"The great leap is revealed in forecasts for the Financial Times by Global Insight, a US economics consultancy. According to the estimates, next year China will account for 17% of manufacturing value-added output of $11,783 billion and the US will make 16%.
"Last year the US was still easily in the top slot and accounted for a fifth of the total. China was second with 13.2%.
"John Engler, president of the National Association of Manufacturers, a Washington-based trade group, played down the effect of the projections. It was 'inevitable' that China would take over on account of its size, he said. 'This should be a wholesome development for the US, for it promises both political stability for the world's largest country and continuing opportunities for the US to export to, and invest in, the world's fastest-growing economy.'"
"The expected change will end more than a 100 years of US dominance. It returns China to a position it occupied, according to economic historians, for some 1,800 years up to about 1840, when Britain became the world's biggest manufacturer after its Industrial Revolution."
Source: Peter Marsh, Financial Times , August 10, 2008.
Forbes: China's July wholesale prices up 10%
"China's wholesale inflation in July accelerated to its highest rate in 12 years, adding to the government's headaches as it tries to rein in surging consumer prices, according to data reported Monday.
"The producer price index was up 10% in July over the same month last year, the highest rate since 1996, the Xinhua News Agency said, citing the government's statistics bureau. The index measures the price of goods as they leave the factory.
"Analysts have warned that rising costs for energy and raw materials would push up Chinese wholesale prices, squeezing thin profit margins for companies and adding to pressure for retailers to raise consumer prices.
"The July rise in the producer price index, or PPI, exceeded analysts' expectations and was a sharp jump over June's 8.8% rate."
Source; Joe McDonald, Forbes , August 11, 2008.
Bloomberg: India inflation accelerates to 16-year high of 12.44%
"India's inflation soared to a 16-year high and may accelerate further after the government approved wage increases for civil servants.
"Wholesale prices rose 12.44% in the week to August 2, after increasing 12.01% in the previous week, the commerce ministry said in New Delhi today. Economists were expecting a 12.2% gain.
"Prime Minister Manmohan Singh's cabinet today approved an average 21% salary increase for about 5 million government employees. That may give the central bank little choice other than to raise interest rates again after three increases since June, economists said.
"'We expect inflation to remain elevated and reach 13.5% by December,' said Indranil Pan, chief economist at Kotak Mahindra Bank Ltd. in Mumbai. 'We are looking at a 50 basis point increase for both the repurchase rate and the cash- reserve ratio by year-end.'
"The Reserve Bank of India last month raised its benchmark rate by a half point to a seven-year high of 9%."
Source: Kartik Goyal, Bloomberg , August 14, 2008.
Bloomberg: Argentina's debt rating cut by Standard & Poor's
"Argentina's foreign debt rating was cut by Standard & Poor's on concern slowing economic growth will crimp tax revenue while mounting investor mistrust in inflation data erodes confidence in the government.
"S&P lowered Argentina's rating to B, five levels below investment grade and in line with countries including Jamaica and Paraguay, from B+.
"Argentina faces 'increasing economic challenges,' S&P analyst Sebastian Briozzo wrote in a statement. 'Inflation and fiscal and financial strain have increased while the likelihood of the government taking prompt corrective measures to staunch the loss of creditworthiness remains low.'
"Argentine bonds tumbled last week after President Cristina Fernandez de Kirchner defended the government's inflation data. While government data puts annual inflation at 9.1%, S&P said 'private estimates suggest that it might actually be about 24% to 28%'."
Source: Drew Benson, Bloomberg , August 11, 2008.
Did you enjoy this post? If so, click here to subscribe to updates to Investment Postcards from Cape Town by e-mail.
By Dr Prieur du Plessis
Dr Prieur du Plessis is an investment professional with 25 years' experience in investment research and portfolio management.
More than 1200 of his articles on investment-related topics have been published in various regular newspaper, journal and Internet columns (including his blog, Investment Postcards from Cape Town : www.investmentpostcards.com ). He has also published a book, Financial Basics: Investment.
Prieur is chairman and principal shareholder of South African-based Plexus Asset Management , which he founded in 1995. The group conducts investment management, investment consulting, private equity and real estate activities in South Africa and other African countries.
Plexus is the South African partner of John Mauldin , Dallas-based author of the popular Thoughts from the Frontline newsletter, and also has an exclusive licensing agreement with California-based Research Affiliates for managing and distributing its enhanced Fundamental Index™ methodology in the Pan-African area.
Prieur is 53 years old and live with his wife, television producer and presenter Isabel Verwey, and two children in Cape Town , South Africa . His leisure activities include long-distance running, traveling, reading and motor-cycling.
Copyright © 2008 by Prieur du Plessis - All rights reserved.
Disclaimer: The above is a matter of opinion and is not intended as investment advice. Information and analysis above are derived from sources and utilizing methods believed reliable, but we cannot accept responsibility for any trading losses you may incur as a result of this analysis. Do your own due diligence.
© 2005-2019 http://www.MarketOracle.co.uk - The Market Oracle is a FREE Daily Financial Markets Analysis & Forecasting online publication.

Only logged in users are allowed to post comments.
Register/ Log in