President Trump's Trade Rubbish
Politics
/
Protectionism
Dec 23, 2018 - 01:26 PM GMT


The U.S. trade war rages on. With each passing day, there is news about a flare up, primarily on the front where the United States and China are confronting each other. While these flare ups rattle the markets, they don't seem to rattle President Xi or President Trump. Indeed, neither Xi nor Trump seem inclined to give ground. For his part, Trump has recently tasked Robert Lighthizer, the U.S. Trade Representative, to lead the U.S. in trade negotiations with China. And, Lightizer, having a long ultra-protectionist record, has a reputation for taking no prisoners in trade battles.
President Trump harbors exactly the same ill-conceived trade ideas as Lighthizer. Namely, they believe that the U.S. trade deficit is a major problem—a problem created by foreigners who engage in a multitude of unfair trade practices. For Trump and Lighthizer, protectionist measures, such as tariffs and discriminatory non-tariff barriers, are the best way to threaten a foreign opponent to ultimately implement change. But, if their opponent does not change, Trump and Lighthizer are perfectly willing to swing the protectionist hammer.
So far, President Trump has done a surprisingly good job of controlling the optics on U.S. trade policy. On trade, he appears cool and secure in his views. He has the total backing of his cabinet. Indeed, most of Trump's cabinet is nothing more than an echo chamber of the President himself, with the notable exception of Larry Kudlow, a free trader and the President's Director of the National Economic Council.
Unlike other areas of economic policy where the President has either wavered or flip-flopped, on trade protectionism, he has remained steadfast. Trump has done exactly what he said he would do while out on the campaign trail: He has gotten tough with China on trade.
Now, let's turn to the simple economics and evidence about the trade deficit that proves why President Trump's trade message and protectionist policies are rubbish. In economics, identities play an important role. These identities are obtained by equating two different breakdowns of a single aggregate. Identities are interesting, and usually important, by definition. In national income accounting, the following identity can be derived. It is the key to understanding the trade deficit.

(Imports - Exports ) ≡ (Investment - Savings) + (Government Spending - Taxes)
Given this identity, which must hold, the trade deficit is equal to the excess of private sector investment over savings, plus the excess of government spending over tax revenue. So, the counterpart of the trade deficit is the sum of the private sector deficit and the government deficit (federal + state and local). The U.S. trade deficit, therefore, is just the mirror image of what is happening in the U.S. domestic economy. If expenditures in the U.S. exceed the incomes produced in the U.S., which they do, the excess expenditures will be met by an excess of imports over exports (read: a trade deficit).
The table below shows that U.S. data support the important trade identity. The cumulative trade deficit the U.S. has racked up since 1975 is about $11.154 trillion, and the total investment minus savings deficit is about $10.435 trillion. The data talk, and they talk pretty loudly.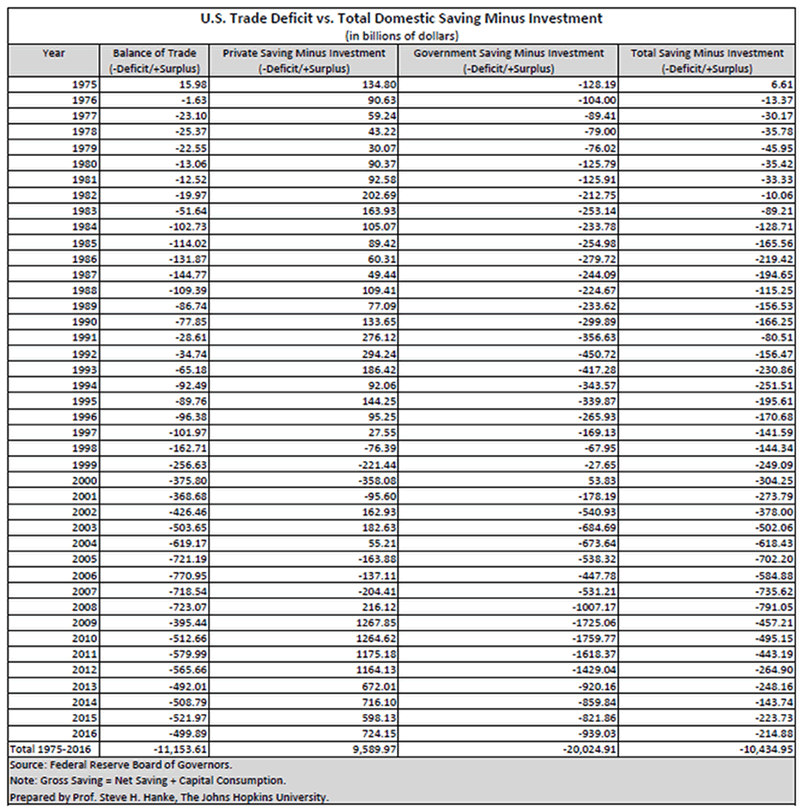 Prof. Steve H. Hanke
So, President Trump can bully countries he identifies as unfair traders, he can impose all the restrictions on trading partners that his heart desires, but it won't change the trade balance. Never mind the fact that most economists think President Trump's ideas on trade are rubbish. When it comes to trade, Trump is the master of the message and the optics. In consequence, his base is with him on trade, and so are a surprising number of others.
The problem is that Trump's trade rubbish is tailor-made for delivery on Twitter and television. Indeed, those media outlets are suitable for "sound bites," but not for complex arguments and data points.
That's why economics is at a disadvantage when it comes to Trump's favorite media. Nevertheless, this is what economics has to say about the trade deficit bugaboo. First, it is not a "problem." Indeed, the U.S. has run a trade deficit every year since 1976, and the U.S. has done relatively well since then. The sky didn't fall because of our trade deficit. Secondly, the trade deficit is not made by foreigners who engage in unfair trade practices. It is homegrown—made in the U.S.A. To the extent that domestic savings in the U.S. falls short of domestic investments, the economy must import more than its exports, resulting in a negative trade balance.
To finance the excess of imports over exports, the U.S. must import capital from abroad. This can be done without strain because the U.S. dollar is the world's reserve currency. Our borrowing from abroad shows up in the huge chunk of U.S. public debt that is held by foreigners, with 39% of that total held by the public being in foreign hands.
As it turns out, the Trump administration's fiscal policies, which promise an ever-widening fiscal deficit, will throw a spanner in Trump's trade policy works. If his fiscal deficits are not offset by an increase in private savings relative to private investment, increases in the Federal deficit will translate into larger trade deficits. So, the U.S. trade deficit will not only be made in the good, old U.S.A, it will be made by President Trump himself, an arch-enemy of trade deficits.
The problem with rubbish removal is that when it comes to trade the topic is just too complicated for Twitter, social media, and television—the main media that drives public opinion.
By Steve H. Hanke
www.cato.org/people/hanke.html
Twitter: @Steve_Hanke
Steve H. Hanke is a Professor of Applied Economics and Co-Director of the Institute for Applied Economics, Global Health, and the Study of Business Enterprise at The Johns Hopkins University in Baltimore. Prof. Hanke is also a Senior Fellow at the Cato Institute in Washington, D.C.; a Distinguished Professor at the Universitas Pelita Harapan in Jakarta, Indonesia; a Senior Advisor at the Renmin University of China's International Monetary Research Institute in Beijing; a Special Counselor to the Center for Financial Stability in New York; a member of the National Bank of Kuwait's International Advisory Board (chaired by Sir John Major); a member of the Financial Advisory Council of the United Arab Emirates; and a contributing editor at Globe Asia Magazine.
Copyright © 2018 Steve H. Hanke - All Rights Reserved

Disclaimer: The above is a matter of opinion provided for general information purposes only and is not intended as investment advice. Information and analysis above are derived from sources and utilising methods believed to be reliable, but we cannot accept responsibility for any losses you may incur as a result of this analysis. Individuals should consult with their personal financial advisors.
© 2005-2019 http://www.MarketOracle.co.uk - The Market Oracle is a FREE Daily Financial Markets Analysis & Forecasting online publication.

Only logged in users are allowed to post comments.
Register/ Log in