Nasdaq Break Below 2000 Confirms Severe Collapse of the Economy
Stock-Markets
/
Stocks Bear Market
Oct 06, 2008 - 02:29 AM GMT


Before I get in to what took place today I want to discuss a very important breakdown in the Nas today. If we go back to late 2005 and again late 2006 there is a very nice double bottom at Nas 2000. Yes, we closed below it yesterday but only by 1% and with the House decision on the bill today, it was an important day to see if the Nas could get itself back above that critical 2000 level. The fact that it feel more than 1% to 1947 confirms officially that 2000 break. A triple bottom breakdown. Nasty stuff. When an index retests a low as the Nas did late in 2006 in is very important that this level gets defended on any future selling.


A triple bottom breakdown can be the type of breakdown that doesn't get recovered very fast and leads to much lower levels over time. When that break comes on big volume, you have to pay even more attention to that message. This is the reality we're dealing with right now and running away from it or ignoring it is something you don't really want to do.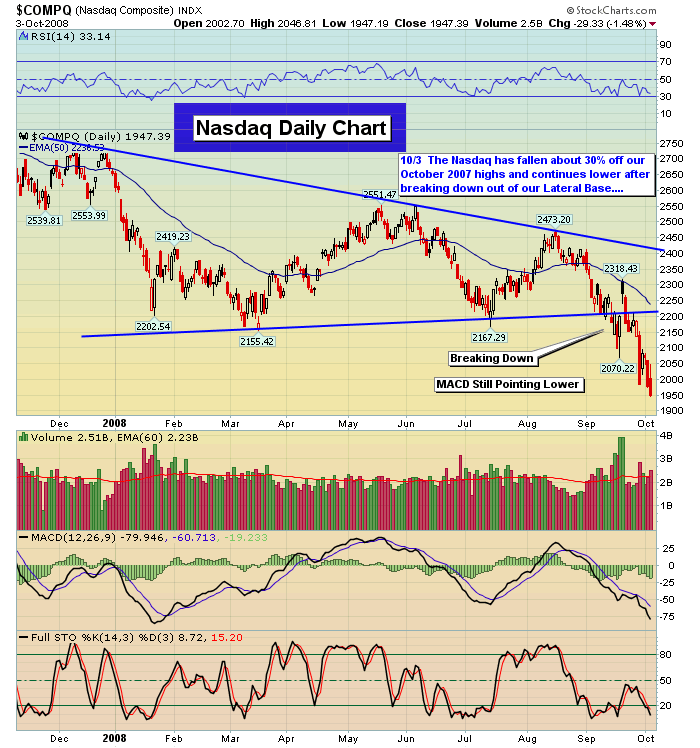 I have spoken about the reality of what may be taking over this market in the near term. The severe collapse of the economy in the last month is astonishing. When we look at factory orders, unemployment claims, job losses and the Ism, the economy literally collapsed the past 30 days. This is the truth. This is what the market is focusing on, not the bail out. The bail is meaningless. It's a drop in the bucket for what it can do for the system that has much to worry about than 700 billion. That's truly a drop in the bucket. Won't solve the problem. Now that the news was sold the market is focusing purely on the economy and clearly it doesn't like one bit what it sees. With the Ism falling from 49.9 in August to 43.5 in September, we are dealing with a situation that will create a boat load more layoffs. Jobs will be lost in huge chunks. This isn't a drizzle folks. it's a monsoon. That fall is just the beginning. Look at how the jobs lost fell to 157k in September. Well more than the depressed number expected of 105k. This number will get well above 200k next month in all likelihood. 300k in time is not out of the question. So take your mind off the belief that the package passed today cured the problem. It didn't. It doesn't.
Now we also have to deal with forced selling from margin calls and hedge funds desperate to raise cash just to try and stay in business. We also will have to deal with panic selling from folks who desperately want out here to save whatever they have left after looking at their statements from the money managers who didn't have the good sense to sell and be cash when the market flashed the signal to do so time after time. Not to mention their own trading losses. There was hope from some of the charts that this market could be making a near term bottom only but for now that just isn't the case. The break of Nas 2000 convincingly and the way the market handled the bill passing in the House speaks volumes. Maybe we are close to a near term bottom but the market is going to have to show a lot more before that becomes even a possibility worth looking at. Right now the economy and the bears remain in full control of your tv set. Stop trying to make it be something else by over playing and trying to catch the bottom. We still haven't seen the type of event that tells us a bottom is in. I wrote about this recently in a mid day update. Until that takes place, respect the market here. It can be your friend too, even in the worst of time if it's respected appropriately.

I know I have written over and over about the collapse of the commodity market. The one commodity that has held up best is gold. It is weakening, make no mistake about it, although much slower than all the other commodities. Watch 775 down the road. That's a massive trend line support zone. If that level ever breaks convincingly that will be the end of the gold story as well and it will join the rest of the commodity world in the never to be heard from category. No guarantee but watch 775 over time.


The Dow has support between 9700 and 10000. If 9700 goes, don't look up, look down, way down because the next support isn't until near 9000. 9700 is what we all need to watch here. That's the trend line. You can make a case it's as low as 9650 but you get the idea, that 9700 area really needs to hold. The Nas has no real support now. 1750 is next but it's hard to imagine that level. It's real and that's support but let's see how things unfold in the next few days. Why? Because the fed is going to cut rates either this weekend or very early next week in all likelihood. If that rate cut of 50 bp fails to bring the Nas appreciably over 2000, look out below as that is really the last bullet left for the Government on down. Nothing left boys and girls. They will likely shoot their last bullet figuring why not, we're desperate enough because we have an election around the corner. Expect that 50 bp cut sooner than later, especially if the market continues lower on Monday.

I feel badly about this market folks. I, as a simple human person, never want to see anyone get hurt. I know none of you do either. No one wants to see a fellow human being suffer. It's too bad these events have to occur over time. Human beings, by nature, often lose sight of truth and reality. They think that the markets will always go higher. Corporate America's higher ups often feel they're above it all. That they can behave any way they want and that there will never be a price to pay. Unfortunately, that's not the way things work in the real world. The greed has caught up with them. That also means we all pay the price as well. Now the bail out hasn't worked. All those on the floor in the House were saying just pass the bill. That'll take care of things. WRONG as usual boys and girls.
The buzzer just went nahhhhhhhhhhhh!!! Greed has come home to roost. The average person, unaware of what hedge funds and mutual find managers are doing with their money, are paying the deepest price of all and now the economy stops, jobs are lost and stress is elevated to levels of extremes no one wants to face. Marriages are threatened. This is the real world people. Children suffer for the transgressions of those in charge who should and well. really do know better. The problem is, too many just don't care or simply thought they were above it all. Again, reality bites!!! It bites hard in fact. Even we see it. Our small little tiny internet business. This little business that has made nearly 10% over the last year or the entire bear market while the indexes are down 30%. No matter how good we do, folks are vanishing. it can't be due to the work we've done. It's just the consciousness out there now. To be blunt, I'd say the guidance over the last year has been near flawless. No one could have protected you more. I am very proud of that. It doesn't seem to matter.
I hope the majority of you have followed the advice and not gotten hurt in this nasty bear. For those of you who did listen, I am very happy for you and your family. Great job!! I can feel good knowing that I served at least one person. Hang in there folks. i don't know what else this simpleton can say to you. Watch Nas 2000 on any bounce from oversold or there coming 50 bp rate cut by the fed. We need to clear big time above 2000 to feel a bottom is possibly being put in for the near term.

Enjoy life. Enjoy your families. Play with a child if you get the chance. I guarantee it'll make you forget any problems you may have.

Peace and blessings to you all!!
Jack Steiman
Click here to view the complete page, including charts.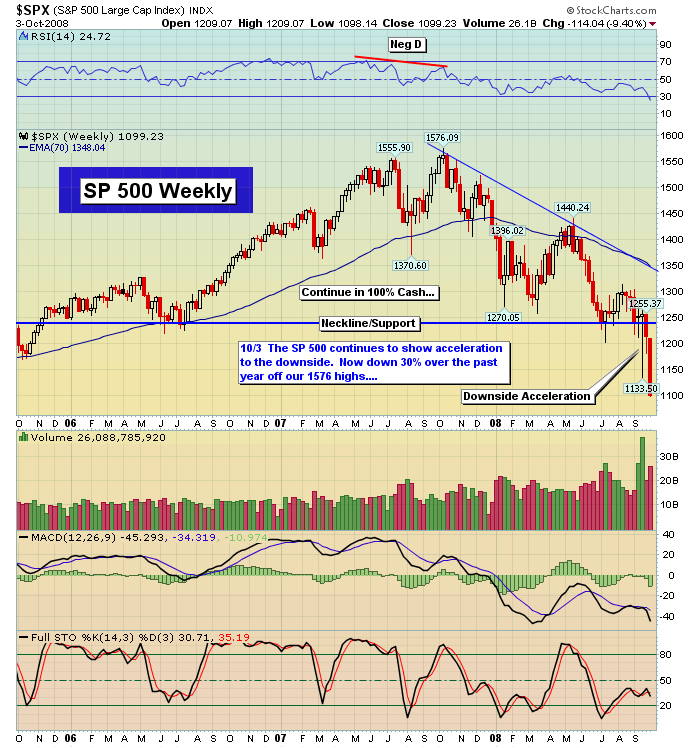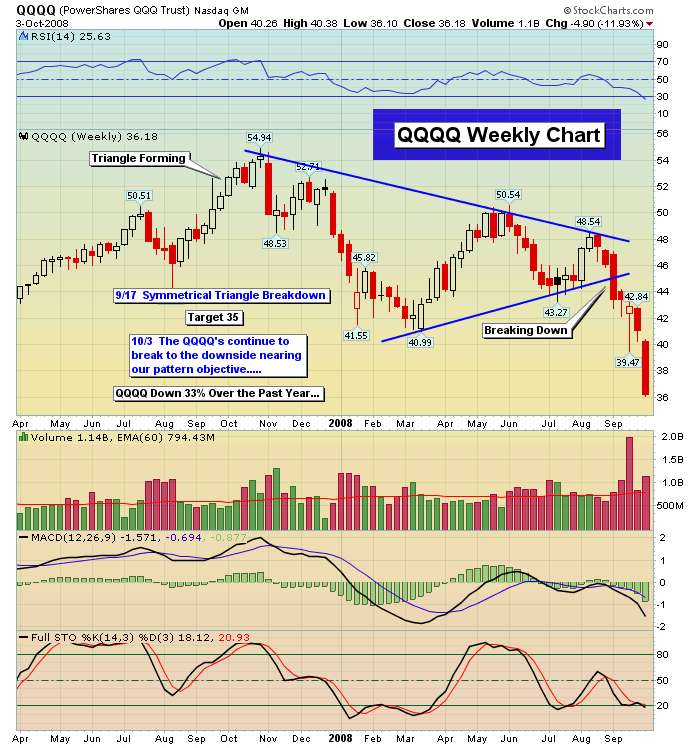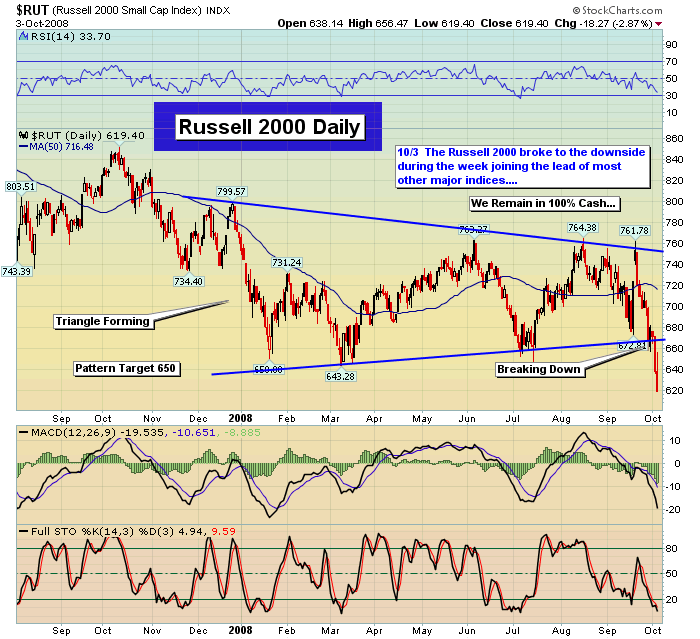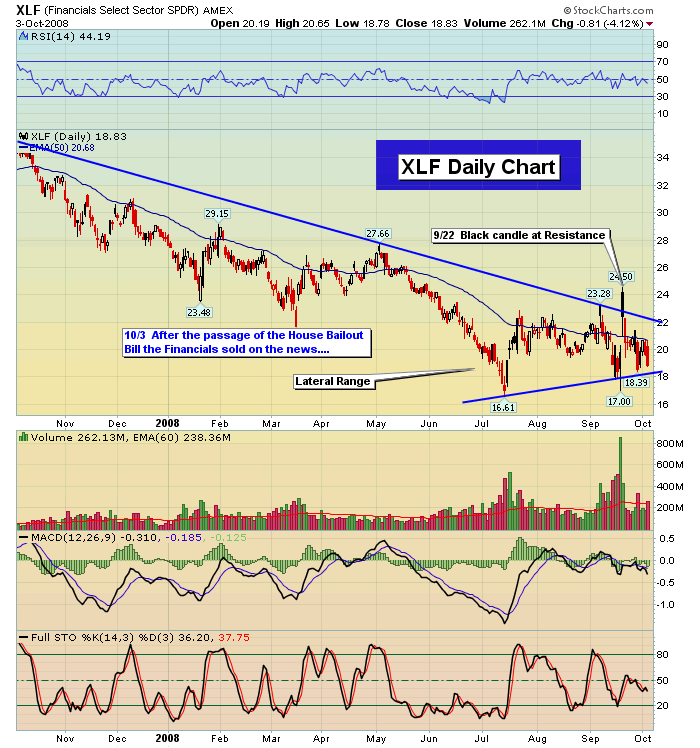 Jack Steiman is author of SwingTradeOnline.com ( www.swingtradeonline.com ). Former columnist for TheStreet.com, Jack is renowned for calling major shifts in the market, including the market bottom in mid-2002 and the market top in October 2007.
Sign up for a Free 30-Day Trial to SwingTradeOnline.com!
© 2008 SwingTradeOnline.com
Mr. Steiman's commentaries and index analysis represent his own opinions and should not be relied upon for purposes of effecting securities transactions or other investing strategies, nor should they be construed as an offer or solicitation of an offer to sell or buy any security. You should not interpret Mr. Steiman's opinions as constituting investment advice. Trades mentioned on the site are hypothetical, not actual, positions.
© 2005-2019 http://www.MarketOracle.co.uk - The Market Oracle is a FREE Daily Financial Markets Analysis & Forecasting online publication.

Only logged in users are allowed to post comments.
Register/ Log in