COVID-19 and the Greater Recession / Depression of 2020-2021
Economics
/
Coronavirus Depression
Apr 20, 2020 - 06:59 PM GMT

In February2012, utilising the chart below, I published an essay courtesy of Market Oracle outlining how, based on Kondratieff wave theory, the world economy could head into a depression between 2013 and 2020. We are now entering that depression, or at least great recession, in my humble opinion. This long wave analysis was developed by Nikolai Kondratiev, a Russian economist. He was shot by firing squad on the orders of Stalin in 1938. His execution was ordered because his academic work propounded that the capitalist system would not collapse as a result of the great depression of 1929. He saw recessions and depressions as normal cycles of the capitalist system due to its reliance on debt. He explained that: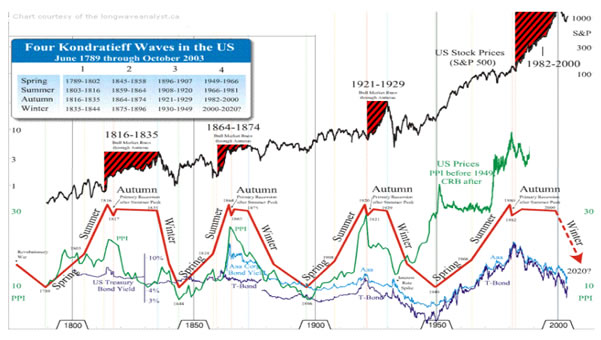 "The K wave is a 60 year cycle (a year or so) with internal phases that are sometimes characterized as seasons: spring, summer, autumn and winter:
• Spring phase: a new growing phase of production, good economic times, rising inflation.
• Summer: hubristic 'peak' followed by societal doubts and double digit inflation.
• Autumn: financial inflation leads to a credit boom which creates a false plateau
of prosperity that ends in a speculative bubble.
• Winter: excess capacity worked off by massive debt repudiation, commodity deflation &
economic depression. A final 'trough' breaks psychology of doom. The bottom is in setting the scene
for new growth"
I believe the coming economic contraction is not due alone to the COVID-19 virus. By all accounts the banking system was on the verge of collapse. This was made evident by the need for the FED to finance the overnight repo market, because banks no longer trusted each other with overnight lending. They knew the game was up. However, the extreme over reaction to the COVID-19 virus has exacerbated the debt problem. I think we are witnessing the collapse of the liberal democratic economic model that has managed the world since the mid-1800s. The scale of the current economic stress we have been led into indicates the utter abandonment of the "Western Rational Tradition". The major democracies of the world have proven themselves to be so shockingly incompetent during this debacle that common folk are going to lose confidence in their leadership, both political and economic.
Why do I believe the "Western Rational Tradition" has failed during this crisis? Case in point, let us look at Ireland where I am based. Lock-down was ordered mid-March by Ireland's Taoiseach (Prime Minister)
Leo Varadkar. Since then approximately 450 folk have died with underlying virus infection. In the main COVID -19 was not the only cause of death. In the media, hysteria has been developed around these statistics. As a result we Irish are living under martial law conditions. Schooling has been cancelled. Businesses have been devastated, many to never to re-open. 350,000 people have been put out of work, in a country with a population of 5 million. Hospitals are failing. People cannot pay rent or mortgages or loans or bills. Constitutional rights to earn a living have been sundered. Private hospitals have been nationalized. Tax collection has ceased. Billions have been allocated to business support. Balanced budgets have been annihilated. Untold billions have been borrowed. The country could end up bankrupt, as happened in the 2008 sub-prime crisis, when the country had to be taken over by the IMF, The European Commission and the European Central Bank.
There has been no government or media analysis of this economic suicide in Ireland. Not one journalist has pointed out that on average 80 people die every normal day in Ireland. Thus since the commencement of the lock-down measures 2,700 people have died of "natural causes", dwarfing the 571 number that have died from viruses related conditions. Reporting such data would call into question the panic measures adopted by the Irish government, measures which are destroying the economy. No such questions are being asked, total media silence. Many point out that rents and mortgages have been "frozen" for 3 months and all the unemployed have been granted immediate and automatic dole money. Such is all very well but dole monies barely cover the cost of food and utilities. Note that rent and mortgages have not been "forgiven". Thus, in the main, most folk will be going back to a job, if they can find one, with increased debt. These obligations will overhang the economy for a long long time. This is not going to be a V shaped recovery as the media would like us to believe. The actions of the Irish government will have severe fiscal and taxation consequences for years to come.
The unfortunate fact is that Ireland's reckless fiscal abandonment has been replicated all across the globe. Every nation has "over reacted". What we are actually experiencing is a failure of rational thought. By "rational" thought I mean the ability to make reasonable and logical decisions based on experience and full facts rather than propaganda and cant. This is what I mean when I say the "Western Rational Tradition" has failed. This is why I foresee severe recession or worse depression and war, probably with China. Wars often occur during fourth long- cycle bottoms.
One of the hallmarks of good governmental policy decision making is "proportionality". Astonishingly no proportionality has been made manifest by world authorities during this crisis. 85 million souls lost their lives in World War II and throughout 1939 to 1945 the world economy was kept going. Over the last number of months, since this virus escaped China, the world economy has been collapsed yet only 154, 000 persons have died from the virus. Many of these folk were old with existing diseases. I make this point in the spirit of human erudition. I do not in any way wish to be disrespectful to those who have suffered and died in this crisis and to those heroes and loved ones who cared for them through anguish and despair. Every human death is a personal tragedy.
At times of great human crisis very often a change of consciousness takes place. If ever there was a crying need for such mental metamorphosis it is now. In the time of crisis after the First World War one person who heralded the need for a change in economic consciousness was John Maynard Keynes. He recognised the fragility of society. He understood the need for developing new ways of creativity and resourcefulness to solve mankind's problems. He sought to prevent the world ever enduring a repeat of the World War I catastrophe just experienced. While he assisted the British entourage at the Paris Peace Conference in 1919 he penned his classic: "The Economic Consequences of the Peace", saying the following:
"The power to become habituated to his surroundings is a marked characteristic of mankind. Very few of us realize with conviction the intensely unusual, unstable, complicated, unreliable, temporary nature of the economic organization by which Western Europe has lived for the last half century. We assume some of the most peculiar and temporary of our late advantages as natural, permanent, and to be depended on, and we lay our plans accordingly. On this sandy and false foundation we scheme for social improvement and dress our political platforms, pursue our animosities and particular ambitions, and feel ourselves with enough margin in hand to foster, not assuage, civil conflict in the European family".
Unfortunately Keynes' appeal for a new way of dealing with national economic problems was ignored. America, Great Britain and France placed crushing demands on Germany following the end of the war. The result was a reversion to standard rapacious orthodox economic thinking. Nothing had been learned from the death of millions. This myopia led directly to another world war, a mere 21 years later. Let us not fall into the same mistake now. In other words the issue is not the disease, or the depression, or the war it is the conscious counter- reaction.
I fervently hope that following the end of "lock-down" conditions around the world that the journalistic, political and economic reactions to the COVID-19 crisis be critically analysed. A good reference point around which the intelligentsia might commence such a review would be the teachings regarding the long business cycle work of Nikolai Kondratiev. Since the 2001, 9/11 crash the American establishment has refused to accept the business cycle reality, as propounded by Kondratiev. Accordingly, they have failed to allow businesses and banks to fail. Most of the major failing American corporations and financial institutions were bailed out in March 2003, March 2009 and now again in April 2020. This policy cannot continue. It simply stores greater problems for the next cycle top and prevents capitalism functioning effectively. It creates artificially complacent and privileged elites Businesses and people naturally die. The western intellect must come back to reality and remember these basic facts of nature. Destroying the good faith and credit of the American people to save dying businesses and banks makes no sense. Destroying the world economy to save a finite number of citizens, without any proportionality as outlined previously, is demonstrating utter sophistry.
Carroll Quigley in his last public lecture series, "The Oscar Iden Lectures", identified the political, economic moral and cultural decline entering America. He worried for the future. What was his final piece of advice to Americans at that fateful lecture in Georgetown University in 1977?
"When Rome fell the solution of the Christian world was to fashion their own communities".
Thus is it time for the globalist model to be crushed to favour greater creativity and resourcefulness within nation states. Think Italy and the failed crisis response of the European Commission? Is it time for the speculative aspect of money to be controlled by national governments, thus supporting real productive activity promoting real goods and services, rather than encouraging the generation of technical fortunes? Think Soros and the English pound on Black Wednesday 1992. Is it time, as propounded by Keynes, to have strong controls on international capital transfers to prevent off-shore tax havens raiding and destroying citizen's sovereign savings, capital and currencies? Is it time to tame cosmopolitan mass media largess and champion national investigative journalism? Is it time for the Western Tradition to truly rediscover its liberal roots and radically re-support individual and national freedom as opposed to collectivist international institutionalism? I believe we are going to find out pretty soon post COVID-19.
Stock Market Technical Overview.
Given the prognosis going forward that we are in a recession and that for the next two to three quarters, at least, the world will experience negative GDP numbers it is unbelievable that the Dow Industrial Index is less than 20% down from its previous high. The reason for this is that the world's central banks have nationalized the markets and the American Congress has basically nationalized its economy. However, this cannot last forever; eventually economic reality will rear its ugly head. From a pure technical standpoint all indices have suffered great damage and it will be some time before they will be in a position to provide good trading guidance. Suffice to say, currently there is above average risk in all sectors. I anticipate recent March lows to be retested. If they hold it will be the start of the formation of a bottom but I do not expect that to happen. I expect the retest to fail. Once the world's economies open up from COVID-19 lockdown I anticipate ongoing volatility and market weakness as business failures, bankruptcies, receiverships and commercial and residential foreclosures cascade throughout nations as the harsh realities of mountainous debt and contracting GDP comes to bear.
Chart: Dow Jones Industrials: Daily.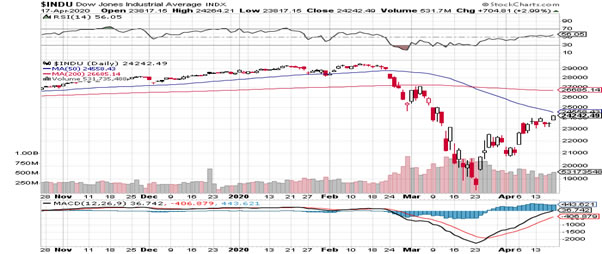 Chart: Dow Jones Transports: Daily.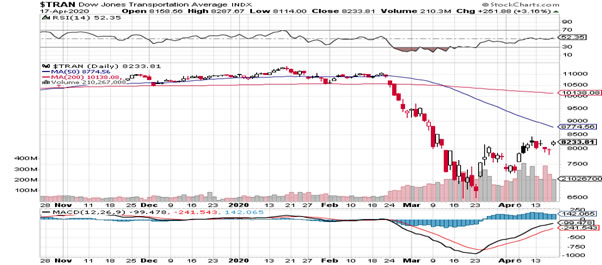 Chart: NASDAQ: Daily.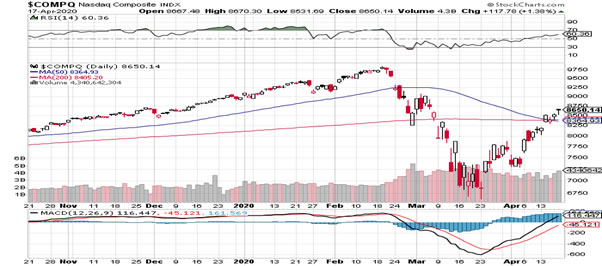 Chart: S & P 500: Daily.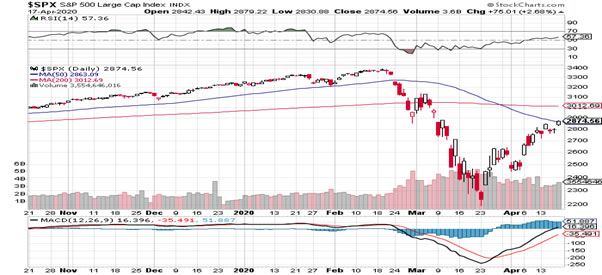 Ref: "Kondratieff Waves and the Greater Depression of 2013 - 2020"
Christopher M. Quigley, Market Oracle, 23rd Feb 2012.
"The Economic Consequences of the Peace"
John Maynard Keynes,
New York, Harcourt, Brace and Howe, 1920.
"The Oscar Iden Lectures", Prof. Carroll Quigley,
Georgetown University, 1977.
COVID-19 Virus Data: ourworldindata.org/coronavirus
Charts: Courtesy of StockCharts.Com
Christopher Quiqley
B.Sc., M.M.I.I. Grad., M.A.

http://www.wealthbuilder.ie
Mr. Quigley was born in 1958 in Dublin, Ireland. He holds a Bachelor Degree in Accounting and Management from Trinity College Dublin and is a graduate of the Marketing Institute of Ireland. He commenced investing in the stock market in 1989 in Belmont, California where he lived for 6 years. He has developed the Wealthbuilder investment and trading course over the last two decades as a result of research, study and experience. This system marries fundamental analysis with technical analysis and focuses on momentum, value and pension strategies.
Since 2007 Mr. Quigley has written over 80 articles which have been published on popular web sites based in California, New York, London and Dublin.
Mr. Quigley is now lives in Dublin, Ireland and Tampa Bay, Florida.
© 2020 Copyright Christopher M. Quigley - All Rights Reserved
Disclaimer: The above is a matter of opinion provided for general information purposes only and is not intended as investment advice. Information and analysis above are derived from sources and utilising methods believed to be reliable, but we cannot accept responsibility for any trading losses you may incur as a result of this analysis. Individuals should consult with their personal financial advisors before engaging in any trading activities.
© 2005-2019 http://www.MarketOracle.co.uk - The Market Oracle is a FREE Daily Financial Markets Analysis & Forecasting online publication.

Only logged in users are allowed to post comments.
Register/ Log in